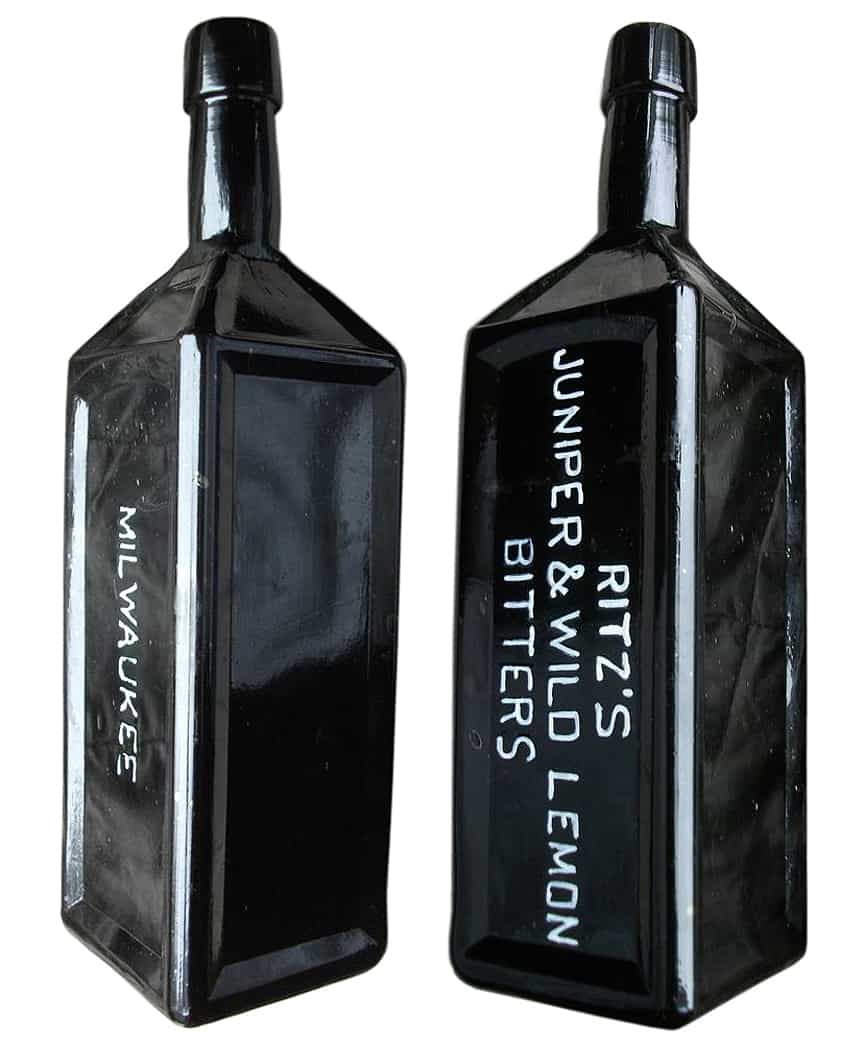 Ritz's Juniper & Wild Lemon Bitters

Milwaukee, Wisconsin
22 October 2013

Mark Nelson posted a wonderful picture of the extremely rare, Ritz's Juniper & Wild Lemon Bitters from Milwaukee, Wisconsin on facebook the other day. I've heard of this semi-cabin form square but never seen pictures. Pretty exciting to this bitters collector. There are actually two listings in the Ring & Ham Bitters Bottles book, one for the Ritz's Juniper & Wild Lemon Bitters and one for Juniper & Wild Lemon Bitters (without the Ritz's).
R 67.5 RITZ'S JUNIPER & WILD LEMON BITTERS
RITZ'S // JUNIPER & WILD LEMON / BITTERS // sp // MILWAUKEE // sp
10 ½ x 2 7/8 (7)
Square Semi Cabin, Amber, LTC, Applied mouth, 4 sp, Extremely rare
This bottle is very similar to J 59.
Trade Card
J 59 JUNIPER & WILD LEMON BITTERS
JUNIPER & WILD LEMON / BITTERS // sp // MILWAUKEE // sp
10 1/4 x 2 3/4
Square (Semi Cabin), Amber, 2 sp, LTC, Extremely rare
See: Ritz's Juniper & Wild Lemon Bitters
Drug Catalogs: 1883 and 1891 Schieffelin
Reading the label on one of the bottle pictures from Steven Libbey below, you see the name F. Dohmen. A search on the internet reveals that the F. Dohmen drug business had been around for 150 years and was purchased by Cardinal Health Inc. in 2006 when they purchased their wholesale business unit. In 2007, Dohmen sold its Jascorp pharmacy management software subsidiary to Arcadia Resources Inc., in Southfield, Michigan.
Label: RITZ'S JUNIPER & WILD LEMON BITTERS. The most pleasant tonic for the Certain Cure of Stomach, Urinary and Kidney & Liver Diseases and the many complaints produced by these deranged organs. This medicine will not sour (?) or age (?) it is preserved in pure Holland Spirits of Juniper. Notice this medicine should be taken in sweet (?) water. THE F. DOHMEN CO., General Wholesale Agents, Milwaukee, Wis.
Friedrich (Frederick) W. Dohmen, aka Fritz (could this be where the Ritz Bitters name came from?), was a native of Dueren on the Rhine in Germany, and was born on December 22, 1831 (some information says 1832). His father was Friedrich Dohmen and his mother, Anna Kerres. He married Josephine Cramer (Wollseiffen), born February 28, 1838, in the same country. They were married before coming to the United States in 1855 and had only four hundred dollars in wedding gifts to help them get started. They located in Milwaukee, where Dohmen first worked at Myers Druggists and then embarked very quickly and established an Apotheke, retail and wholesale drug business on the prime river wharves with frontage along Milwaukee's premier business street bearing the address, 63 East Water Street. Returning to Germany he enlisted the help of his brothers, Peter, Heinrich and Johann. His previous six years of German pharmaceutical training in his village set him apart in the largely unregulated United States field, where incompetence and quack remedies were the norm. Dohmen's business flourished. His integrity and commitment to quality charted a clear course for the Dohmen Company to follow as they eventually grew to be a national drug wholesaler by the end of the 20th century.
In 1858, Dohmen decided to embark with the small scale Deutsch Apotheke, wholesale and retail drug business under the name of Dohmen & Schulder (Charles S. Schulder). Later his firm became known as Dohmen & Miller, and then in 1860 as Dohmen, Schmidt & Co. (William S. Schmidt) and then Dohmen, Schmidt & Schulder in 1862. On the 9th of September 1867, a fire destroyed the company store (see picture below), which took the fire department four days to quench the burning oils and varnishes. They worked hard to re-establish and were up in business again in about six weeks.
It was 1884 when F. Dohmen Company was incorporated. At this time William F. Dohmen was the president of F. Dohmen Company, Limited, wholesale druggists of Milwaukee. He was the son of Frederick Dohmen, being made the president of the same. He devoted the best years of his life to building up the business, and that he succeeded exceptionally well may be judged from the growth and wide spread popularity of the firm. On December 1, 1898 Frederick Dohmen died.
More than 150-years later, his great, great granddaughter, Cynthia LaConte chose to relocate the company`s corporate offices from its former Germantown address to 215 North Water Street in Milwaukee's historic Third Ward, just steps away from the Company's first business address. See Dohmen Video