BARBER'S INDIAN VEGETABLE JAUNDICE BITTERS
OLIVER JOHNSON & CO.
PROVIDENCE, R.I.
20 April 2013

I received a brief e-mail, as I do sometimes, alerting me to a specific bottle on ebay (see above). In this case it was from Bill Ham regarding a 12-sided Barber's Indian Vegetable Jaundice Bitters from Rhode, Island. You see, just because it is listed as extremely rare, doesn't make it jump out in the way I review bottles on ebay, which is the highest cost to lowest. This usually filters the rift-raff and the better stuff usually pops to the surface.
"It is amazing that so "plain" a bottle is so rare."
Bill said in his e-mail "Here is a really rare bitters that may fall through the cracks that is on ebay – 290900331394 – You probably have it. It is amazing that so "plain" a bottle is so rare."  – Bill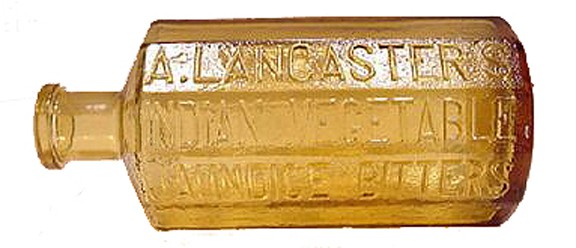 This bottle is similar and should not be confused with a Lancaster Indian Vegetable Jaundice Bitters which is typically a Wheaton reproduction bottle from the 1970s.  You can find them for sale every day on Ebay. The Lancaster's Indian Vegetable Jaundice Bitters repros appear to have been made by several companies other than Wheaton.  Some are marked Tiawan in the base and others have no marking but were probably made in China. These attractive bottles come in a variety of sizes from miniatures to the large size shown above. They can be found in blue, amethyst, yellow, green, red and other colors.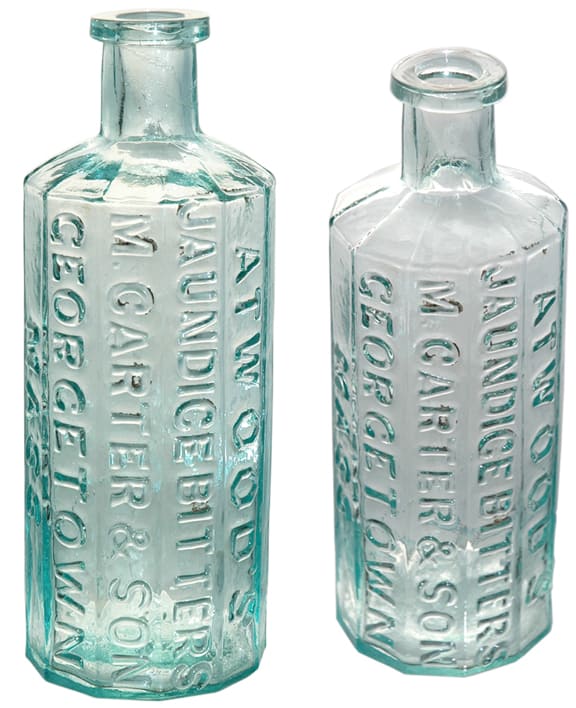 The Barber's bottle is also a dead ringer for many of the Moses Atwood's Jaundice Bitters from Georgetown, Massachusetts.
[ebay listing]
This bottle is listed by Ring & Ham as B 19, extremely rare. It is slightly over 6" tall with a tooled top and a smooth base. It is 12-sided, and the panels travel up the shoulder as well. It is embossed on five panels: BARBER'S // INDIAN VEGETABLE // JAUNDICE BITTERS // OLIVER JOHNSON & CO. // PROVIDENCE, R. I. The product was probably an Atwood's rip-off, but its rarity indicates that it was much less successful. It has no cracks, but there is a base chip which is about an inch at its widest. It's visible is a few of the pictures. Also, there a tiny and shallow lip chip, visible in the picture of the top at 6 o'clock. There is also overall light stain, not bad. A great rarity in spite of some imperfections!

[rudyrm – 100% positive feedback]
The Carlyn Ring and W.C. Ham listing in Bitters Bottles is as follows:
B 19  BARBER'S INDIAN VEGETABLE JAUNDICE BITTERS, Circa 1850 – 1870
BARBER'S // INDIAN VEGETABLE // JAUNDICE BITTERS //
OLIVER JOHNSON & CO. // PROVIDENCE R.I. // f // f // f // f // f // f // f //
6 1/8 x 2 1/4 (4 5/8) 5/8
12-sided, Aqua, FM, Tooled lip, Extremely rare
Copyrighted in 1875, in business since 1858
OLIVER JOHNSON
"Oliver JOHNSON, son of Elisha and Asee (Albro) Johnson, was born at East Greenwich, R.I., June 14, 1799. His paternal ancestor in this county came from Wales and settled on the island of Rhode Island, where, in company with his brother, he commenced the business of fulling and dressing cloth, which he had pursued in his native country. He subsequently removed to that part of East Greenwich now called Frenchtown, where he purchased a tract of land (part of which is still owned by the Johnson family) and erected a mill and dwelling house. Benjamin Johnson, the grandfather of Oliver, served for some time as judge of the common pleas court, and at the time of his death was one of the judges of the supreme court of Rhode Island, which position he had occupied for several years. Mr. Johnson's maternal ancestors were of French descent. He was educated at the common school in his native town, and Washington Academy at Wickford. At the early age of 15 he began to teach school, and thus worked his way through the academy, and was enabled to acquire a good education. He continued to teach until he was 23 years of age.
In 1822 he quit teaching, and, with Whipple A. Arnold, engaged in general merchandising at Centreville, R.I. After being thus associated for about two years the partnership dissolved, and Mr. Arnold continued to carry on the business alone. He next opened a variety store in a building owned and occupied by Dr. Sylvester Knight, and having a desire to learn the drug business, added drugs and medicines to his stock. For some time he was assisted by Doctor Knight, and studied with him until he had acquired a thorough knowledge of the drug business. He continued in business at Centreville until 1833, and a part of the time while there kept the Centreville Hotel, and also engaged in cotton manufacturing with John J. Wood.
The year of his removal to Providence he and Doctor Knight opened a wholesale drug store on Weybosset street, where they continued until the death of Doctor Knight in 1841.

In April, 1833, he removed to Providence, where he has since resided. The year of his removal to Providence he and Doctor Knight opened a wholesale drug store on Weybosset street, where they continued until the death of Doctor Knight in 1841. The stock and fixtures of this store were then sold to Grosvenor & Chace, of Providence, and Mr. Johnson afterward opened a store for the sale of drugs, groceries, cotton, cotton goods and manufacturers' supplies, at the present site of the 'Journal' office, where he continued in business alone, and succeeded in building up a large and profitable trade. In 1846 he removed his business to 13 Exchange Street, and has continued there until the present time. In consequence of increased trade, his store has been greatly enlarged, and now extends through to Exchange place. In 1852 he associated with his son, William S. Johnson, and the firm continued as Oliver Johnson & Son until 1859, when Benjamin W. Spink, who had for several years been in Mr. Johnson's employ, was also admitted as a partner, and the business has since been continued under the firm name of Oliver Johnson & Co. They also have a large building on the corner of Eddy and Elm streets, where they grind white lead and colors.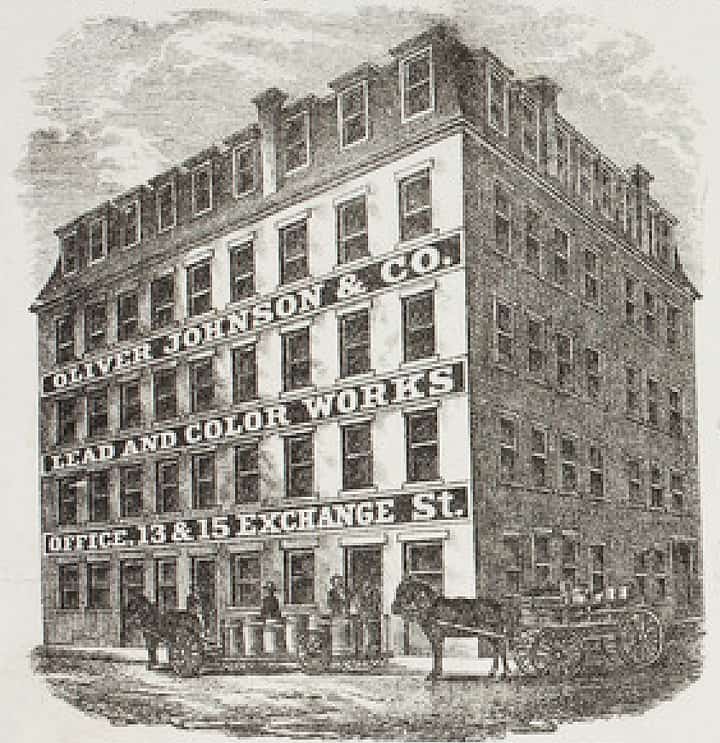 Mr. Johnson is at present the oldest wholesale druggist in the state, and, though not now an active partner, being over 91 years of age, still retains a relish for the activity of business, and may be seen almost every day at his desk in the counting room. His uprightness of character and business qualifications have won him the esteem of his fellow citizens, and caused him to be called upon to fill various public positions. He was justice of the peace and notary public in Warwick for some time; in 1841, '52, '53, '54, '56 a member of the city council of Providence, holding while there the offices of chairman of the committee on education, chairman of the committee on highways, and was instrumental in locating and purchasing the present site of the city hall. He was a representative in the general assembly of Rhode Island in 1854,'55 and '57, holding there the office of chairman of the committee on corporations, and was a member of the two conventions in 1841, called for the purpose of drafting the constitution of the state. He has been a director in several insurance companies; was a director of the City National Bank from 1834 to 1848, and has been a trustee of the Mechanics' Savings Bank since 1864, having been one of the incorporators in 1854. He has also been a director of the Westminster Bank several years.
He has been an active and prominent member of the order of Freemasons since June 7th, 1823, at which time he was initiated in Manchester Lodge, No. 12, at Coventry, R.I. Notwithstanding the religious and political persecution to which Freemasons were subjected during the anti-Masonic movement, Mr. Johnson remained firm in his adherence to the order. He was twice called before the church of which he was then a member to answer to the charge of being a Freemason; but the charge was withdrawn. He received all the degrees in Ancient Masonry, and the orders of Knighthood, and was honored with the highest offices in the gift of the fraternity. He was elected grand master of Masons by the Grand Lodge of Rhode Island in 1855-56; (grand commander) eminent commander of St. John's (Encampment) Commandery in 1859; and grand high priest of the Grand Royal Arch Chapter of Rhode Island in 1860. He has received in all 44 degrees and orders, including the degrees of the Ancient and Accepted Scottish Rites. On the 6th of July, 1816, when 17 years of age, he joined the First Baptist church in Exeter, R.I., and has since been a member and prominent leader in many other churches.
He has been twice married; first to Hannah S. Davis, daughter of Ezra D. and Mahitable (Reynolds) Davis, of Davisville, R.I., September 5th, 1824. She died May 24th, 1862, aged 57 years. They had two sons: William S. and Edwin A. Johnson. He married, second, February 23d, 1864, Cordelia M. Stanwood, daughter of Solomon and Jane D. (Hamoor) Stanwood, of Ellsworth, Maine. Mr. Johnson was for many years a member of the standing committee of the Rhode Island Society for the Encouragement of Domestic Industry, and has given considerable attention to agriculture, having for some time owned a farm on Coweset bay, in Warwick."
History of Providence County, Volume I
Edited by Richard M. Bayles
W. W. Preston & Co., NY. 1891