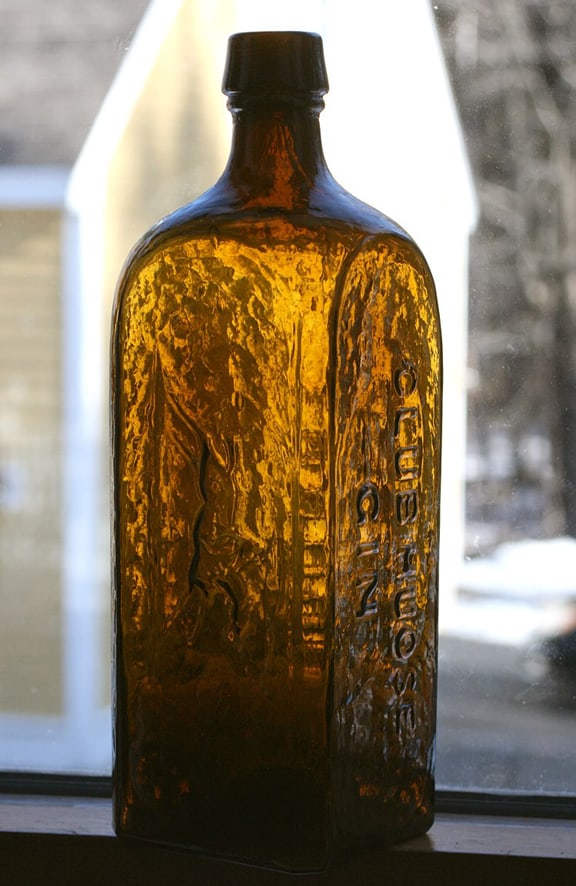 Extreme "London Jockey Clubhuose Gin" with mis-spelled CLUBHUOSE!
The transposed London Jockey Club Huose (Club House) Gin
30 October 2012
LONDON JOCKEY CLUB H

UO

SE GIN

Michael George has this extraordinary example of a London Jockey Club House Gin where 'HOUSE' is misspelled as "HUOSE". The 'U' and 'O' are transposed. The bottle is in a gorgeous Stoddard color with tons of character. This bottle is for sale, at least it was at the Yankee Bottle Show in Keene, New Hampshire earlier this month and previously at the FOHBC 2012 Reno Expo this past July. Wow is all I can say.
As an aside, Michael George is the Show Chairman for the upcoming FOHBC 2013 National Antique Bottle Show – Manchester, New Hampshire
Read More: London Jockey Club House Gin
Read More: Heinle's Jockey Club Root Beer – Jockey & Horse Label