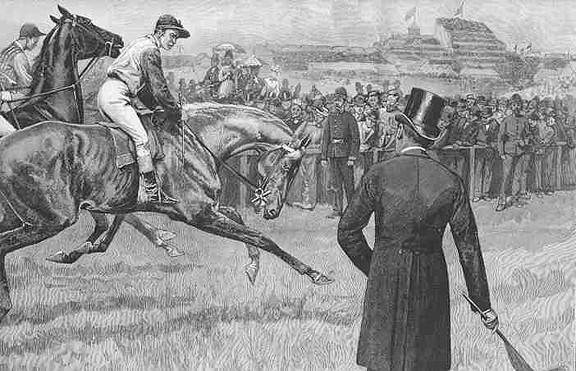 London Jockey Club House Gin
Obviously Gold Rush miners loved their Gin!
14 April 2012 (R•06Oct13)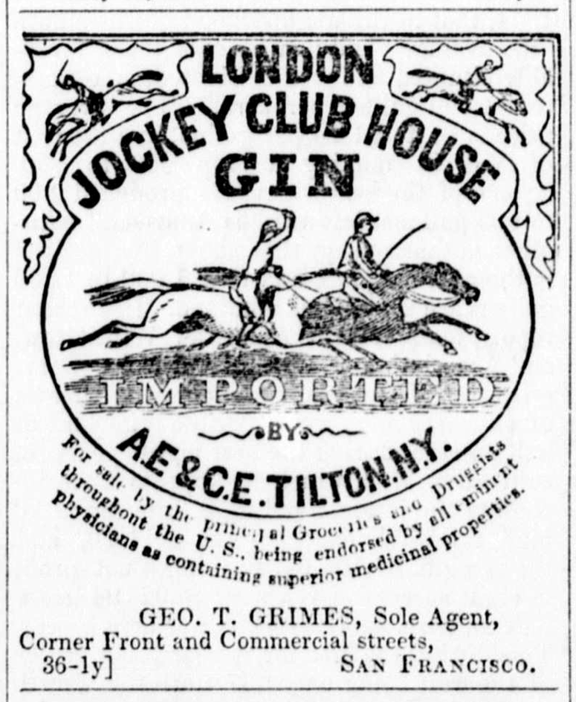 Without a doubt, my favorite non-Bitters square is the great London Jockey Club House Gin with embossed horse and rider. I have owned a number of great examples but sometimes I end up selling to a persuasive buyer if I need funds for a Bitters bottle. I really would like to know where these bottles were made and wonder why so many ended up out west. Obviously Gold Rush miners loved their Gin! I have put together some pictures and advertising from my collection, Western Bitters News and other sites to try to give everyone an understanding of what has been posted and what the latest movement and thinking has been about this brand. Another thing that I find interesting is that the advertising shows the horses running left while the bottle embossing, the horse runs right.
[from Rick Simi at Western Bitters News on 01 January 2010] Lately there seems to be a lot of interest in the early gold rush era squares found out here in the west. Although not a bitters, one of these squares, the London Jockey Clubhouse Gin, is certainly capturing the limelight as one of the most desirable of these early western distributed squares.
The value of these bottles has escalated dramatically in the last two years. Several "western" collectors are aggressively seeking the Jockey Clubhouse and consequently have driven the price of these bottles literally "through the roof" In American Bottle Auctions auction # 47 a dark green example fetched a mid 4 figure price and in auction #48 a grass green Jockey ended at just under the mid 4 figures.
The earliest mention of the London Jockey Clubhouse, that I have found, comes from the April 1859 edition of the Sacramento Daily Union and was placed by the James Patrick Company, sole agents for California. According to the information I have gathered from early advertisements for the product the Jockey Clubhouse Gin was imported by A.C. and C.E. Tilton of New York City.
Wilson, in his book Spirit Bottles of the Old West eludes to this bottle being manufactured into the 1870's. I cannot find any reference to the Jockey Clubhouse after approximately 1866 when the Patrick Company had 1,000 cases of the London Jockey Clubhouse Gin languishing in its San Francisco warehouse. A previous advertisement in the October 1862 edition of the Sacramento Daily Union lists 100 cases of the Clubhouse Gin being auctioned at 'agents rates"
Even though I don't have conclusive proof of the longevity of the London Jockey Clubhouse, auction price results and the scarcity of available examples of this bottle make it a very rare, desirable and pricey piece of early western gold rush history.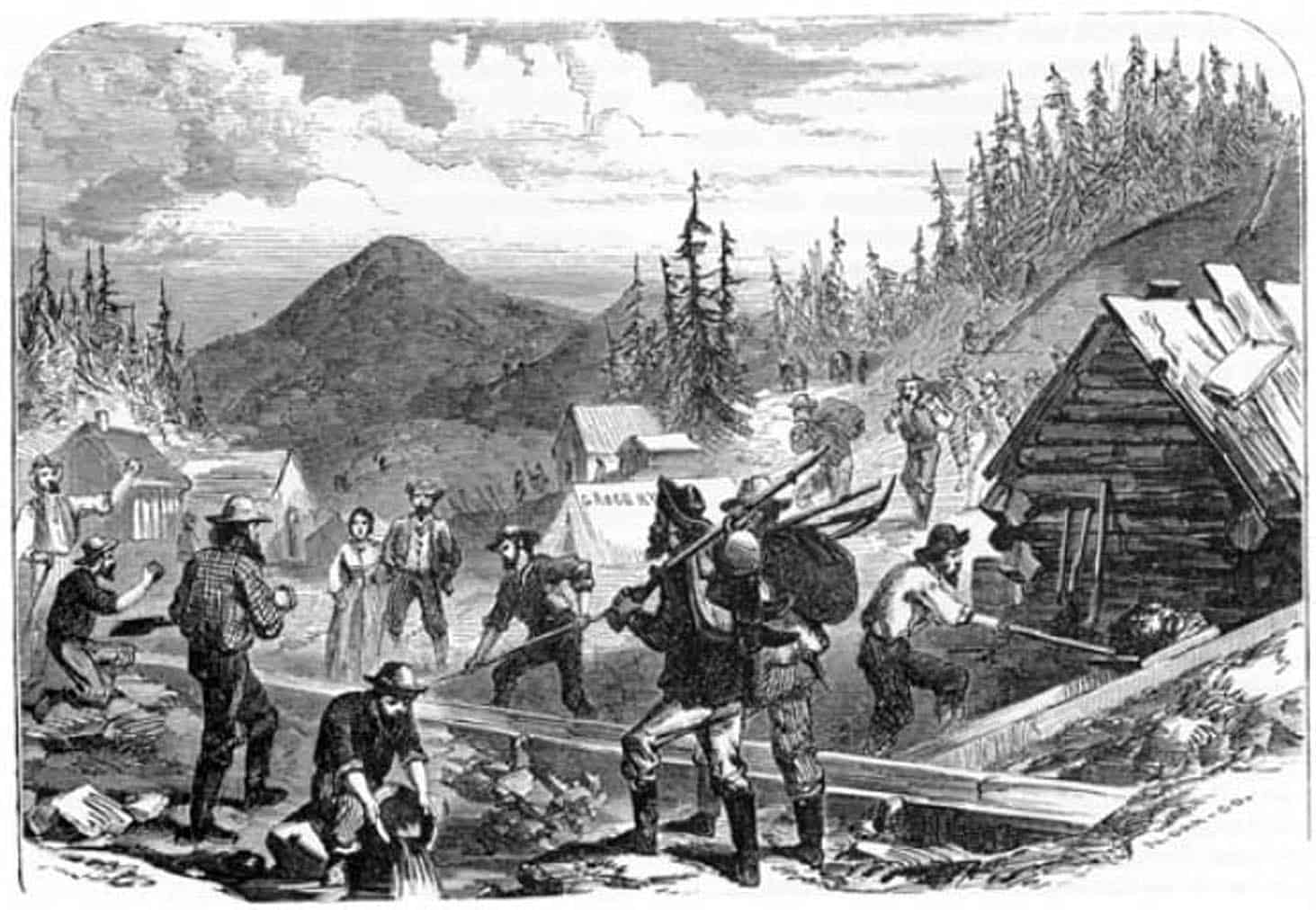 [from Jeff Wichmann at American Bottle Auctions] This London Jockey Clubhouse Gin bottle (pictured above), with embossed horse and rider, applied top and smooth base brought $7,000 in a June 2010 sale by American Bottle Auctions. Read More: Trends in the Antique Bottle Market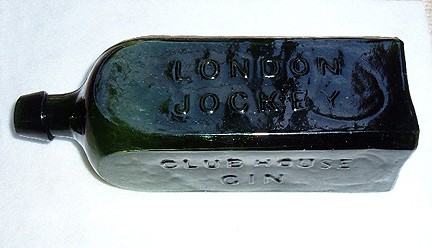 [Comment from CalDigr2 on Antique-Bottles.net regarding the above picture] The "classic" English Gun lip is usually a definite indicator of British manufacture. Those are similarities shared by Booth's, the ever present Gordon's, and any other UK gin bottle. Those were often applied lip as late as the 1910s, but to a lesser extent, depending on manufacturer.
American gins have the typical chamfered corners and tapered top, a characteristic often copied by European companies. The horse and rider of the London Jockey only adds to the beauty of this bottle. The beautiful Wistar's Club House gins that we so often dig in the Gold Rush camps of the Sierra are another fine example of American glass container for the popular alcoholic drink that it was during those few years that the gold seekers pored over the streams searching for riches. Piles of discarded bottles were so prevalent that camps were named after them. Bottle Hill, in El Dorado County and Bottle Gulch and Botilleas, in Amador, are a few that come to mind.