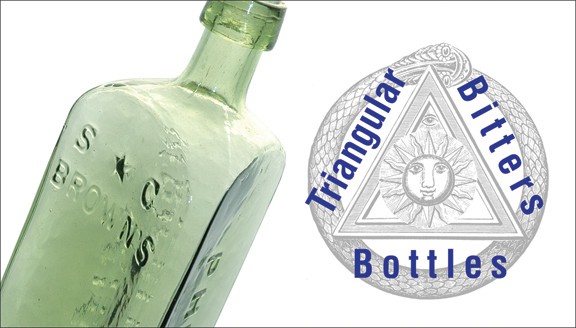 The beautiful and triangular S (star) C Brown's Herb Bitters
11 January 2012

My continuing effort to document triangular bitters bottles leads us now to the extremely rare, S (star) C Brown's Herb Bitters from Philadelphia. The Brown's was an elusive and tough bottle for me to obtain. It was first offered to me by a bottle broker from the East Coast for big dollars and I foolishly passed because I was not familiar with the bottle (probably classified it in my mind as a three-sided square bitters – Ha!). Boy was I wrong. I was finally able to track the example down again after a Glass Works Auctions miss when I was the successful bidder in the American Bottle Auctions, Grapentine 1 | Auction 41 (Lot #170) in April 2007. My bottle was classified as near mint and is in superb condition with lots of whittle and crudity. It is also ex: Carlyn Ring (see sticker).
The Brown's has been seen in amber (not by me). It was believed that there were only two (2) known examples in this stunning color shade. You can imagine my (and others) surprise when an example showed up in the recent Heckler Auction 95 | The Thomas McCandless Collection | Session II in October 2010. Estimated to sell from $10,000 – $20,000, the bottle sold for far less. Somebody really got a great bottle for a great price. Congratulations.
B 230

BROWN'S HERB BITTERS
Circa 1863 – 1875
S (star) C / BROWN'S // HERB BITTERS / PHILADA //
9 5/8 x 3 1/4 (7 1/2) 3/8
Triangular, Yellowish green, LTC, Applied mouth, Extremely rare
Read Further: Sanitarium Bitters & Hi Hi Bitters – No doubt what you are getting here!
Read Further: The triangular Hagan's Dyspepsia Bitters – Atlantic City, New Jersey
Read Further: The Triangular O.H.P. Rose's Peruvian King Bitters
Read Further: The extremely rare, triangular Wahoo Chamomile Bitters