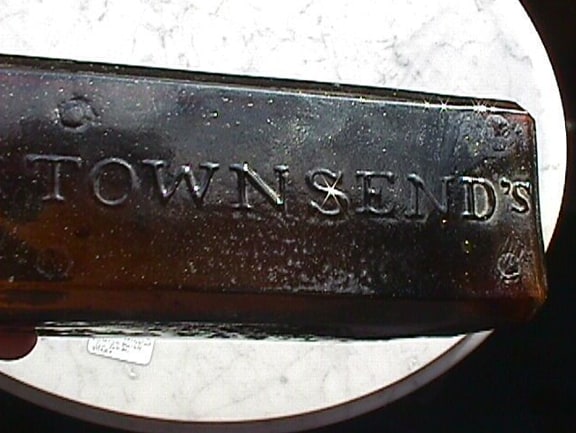 Don't you love that 'Pixie Star" shooting from the "S" in Townsend's!
As I have had two (2) posts regarding Dr Townsend's lately, Jeff Burkhardt (Froggy) turned me on to this killer Dr. Townsends Sarsaparilla that just sold on eBay yesterday. Only 1 bid for $2,000. The seller was jims_hidden_treasures from Phelps, New York. Jeff noted in a follow-up email that Mike George says probably Stoddard Glass. Man, I just love those rivets in the mold form. WOW.
eBay Description: You are buying a rare Embossed DR TOWNSEND'S SARSAPARILLA ALBANY N.Y. The bottle is 9 1/2″ tall with Applied sloping collar, oval topped panels and chamfered corners. Awesome Dark Amber with seed bubbles. Sand pontil base with a rare treatment that consists of (17)yes seventeen embossed circular rivets total on the four side panels. Bottls has no cracks or chips but does have 1/8″ thick hardened contents alone one side, buy it that way! see link: Embossed DR TOWNSEND'S SARSAPARILLA ALBANY N.Y. Sand Pontil 17 Rivets Dark Amber
Read Further: Dr. Townsend's Sarsaparilla Albany, N.Y. iron pontiled (blue/green)
Stoddard (New Hampshire) glass*
* Wikipedia definition removed
Information provided by Michael George based on an exhibit he organized called "New Hampshire Glassmakers". The Dr. Townsend bottle pictured above is mentioned. See New Information: Stoddard Glass – Updated Information from Michael George
Keene glassblower Joseph Foster purchased the molds and glass making tools of that town's failed Marlboro Street bottle factory in 1842 and moved 15 miles northeast where he opened the first Stoddard glassworks. This began an industry that spanned 31 years and consisted of five factories in Stoddard. Three generations of the Foster family were among hundreds of employees of this industry which played an important economic role in this town of failing farms. These glass factories all produced common utilitarian bottles that were shipped to customers throughout New England and New York. Blowers at these factories also produced off-hand pieces that reflect the beauty and artistry of the glassblower's trade.
Joseph Foster built a stone furnace near the village of South Stoddard. The operation was plagued by financial difficulties and closed after only two years in business. Joseph was not defeated, however, and soon built a new factory 400 yards from the first and commenced manufacture once again. This second factory was more successful, producing thousands of small green and amber medicine bottles, crude sarsaparilla bottles for Dr. Townsend of Albany, NY, and cornucopia and basket of fruit flasks. Foster's economic difficulties returned, due partly to the expense of shipping his products to distant buyers, and this second glasshouse closed in 1850.
By this time, however, another larger and better financed glass company had opened in Stoddard's Mill Village, four miles to the north. The Granite Glass Company was founded in 1846 by partners Gilman Scripture, John Whiton and Calvin Curtice. The 1850 New Hampshire manufacturing census reported that this firm had eight furnaces, 38 employees and produced 500,000 bottles that year. The company made many types of bottles, but was best known for its whiskey flasks and patent medicine bottles. Despite its success, the firm suffered from fire and transportation costs and changed hands twice after its incorporation. The Granite Glass Company closed for good in 1862 and burned again soon after.
The New Granite Glass Works opened nearby in Mill Village in 1861. The company was established by George W. Foster, son of Stoddard glass industry originator Joseph Foster. Three of George's brothers also joined the firm, as did Joseph himself, who returned to the town to blow glass there. The firm made wines, inks, snuffs, demijohns, flasks, and medicines, but is probably best known for the extremely rare Stoddard Flag Flask, embossed on one side with an American flag and on the reverse with the words "New Granite Glass Works, Stoddard, N.H." The Fosters sold the company to Boston liquor agent Charles B. Barrett in 1864. The factory came to a close when it burned to the ground in 1871.
The fifth and most successful Stoddard firm was the South Stoddard Glass Manufacturing Company, also known as Weeks & Gilson for the two most prominent owners of that firm, Luman Weeks and Frederick Gilson. This company was formed in South Stoddard in 1850 within sight of the factory operated in the village at that time by Joseph Foster. During its first year the firm boasted ten fires and 47 employees. The company made a wide variety of bottles, but thrived on the production of spring water bottles for the popular spas at Saratoga, New York and for mineral springs in Vermont, New Hampshire and Massachusetts. The Weeks & Gilson firm offered employment to hundreds of people during its 23 years in business. It was the last Stoddard glassworks to operate; the industry came to a close when Luman Weeks shuttered the factory in 1873.
The Stoddard glass industry survived for 31 years in the mid nineteenth century. Most of the glass produced there was dark in color, with amber and green being the most common hues. Dozens of skilled glassblowers worked around hot furnaces to produce millions of bottles that were shipped from Stoddard to markets across New England and beyond. The South Stoddard Glass Manufacturing Company alone produced 750,000 bottles during its very first year in business. Those bottles were sold for a total of $26,000. Luman Weeks and Frederick Gilson would be amazed to see a collector pay that much for a single Stoddard bottle today.