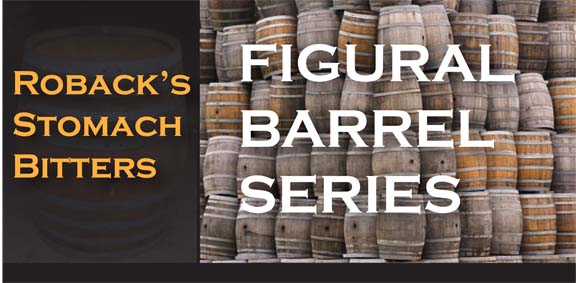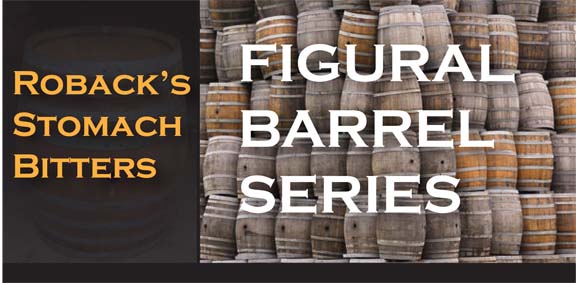 ROBACK'S STOMACH BITTERS
(R 74)
19 July 2012 (R•031414) (R•091318)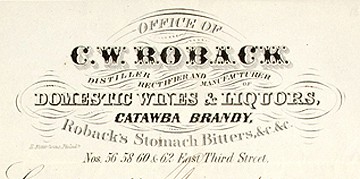 Dr. Roback was neither a Doctor nor a Roback. He was an unsuccessful farmer, turned salesman, who in 1844, escaped debtor's prison in his native Sweden. He started in Boston as Dr. Roback selling horoscopes and founded an astrological college. He sold galvanic chains which were a cure for worms in children. He also sold love powders. He moved to Philadelphia and then Cincinnati where he died in 1867.
---

The post is about the popular and smaller, Ring | Ham designated R 74, Roback's Stomach Bitters from Cincinnati, Ohio. This is a follow-up post to the larger, R 73 barrels (see comparison photograph above and read: Barrel Series – Roback's Stomach Bitters (the big boys).
The R 74 mold is smaller, shorter and thinner than the R 73 mold and easier in the hand. You can also build a stronger color line-up (see run further below).
In this post we will also look at Dr. Charles Roback a little closer by perusing one of his almanacs, looking at some of the other Robacks popular products and brands, and looking at his rather odd, Mysteries of Astrology and the Wonders of Magic book he published in Boston.
10 thousand sold in one month. The most popular stomach bitters in use.
The Carlyn Ring and W.C. Ham listing in Bitters Bottles is as follows:
R 74  DR C. W. ROBACK'S STOMACH BITTERS, Circa 1865 – 1875
DR C. W. ROBACK'S ( au ) / STOMACH BITTERS / CINCINNATI, O ( ad ) // c //
Prince, Walton & Co.   Successors to C. W. Roback   Sole proprietors   Cincinnati, Ohio
9 3/8 x 2 3/8 (7 1/8)
Amber – Common; Olive amber, Olive green and Yellow olive – Scarce
O of Ohio under E of Bitters
Advertisement: 10 thousand sold in one month. The most popular stomach bitters in use. Good for all derangement of the stomach, biliousness, liver complaint, and general debility. They possess wonderful tonic properties, giving tone to the appetite and digestive organs. Debilitated ladies and sedentary persons will find in them an excellent tonic.
---
Read More on Figural Barrels
Barrel Series – Roback's Stomach Bitters (the big boys)
Barrel Series – Dr. Chandler's Jamaica Ginger Root Bitters
Barrel Series – Favorite Bitters & Peoples Favorite Bitters
Barrel Series – Wormser Bros San Francisco
Barrel Series – Mist of the Morning
Barrel Series – Old Sachem Bitters and Wigwam Tonic
Barrel Series – Turner Brothers New York & San Francisco
Barrel Series – The Mysterious Blue Barrel
Barrel Series – Original Pocahontas Bitters
Figural Barrel Series – Hall's Bitters
Greeley's Bourbon Whiskey Bitters – aka Vertical Greeley's
Peach colored Bourbon Whiskey Bitters added to Color Run