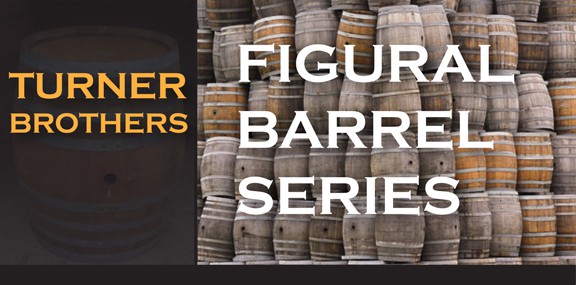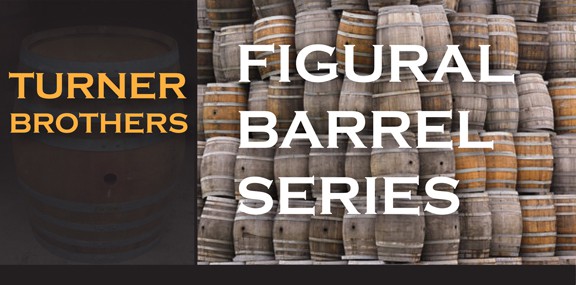 TURNER BROTHERS

|

NEW YORK
07 July 2012 (R•081414 with information from Ann Huberty Duncan who is

 

a direct descendent of the Turner Brothers) (R•091516 – Ferraro example) (R•042019 – 3 part advertisement) (R•091219 – Advertising Cover)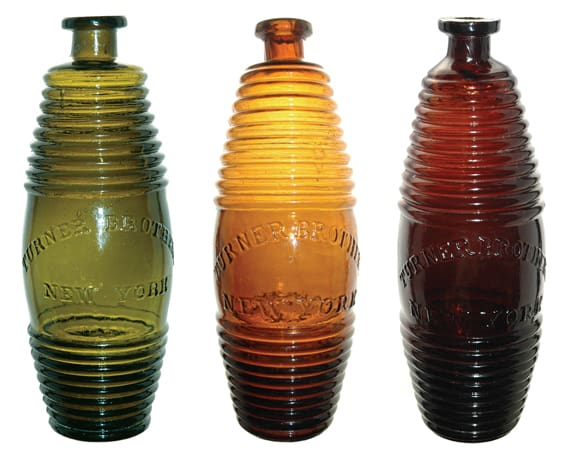 The Turner Brothers New York is an exciting figural barrel that comes in some wonderful amber and green colors with tonal shifts left and right. There are also variants with the embossing copy positioning and size of the typography. You can notice these variances in the examples I have posted further below. There is also a Turners Brothers square bottle that had a label for Turner's Forest Wine Bitters. Some think the barrel contained whiskey while the square contained bitters. What is great about the Turner name is that it ties directly into New York and California.
The six (some say five and this is incorrect) Turner brothers were manufacturing soda water, ginger wines, berry wines, and medicinals in Buffalo, New York as early as 1847. By 1853, they had opened a branch depot in San Francisco and were listed as syrup and cordial manufacturers.
The Turner Brothers advertised in the October 1858 Nevada Journal newspaper that they were the manufacturers of Turner's Ginger Wine, Forest Wine Bitters, syrups, cordials and an unrivalled Vegetable Bitters. Sometime in 1865, the Turner Brothers sold the business to the firm of McMillan and Kester. Thereafter McMillan & Kester started advertising that they were the proprietors of the Turner brands. (source Rick Simi – Western Bitters News)
Here below is an advertisement from the Santa Cruz Weekly Sentinel from November 29, 1862. The top third advertises Turner's Forest Wine Bitters. The middle portion advertises Turner's Ginger Wine while the bottom third is being used for Turner's Essence of Jamaica Ginger. The products were sold Wholesale by Turner Brothers, Corner Washington and Franklin streets, New York, Niagara street, Buffalo, N.Y. and Corner of Broadway and Front streets in SanFrancisco.

The Turner progenitor was Duncan Turner who emigrated from Dumbartonsire, Scotland  to Canada and then New York City in 1818. His wife Mary Shepard Clark had previously emigrated to NY from England 3 years earlier.
In 1819 Duncan and Mary moved to rural Delaware County, New York where other Scots had established farms. Mary and Duncan had six sons and one daughter. (Malcolm, Margaret [known as Ellen], James, Thomas, Archibald, Robert, George). They established themselves as tenant farmers in an undeveloped area that still had Indians living nearby. All the children were born in Delaware County, N.Y., but, unfortunately, baby Margaret died at age 1.5 years in 1925. She was buried in the Kortright Parish Church cemetery, Kortright, N.Y. The only source for the death of Duncan Turner in 1834 at age 50 has been the Turner obelisk in a Brooklyn cemetery. According to the 1850 U.S. Federal Census, Mary Turner (widowed) and her sons were living in Buffalo, running a spirits, wines, and cordials factory. By the mid 1850s, the brothers had also established additional factories in San Francisco and New York City. Robert ran the San Francisco business; James was in charge of the factory in Buffalo, New York; and Malcolm was president of the Turner Brothers factory in New York City. George, Thomas, and Archibald were partners.
After selling the wine, spirits, cordials business, the Turner Brothers established the Turner Brothers Bank headquartered in New York City, sometime in the mid 1860s during the railroad expansion and boom. Later, Malcolm Turner traveled to Europe to establish overseas bank branches in Germany, Paris and London. As managers of the overseas branches of the Turner Brothers' Bank, Robert and Rebecca Turner lived in Europe in the early 1870s.
Later, due to having overextended their investments in the railroad boom. the outbreak of the Franco-Prussian War in Europe, and the U.S. Panic of 1873, the Turner Brothers were forced to declare bankruptcy in 1876. Archibald and Thomas Turner sold their partnerships prior to the declaration of bankruptcy and thereby saved themselves from insolvency. Archibald later became president of several banks in NYC.
---
T 67 L  Turner's Bitters, Circa 1858 – 1870 L . . . Turner's Bitters TURNER BROTHERS / NEW YORK ( ) // c // 9 7/8 x 3 1/2 x 2 1/4 Barrel, 10-10 Amber and Green, NSC
---
---
Read More on Figural Barrels
Barrel Series – The Mysterious Blue Barrel
Barrel Series – Original Pocahontas Bitters
Figural Barrel Series – Hall's Bitters
Greeley's Bourbon Whiskey Bitters – aka Vertical Greeley's Peach colored Bourbon Whiskey Bitters added to Color Run