Dr. D. Smith's Wild Cherry Tonic Bitters
28 March 2019

Bill Ham emailed me with a new bitters listing regarding a bottle on eBay that closed last night. See Listing He already assigned the bottle a catalog number which is represented further below. It always amazes me when one of these unlisted bitters shows up. I wonder why it took so long for an example to surface and if there is any information regarding the bottle. This one took me on a wild goose chase.

Ebay Description: Here is a square bitters bottle unlisted in Ring & Ham and any other sources I could find. It is nearly 9" tall with an applied top. It is embossed on three sides: DR. D. SMITH'S // WILD CHERRY / TONIC // BITTERS. It displays well, but at one time the entire neck was broken off and there was a large chip on the side of the lip which was glued back on. You can see this when I used a flash in pictures #6 & #9. There was also a coating on the bottle, but I removed most of it. Not in great condition obviously, but a rare one nonetheless! Please see my other bottles, many of them rare, which will also close on Wednesday, March 27th, 2019.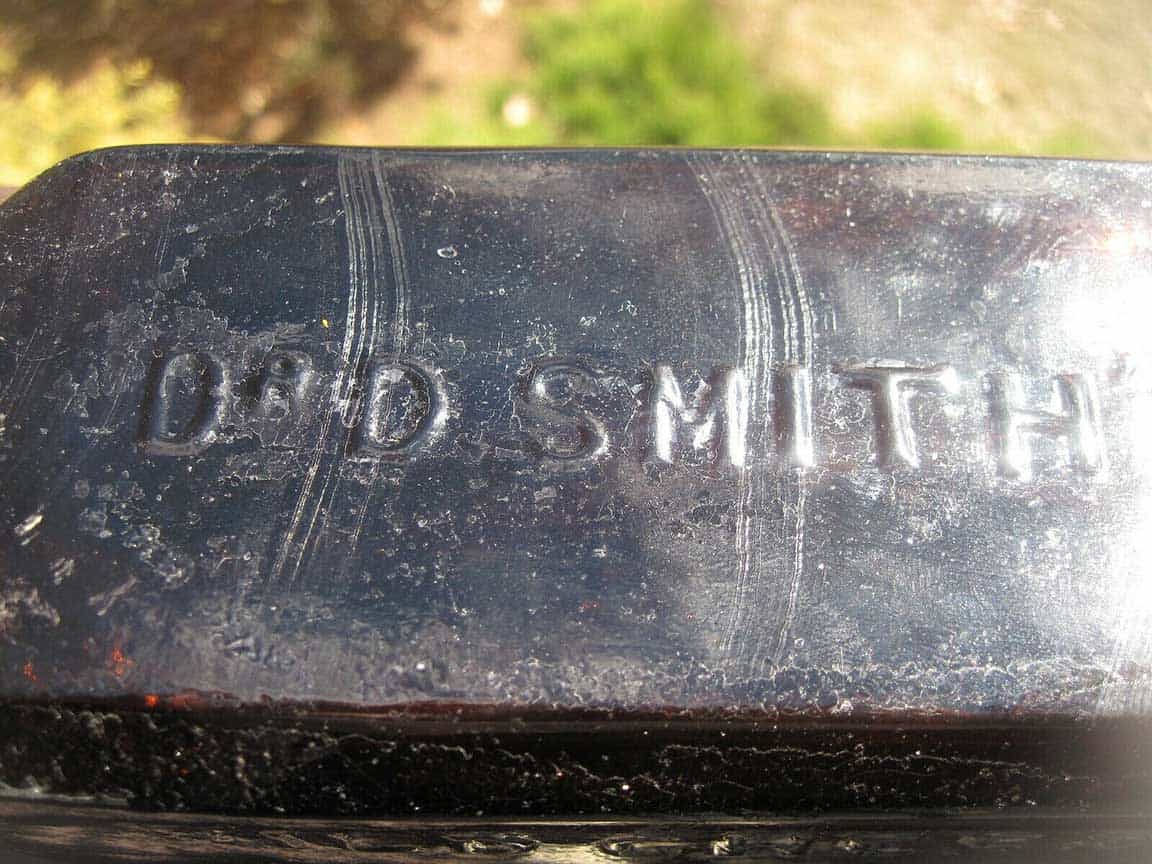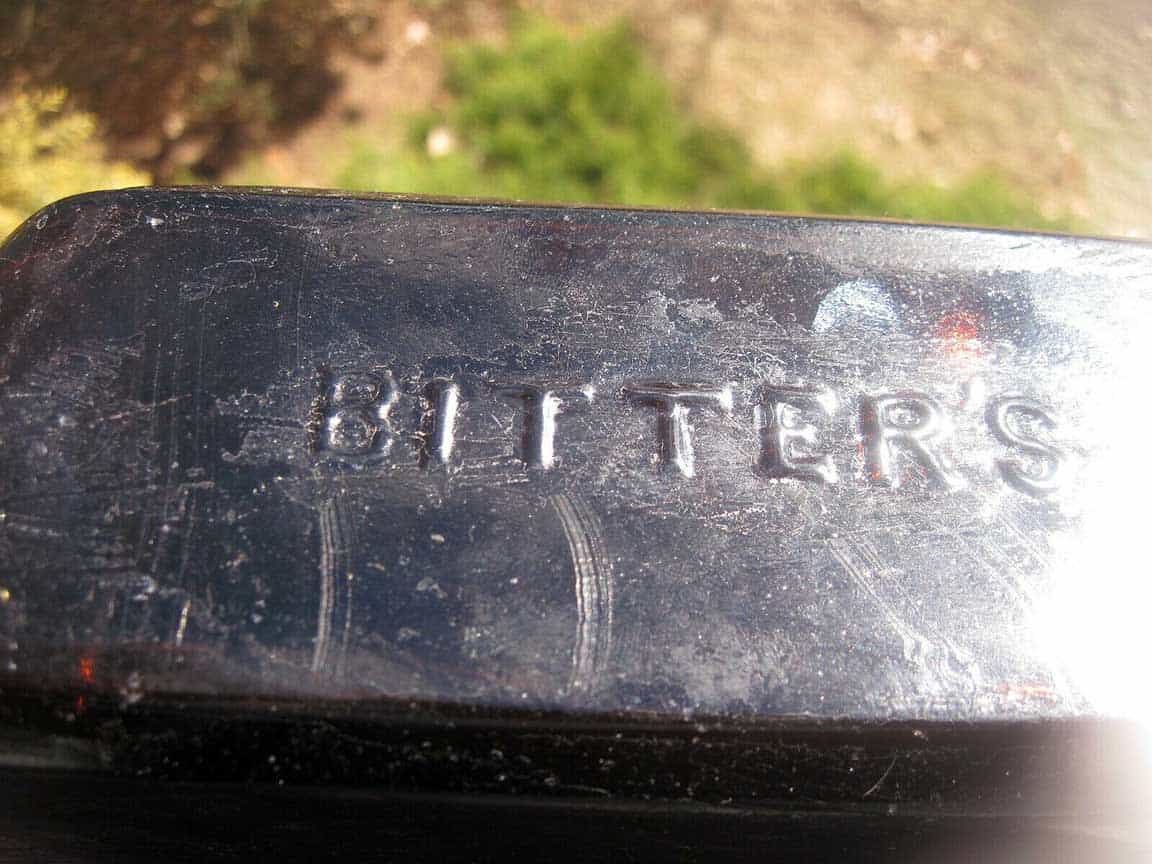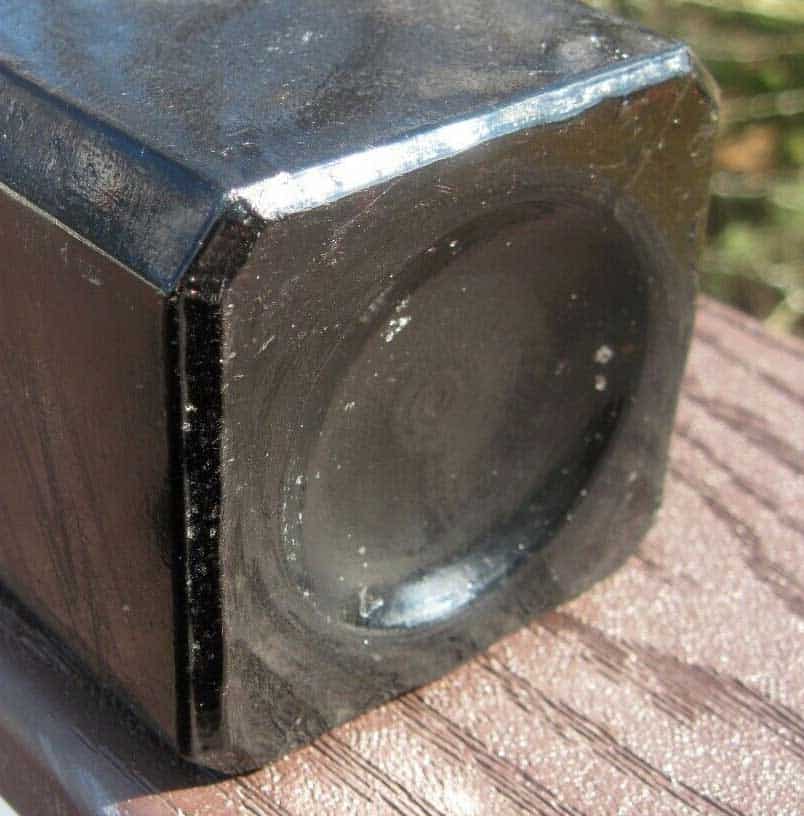 The new listing by Bill Ham for his forthcoming Bitters Bottles Supplement 2:
S 132.5  Dr. D. Smith's Wild Cherry Tonic Bitters
S 132.5 DR D SMITH'S // WILD CHERRY / TONIC // BITTERS // f //
9 x 2 3/4
Square, Dark amber, LTC, Applied mouth, Extremely rare
So who is this Dr. D. Smith?
I've written about a few Dr. Smith's before who were associated with bitters. This includes Dr. A.H. Smiths Old Style Bitters, Smith's Gentian, Dandelion and Yellow Dock Bitters, and Dr. Smith's Magic Bitters. I do not think our subject eBay bottle is related.
As you might expect, there are a number of other Dr. Smith Bitters listings in Bitters Bottles which include S 120: Smith's Bitters (N. K. Brown, Montpelier, Vermont), S 121: Dr. C. H. Smith's American Stomach Bitters from Albany, New York, S 122.5: Smith's Celebrated Stomach Bitters (B. Smith, Hyde Park, Pennsylvania), S 122.7: G. M. Smith's Celebrated Club House Bitters, S 123: L…Dr. Smiths Colombo Tonic Bitters (Benjamin Smith, Scranton, Pennsylvania), S 124: Smith's Druid Bitters, S 125: L…Smith's Green Mountain Bitters (Dr. J. H. Smith, St. Johnsbury, Vermont), S 125.5: H. Smith Iron & Quinine Bitters from Dedham, Massachusetts, S 126: Dr. Smith's Ne Plus Ultra Elixir of Life Bitters, S 128: Dr. M. Smiths Stomach Bitters from Louisville, Kentucky, S 129: Smith's Tonic Bitters (Smith & Rundle, New Orleans, Louisiana), S 130: Smith's Vegetable Hungarian Bitters, S 131: Smith's Verbena Bitters (Dr. E. W. Smith, Espyville, Pennsylvania), S 132 and Smith's Vitalizer Bitters. None of these bitters seem to be relevant.
Interesting that there is a brief listing for a S 133 Dr. Smith's Wild Cherry Bitters. Could this be our bottle? It might be a reference to the Smith & Morrison bitters featured at the bottom of this post.
There are actually a few other obscure Dr. Smith Bitters out there. This includes Dr. Smith's Indian Bitters put out by Charles Richardson, Chemist, Wellgate Laboratory in Dundee, Scotland. The newspaper clipping below is from The Courier and Argus, August 12, 1876. Obviously not our Dr. D. Smith. This bitters appears to be unlisted.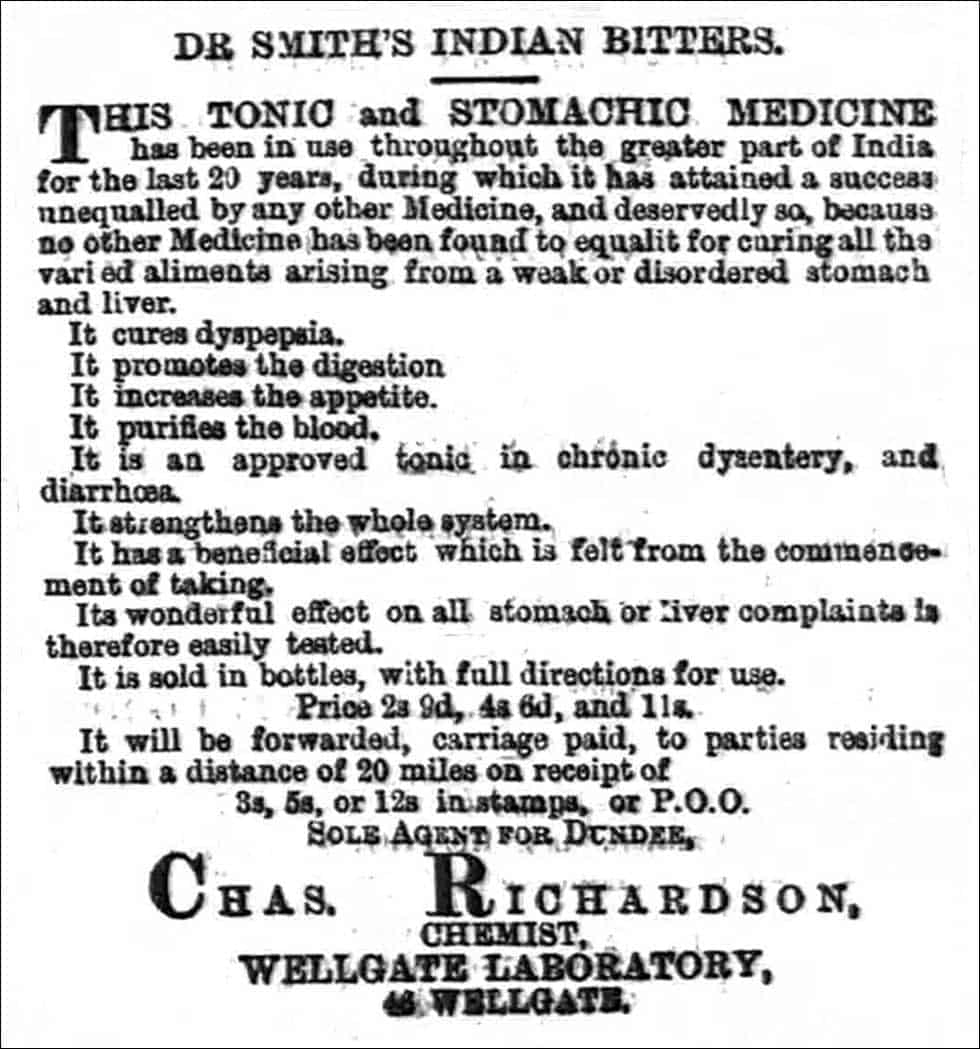 The next Dr. Smith's Bitters reference (below) comes from the The Times Tribune on March 8, 1900. Here a Dr. Ben Smith in Scranton, Pennsylvania was noted as gaining fame for being the proprietor of a tonic known as Dr. Smiths Bitters. Again, not our Dr. D. Smith. This is obviously related to S 123: L…Dr. Smiths Colombo Tonic Bitters (Benjamin Smith, Scranton, Pennsylvania).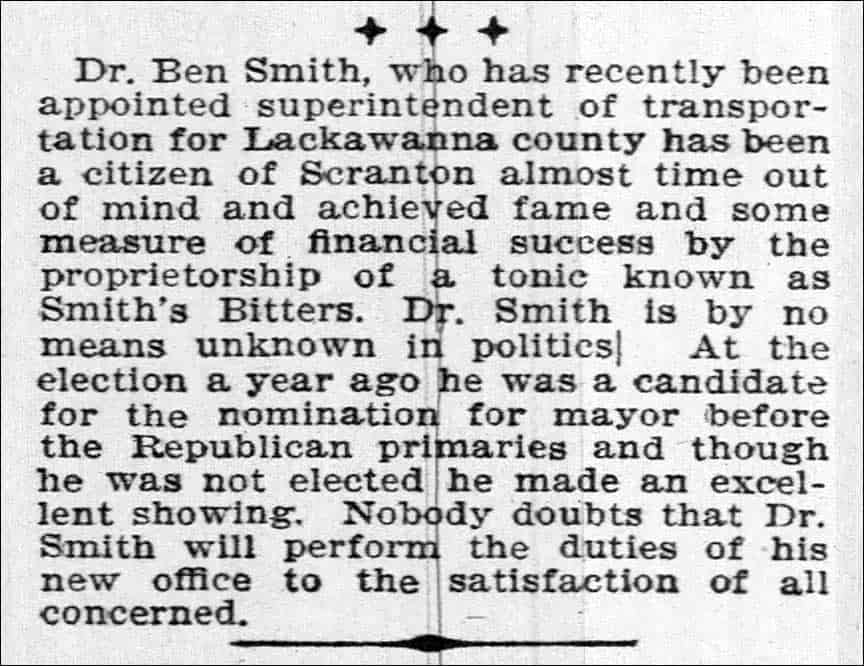 From the mid 1880s on, until the early 1920s, I found a number of references to Dr. Smiths Bitters in newspapers without a proprietor reference. As it turns out, Dr Smith's Bitters was being used as a generic name to reference any bitters. I guess it could have been Dr. Jones too. Three examples are referenced below.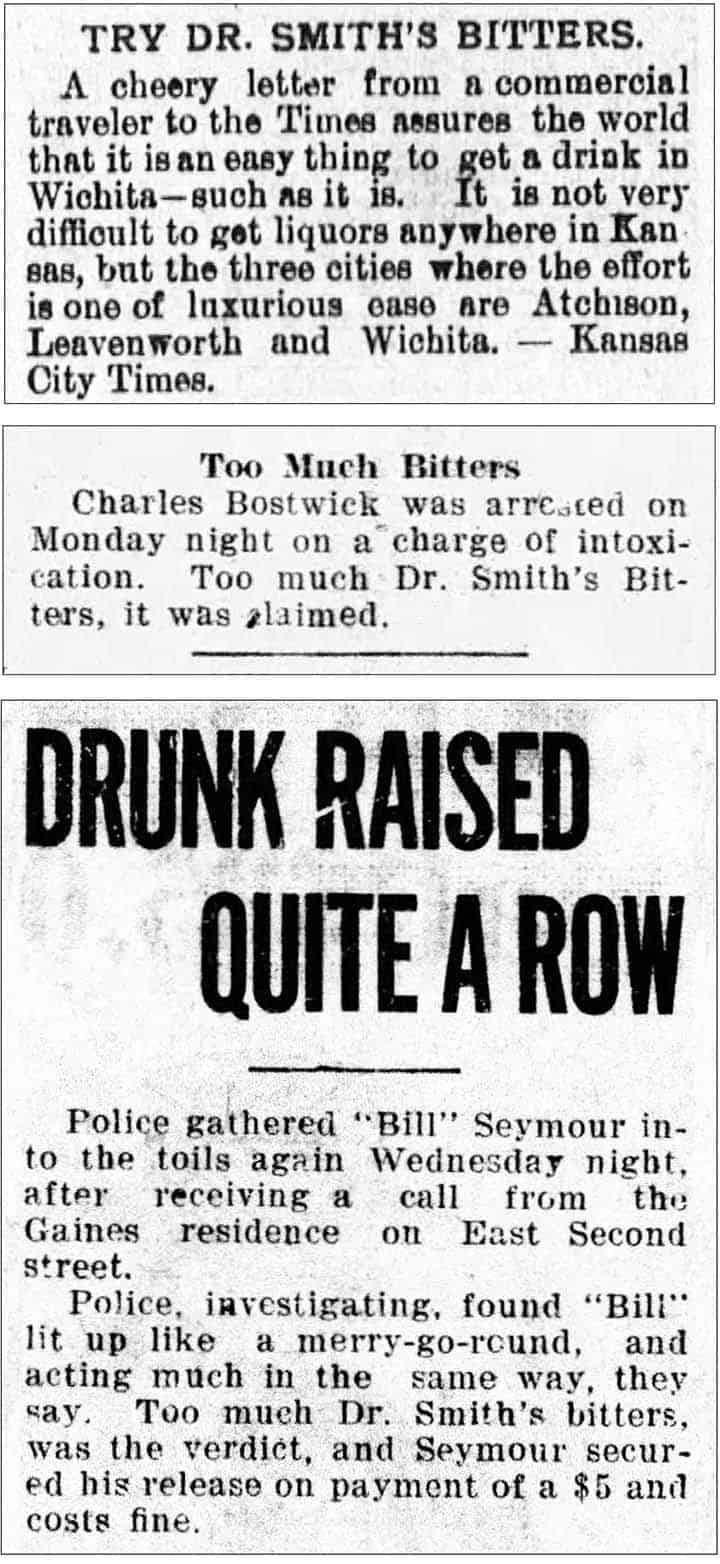 Smith & Morrison | Gaston Delroy Smith
It's interesting because when I search for information for this bottle I come up with a strong hit for 'Smith's Wild Cherry Tonic Bitters' put out by Smith & Morrison in Washington, D.C. The proprietor's were Gaston Delroy Smith and Charles G. Morrison. Both were grocers located at 67 Louisiana Avenue. Note that the bottle is embossed 'Dr. D. Smith's Wild Cherry Tonic Bitters.' With no hits coming off a 'Dr. D. Smith', I wonder if Smith and Morrison added the 'Dr' and 'D' to represent 'Delroy'. Many bitters have a 'Dr.' name to give the brand legitimacy as a medicine even though it was full of alcohol and the person was not a doctor. I also wonder if he went by Delroy Smith?
The bitters had a relatively short shelf life in advertising as it first appeared in 1863 with advertising stopping in 1865. That same year their ads state that "This great Panacea has been established 20 years" If the origin was 1845, the following years must have been without advertising. There is even a reference of 100 cases of G. D. Smith's Wild Cherry Tonic Bitters being auctioned in The Baltimore Sun on September 11, 1865. I would suspect the brand had to much competition. Trying to operate a business at the peak of the Civil War must have also been very difficult,
Select Listings:
1823:

Gaston Deroy Smith, Birth Date: 20 Apr 1823, Birth Place: Vermont, Death Date: 18 Sep 1889, Death Place: New York, Cemetery: Oak Hill Cemetery, Burial or Cremation Place: Washington, District of Columbia, District of Columbia, Spouse: Mary Smith, Children: Mary Gaston Adams, Theodore Smith, William Henry Smith – U.S., Find A Grave Index, 1600s-Current
1860:

C G Morrison, Clerk, Age: 53, Birth Year: abt 1807, Birth Place: New Hampshire, Home in 1860: Washington Ward 2, Washington, District of Columbia, Post Office: Washington, Dwelling Number: 262, Family Number: 271, Real Estate Value: 2000, Personal Estate Value: 1300, Household Members: C G Morrison 53, Mary M Morrison 49 – 1860 United States Federal Census
1862:

Newspaper advertisement (below) Oysters – Oysters! at Smith & Morrison's, 67 Louisiana Avenue – Evening Star, Saturday, December 13, 1862

1863:

 Quarter-page Directory advertisement (below) Smith & Morrison (GT. D. Smith & C. G. Morrison), Wholesale Dealers in Fine Groceries, Provisions, Teas, Coffees, Wines & Liquors, And Smith's Wild Cherry Tonic Bitters, Checkered Store, 67 Louisiana Avenue, Washington, D.C. – Washington, District of Columbia, City Directory, 1864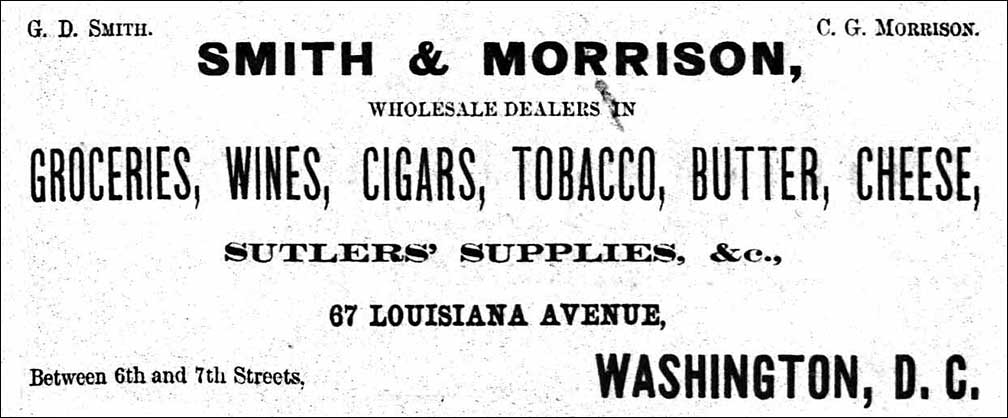 1863:

Gaston D Smith, Grocer, Birth Year: abt 1822, Place of Birth: Vermont, Age on 1 July 1863: Age: 41 Race: White, Residence: District of Columbia, Congressional District: 1st, Class: 2 – U.S., Civil War Draft Registrations Records, 1863-1865
1863:

Newspaper advertisement (below) To Sutlers and Purveyors, Smith & Morrison, No. 67 Louisiana Avenue. S&M are the proprietors of the wall known brand of Old Cabinet Whiskey and Smith's Wild Cherry Tonic Bitters – Evening Star (Washington, D.C.), Wednesday, May 20, 1863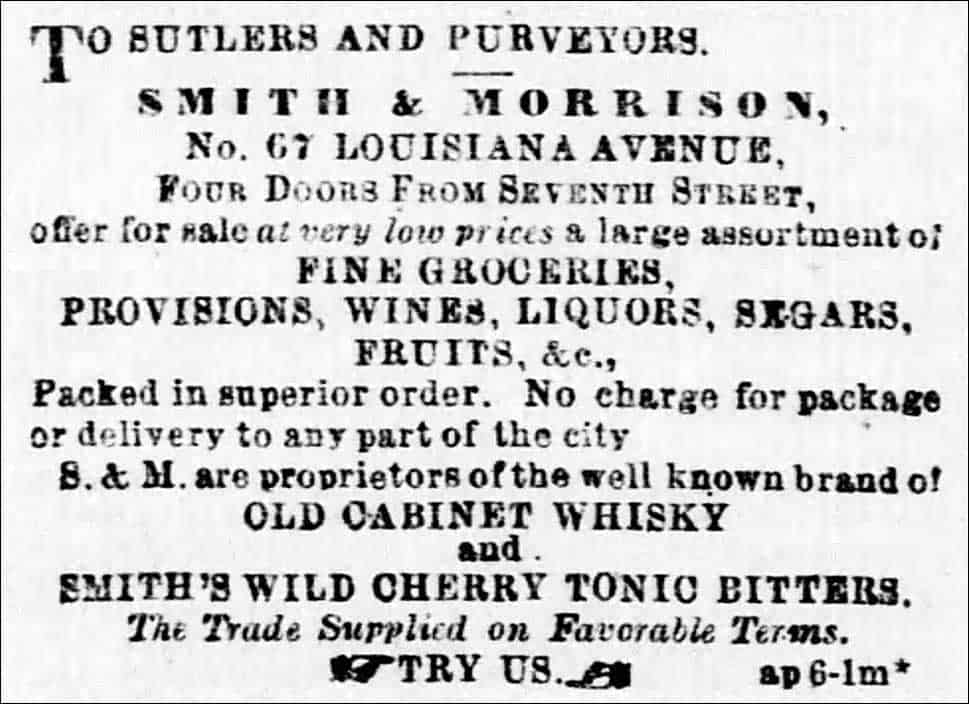 1864:

 Half-page Directory advertisement (below) Smith & Morrison (G.D. Smith & C.G. Morrison), Wholesale Dealers in Fine Groceries, Provisions, Teas, Coffees, Wines & Liquors, And Smith's Wild Cherry Tonic Bitters, Checkered Store, 67 Louisiana Avenue, Washington, D.C. – Washington, District of Columbia, City Directory, 1864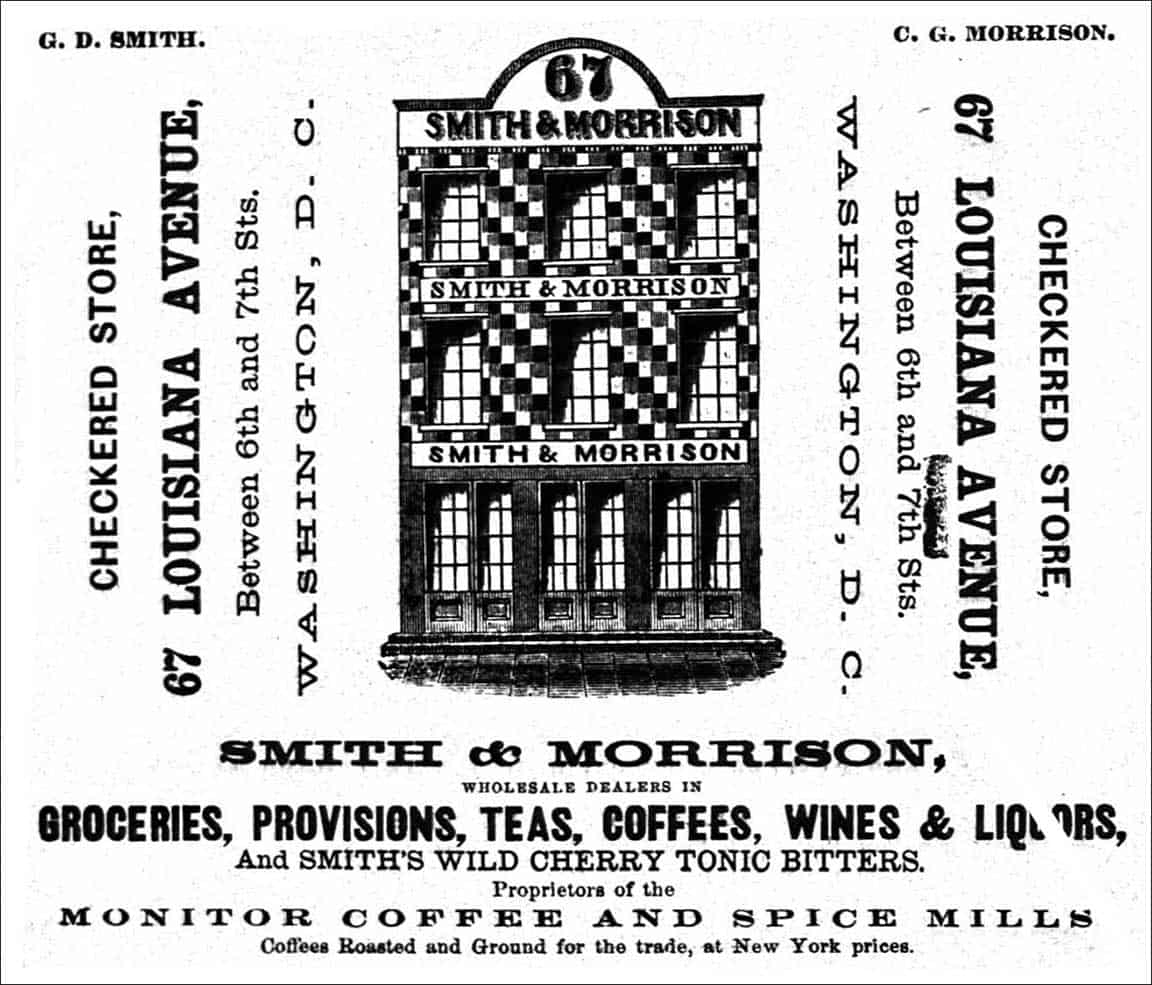 1864:

Newspaper advertisement (below) G.D. Smith's Wild Cherry Tonic Bitters – Evening Star (Washington, D.C.), August 9, 1864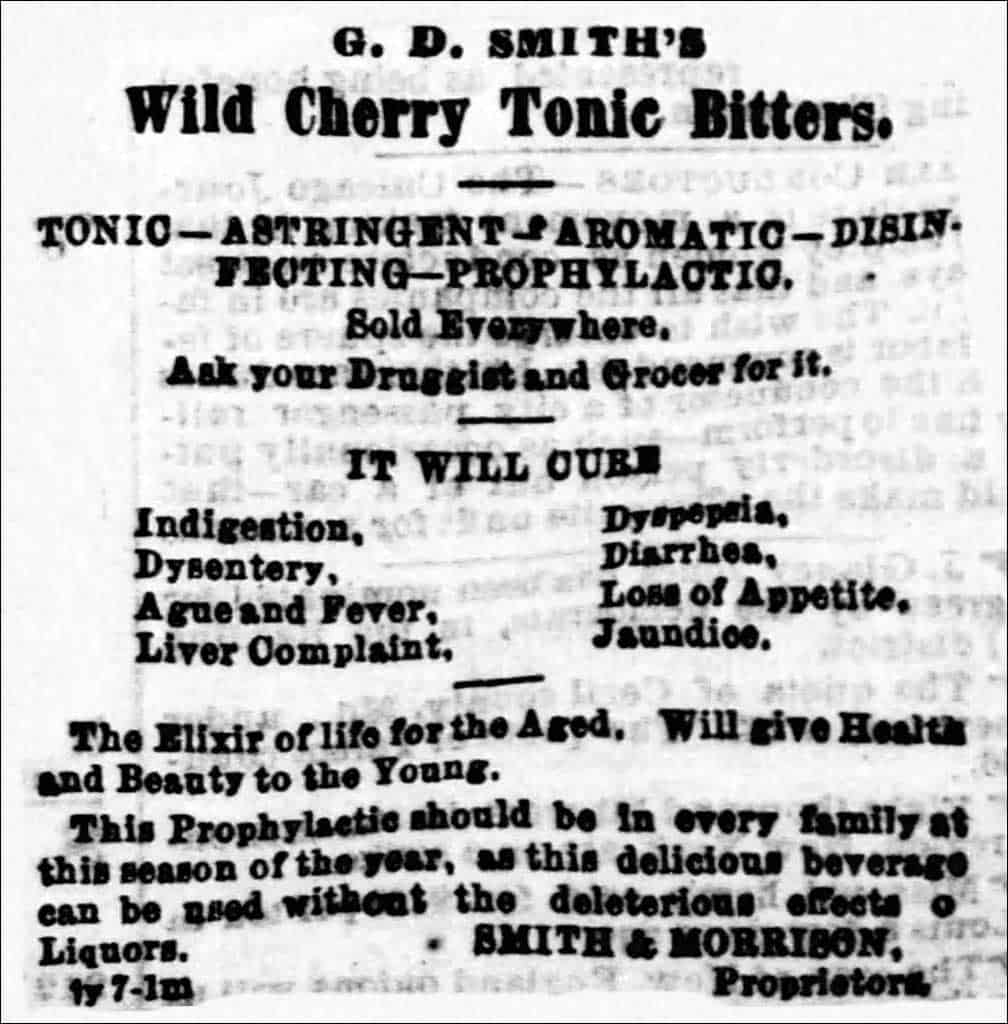 1865:

 Full-page Directory advertisement (above in post) Smith & Morrison (Gaston D. Smith & Charles G. Morrison), Wholesale Dealers in Fine Groceries, Provisions, Teas, Coffees, Wines & Liquors, And Smith's Wild Cherry Tonic Bitters, Checkered Store, 67 Louisiana Avenue, Washington, D.C. – Washington, District of Columbia, City Directory, 1865
1865:

Newspaper advertisement (below) G.D. Smith's Wild Cherry Tonic Bitters, This great Panacea has been established 20 years – Evening Star (Washington, D.C.), June 23, 1865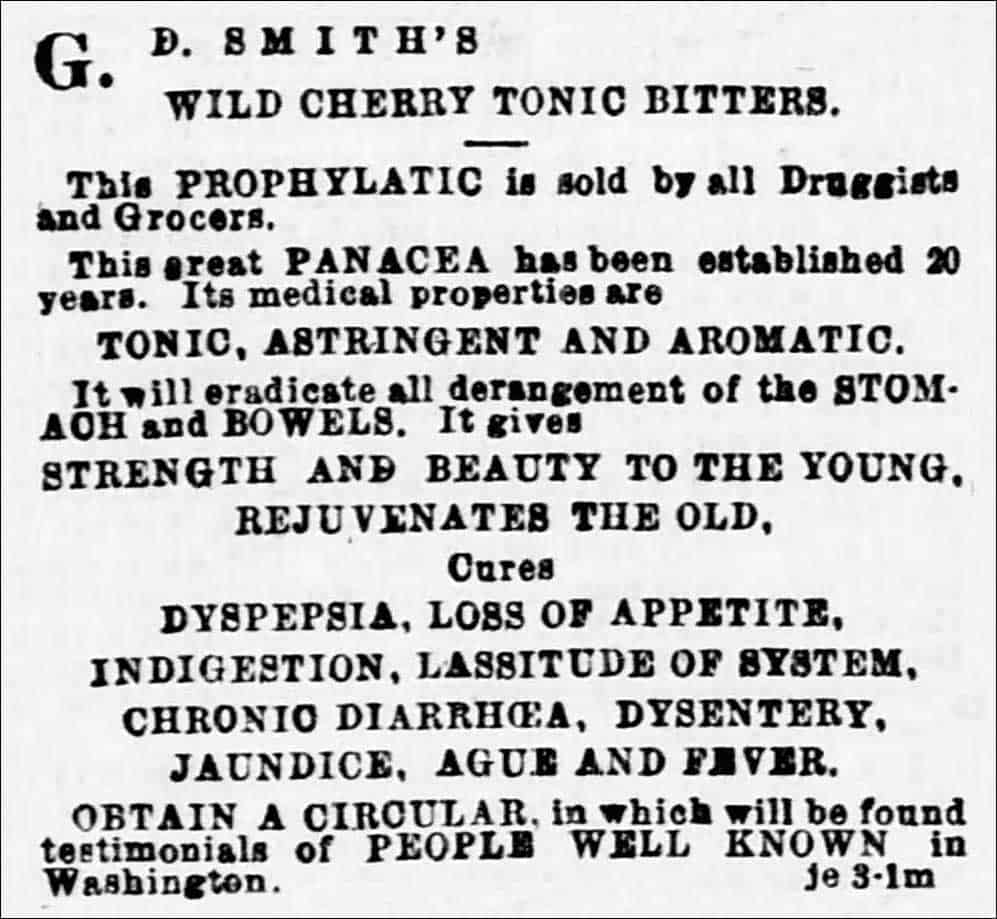 1865:

G D Smith, Grocer, La. Avenue, r. 421 H north, Washington, District of Columbia – Washington, District of Columbia, City Directory, 1865
1865:

Newspaper notice (below) Wild Cherry Tonic Bitters &c. at Auction, 100 cases G.D. Smith's Wild Cherry Tonic Bitters – The Baltimore Sun, Monday, September 11, 1865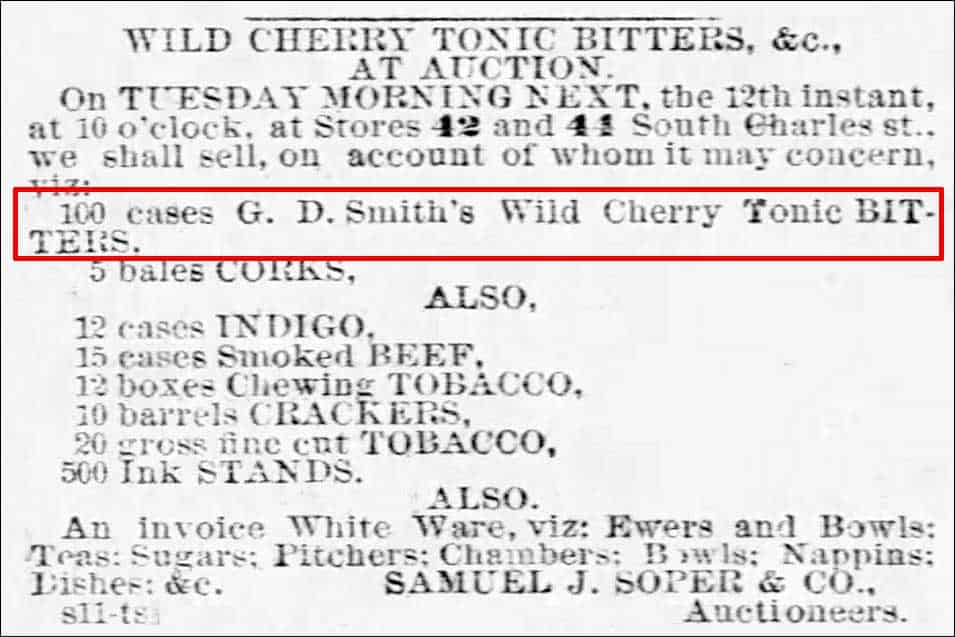 1869:

Gaston D Smith, Marriage Date: 26 Jun 1869, Marriage Place: District of Columbia, Spouse: Ruth Anna Kline – District of Columbia, Marriage Records, 1810-1953
1889:

 Gaston Deroy Smith, Death Date: 18 Sep 1889, Death Place: New York, Cemetery: Oak Hill Cemetery, Burial or Cremation Place: Washington, District of Columbia, District of Columbia, Spouse: Mary Smith, Children: Mary Gaston Adams, Theodore Smith, William Henry Smith – U.S., Find A Grave Index, 1600s-Current