Dr. A.H. Smiths Old Style Bitters – O.S. 2781
11 July 2012 (R•053017)

Nice email from Tim Henson that allowed me to compare his new Dr. Smiths (S 127) find to my Dr. Smiths (S 127.5). What do you all think about the 2781 number boldly embossed on both bottles? Could it be "February 7th, 1881" as Tom Doligale suggests or the reversed "1872" as Warren Friedrich suggests? What about the "O.S."? The best answer here would be "Old Style" right?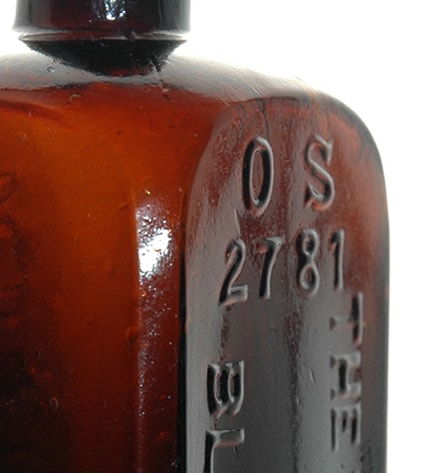 O.S. 2781
Hi Ferd,
I made the Tulsa show this past weekend and got this really nice bitters. We was on our way out when my buddy asked me if I had seen the bitters that another friend of ours got the day of the setup. He said it's got one of the best applied tops he's ever seen on a square so I had to check it out, and he wasn't kidding! It was actually one I've wanted. There are 3 variations of this bottle known I believe. A really killer and crude example loaded with seed bubbles and well the top speaks for itself! It's a St. Louis bottle and the Union Medicine Co. was the sole proprietor. The OS 2781 on the reverse is interesting, perhaps 2/7/81? Hope you enjoy the photos.
~Tim Henson
The Carlyn Ring and W.C. Ham listing in Bitters Bottles is as follows:
S 127 

 DR. SMITHS OLD STYLE BITTERS, Circa 1870's
DR. A. H. SMITHS / OLD STYLE BITTERS // f // O.S. 2781 // f //
Union Medicine Company   Sole Proprietor   St. Louis, Missouri
8 3/4 x 2 3/4 ( 6 5/8) 1/4
Square, Amber, LTC, Applied mouth, 2 sp, Scarce
Red River Gazette (Minnesota) February 6, 1873
Drug Catalogs: 1874 VS&R, 1878 CB&Co.
S 127.5 

DR. SMITHS OLD STYLE BITTERS, Circa 1870's,
DR. A. H. SMITHS / OLD STYLE BITTERS // f // O.S 2781 / THE STANDARD TONIC / AND BLOOD PURIFIER //
8 3/4 x 2 3/4 (6 5/8) 1/4
Square, Amber, LTC, Applied mouth, Rare