William J. Reading and his Coffin Flask
Key West, Florida
24 March 2019

I like these little pocket or coffin flasks especially when they have interesting locales embossed on the bottles such as this W. J. READING, KEY WEST, FLA. bottle. This image was found sitting all-alone and misfiled in my database. No idea where I initially found it or who sent it to me. So, is there a story here?
A search online reveals that William J. Reading was living in 1880 in Key West, Florida and working as a wood chopper. He was born in Chelsea, Massachusetts in December 1851. As to why he went to Key West at the most southern part of Florida is a mystery. Surely, wood chopping was more lucrative in Massachusetts. By 1900, he is listed as a liquor and cigar dealer living at 905 Division Street. He is married to Pricilla Reading (37) who was born in Florida. Their children are Leslie Reading (14), Maud Reading (12), William Reading (9), Flora B Reading (7), Gracie Reading (6). Young William Edward Reading would stay in Key West and later work for a cigar factory and ice company. I'm glad he did not choose to move back to Massachusetts to sell ice.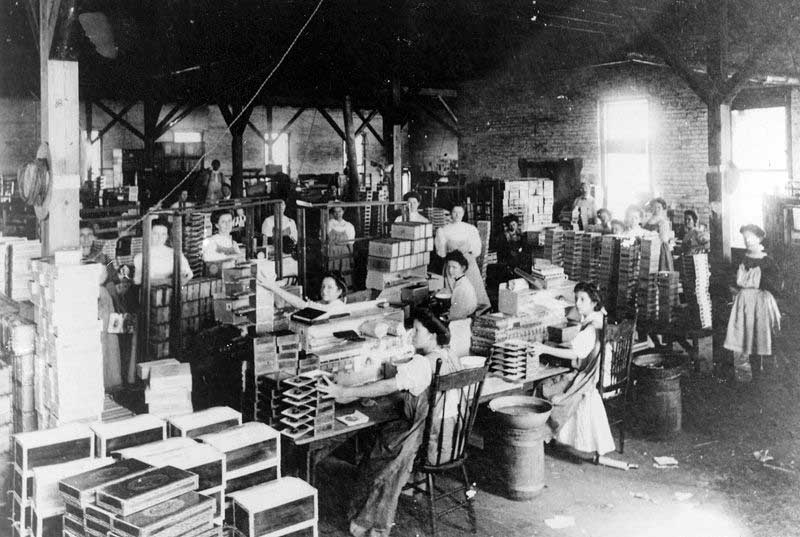 There also is a listing for William J. Reading who worked in one of the Key West Cigar factories. I had thought that most cigar manufacturing came out of Ybor City in Tampa. Once, I had actually watched some older ladies rolling tobacco and making cigars for sale. They were even smoking cigars while they were making each cigar. The picture above depicts female cigar packers on the second story of a cigar factory in Ybor City in 1892.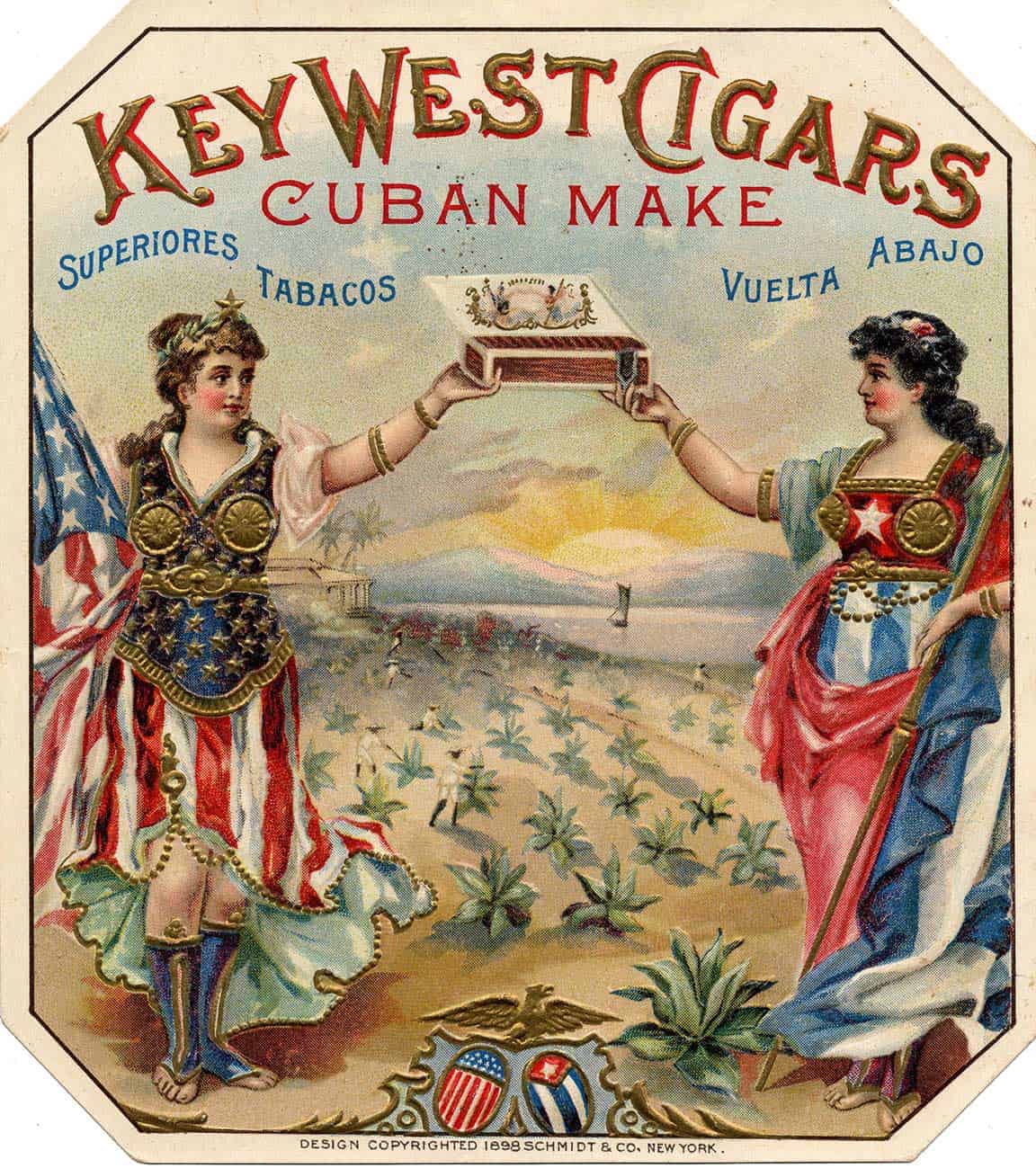 Scott Tyson responded to a Facebook post where I had pictured the flask and said that he lives near Key West and has never seen an example before. He added that Key West was a huge cigar manufacturing town, not just Ybor City in Tampa. Key West had a large Cuban immigrant population with fairly easy access to the port of Havana, Cuba only 90 miles away. Cuban tobacco was even then known to be of excellent quality, and Key West cigars were sought after and sold all over the United States in the late 19th Century. Many of the cigar rollers were Cubans. Key West still has many of the old cigar factory buildings and the cigar makers cottages, and a few mansions built by the factory owners.
I found the photo above with six men standing in front of the Key West Cigar Factory. The only identified man in the picture is William E. Dubois (1849-1933), standing on the far right. He was born and raised in Ulster County, but left to pursue a career in cigar manufacturing. William proved to be extremely successful at this business venture and was soon involved with four different cigar factories, one in Manhattan and three in Key West.
Marianne Dow also replied on Facebook that she found a W. J. Reading listed as a liquor distributor in 1900 and 1903. She then found a 1930 newspaper report that the Key West landmark 'William Reading home' burned down.
So not much is known about this bottle or W. J. Reading. As Scott Tyson commented, cigars and whiskey, make sense. Maybe cigar retailers sold whiskey too. I would agree here.
Select Listings:
1880:

William J. Reading, Wood Chopper, Age: 29, Birth Date: Abt 1851, Birthplace: Massachusetts, Home in 1880: Key West, Monroe, Florida, Dwelling Number: 1, Race: White, Gender: Male, Marital status: Single, Father's Birthplace: N Brunswick, Mother's Birthplace: Canada, Household Members: William J. Reading 29 – 1880 United States Federal Census
1900:

William Reading, Cigar and Liquor Dealer, Age: 48, Birth Date: Dec 1851, Birthplace: Massachusetts, Home in 1900: Key West, Monroe, Florida, Ward of City: 5, Street: Division Street, House Number: 905, Sheet Number: 27, Number of Dwelling in Order of Visitation: 573, Family Number: 617, Race: White, Gender: Male, Relation to Head of House: Head, Marital status: Married, Spouse's name: Bricilla Reading, Marriage Year: 1885, Father's Birthplace: Massachusetts, Mother's Birthplace: Massachusetts, Occupation: Cigar Dealer, Months Not Employed: 0, Can Read: Yes, Can Write: Yes, Can Speak English: Yes, House Owned or Rented: O, Home Free or Mortgaged: F, Farm or House: H, Household Members: , Wilkens Reading 48, Bricilla Reading 37, Leslie Reading 14, Maud Reading 12, William Reading 9, Flora B Reading 7, Gracie Reading 6 – 1900 United States Federal Census
1910:

William E Reading, Age in 1910: 19, Birth Year: abt 1891, Birthplace: Florida, Home in 1910: Key West Ward 4, Monroe, Florida, Street: Division Street, Relation to Head of House: Son, Marital status: Single, Father's Birthplace: Massachusetts, Mother's name: Priscilla Reading, Mother's Birthplace: Florida, Native Tongue: English, Occupation: Cigar Maker, Industry: Cigar Factory – 1910 United States Federal Census