Garry Owen Strengthening Bitters
Ball, Lyons & Co. and I. L. Lyons & Co., New Orleans
24 February 2019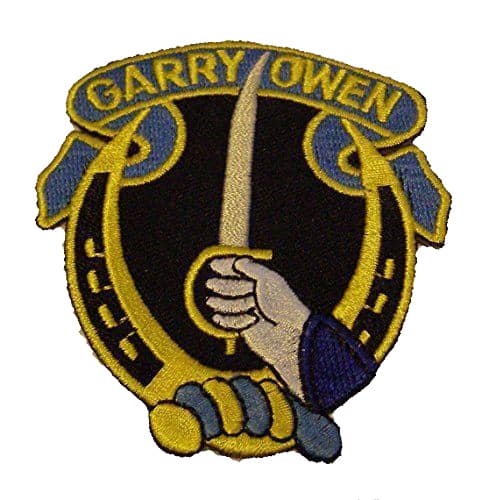 Did you know that Garry Owen Strengthening Bitters was named after an Irish tune for drinking and a quickstep dance? The song was selected as a marching tune for American military formations, including General George Armstrong Custer's 7th Cavalry Regiment. Listen to Tune.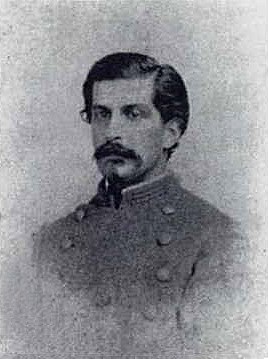 Isaac Lazarus Lyons was born in 1837 and educated in Columbia, South Carolina. His father was Jacob C. Lyons who would open and run a successful grocery store in Columbia in 1827. The business earned its reputations as an oyster saloon for students from South Carolina College.
Isaac would spend his childhood in Columbia moving to New Orleans just before the outbreak of the Civil War. He enlisted in the Confederate Army as a private, saw a great deal of service and was later promoted to Captain.
After the war, Lyons returned to New Orleans and in 1866 engaged in the wholesale drug business under the firm name of Tucker & Lyons. In 1867, Ball, Lyons & Co. formed when Joseph Tucker retired disposing of his interest to William Ball, late of Wheelock, Finlay & Hall. By 1869, Ball, Lyons & Co. was run by partners, William Ball, Isaac L. Lyons and W.H. Dashiell. They were listed as wholesale and retail druggists located at 42 and 44 Camp, and 115 and 117 Gravier Streets in New Orleans, Louisiana. They carried a large stock of drugs, medicines, chemicals, patent medicines, paints, oils, varnishes, brushes, perfumery, cosmetics, fancy goods, soaps, surgical instruments, window glass, glassware etc. plus pure liquors, wines, ales and porters. They really had quite an operation.
I. X. 7. X. 69.
1869 is also the first year we see advertising for the celebrated Garry Owen Strengthening Bitters which is usually accompanied by the cryptic typography, I. X. 7. X. 69 which I suspect is a reference to the bitters inception date and maybe the 7th Calvary. The bitters were advertised as being manufactured at home from the best and purest materials based on Peruvian Bark.
The bitters was directed to travelers, pioneers, miners, sea-going men, pilots and all persons navigating rivers, lakes and bayous and for persons living on the same as they may inhale the fog which was injurious to the nervous system of man. The bitters was said to be a sure preventative and cure for swamp fevers, bowel complaints and that it would cure the bites of serpents or venomous insects.
It was also particularly recommended to females as a mild, agreeable, strengthening tonic. Of course it was said to cure a number of other afflictions such as dyspepsia, indigestion, liver complaint, jaundice, nervous debility, chronic diarrhea, scrofula, ulcers, spinal diseases and all diseases arising from derangement, oil the liver, impurity of the blood or affection of the intestines or kidneys. Basically, the bitters would fix any problem.
Ball, Lyons & Co. were also listed as the proprietors of Pure Cod Liver Oil, Essence of Jamaica Ginger, Flavoring Extracts, Nectar Syrup, Abraham's Tetter and Ringworm Ointment, Abram's Compound Arnica Liniment and Abram's Southern Vegetable Chill Tonic. They also represented Dr. Benjamin Brodie's Astringent Cordial, Dr. Lecock's Cough Elixir, Abram's Compound Concentrated Fluid Extract of Buchu, Abram's Compound Fluid Extract of Sarsaparillsa with Iodine of Potassium and Elixir of Calisaya and Iron.
In 1874, the partnership between Ball and Lyons ends and I. L. Lyons & Co. is announced as the successor to Ball, Lyons & Co. They remain at the corner of Gravier and Camp Streets and were listed as wholesale druggists and manufacturing chemists. They would operate for decades with great success as the images below indicate.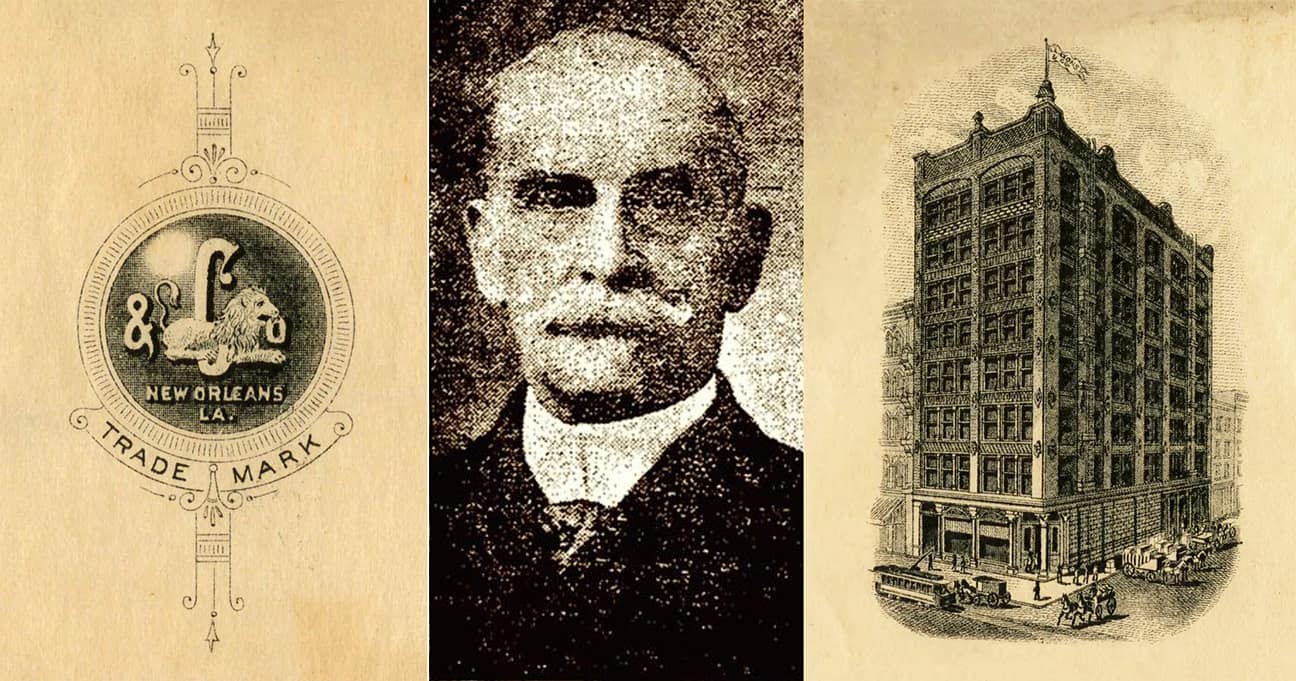 Isaac L. Lyons began selling his nectar syrup to K & B Drugstores in the 1880s, who made it into nectar sodas, nectar cream sodas, and nectar ice cream sodas at their fountains. As in Cincinnati, this became a very popular flavor and other drugstores – Schweighardt's, Bradley's, Berner's, and Walgreen's – bought the syrup from Lyons and served this flavor. By the turn of the 20th century nectar sodas were a signature flavor of New Orleans.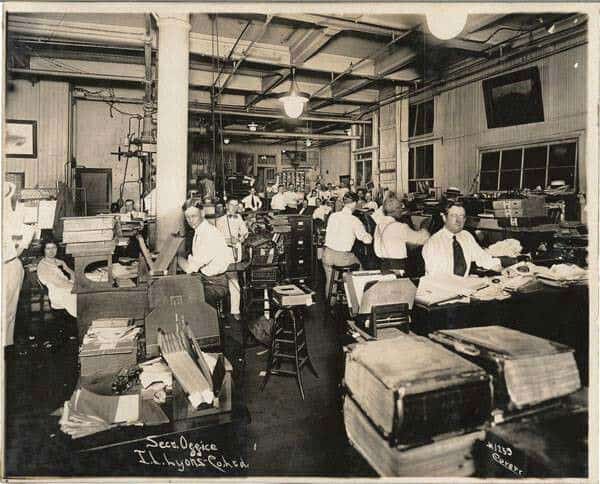 Isaac L. Lyons was very prominent in New Orleans and was identified with many charitable and civic movements in his home city and was a member of the first board of control of the National Wholesale Druggists Association in 1882. He was at one time a director of Kingsley House, and was connected for a long time with the child welfare movement. He was a member of the Chess, Checker and Whist Club, the Boston Club and the Country Club.
Isaac L. Lyons would die after a prolonged illness at 86 years old on November 14, 1923 at his residence on 2344 St. Charles Avenue.
Garry Owen Strengthening Bitters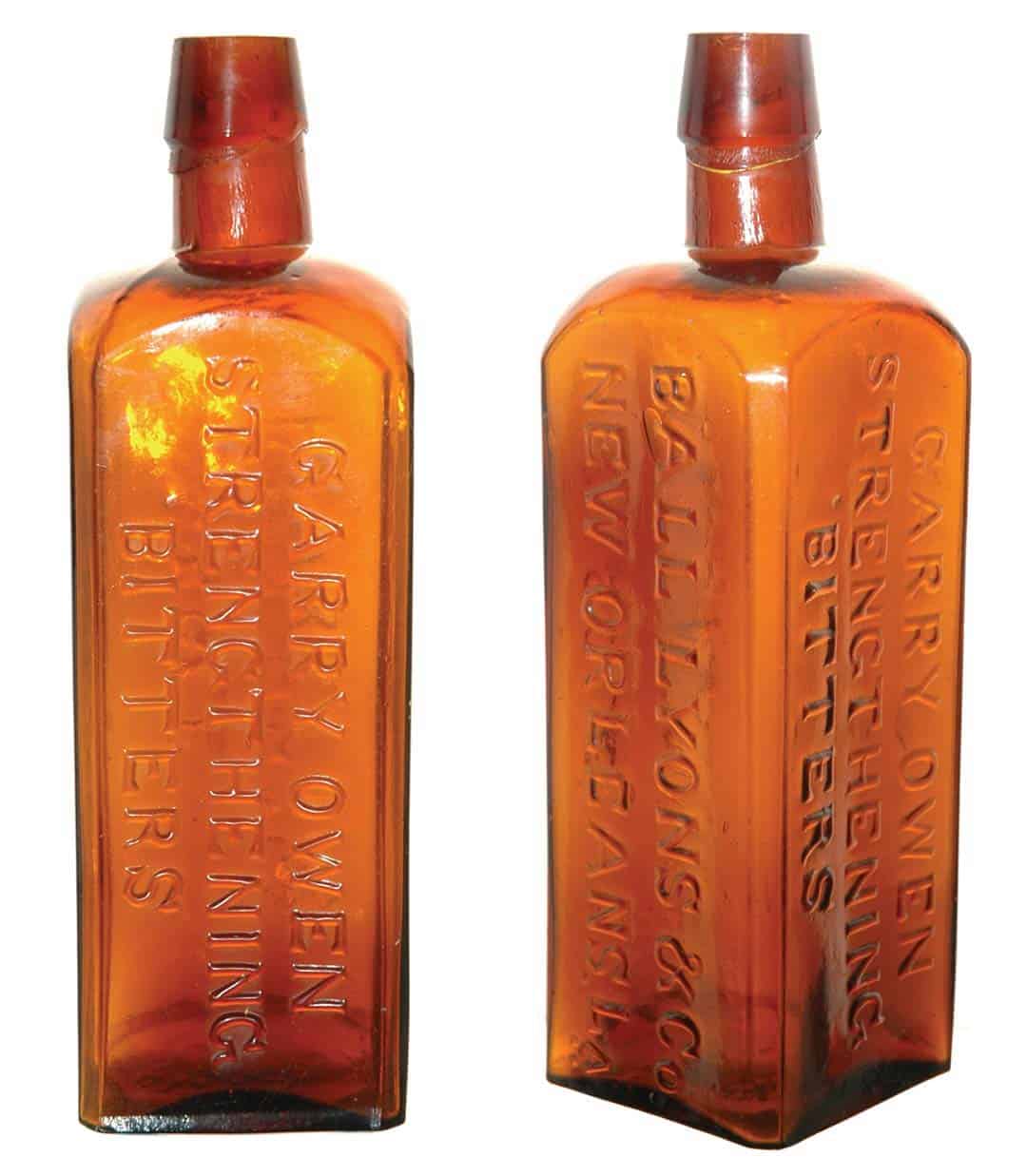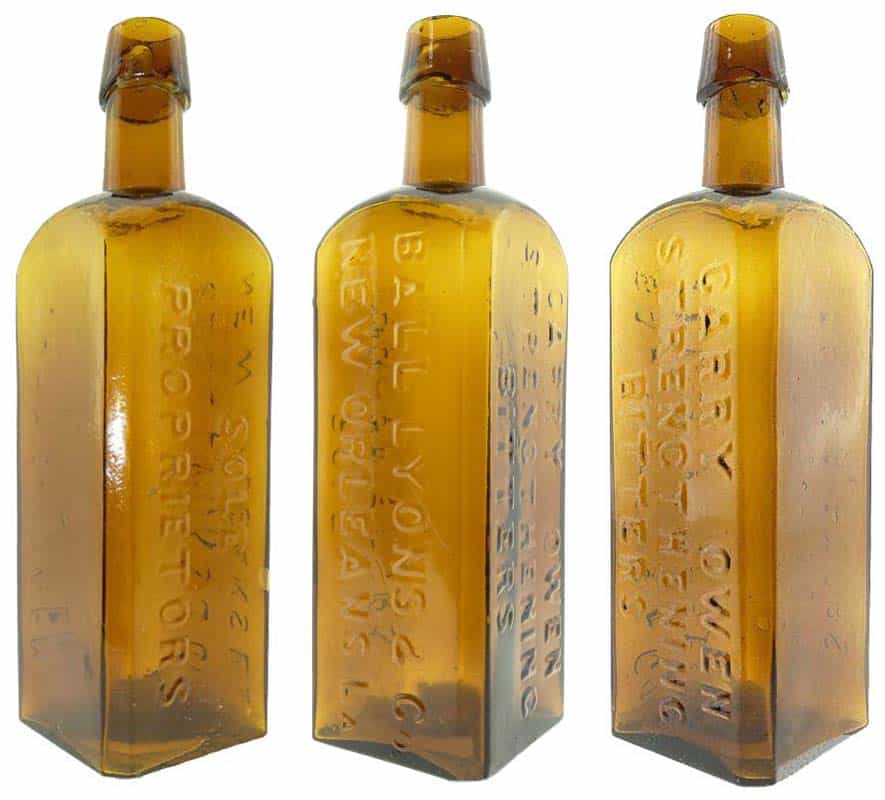 The Carlyn Ring and W.C. Ham listing in Bitters Bottles is as follows:
O 96  Garry Owen Strengthening Bitters
GARRY. OWEN / STRENGTHENING / BITTERS // BALL LYONS & CO /
NEW ORLEANS, LA // SOLE / PROPRIETORS // f //
9 1/8 x 2 3/4 (6 3/4)
Square, Amber, LTC, Applied mouth, scarce
Garry Owen was the marching song for Custer's Seventh Cavalry.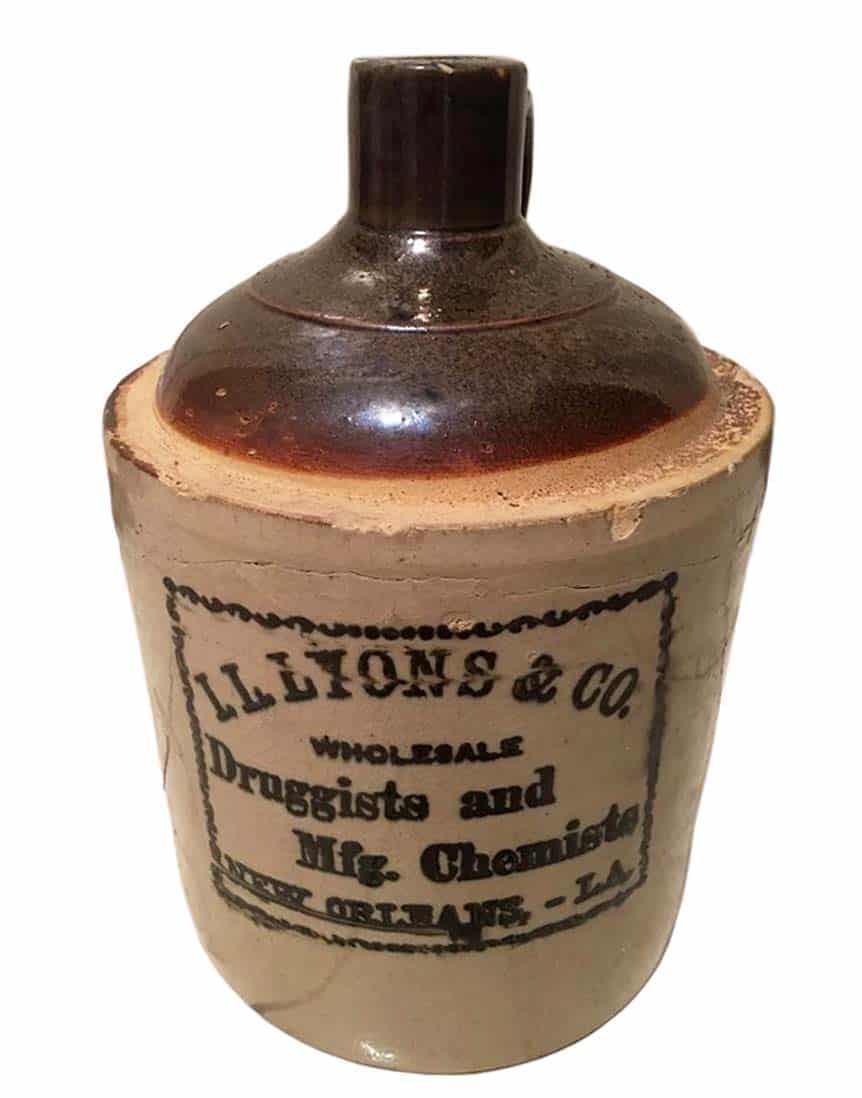 Select Listings:
1827:

New Grocery Store, Jacob C. Lyons in Columbia, South Carolina – Columbia Telescope, 09 November 1827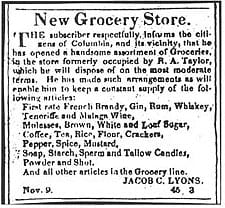 1837:

Isaac Lazarus Lyons, Birth: 1837, South Carolina, Father: Jacob Cohen Lyons, Mother: Louisa Elizabeth Lyons, Spouse: Eva Lyons, Children: Randolph Lyons, George J. Lyons – U.S., Find A Grave Index, 1600s-Current
1850:

Isaac Lyons, Age: 13, Birth Year: abt 1837, Birthplace: South Carolina, Home in 1850: Columbia, Richland, South Carolina, Household Members: Jacob C Lyons 43, Louisa Lyons 37, Isaac Lyons 13, Rachel Lyons 12, Louisa Lyons 8, Randolph Lyons 5, Isabella Lyons 4, Jacob Lyons 3, Theodore Lyons 0 – 1850 United States Federal Census
1860:

Isaac Lyons, Clerk, Age: 23, Birth Year: abt 1837, Birth Place: South Carolina, Home in 1860: Philadelphia Ward 5 Southern Division, Philadelphia, Pennsylvania, Post Office: Philadelphia, Dwelling Number: 531, Family Number: 695, Household Members: Isaac Hart 70, Abraham Hart 50, Louisa Hart 40, Isaac Lyons 23, Mary McBride 18 – 1860 United States Federal Census
1867:

Newspaper Notice (Below) Ball, Lyons & Co. formed. Mr. Joseph Tucker retires from the drug firm Tucker & Lyons disposing of his interest to Wm. Ball, late of Wheelock, Finlay & Hall. J.L. Lyons – The Times Democrat, Sunday, December 8, 1867

1868:

Tucker & Lyons (I.L. Lyons) New Orleans, Louisiana – New Orleans, Louisiana, City Directory, 1868
1868:

Ball, Lyons & Co. (J.L.. Lyons) – New Orleans, Louisiana – New Orleans, Louisiana, City Directory, 1890
1868:

Newspaper Advertisement (Below) Ball, Lyons & Co., Wholesale Druggists (W. Ball, L.H. Lyons, W.H. Dashiell) – The Times Picayune, Tuesday, February 25, 1868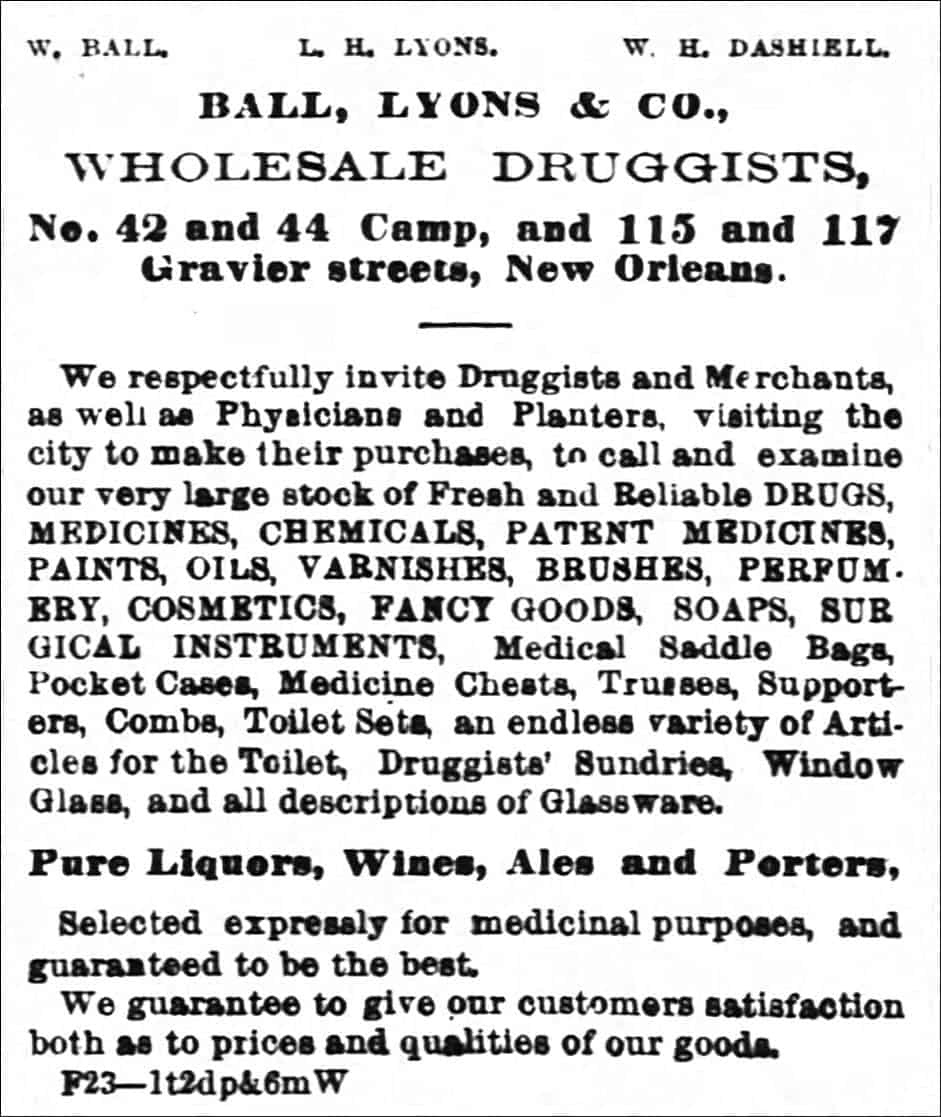 1869:

Ball, Lyons & Co. (William Ball, I. L. Lyons, W.H. Dashiell), wholesale and retail druggists, 42 and 44 Camp, and 115 Gravier, New Orleans, Louisiana – New Orleans, Louisiana, City Directory, 1869
1869:

Newspaper Advertisement (above in post) Full-column Garry Owen Strengthening Bitters advertisements, Ball, Lyons & Co. – The Times Picayune, Wednesday, October 6, 1869
1870:

Newspaper Advertisement (above in post) Full-column Garry Owen Strengthening Bitters advertisements, Ball, Lyons & Co. – The Times Picayune, Thursday, June. 23, 1870
1872:

Ball, Lyons & Co. (William Ball and I. L. Lyons), wholesale and retail druggists, 42 and 44 camp, New Orleans – New Orleans, Louisiana, City Directory, 1872
1874: 

Newspaper Notice (below) Dissolution of Copartnership between William Ball and J.L. Lyons – The Times Picayune, Thursday, January 29, 1874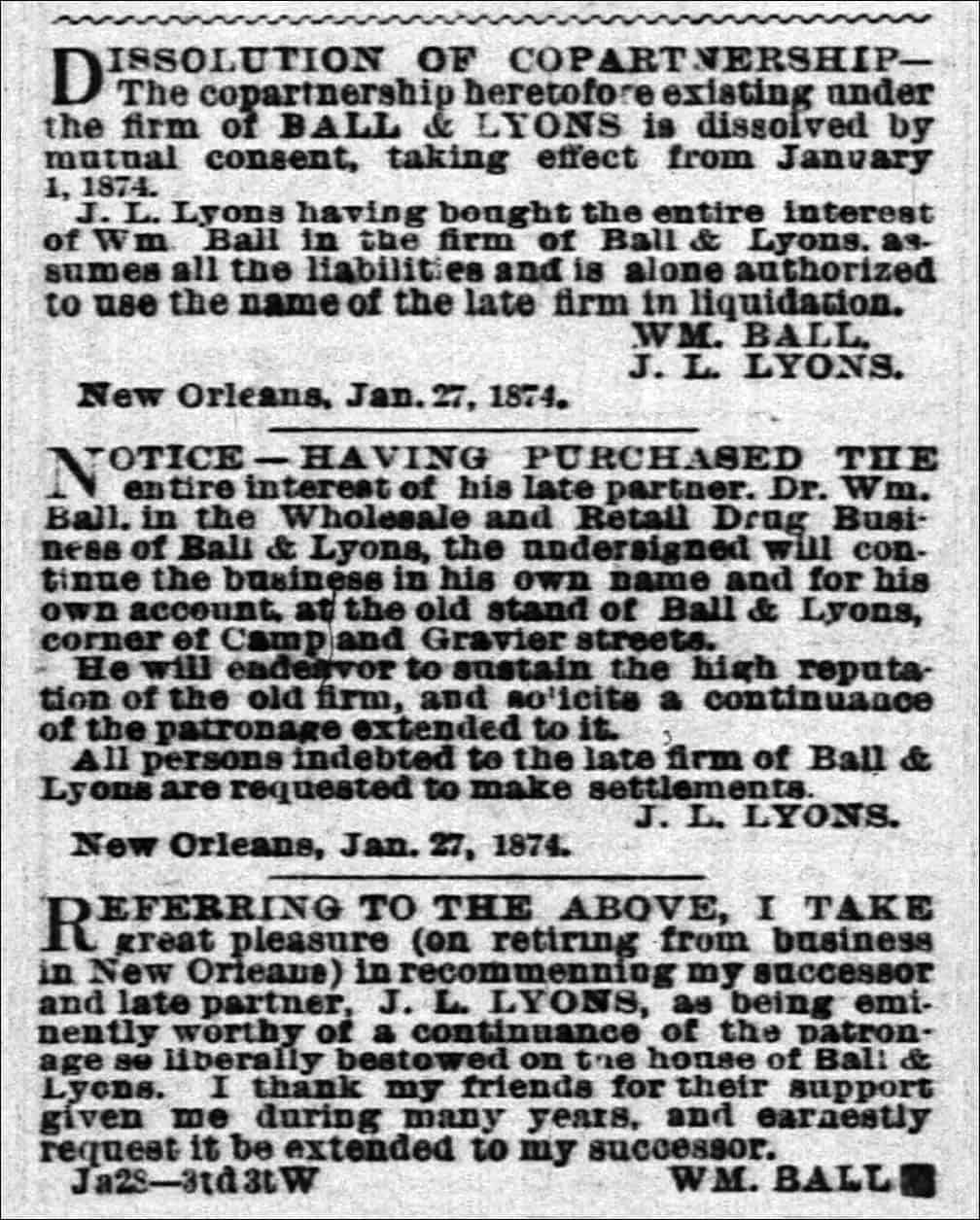 1875:

 Newspaper Advertisement (below) I. L. Lyons Successor to Ball, Lyons & Co., Wholesale and Retail Druggist, Corner Gravier and Camp Streets – The New Orleans, Bulletin, Wednesday, September 1, 1875

1880:

Isaac L. Lyons, Druggist, Age: 42, Birth Date: Abt 1838, Birthplace: Georgia, Home in 1880: New Orleans, Orleans, Louisiana, Street: North St Charles Street, House Number: 497, Dwelling Number: 10, Spouse's name: Ellen J. Lyons, Father's Birthplace: Georgia, Mother's Birthplace: Georgia, Household Members: Isaac L. Lyons 42, Ellen J. Lyons 32, George J. Lyons 8, Eva J. Lyons 4, Issac L. Lyons 5/12, Thomas H, Lyons 30, Lucius F. Lyons 25 – 1880 United States Federal Census
1885:

 Newspaper Advertisement (above in post) I. L. Lyons & Co. advertising noting Garry Owen Strengthening Bitters – Central America, Edward A. Lever,

1885
1890:

City Directory Listing (Below) I. L. Lyons & Co., Successors to Ball & Lyons, Importers, Wholesale and Retail Druggists, Proprietors of Garry Owen Bitters, 42 and 44 Camp Street, 109-117 Gravier, New Orleans, Louisiana – New Orleans, Louisiana, City Directory, 1890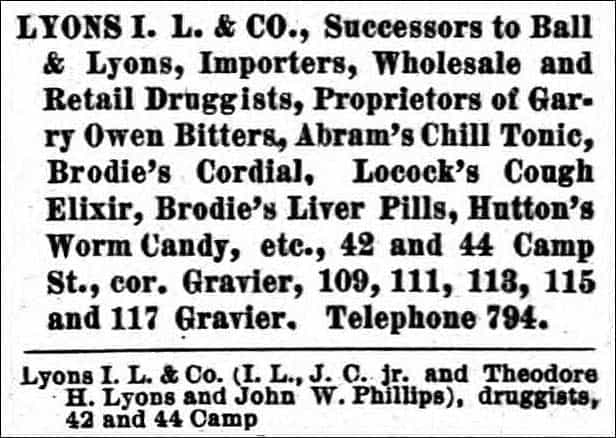 1895:

I. L.Lyons & Co. (I.L., J.C. and Theadore H. Lyons and John W. Phillips), drugs, 222 and 226 Camp, telephone 794, New Orleans – New Orleans, Louisiana, City Directory, 1895
1900:

Isaac L Lyons, Wholesale Drug Store, Age: 63, Birth Date: May 1837, Birthplace: South Carolina, Home in 1900: New Orleans Ward 10, Orleans, Louisiana, Ward of City: 10, Street: St Charles Avenue, House Number: 2344, Spouse's name: Eva J Lyons, Marriage Year: 1867, Father's Birthplace: Pennsylvania, Mother's Birthplace: Pennsylvania, Household Members: Isaac L Lyons 63, Eva J Lyons 52, George J Lyons 28, Frellsen H Page 23, Eva L Page 24, Frellsen H Page 2/12, Angele Hazeur 47, Babette Hopkins 59, Sarah Carston 23, Dennis Burns 31 – 1900 United States Federal Census
1902:

 City Directory Listing (Below) I. L. Lyons & Co., (I.L. Lyons, J.C. Lyons, Theodore H. Lyons and John W. Phillips), Importers, Wholesale and Retail Druggists, Proprietors of …, 222, 234 and 226 Camp Street and 529 – 546 Gravier Street, New Orleans, Louisiana – New Orleans, Louisiana, City Directory, 1902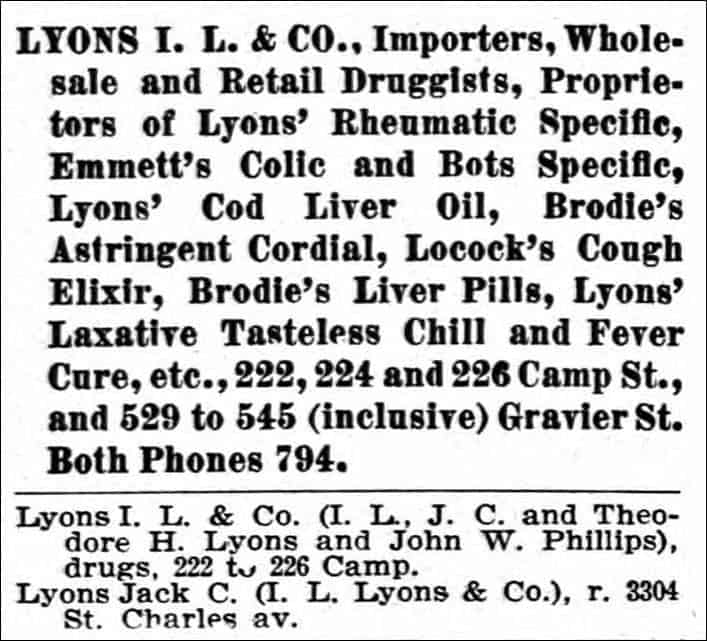 1910:

Isaac L Lyons, Wholesale Retail Druggist, Age in 1910: 72, Birth Year: abt 1838, Birthplace: South Carolina, Home in 1910: New Orleans Ward 10, Orleans, Louisiana, Street: Scharles Avenue, Marital status: Married, Spouse's name: Eva Lyons, Father's Birthplace: South Carolina, Mother's Birthplace: Pennsylvania, Employer, Employee or Other: Employer, Household Members: Isaac L Lyons 72, Eva Lyons 63, Randolph Lyons 30, Eva Page 32, Henry Page 10, Lyons Page 5, Henrietta Lyons 45, Barbara Hawkins 75, Angele Hazur 70, Mary Oubre 28, Mathilde Wiggley 28, David Jones 33 – 1910 United States Federal Census
1923:

Isaac Lazarus Lyons, Death 14 Nov 1923 (aged 85–86), Burial, Metairie Cemetery, New Orleans, Orleans Parish, Louisiana – U.S., Find A Grave Index, 1600s-Current