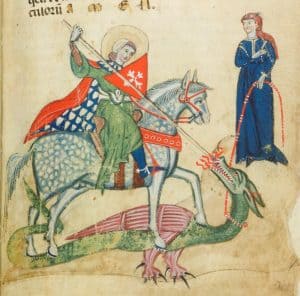 Red Cross Bitters
13 October 2018

Here is a really cool, circa 1870, patent medicine label (below) that the Library of Congress is holding for William B. Dorman's Original Red Cross Bitters. Pictured is a crusader in armor with a red cross on the shield. The New England Lithography Company in Boston printed the piece.
In heraldry, Saint George's Cross, also called the Cross of Saint George, is a red cross, usually on a white background, which from the Late Middle Ages became associated with Saint George, the military saint, often depicted as a crusader.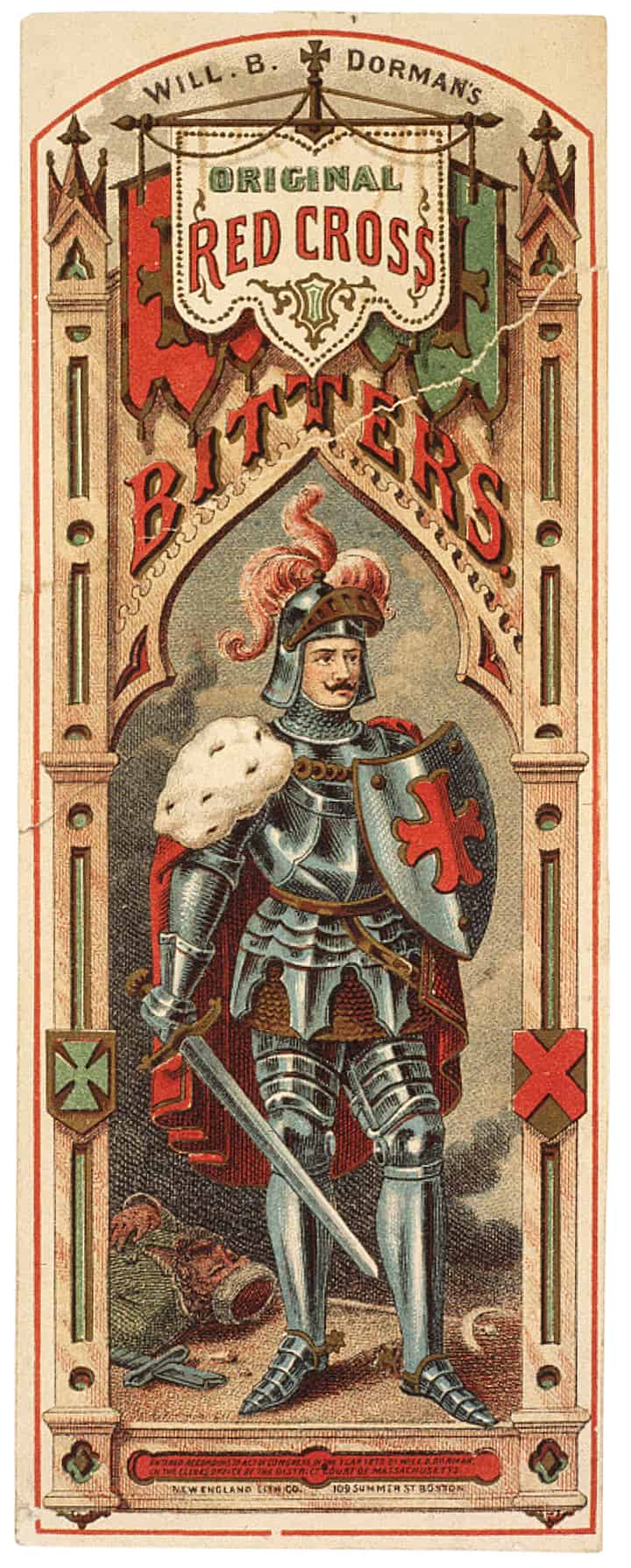 William Barnes Doorman was born on 20 April 1835 in Boxford, Massachusetts. His father was William H. Dorman and his mother was Sarah Barnes. They were married on 19 April 1832 and lived in Boxford, which was a small town north of Boston.
We first see records of William B. Dorman, noting his occupation as a painter, when he enlisted, at age 28, on 01 December 1863, for the Civil War. He was noted as a Private in Company C, Massachusetts 59th Infantry Regiment on 14 January 1864 and mustered out on 13 January 1865. During this time he was promoted to Full Hospital Steward. This must have been his introduction to medicine.
Next we find an agreement of a bill of sale from Benjamin. S. Dodge to William B. Dorman, dated 04 September1867 where Dodge assigns and conveys to Dorman the right to manufacture and sell the famous Atwood Bitters medicines for the term of five years. A nice lead-in to Dorman's own bitters.
In 1870, we see the patent medicine label for his Red Cross Bitters. He is listed in U.S. census records that year as a retail druggist located on Main Street in Georgetown, Massachusetts which is due north of Boxford and Boston.
By 1880, we see the addition of perfumer and chemist to his druggist occupation and he was operating out of Boston. He would continue with his retail trade up until 1895 or so. Dorman would die on 13 April 1913 in Everett, Middlesex County, Massachusetts.
This bitters appears to be unlisted. I am not aware of any examples.
Select Listings:
1835:

William Barnes Dorman, Birth, 23 April 1835, Boxford, Massachusetts, Fathers Name: William H Dorman, Mothers Name: Sarah Dorman – Massachusetts, Town and Vital Records, 1620-1988
1863:

William B Dorman, Occupation: Painter, Age at Enlistment: 28, Enlistment Date: 1 Dec 1863, Rank at enlistment: Private, State Served: Massachusetts, Survived the War: Yes, Service Record: Enlisted in Company C, Massachusetts 59th Infantry Regiment on 14 Jan 1864. Mustered out on 13 June 1865. Promoted to Full Hospital Steward. Birth Date: abt 1835, Sources: Massachusetts Soldiers, Sailors and Marines in the Civil War Dept of Massachusetts 1866-1947 (Sargent)
1867:

Agreement of bill of sale from Benj. 8. Dodge to W'm. B. Dorman, dated Sept. 4, 1867. Memorandum of an agreement made this fourth day of September, A. D. 1867, between Benjamin S. Dodge, of Rowley, in the county of

Essex

and commonwealth of Massachusetts, and

William B. Dorman,

of Georgetown, in said county. [

Records and Briefs of the United States Supreme Court

, Volume 108, 1879]
First. The said Dodge hereby assigns and conveys to said Dorman the right to manufacture and sell Atwood's [Bitters] Medicines, so called, for the term of five years from the date aforesaid, and to use the trade-marks he has heretofore used in the sale of said [bitters] medicines.
Second. The said Dorman agrees to give and deliver to said Dodge one-twelfth of all the Atwood's [Bitters] Medicines he shall manufacture during said term, or pay said Dodge the value of one-twelfth in money.
Third. It is agreed that said Dodge may at any time become jointly interested with said
Dorman
in the manufacture and sale of said [bitters] medicines, by furnishing one-half of the capital; and in such a case each shall have an equal share of the profits and bear an equal part of the losses.
Fourth. If the said
Dorman
before the expiration of said term shall wish to cease to manufacture and sell said [bitters] medicines, he shall have that privilege on giving said Dodge notice of the same, and then all rights hereby conveyed shall revert to said Dodge.
Fifth. During the continuance of said term said Dodge shall have no right to manufacture said [bitters] medicines, unless a notice from said
Dorman
that he has ceased to manufacture them be received by said Dodge.
B. S. DODGE. Agent.  
W. B. DORMAN. 
Executed and delivered in the presence of 
Caroline L. Dodge.
1870:

 Patent medicine label for William B. Dorman's Original Red Cross Bitters – Library of Congress
1870:

William B. Dorman, Retail Druggist, Age in 1870: 35, Birth Year: abt 1835, Birthplace: Massachusetts, Dwelling Number: 226, Home in 1870: Georgetown, Essex, Massachusetts, Inferred Spouse: Mary H Dorman, Household Members: William B Dorman 35, Mary H Dorman 19, Charles H Dorman 2, William E Dorman 1, Sarah B Dorman 59 – 1870 United States Federal Census
1870:

William B Dorman, Druggist, Main Street, Essex, Massachusetts – Essex, Massachusetts, City Directory, 1870
1880:

William B. Dorman, Druggist Perfume, Age: 45, Birth Date: Abt 1835, Birthplace: Massachusetts, Home in 1880: Georgetown, Essex, Massachusetts, Dwelling Number: 359, Spouse's Name: Mary H. Dorman, Father's Birthplace: Massachusetts, Mother's name: Sarah B. Dorman, Mother's Birthplace: Massachusetts, Household Members: William B. Dorman 45, Mary H. Dorman 29, Charles C. Dorman 12, William E. Dorman 10 – 1880 United States Federal Census
1890:

William B. Dorman, Manager, 204 Federal, Residence: at Malden, Boston, Massachusetts – Boston, Massachusetts, City Directory, 1890
1895:

William B Dorman, Perfumer, 206 Federal, Boston, Massachusetts – Boston, Massachusetts, City Directory, 1895
1900:

William B Dorman, Chemist, Age: 65, Birth Date: Apr 1835, Birthplace: Massachusetts, Home in 1900: Malden Ward 5, Middlesex, Massachusetts, Ward of City: 5 Precinct 2, Street: Hyde, House Number: 5, Sheet Number: 15, Marital Status: Married, Spouse's Name: Mary H Dorman, Marriage Year: 1866, Father's Birthplace: Massachusetts, Mother's Birthplace: Massachusetts, Household Members: Chas Dorman 32, Ella M Dorman 30, William B Dorman 65, Mary H Dorman 49, Florence M Dorman 16, Edward S Dorman 13 – 19o0 United States Federal Census
1910:

William B Dorman, Age in 1910: 75, Birth Year: abt 1835, Birthplace: Massachusetts, Home in 1910: Everett Ward 6, Middlesex, Massachusetts, Street: Linden Street, Father's Birthplace: Massachusetts, Mother's Birthplace: Massachusetts, Native Tongue: English, Household Members: Ira F Martin 49, Gertrude Martin 31, Florence Martin 7, William B Dorman 75 – 1910 United States Federal Census
1913:

Pvt William Barnes Dorman, Birth Date: 20 Apr 1835, Birth Place: Boxford, Essex County, Massachusetts, Death Date, 13 Apr 1913, Death Place: Everett, Middlesex County, Massachusetts, Cemetery: Harmony Cemetery, Burial or Cremation Place: Georgetown, Essex County, Massachusetts, United States of America – U.S., Find A Grave Index, 1600s-Current