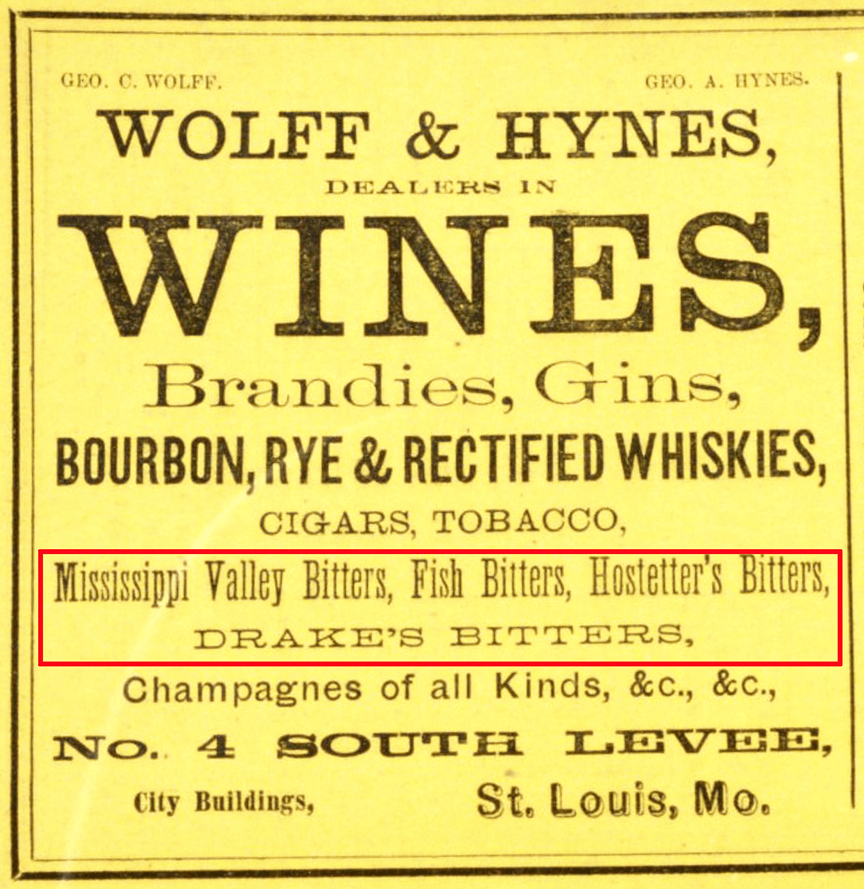 Mississippi Valley Bitters or Yazoo Valley Bitters?
17 June 2017 (R•042419)

I found this bright yellow, 1867 St. Louis City Directory advertisement above listing a Mississippi Valley Bitters, Fish Bitters, Hostetter's Bitters and Drake's Bitters. I certainly know about the last three listings. The Mississippi Valley Bitters is new to me.
Could it be related to the Yazoo Valley Bitters that was made in Vicksburg, Mississippi by Fulton M. McRae?
Read: Some Extremely Rare Mississippi Bitters
A quick search tells us that this is not a St. Louis brand but a Vicksburg, Mississippi bottle after all. Ah-ha. There must be a connection though this ad refers the bitters as Hardaway's Mississippi Valley Bitters and not Fulton M. McRae's Yazoo Valley Bitters.
The new listing for the forthcoming Bitters Bottles Supplement 2:
Newspaper advertisement
H 27.5 HARDAWAY'S MISSISSIPPI VALLEY BITTERS, Hardaway & Co., Wholesale Druggists, Vicksburg, Mississippi
Newton Weekly Ledger (Newton, Mississippi), Thursday, March 4, 1875
Yazoo, Mississippi
Yazoo City was named after the Yazoo River, which, in turn was named by the French explorer Robert La Salle in 1682 as "Rivière des Yazous" in reference to the Yazoo tribe living near the river's mouth. The community now known as Yazoo City was founded in 1824 with the name Hannan's Bluff. It was later renamed Manchester, then changed to Yazoo City in 1841. Yazoo City became the county seat in 1849.
A little history from Wikipedia says that a yellow fever epidemic struck Yazoo City in 1853. During the American Civil War, a makeshift shipyard was established on the Yazoo River at Yazoo City after the Confederate loss of New Orleans. The shipyard was destroyed by Union forces in 1863, but the Confederates soon recovered Yazoo City. Union forces returned the following year and this time burned down almost the entire town.
Yazoo City was rebuilt, but yellow fever struck again and took more victims in 1878. On May 25, 1904, a fire destroyed much of central Yazoo City. According to a local legend, the fire was caused by a witch avenging her death. In reality, a boy playing with matches accidentally set a house ablaze. The fire quickly spread, and three-fourths of the town was destroyed, including most of the homes. It was stopped by a canal, which saved the new courthouse (built in 1872 to replace the one burned by the Union forces) and 10 antebellum homes nearby. The town took almost two years to recover.
Benjamin. J. Hardaway
Benjamin J. Hardaway was born on 29 December 1824 in Virginia. He moved to Vicksburg, Mississippi and ran a successful drug business in Vicksburg from about 1846 to 1880 or so. Most of his local ads read Hardaway & White. In the late 1840s he was partnered as Hardaway & Johnston, Druggists. He switched to White as a partner in late 1848.
Fulton M. McCrae
Fulton McRae was born in Vicksburg, Mississippi on January 6, 1850. His father and mother were from Virginia ad relocated their family south. Soon after the Civil War, he began his career as a clerk with the Hardaway Drug Company. Benjamin Hardaway put out the Mississippi Valley Bitters. In 1877 or so, McCrae left Hardaway's and went into partnership with John Miles and occupied a drug store on Washington Street.
In 1878, the McCrae's lived in Vicksburg when the yellow fever epidemic struck. On April 26, 1882, Fulton he married Nita Limerick in Rodney, Mississippi. This couple had one son, Fulton Limerick McRae. In 1882, McCrae bought out his parter Miles interests and then ran a successful drug store until 1893. During this period, he put out the Yazoo Valley Bitters which he most likely purchased the brand from Hardaway or simply competed, as so many did in those days without worry of copywrite infringement. After this, McCrae headed to New York City to work at a prominent drug house of A. H. Jones. He would later return to Vicksburg where he died in on 16 August 1906.
Select Listings:
1824: Benjamin J. Hardaway, Birth: Dec. 29, 1824, Death: Mar. 27, 1892
1850: Benj Hardaway, Druggist, Age: 27, Birth Year: abt 1823, Birthplace: Virginia, Home in 1850: Vicksburg, Warren, Mississippi – 1850 United States Federal Census
1850: Fulton M. McRae, Jan. 6, 1850 – Aug. 16, 1906 – Vicksburg, Mississippi tombstone database.
1860: Ben Hardaway, Druggist, Age: 36, Birth Year: abt 1824, Birth Place: Virginia, Home in 1860: Vicksburg, Warren, Mississippi, Ben Hardaway 36, Emily Hardaway 28 – 1860 United States Federal Census
1870: Fulton M. McRae, Clerk (father listed as a druggist), Age in 1870: 20, Birth Year abt 1850, Birthplace: Mississippi, Home in 1870: Vicksburg Ward 3, Warren, Mississippi, Household Members: I H McRae 50, John McCae 23, C S McRae 21, F M McRae 20 – 1870 United States Federal Census
1870: Benjamin Hardaway, Druggist, Age in 1870: 45, Birth Year: abt 1825, Birthplace: Virginia, Home in 1870: Vicksburg Ward 7, Warren, Mississippi, Household Members: B Hardway 45, E C Hardway 40 – 1870 United States Federal Census
1880: Ben Hardaway, Druggist, Age: 55, Birth Year: abt 1825, Birthplace: Virginia, Home in 1880: Vicksburg, Warren, Mississippi, Married, Spouse's Name: Emily Hardaway (50), Father's Birthplace: Virginia, Mother's Birthplace: Virginia – 1880 United States Federal Census
1880: Fulton McRae, Druggist, Age: 26, Birth Year: abt 1854, Birthplace: Mississippi, Home in 1880: Vicksburg, Warren, Mississippi, Relation to Head of House: Son, Marital Status: Single, Father's Birthplace: Virginia, Mother's name: I. H. McRae, Mother's Birthplace: Virginia, Household Members: I. H. McRae 60, John McRae 30, Collin McRae 29, Fulton Mcrae 26, Lucy Mcrae 24 – 1880 United States Federal Census