Now Two Tally-ho Bitters
Dr. Dimock's Tally-Ho Bitters (Buffalo, New York) & Tally-Ho Bitters by John Caracopulo (Natchez, Mississippi)
22 June 2017

While searching some old Mississippi newspapers for evidence of the Mississippi Valley Bitters I came across a Tally-Ho Bitters from Natchez that is apparently unlisted. Bill Ham might want to pick this up and provide a designation for Bitters Bottles Supplement 2.
The phrase tally-ho is a largely a British phrase, which originated from the activity of foxhunting, and other forms of hunting with hounds, shouted when a rider or follower sees the fox. Today the term has evolved to have other meanings, most of which relate to 'pointing out' or 'spotting' a 'target'. For example, it is sometimes used as slang in air traffic control to verify a radar contact has been visually confirmed. [Wikipedia]
I am aware of the rare Dr. Dimock's Tally-Ho Bitters and actually have one in my collection from the John Feldmann Collection. It has a sticker for Cincinnati, Ohio, August 7th, 1999 on the base and is probably from the FOHBC National auction that year. It is listed as:
D 76  DR. DIMOCK'S // TALLY-HO / BITTERS // BUFFALO, N.Y. // f //
8 1/2 x 2 1/2 (6 3/8)
Square, Amber, NSC, Applied mouth, Rare
The New York Dr. Dimock's Tally-Ho bitters was put out by Dr. Henry Solomon Dimock. An 1867 directory listing noted him as an eclectic physician and proprietor of patent medicines.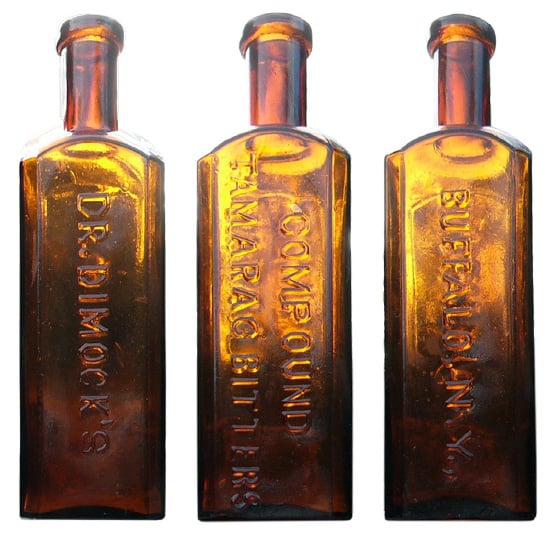 He also put out Dr. Dimock's Compound Tamarac Bitters. This example above is from Greg Price.
D 75.5 f // DR. DIMOCK'S // COMPOUND / TAMARAC BITTERS // BUFFALO, N.Y. //
8 1/2 x 2 1/2 (6 3/8)
Rectangular, Amber, LTC, Extremely Rare
Here is some interesting copy published in The New York Times on January 7, 1886.
Elmira, NY, Jan 6. – Dr. Henry S. Dimock, for several years a physician at Grove Springs, a fashionable Summer resort on Keuka Lake, who for some time has been the medical adviser at Crystal Springs, and who will be remembered by many people of New-York, as well as those of Western cities, has become violently insane, and this evening was taken to Willard Asylum. On the 20th of last month he lost all his books and instruments by the burning of the hotel at Crystal Springs, and the loss so preyed on his mind that last Sunday night he stole a horse and carriage from Benson Smith, of Crystal Springs, and drove the animal to Penn Yan. He told the people that he was a Pinkerton detective and was after the man who set the hotel on fire. He insisted on making a clothier open his store and sell him a suit of clothes, and after putting them on refused to pay for them or take them off. He was persuaded to disrobe, however, and then ran through the streets. He is 53 years old, and has a wife. His condition is thought to be beyond recovery.
This new Tally-Ho Bitters is apparently from John Caracopulo in Natchez, Mississippi. The bitters was represented by the primary agent P. Caporal at 89 & 90 Old Levee in New Orleans, Louisiana. His bitters were marketed as "The Genuine Grecian" and a "Wide-Awake Cock-Tail". I can only find reference in newspaper listings in 1859 in The Times Picayune.
The new listing for the forthcoming Bitters Bottles Supplement 2:
Newspaper advertisement
T 3.3 TALLY-HO BITTERS, John Caracopulo, Natchez, Mississippi, Bitters marketed as "The Genuine Grecian" and a "Wide-Awake Cock-Tail"
The Times Picayune, Tuesday, July 17, 1855
Select Listings:
1832:

Henry S. Dimock Birth: 1832, Death: 1889
1860:

J B Caracopulo, Coffee House, Age: 47, Birth Year: abt 1813, Birth Place: Portugal, Home in 1860: New Orleans Ward 11, Orleans, Louisiana – 1860 United States Federal Census
1861:

 John Caracopulo, c.h. Jackson c Rousseau – New Orleans, Louisiana City Directory 
1867:

Henry S. Dimock, eclectic physician and proprietor of patent medicines – Gazetteer and Business Directory of Ontario County, NY, 1867-68
1871:

Dr. H.S. Dimock consulting hours – Buffalo Evening Post, Wednesday, December 6, 1871
1874:

Dr. H.S. Dimock, physician and surgeon, over 131 East Main, residence 88 East Avenue – Lockport NY City Directory
1876:

 Henry S. Dimock, M.D., firm of McMichael & Dimock, 86 Niagara – Buffalo NY City Directory
1878:

 Henry S. Dimock, M.D., 63 Niagara, h 125 Franklin – Buffalo NY City Directory
1878:

Drs. Brown & Dimock – The Buffalo Commercial, Thursday, July 18, 1878

1880:

 Henry S. Dimock, M.D. (Brown & Dimock), 162 Pearl – Buffalo NY City Directory
1880:

Dissolution of Brown & Dimock – The Buffalo Commercial, Thursday, July 29, 1880