California Wine Bitters – From the vineyard of Kohler & Frohling
16 September 2014 (R•030615)

Here, everything is not as it should be. The first example of the California Wine Bitters lady's leg pictured below was spotted on a table at the Downieville Bottle Show and was recognized as a potential label applied to a bottle, meaning not an original application. The label was just too fresh and clean. The dealer noted this. The bottle stayed on the table though I was intrigued by the graphics.
The listing in Bitters Bottles is as follows:
C 25.5

 California Wine Bitters
From the vineyard of Kohler & Frohling, 626 Montgomery Street, San Francisco, California
Rennert, Prosch & Co, 26 & 28 Vesey Street, New York
Known from a trade card.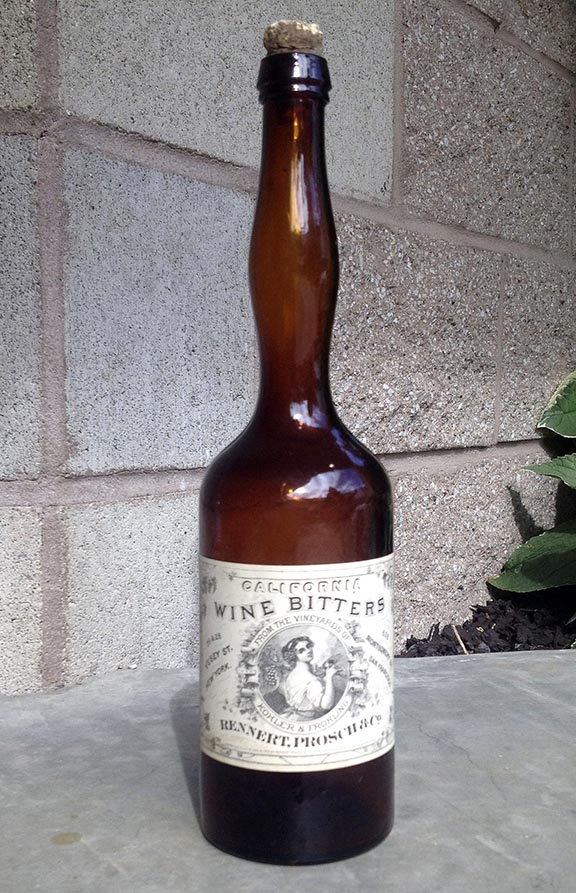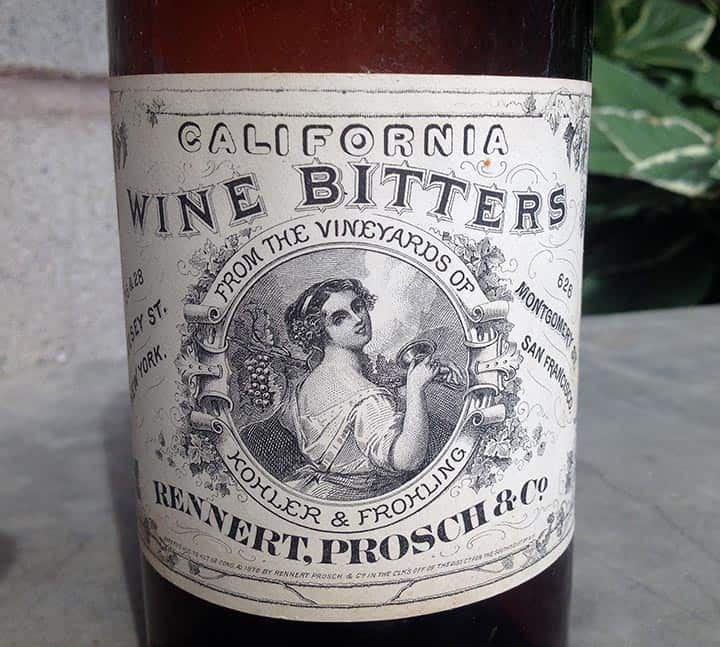 Kohler & Frohling (Charles Kohler and John Frohling) was established in 1854 with the partners playing key roles in the development of the Southern California wine industry. They were the founders of Anaheim which was born in 1857, when 50 German-American families from the San Francisco area paid $750 each to invest in the Los Angeles Vineyard Society. Kohler and Frohling hired George Hansen, Los Angeles County's assistant surveyor, to purchase and lay out the new wine-making colony. Kohler was also a member of the Los Angeles, California, Common Council, the governing body of that city. Kohler and Frohling planted 3,000 vines of wine grapes in the Los Angeles area. The firm of Frohling and Kohler was so successful that they began looking for a steady sources of grapes for their wine making.
CALIFORNIA WINES
IT IS A PRACTICE AMONGST certain Dealers to announce to the public that they do not sell any other than the pure article and for that reason ask for or claim the patronage of purchasers, while the Wines which they offer for sale are frequently PRICKED and SOUR, and detrimental to health, by occasioning, to a great degree, acidity of the stomach; an indication of their inferiority is to be noticed, in general, by their RILY appearance.
The undersigned, who had the honor of introducing California Wines, in 1854, the FIRST, and therefore the PIONEERS in the business, having sustained their reputation for the supply of a GENUINE ARTICLE, so that connoisseurs of Wines admit that KOHLER & FROHLING have the BEST stock of NATIVE WINES in the market, all of which have been PROPERLY ATTENDED TO and MATURED BY AGE. As they are sold at the same prices at which the Inferior descriptions are offered, it will be the fault of Dealers and Consumers should they not call for
KOHLER A FROHLING'S WINES,
Which are PERFECTLY PURE, CLEAR and SOUND, WILL ALWAYS KEEP and GIVE SATISFACTION TO EVERYBODY.
We OFFER FOR SALE :
SUPERIOR PORT WINE, For Medicinal purposes;
ANGELICA AND WHITE WINES, Vintage of 1857 and 1858;
WINE BITTERS, The best Appetizer in the State;
With a variety of other articles.
KOHLER & FROHLING, 626 Montgomery street, Montgomery Block,
San Francisco.
Read about another California Wine Bitters: El Aliso, Jean Louis and Pierre Sainsevain and their California Wine Bitters
Read about another California Wine Bitters: M. Keller Label over at Western Bitters News