Charles Green's Peruvian Bark Bitters Brookfield, Missouri
06 December 2015

Ellen Haas Faulkenberry from St. Louis, Missouri posted these pictures of a Green's Peruvian Bark Bitters on Facebook a week or so ago. I cropped them in Photoshop. Apparently the bottle was dug in Brookfield, Missouri by a local collector and digger named Lance in the Spring of 2015. Lance approached her at the recent Brewery Collectibles and Antique Bottle and Jar Show (Eastside Spectacular #7) on Saturday, November 14th in Belleville, Illinois. A case of being in the right place at the right time. Guess what? The bottle is unlisted, meaning this is the first example known to collectors. Her initial post:
"Was able to land this wonderful unlisted bitters bottle from a small town in north central Missouri from the Belleville Bottle & Brewery Show – thanks Lance. I just couldn't believe my eyes when I first saw this wonderful bottle. Missouri has bitters bottles from Kansas City, St. Joe, St. Louis, Hannibal, De Soto and now Brookfield. What a wonderful show it turned out to be."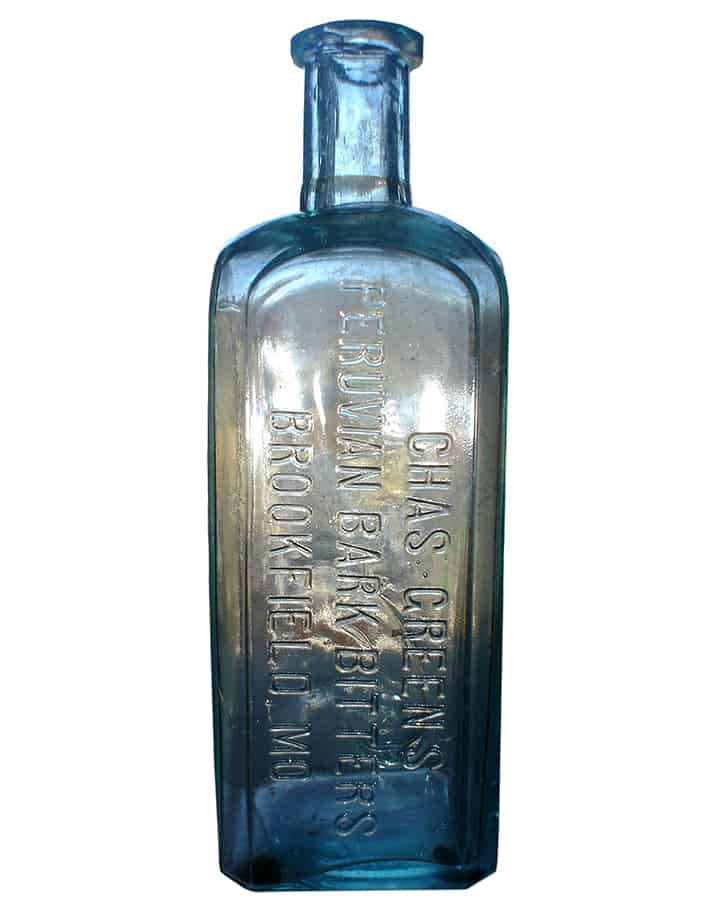 Bill Ham has provided the following listing for the upcoming Bitters Bottles Supplement 2 which is in deep edits. Good timing here too.
G 106.5

 GREEN'S PERUVIAN BARK BITTERS
CHAS. GREEN'S / PERUVIAN BARK BITTERS / BROOKFIELD. MO. // f // f // f // // b // W. T. & Co.
6 3/4 x 2 1/4 (4 1/2) 1/4
Square, Aqua, FM, Tooled lip, Extremely rare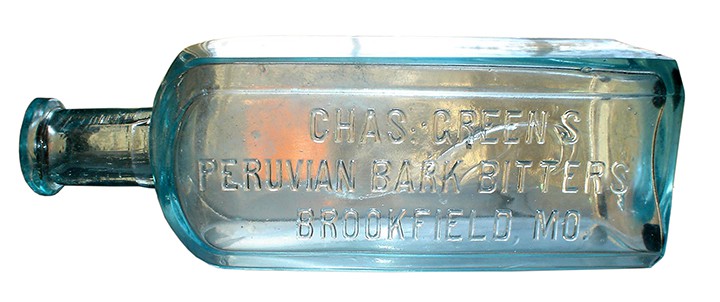 So who was Charles Green? As you can see from below, he was a prominent druggist from England who settled in Brookfield, Missouri which is a city in Linn County. Brookfield was surveyed in 1859 by John Wood Brooks, a native of Boston. John Wood Brooks is further remembered by the names of four Brookfield streets: John, Wood, Brooks, and Boston streets. Charles Green's Drug Store was in operation from 1870 to 1966. Obviously Charles passed the torch, this to his son, Charles Orsamus Green (1888 – 1968).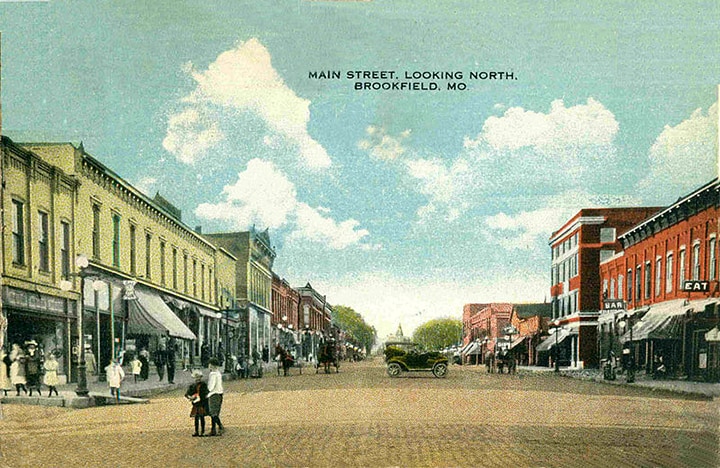 Note that the bottom of the bottle is embossed "W T & Co." This is for The Whitall Tatum Company, or Whitall Tatum, which `was one of the first glass factories in America. Located in Millville, New Jersey, it was in operation from 1806 through 1938.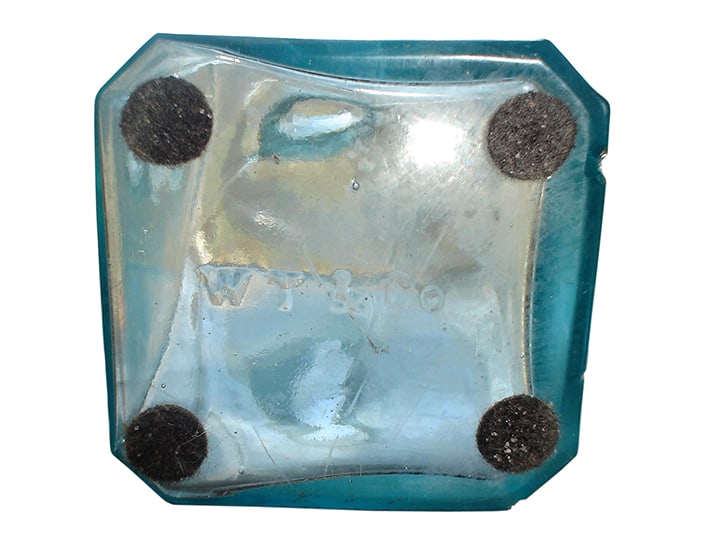 In commercial lines, Brookfield has had and still has several merchants who have contributed to the upbuilding of the city as a trade center. They have been Oliver Cramer, S. P. Hartman, John Walker, Thomas Halliburton, Gus Tooey, J. H. Foss, E. N. Bowden, while in later years have come B. F. White, L. W. Bundy, L. W. Rummell, Jerry Noland, Cole and Fred Halliburton, G. F. Duker and others. Conspicuously in their time were the lamented Charles Green, druggist, and Henry Tooey, the clothier; the latter having built up a great business for the firm still bearing his name.
CHARLES GREEN
Compendium of History and Biography of Linn County, Missouri –
Henry Taylor & Co., Chicago, Publishers, Engravers and Book Manufacturers, 1912
The late Charles Green, one of the pioneer druggists of Brookfield, whose death on August 20, 1910, left a deep shadow of grief and gloom over the whole community, was a fine specimen of the mastery given a man for his business with long study and thorough training. He began the study of pharmacy when he was a boy and continued it to the end of his life. It had ever opening vistas for him and he always found something in the science to learn for his own improvement and the advantage of his patrons, and he gave them the benefit of all his acquisitions.
Mr. Green was born in London, England, on March 20, 1847. His father died while the son was in his childhood, and the mother married a second husband. The son was apprenticed to a London apothecary in his boyhood, and worked for his employer and tutor seven years as an apprentice. By the end of that period he was thoroughly trained in the business and he was then licensed as a pharmacist, with full privilege to practice under the English law. He did not, however, remain long in his native country after receiving his license. The United States seemed to beckon him with a welcoming hand and a voice full of promise of enlarged opportunity.
Accordingly in 1867 he came to this country and located for a time at Henderson, Kentucky, intending to make his home there. But at the end of one year he moved to St. Louis, where he remained a year and a half. In 1870 he came to Brookfield, and here he passed the rest of his life. For a short time after his arrival in Brookfield he worked for
W. T. Snow. But working for another man was not in accordance with his spirit or desires, and he therefore soon opened a drug store of his own, and this he conducted continuously until his death.
The people soon learned that he was more than ordinarily capable and careful in his work, and his trade grew to large proportions. His reputation spread throughout this county and those which adjoin it on all sides, and he became an authority on all intricate questions connected with his calling. So accurate was he in his knowledge and so careful in his investigations that his judgment was universally accepted as the last word in any case of uncertainty or controversy. On August 21, 1882, Mr. Green was married to Miss Laura Smith, a daughter of Hiram and Mary (Curry) Smith, natives of Franklin county. New York. Four children were born of the union, two of whom died in infancy. The other two are living and are a daughter named Beatrice and a son named Charles. The latter is now conducting the business founded by his father and keeping the reputation of the store up to the high standard it has so long maintained. His mother died in 1893, and on December 25, 1895, the father married a second wife, his choice on this occasion being Miss Sarah Smith, a sister of his first wife. They had one child, their son Arthur. The second Mrs. Green died in 1901.
In his political faith and allegiance Mr. Green was a Republican, but he was never an active partisan and never sought or desired a public office, either by election or appointment. His business, which at one time included a wholesale drug trade and extensive dealings in ice, coal and real estate, met all his desires in the way of occupation, and he gave his whole attention to it, except what was required for the duties of citizenship, which he never neglected. He found satisfaction for his religious aspirations in the Episcopal church, of which he was a regular attendant from his boyhood. He was a most estimable man and universally esteemed as such.
Read: West India Stomach Bitters from St. Louis, Missouri
Read: The extraordinary Pony Bitters from St. Louis
Select Listings:
1847:

 Charles Green was born on March 20, 1847 in London, England. Green was the son of George Green and Sarah (Woods) Green.
1867:

 Charles Green came to this country and located for a time in Henderson, Kentucky.
1870:

Charles Green, Drug Clerk, Age in 1870: 24, Birth Year: abt 1846, Birthplace: England, Home in 1870: Brookfield, Linn, Missouri, Post Office: Saint Catharine – United States Federal Census
1880:

Charles Green, Keeps Drug Store, Age: 34, Birth Year: abt 1846, Birthplace: England, Home in 1880: Brookfield, Linn, Missouri, Single, Father's Birthplace: England, Mother's Birthplace: England – United States Federal Census
1880:

Charles Green Naturalized American, November 1, 1880, Linn County, Missouri,
1910:

Charles Green, Merchant, Druggist, Age in 1910: 64, Birth Year: abt 1846, Birthplace: England, Home in 1910: Brookfield, Ward 2, Linn, Missouri, Street: 521 N Main Street, Immigration Year: 1867, Marital Status: Widowed, Father's Birthplace: England, Mother's Birthplace: England, Others: Charles Green 64, Beatrice S. Green 24, Charles O. Green, 21, Arthur T. Green 12 – United States Federal Census
1910:

Charles Green dies on August 20, 1910 in Brookfield, Linn County, Missouri, Burial: Rose Hill Cemetery, Brookfield, Linn County, Missouri, Plot: 28/28