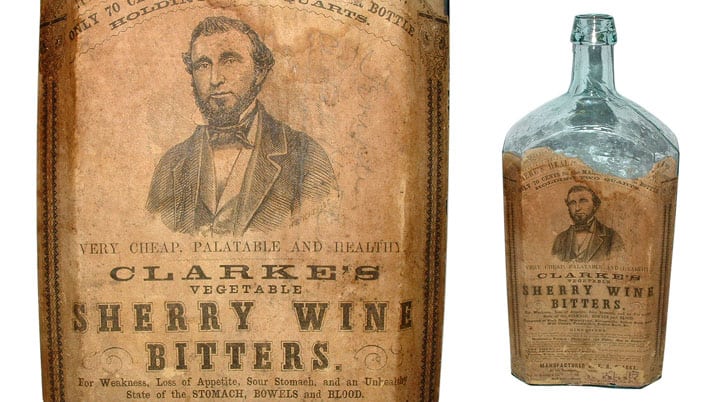 ONLY 70 CTS, CLARKE'S VEGITABLE SHERRY WINE BITTERS
Vegetable is misspelled
25 December 2012
[Jeff Burkhardt] You might consider a posting on Bob Strickhart's superb run of CLARKE'S SHERRY WINE BITTERS per last month's Antique Bottle & Glass Collector magazine. Bob just added the missing link; the 70C. size, embossed "VEGITABLE"(sic), with full label no less. Purchased last week off of eBay, this puppy was hammered-downed at $5,251! Bob's a true collector and wasn't about to let this one get away…a variant he'd searched for years to acquire.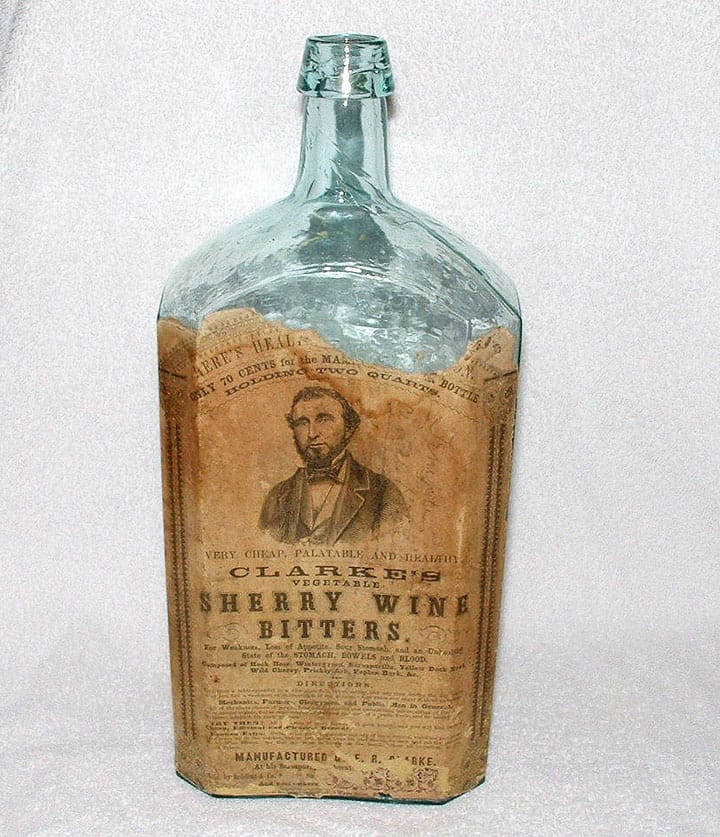 The Carlyn Ring & W.C. Ham listing in Bitters Bottles is as follows:
C 158  ONLY 70 CTS /  CLARKE'S / VEGITABLE / SHERRY / WINE / BITTERS / SHARON MASS // f  // f // f //

Rectangular, Aqua, Extremely rare
Vegetable is misspelled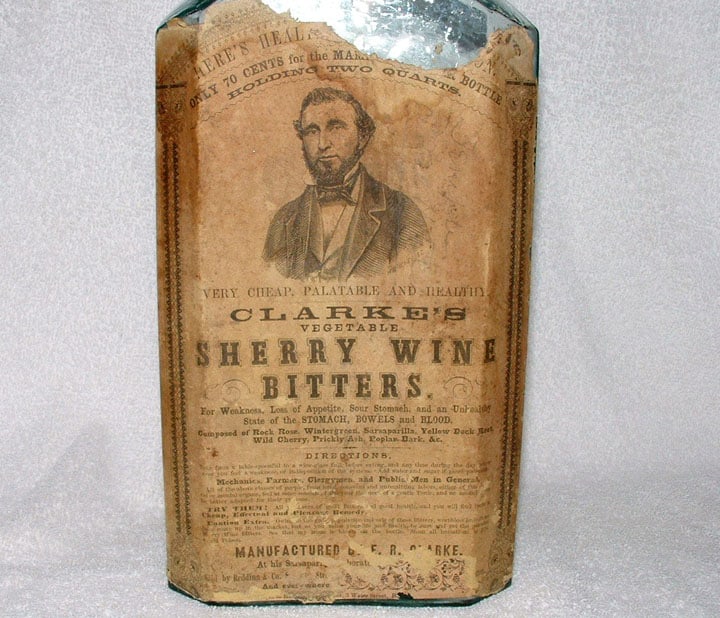 The listing from grahamlouise in Mystic, Connecticut is as follows:
Large Antique Bitters Bottle Clarkes Sherry Wine Bitters With Original Label
Excellent Original Condition!!
Wow! Here is a fantastic Antique Bitters Bottle for Clarke's Sherry Wine Bitters. This large 2 quart bottle has most of it's original label and is highly embossed on the back with large 1/2″ letters that say, ONLY 70 CTS, CLARKES VEGITABLE SHERRY WINE BITTERS, SHARON MASS. This bottle is 100% authentic and measures 11 1/2″ high, 5″ wide and 3 1/4″ deep. It is in excellent condition with no cracks, chips or damage. The corners of the bottle are all angled and it has an applied top. It is agreat aqua color and has bubbles in the glass. The bottle was not dug and was found in a wooden box with some others. Please e-mail any questions. US only thanks!! (See Listing)