Blue Gum Bitters
A nice takeaway from the 2015 Downieville Antique Bottle Show
13 September 2015

Frank Ritz pulled me aside at the 2015 Downieville Antique Bottle Show to show me some bitters that he brought for sale. Most were pretty difficult to find squares that I already had examples of. As he pulled each example from a box, a fine example of the case gin shaped Blue Gum Bitters was a surprise. It will now proudly join my collection. The western guys seem quite impressed with this brand and bottle.
Read: Tilley's Summum Bonum Bitters – West Haverstraw, N.Y.
So how do we know that B.G.B stands for Blue Gum Bitters? Well, we need to look at Bitters Bottles and then Bitters Bottles Supplement by Carlyn Ring and Bill Ham. The supplement was updated to note a clear example with the amber. The original book has the illustration and a killer label that is represented below. Here is a compilation listing from both books: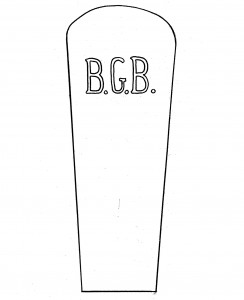 B 126

  L … Blue Gum Bitters
B.G.B. // f // f // f //
9 x 2 1/8 (6 1/2) 3/8
Square case gin, Amber and Clear with amethysts tint, LTC, Tooled lip
Blue Gum tree is another name for Eucalyptus tree. A Western brand.
When I look over at Western Bitters News I see a post about a dug Blue Gum Bitters. Pretty cool.
I also see that one sold on eBay this year.
Blue Gum Bitters Co.
All I can find is reference for Blue Gum Bitters and a Blue Gum Bitters Co. in Stockton, California from about 1886 to 1890. It was usually being displayed at some type of exhibition like "Two cases of Blue Gum Bitters at the Industrial Exhibition of the Mechanics' Institute". One listing notes a B. A. Hester as the exhibitor in Stockton, California. Historical city directory information gives us a Basil Alfred Hester from England who was the Keeper at the State Insane Asylum for many years. Did he also put out Blue Gum Bitters? Probably not. I'll keep working on this one.
Support:
1886:

The Blue Gum Bitters Co., Two cases of Blue Gum Bitters – Industrial Exhibition of the Mechanics' Institute of the City of San Francisco, Exhibitors
1887:

Article Exhibited: Blue Gum Bitters, Exhibitor: B.A. Hester, P.O. Address: Stockton – 

Appendix to the Journals of the Senate and Assembly … of the Legislature of the State of California
1887:

Hester, Basil A., keeper State Insane Asylum, res 419 Channel –
1888:

Blue Gum Bitters, Blum Bum Bitters Co., Stockton, California – 

Report of the California State Agricultural Society, Agricultural Exhibitors
1889:

Brothers Harry and Tom Sheehan sole agents for Blue Gum Bitters notice (see below).
1896:

Blue Gum Bitters Co. listing (see below).