Tilley's Summum Bonum Bitters – West Haverstraw, N.Y.
26 January 2015 (R•031215)

The first thing I wondered here was why "Summum bonum" would be embossed on the Tilley's Sunnum Bonum Bitters bottle from West Haverstraw, New York. Actually this was not my first thought. My first thought was being amazed that this bottle even showed up on Jeff Wichmann's American Bottle Auctions Sale Page page. It sold in the blink of an eye to some lucky purchaser as the ABA web site locked up and I could not secure the bottle. Boy-oh-boy is this bottle rare. Only one recorded shard exists and there is scant information in Bitters Bottles.
Summum bonum is a Latin expression meaning "the highest good", which was introduced by Cicero, to correspond to the Idea of the Good in Ancient Greek philosophy. The summum bonum is generally thought of as being an end in itself, and at the same time as containing all other goods.
West Haverstraw is a village incorporated in 1833 in the town of Haverstraw, Rockland County, New York. It is located northwest of Haverstraw village, east of Thiells, south of the hamlet of Stony Point, and west of the Hudson River.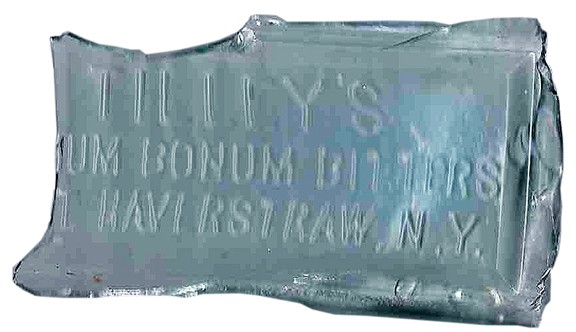 A partial Carlyn Ring and W.C. Ham listing in Bitters Bottles is listed below as only a fragment exists of this extremely rare bitters (see above). We can now update this information.
T 29

 TILLEY'S SUMMUM BONUM BITTERS
TILLEY'S  /
SUMM

UM BONUM BITTERS /

WES

T HEVERSTRAW, N.Y. //
Known from aqua fragment, Extremely rare
7″ tall

The new listing by Bill Ham for the forthcoming Bitters Bottles Supplement 2:
T 29 TILLEY'S / SUMMUM BONUM BITTERS / WEST HAVERSTRAW. N.Y. // sp // f // sp //
7 x 2 3/16 x 1 1/4
Rectangular, Aqua, NSC, Tooled lip, 3 sp, Extremely rare
Tilley Candidates
I am really having a hard time tying this bottle to a specific person in New York. West Haverstraw is a tiny town and this bitters was only made for a short run as can be surmised from no surviving examples. Here below are a few Tilley candidates. I suspect I may get some help solving this one so stay tuned.
Sir Samuel Leonard Tilley, PC, KCMG (May 8, 1818 – June 25, 1896) was a Canadian politician and one of the Fathers of Confederation. Tilley was descended from United Empire Loyalists on both sides of his family. As a pharmacist, he went into business as a druggist. He was 13 in 1831 when he left to live in Portland with relatives and apprentice as a druggist in adjoining Saint John. In May 1838, a certified pharmacist, he went into partnership with a cousin, Thomas W. Peters, to open Peters and Tilley, "Cheap Drug Store!" When Peters retired in 1848 it became Tilley's Drug Store, one of the more successful commercial operations in the city. By 1860 politics had taken over Tilley's life, however, and he sold the business.
1889: Cedar Hill, The ice house for Tilley & Littlefield is well under way. – The Enterprise, Altamont, N.Y. October 12, 1889
1892: Allen's "Commercial Organic Analysis," vols, i-and ii. Tilley, 131 Albert Road, Middlesborough. – Oct. 15, 1892 THE CHEMIST AND DRUGGIST SUPPLEMENT
1898: C. E. Tilley, the druggist who assigned some six weeks since, and whose store on Reading Road was sold out, has obtained a position in the Board of City Affairs, Cincinnati – The Pharmaceutical Era, Volume 19
1900: Tilley and Littlefield noted as an ice house along the Hudson on the Albany County side. Producing 70,000 lbs of ice in 1900. – The Rockland County Times, Haverstraw, New York, December 29, 1900
Case Solved
Marianne Dow sent in the following Tilley Summum Borum (Bonum) Bitters Company advertisement that led to finding a second listing for Tilley's Sonnum Borum Bitters. From these, we can see that J. B. Tilley organized the company in New Berlin, N.Y. and sold the bitters in 1900.
Another listing for the company.