Dr. Gilbert's Rock and Rye Stomach Bitters
20 August 2015

Finally coming out from under the work load associated with the FOHBC 2015 Chattanooga National and I am doing what I like best, that is passionately collecting and writing about antique bitters bottles. I even gave a talk with the master, Jack Sullivan, in Chattanooga, the seminar titled, "Every Bottle has a Story". You can also see some of the bitters bottles in Chattanooga here: Chattanooga National Bitters Spotting
Gary Beatty (FOHBC Treasurer), pulled me aside during the show and took me to his table where he pulled out a box from beneath. I knew it had to be something great as Gary has a keen eye for bitters. He pulls out a killer, probably the best I have ever seen, Russ' St. Domingo Bitters (Read: Russ's St. Domingo Bitters – New York) in a spectacular green that was whittled to death. Next he pulls out the taller variant of a Dr. Gilbert's Rock and Rye Bitters in blue-green. These two bottles commanded a quick picture or two as the Rock and Rye example recently moved from the Howard Crowe collection to the Beatty Collection.
The Carlyn Ring and W.C. Ham listing in Bitters Bottles is as follows: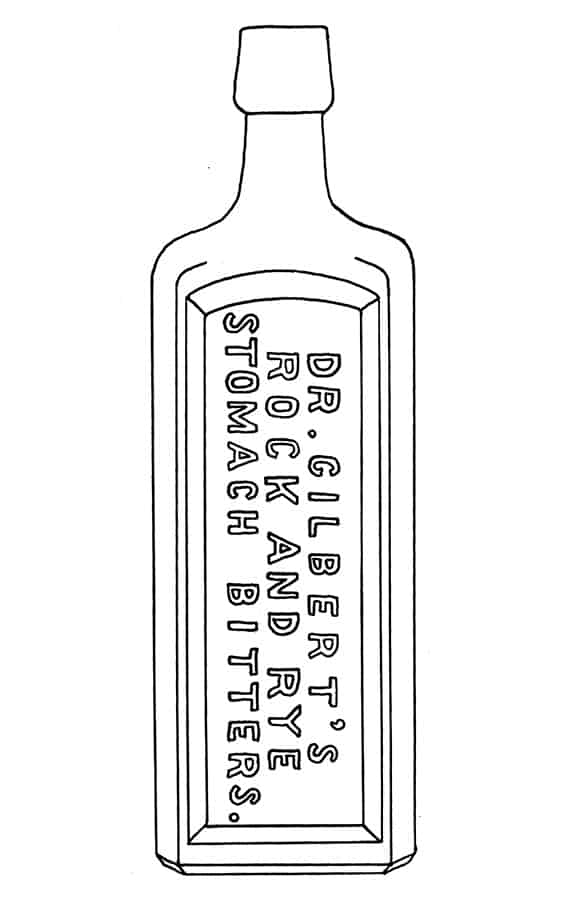 G 40  DR. GILBERT'S ROCK AND RYE STOMACH BITTERS
DR. GILBERT'S / ROCK AND RYE / STOMACH BITTERS. // sp // sp // sp //
9 1/4 x 2 7/8 (6 3/4) 1/2
Square, Green, LTC, 4 sp, Extremely Rare
(also blue green)
G 41  DR. GILBERT'S ROCK AND RYE STOMACH BITTERS
DR. GILBERT'S / ROCK AND RYE / STOMACH BITTERS. // sp // sp // sp //
7 1/2 x 2 1/4 (5 1/8) 3/8
Square, Blue green, LTC, 4 sp, Tooled lip, Very Rare
Here is the smaller variant below in a blue-green or teal color.
Rock and Rye was a liqueur made of whiskey blended with powdered rock candy and sometimes fruit and was something almost any bar carried and in the 1800s. It was reputed to aid in digestion. I suppose they made the bottles a 'pretty' color to mask the sludge with. Most liquor establishments most made their own, often as a way to make some rather rustic whiskey more approachable. The classic recipe is rye sweetened with rock candy, sometimes also ginger and/or citrus peels, essentially an Old Fashioned cocktail-in-a-bottle. Theoretically, all it needs is a couple of dashes of bitters and a twist to complete it. Since rye had a hard time coming back after Prohibition, if a bar carried it at all after that, it was likely a manufactured bottled bastardization of the stuff (for nostalgic purposes?), neither "rye" nor "rock." Excerpt: The Return of Rock & Rye, An old bar standard makes a comeback to replace what's been here for years. Amanda Schuster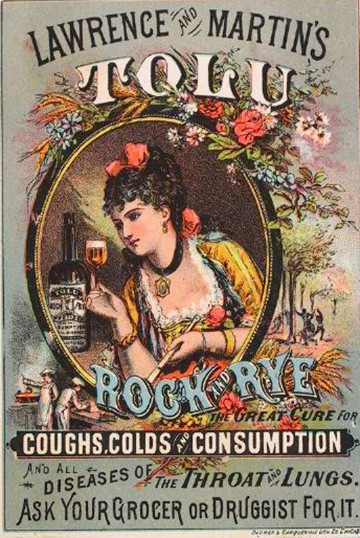 So who is Dr. Gilbert? I really do not know. The path we will look at first is to see if it is related to Gilbert's Sarsaparilla Bitters (see below) from Enosburgh Falls, Vermont. This will be a follow-up post.