Gilbert's Sarsaparilla Bitters

–

Enosburgh Falls, Vermont
21 August 2015

If you read my most recent post about Dr. Gilbert's Rock and Rye Stomach Bitters (Read: Dr. Gilbert's Rock and Rye Stomach Bitters), you saw that I was going to investigate to see if there was a relationship to Gilbert's Sarsaparilla Bitters from Enosburg Falls, Vermont. Actually, if you read historical and current information, Enosburgh is also spelled 'Enosburg'. Kind of like Pittsburgh and Pittsburg.
Unfortunately, I can not find the "Gilbert's" link that I mentioned above, but I was able to find out a little about the proprietor of Gilbert's Sarsaparilla Bitters who also put out Wild Indian Lung Balsam and Scotch Oil, a family and horse liniment. The horse illustrated below really looks like he needs some Scotch Oil!
The Carlyn Ring and W.C. Ham listing in Bitters Bottles is as follows:

G 42  GILBERT'S SARSAPARILLA BITTERS
GILBERT'S SARSAPARILLA // BITTERS // N. A. GILBERT & CO. //
ENOSBURGH FALLS, VT. // f // f // f //
8 3/4 x 2 1/2 (7 5/8)
Octagonal, Amber, NSC, Applied mouth and Tooled lip, Rare
Label panel curved sunken area crossing 3 bevels
Label: A specific for loss of appetite, indigestion, constipation, dyspepsia, biliousness, general debility, and all diseases arising from the impure state of the blood such as scrofula, syphilitic affections, cancerous tumors, ring worms, salt rheum, boils, pimples, headache, dizziness, and all diseases of the kidneys, liver and urinary organs, etc., giving tone and strength to the stomach and the whole system, assisting nature to expel from the system, all humors, impure and effete matter, trough its natural channels. Pleasant to take and effective in action.
Enosburgh Falls, Vermont
Village of Enosburgh Falls. – The village of Enosburgh Falls is by far the most important trading and manufacturing center in the town, but practically within the last quarter of a century has this prominence been attained. Indeed, so rapid and healthful has been the growth of this locality that on the 19th of November, 1886, the state legislature passed an act incorporating the old Seventh School District into a village, and otherwise provided for the election of trustees, clerk, treasurer, collector, one chief engineer, two assistants, three fire wardens, and conferred upon the village the power to govern its district in the same manner that other corporate villages are ordered and governed.
But Enosburgh Falls as a hamlet had an existence almost if not quite as early as any other settled locality of the town, yet it was not until the construction of the Missisquoi Valley Railroad through the town that the rapid strides in the direction of municipality were made. The hamlet was first started and built up in the vicinity of the falls, where nature designed one of the best of the many fine water privileges of the valley, but which required the arts of man to develop and put into practical use and operation. That this power has been utilized by past generations, as well as by the present, there can be no doubt, for the old buildings still standing are sufficient evidence of the fact in the absence of other proof, but just when manufacturing commenced here, and what was its peculiar character, none of the present villagers will venture to state. During the early years of the present century Samuel Kendall was numbered among the most prominent men of this locality. In 1824 he built and put into operation a woolen-mill, or, as it was then known, a carding and fulling-mill, and manufactured cloth for the few settlers of the locality. Also, that he might profitably turn into cash an accumulated stock of corn, he started a distillery, but the latter industry he gave up, not liking the whiskey business. After Samuel Kendall, the pioneer, came his sons Marshall and Samuel, jr., as proprietors of the mill, and about 1860, or perhaps earlier, the "red mill" was built by Samuel, jr. The property afterward passed through other hands, and finally came to its present occupancy. – History of Franklin and Grand Isle counties, Vermont: With illustrations and biographical sketches of some of the prominent men and pioneers, 1891
Nathan A. Gilbert
Captain Nathan Allen Gilbert, the son of Nathan and Cynthia (Smith) Gilbert, was born in Fairfield, Vermont on February 4, 1847. He was the youngest of five children and was brought up in mill work and became actively interested in that business in his native town, being half owner with his father of a mill from about 1866 until 1877. In 1877, he came to Enosburg, Vermont and with D. B. Stetson, built a large flouring-mill at the Falls, but later sold his interests to Mr. Stetson.
The Missisquoi Flouring Mill was built in 1877, by Daniel B. Stetson and Nathan A. Gilbert. The mill stands near the dam, on the east side of the river; a substantial building, well adapted for its use, having four "runs of stone," and equal in capacity to any industry of its kind in the region, excepting only those at Swanton. In 1883, Mr Gilbert retired from the business, and was succeeded by General C. L. Marsh, the firm becoming Stetson & Marsh, a relation that has ever since been maintained. In connection with the milling business here done the firm has an extensive grain, flour, and feed store on Main street, near the railroad. – History of Franklin and Grand Isle counties, Vermont, 1889
Gilbert attended college at the Franklin (Vermont) Academy and entered Norwich University in September, 1864, remaining until September, 1866. He married on November 23, 1868, to Hattie N. Ward, a native of Castleton, Vermont who died in Enosburg Falls on May 10, 1896. Five children were born to them: Emma Lucy, born March 13, 1870, married Mr. Hibbard C. Kendall, died November 4, 1897; Allena Cynthia, born August 20, 1872, married Mr. R. J. Isham, resided in Burlington, Vt.; William Nathan, born August 5, 1875, resided in St. Johnsbury, Vt.; Lottie Elizabeth, born September 29, 1878, married Mr. Walter B. Taylor, resided in Bennington, Vt. and Armida Julia, born February 1, 1884, married Mr. Percy Howard, resided in Whitefield, N.H.
Gilbert also served as captain in the Vermont State Militia from 1870 to 1875. was a member of the A £ II Fraternity; served with the corps of cadets at Newport, Vermont, in October, 1864 which was during the St. Albans Raid excitement.
In 1885, Gilbert began a drug and patent medicine business in Enosburg Falls. In 1886, N.A. Gilbert and Company was established as an outgrowth of a drug and medicine business run by Benjamin J. Kendall and Henry D. Kendall in 1876. He ran this business until 1892, being associated in the business with H. L. Kendall, 1885-87, and J. W. Beatty, 1889-92. They were the producers of Kendall's Spavin Cure. In 1891, Gilbert and Co. was manufacturing Gilbert's Sarsaparilla Bitters, Wild Indian Lung Balsam, and Scotch Oil, a family and horse liniment to compete with Kendall's Spavin Cure.
J. W. BEATTY, Medicines – Church Street. – Mr. J. W. Beatty is a manufacturer of Scotch oil, condition powders, pills, bitters, tooth powders, etc. His business was established by H. D. Kendall in 1881; succeeded by Kendall & Gilbert in 1883; by N. A. Gilbert in 1883; by Gilbert & Co. in 1883; and by Mr. Beatty in September month. 1890. He travels through the states of Vermont and New York, selling his excellent medicines, which give satisfaction, their quality being pure and good. Mr. Beatty is a thorough and practically skilled compounder of drugs, and has come into his profession with a complete understanding of its important branches. His oils are manufactured from ingredients that make them all-powerful in the killing and utter routing of pains. Horsemen and stock raisers, breeders and dealers have heartily endorsed his condition powders, as have eminent patients spoken highly of his pills and bitters, while his powders for the teeth are free from any factor that disturbs the enamel, their functions being to purify the gums and breath. – Industries and Wealth of the Principal Points in Vermont, 1891
Later Nathan A. Gilbert engaged in the stove and furniture business in Enosburg Falls from 1893 to 1897. In 1898, he located in St. Johnsbury, Vermont, where he made his home and was in the employment of the Fairbanks Scale Company from 1898 to 1900. Next he was a traveling salesman for W. B. Saunder's Co., of Philadelphia, from 1900 to 1907. In 1908, he retired from active work. Nathan A. Gilbert died in 1923. His grave marker is below. Pretty simple.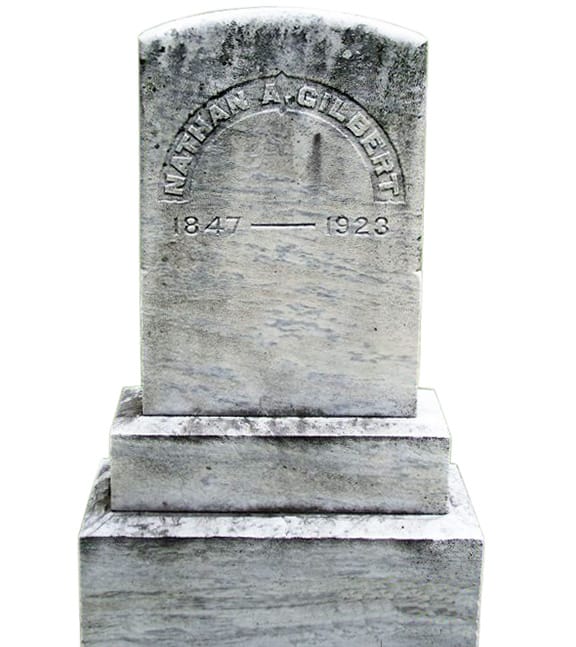 ADVERTISING TRADE CARDS
The following advertising trade cards are from the Joe Gourd Collection in Chicago, Illinois. These are stock cards with surprints for the brand and product on back. You could send in .50 cents or $1.00 for a bottle or two. With a 2 cent stamp, they would send you eight "beautiful Picture Cards".