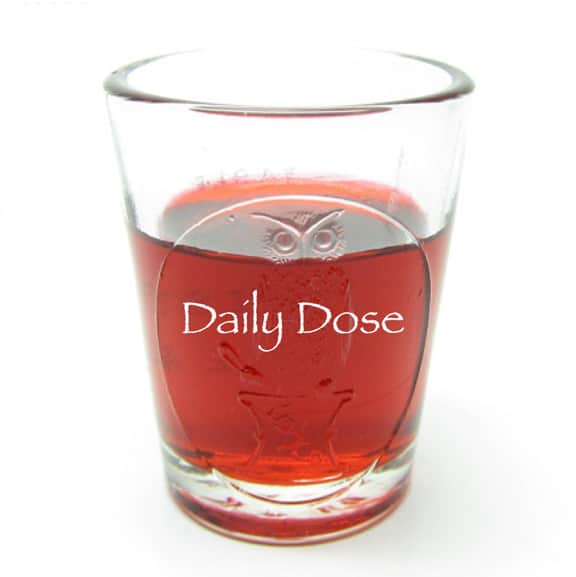 August

  

|

 

2 0 1 5
Monday, 31 August 2015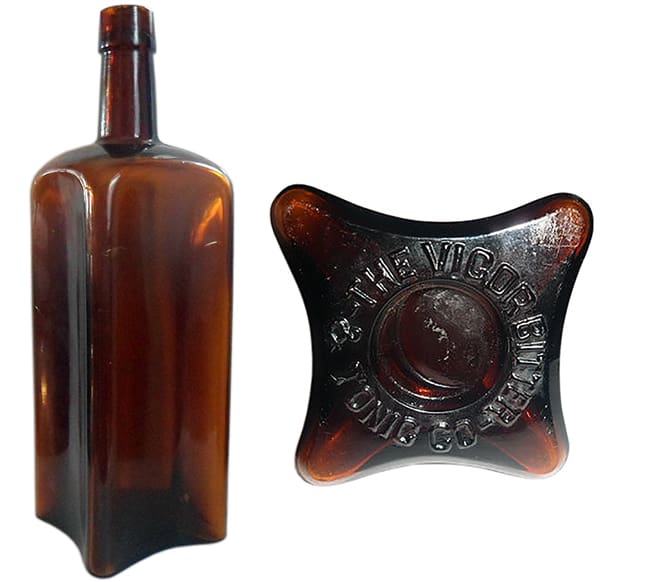 Frank Wicker sent the above pictures (which I have cropped in Photoshop) of a Vigor Bitter & Invogorating Tonic saying, "Hi Ferdinand, Have you ever seen one of these? This one is a concave square bottle. The Vigor Bitter & Tonic Co. Hope all has been good, Frank". I recognized the bottle from the recent Rachel Davis Fine Art Auction. When mentioned to Frank, he replied, "Yes , it has been added to the collection. Ring & Ham says it's extremly rare. But this one is a variant. It's 10 1/4 inches tall in height instead of 11 inches. From what I hear, it was one of the few bottles at this auction with no damage."
Read: Wicker Visit – Austin Healey's and Elephants
Great piece. I have a bottle the same shape in green from Hartford, Ct. Heublein Co. (see pic below) – Gerard Dauphinais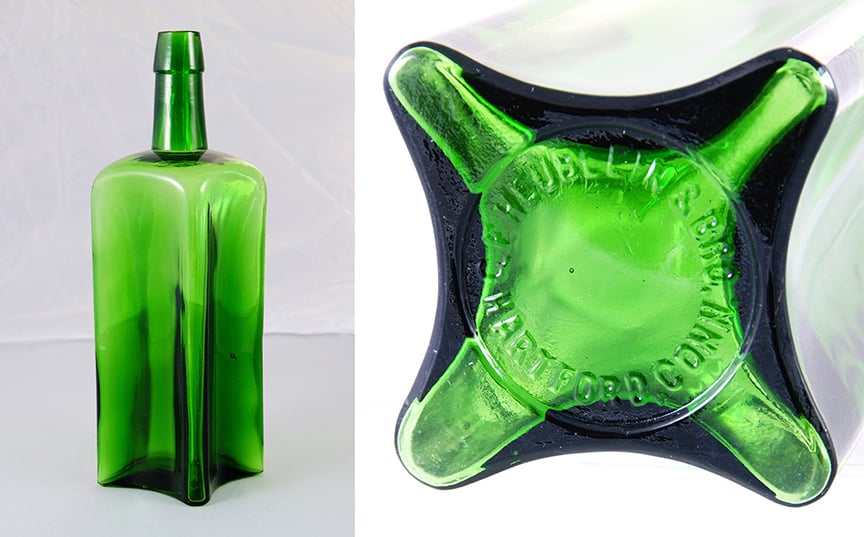 Saturday, 29 August 2015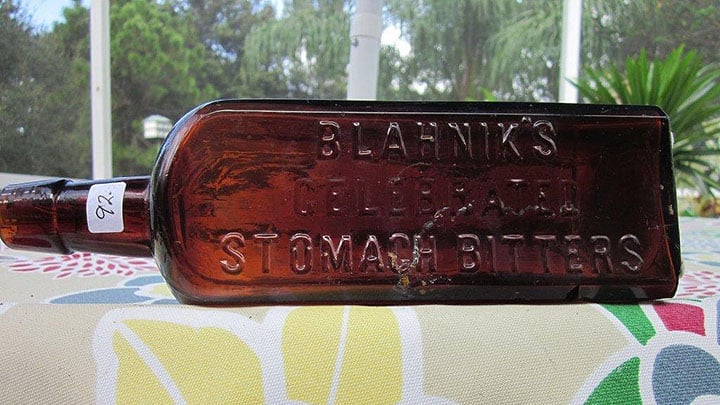 Ferd, here is an unlisted bitters I found on a table mixed in with lesser bottles at the FOHBC Chattanooga National Show. "BLAHNIK'S CELEBRATED STOMACH BITTERS". Sheldon has never heard of it. It has a blister on the rough ding on the front and a crack near the base on two panels. Never the less, it is unlisted and I will forward pictures to Bill Ham. Don't know what state it is from but possibly, Kentucky, Ohio or Tennessee. Best Regards, Gary…. Ferd, disregard the un-known, I stand corrected the BLAHNAK'S is listed as B-118 however it is extremely rare. Gary (Beatty)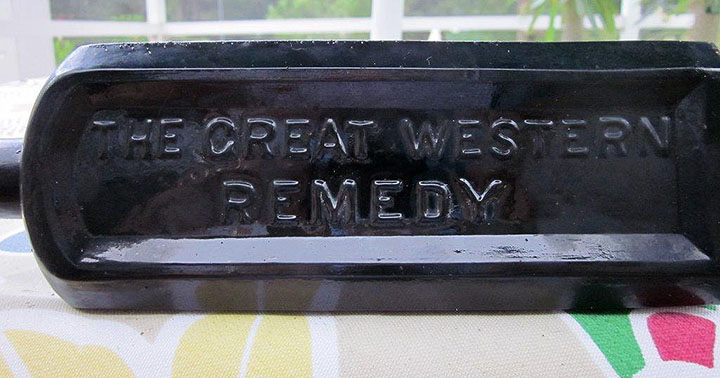 Ferd, Sheldon Baugh and I visited the table where I got the "BLAHNIK'S STOMACH BITTERS" three times and each time I got a bitters. You saw this one at my table. It is black glass and you can't see through it. "ROSENHEIM'S BITTERS THE GREAT WESTERN REMEDY". It has a repaired corner but I am so glad to get it. Sheldon says it is from West Virginia and extremely rare. Gary (Beatty) Note: The brand is from Baltimore, Maryland.
Thursday, 27 August 2015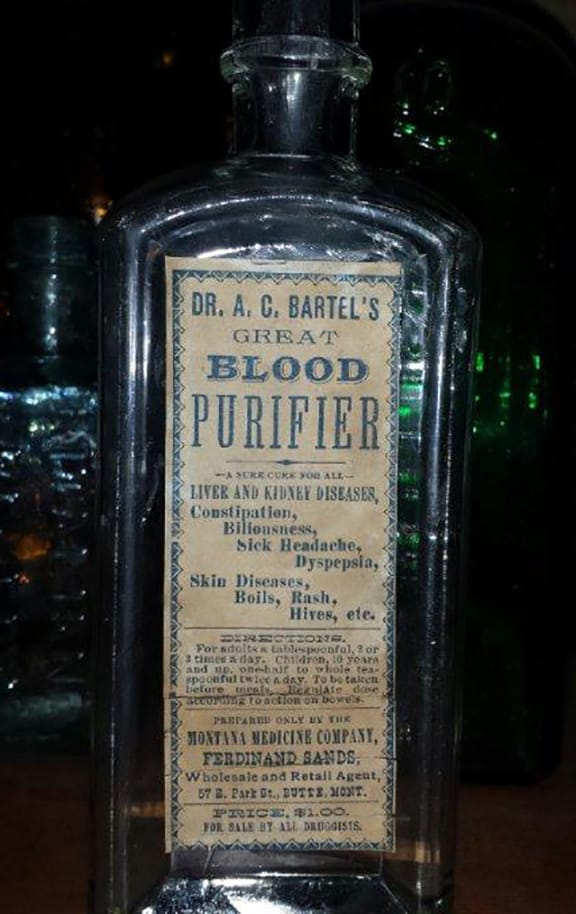 Hello Ferd, I figure not often do you see your name on a bottle. This was found by a guy tearing old houses down. I would stop and see him here in town and he would show me paper stuff, old cards, a knife, coins, etc. he would find in the walls. One day he showed me this larger extract looking bottle but the label had come off and was curled up. I soaked it, cleaned it and it cracked but glued it back on and its a rare treasure. Says Cure too so pre 1906 and cost was $1.00.
Thanks,
James Campiglia
FM5: Thanks James. Pretty cool. I usually see Meyer bottles but less with "Ferdinand". Read: So who is A. C. Meyer?
Wednesday, 26 August 2015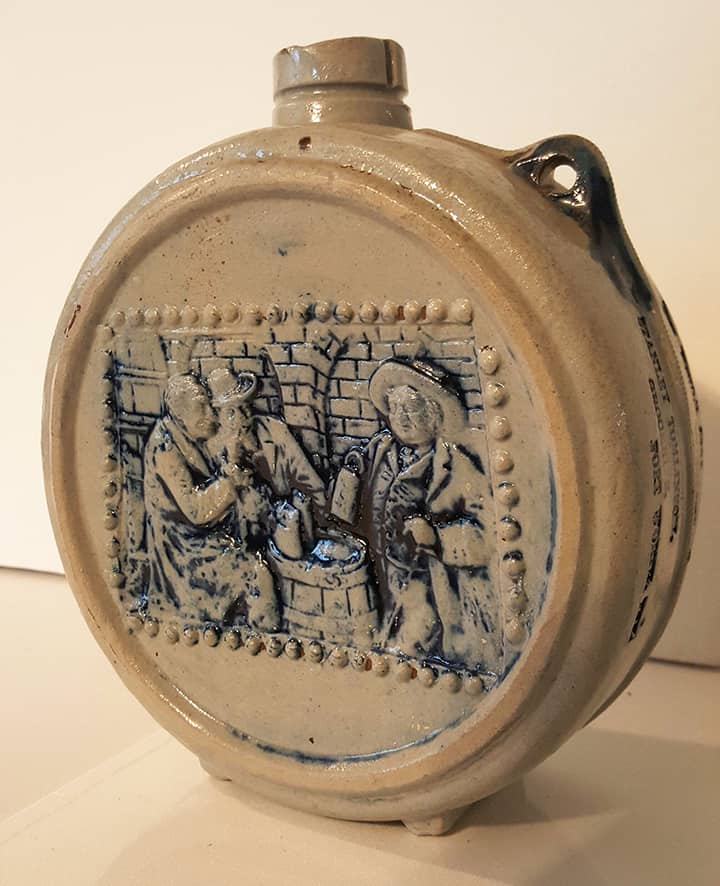 I just picked up this unique whiskey canteen.  Nobody has record of ever seeing another.  Such a cool piece of history. – Brad Seigler
Read: Historical Canteens – Canteen Figural Bottles

Sunday, 23 August 2015
Some of my Clarke's Vegetable Sherry Wine Bitters bottles. Taken earlier today. There are all different.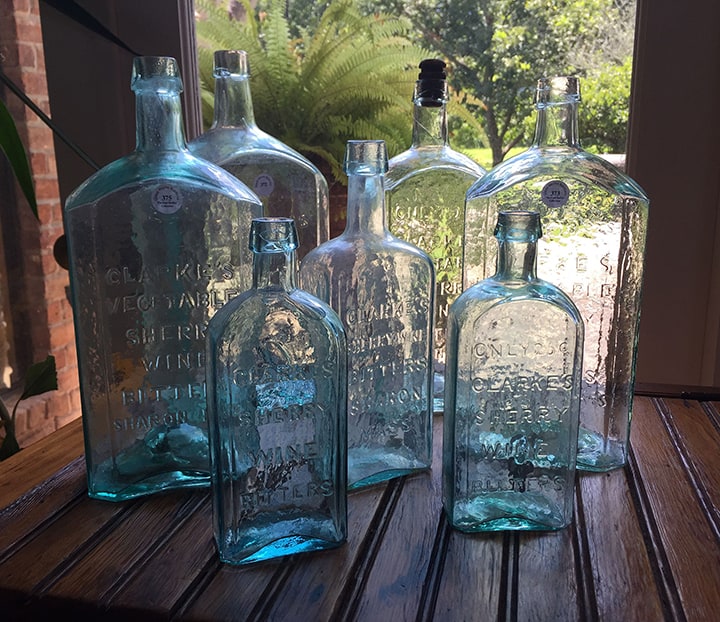 Saturday, 22 August 2015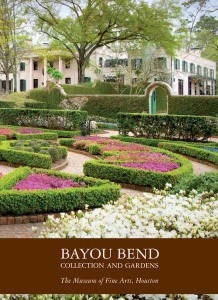 Yesterday, I had the pleasure of getting a personal tour of the Bayou Bend Collection and Gardens. Look for a post. Some great Early American glass and historical flasks.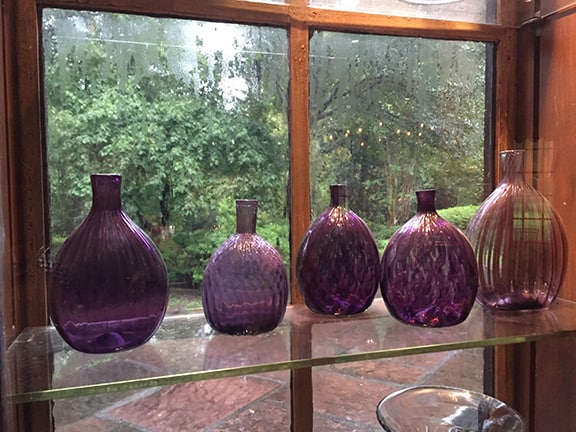 Thursday, 20 August 2015
Completing the Chattanooga National series in the next week. Still have the auction report, show bottles, kids grab bags etc. In the meantime, look at these two nice bottle grouping pictures from the upper floors of our host hotel Marriott Chattanooga Downtown. The top picture is from Jerry Forbes (Big Sur, California) and shows some extraordinary bottles that he picked up during the show. Downtown Chattanooga in the background. The bottom picture is from Bob Koren (Macedonia, Ohio) and shows some exquisite early American cruet's that he collects. Lookout Mountain in the background.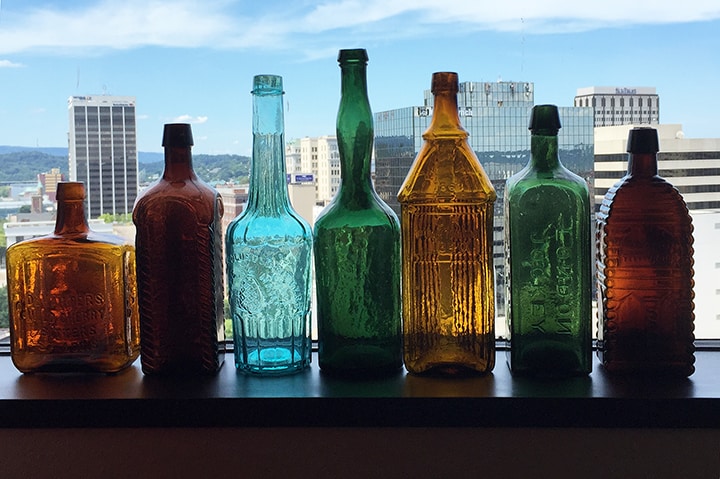 Monday, 17 August 2015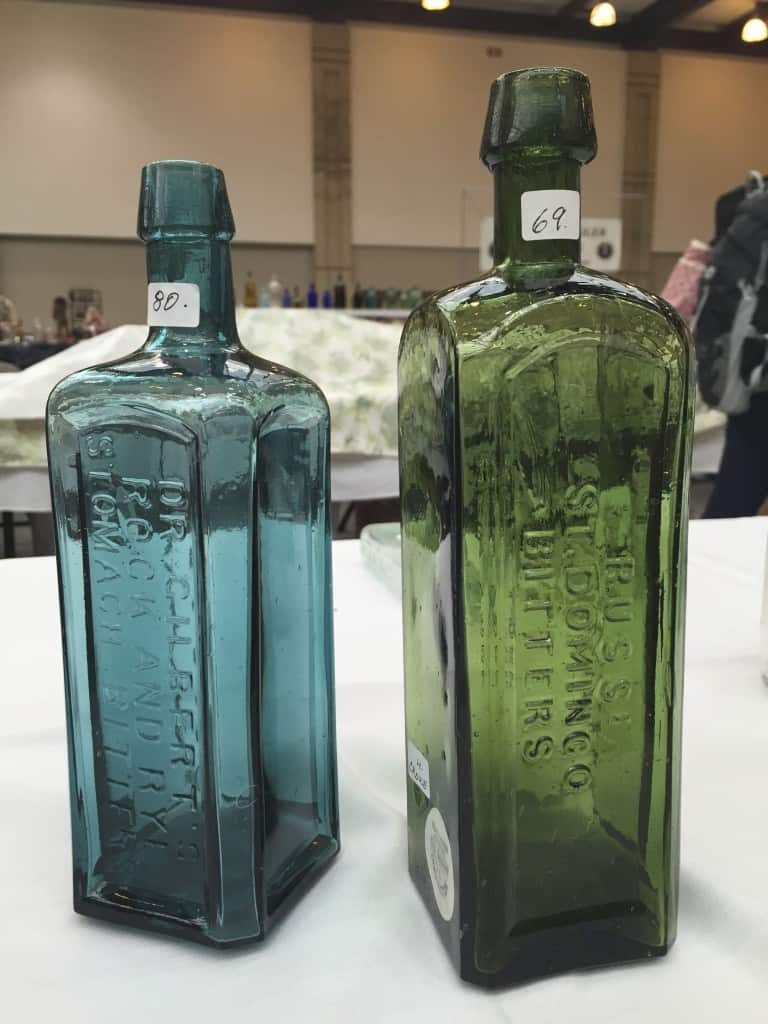 Got in to Miami around 2:00 am due to delayed flight. Don't really like flying on Sunday. Hopefully you have noticed a series of Chattanooga National posts. Had to get the September October issue of BOTTLES and EXTRAS out first. Look for some ramped up activity on PRG as we go into deep bottle season. A special post will be titled, "Bitters spotting at the Chattanooga National".
Saturday, 08 August 2015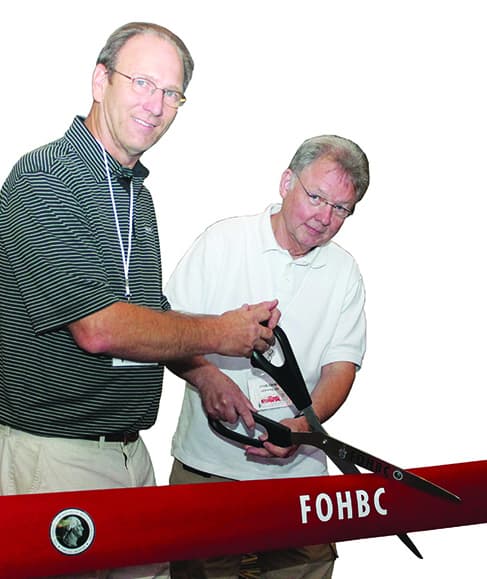 Working on major web posts for the 2015 Chattanooga National. Need to get BOTTLES and EXTRAS to the printer by Tuesday. The SEP OCT issue will contain a feature article on the show. Show chairs Jack Hewitt & John Joiner cut the ceremonial show ribbon to start the show last Saturday.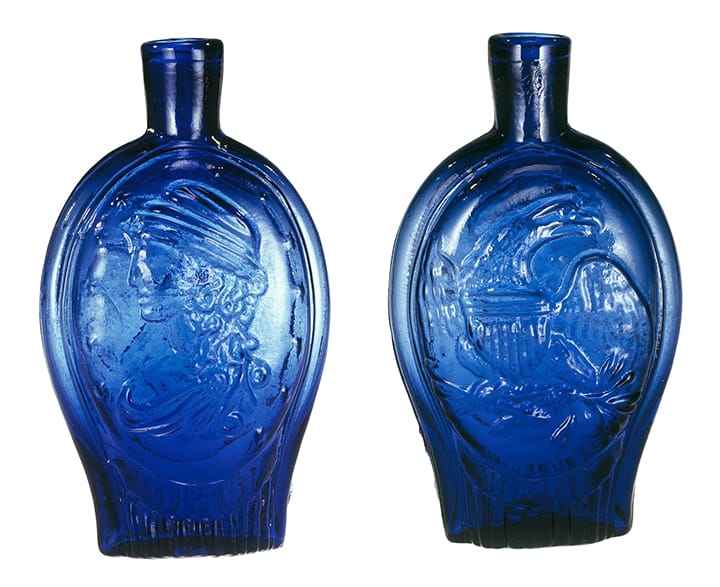 Look for a cool story called Gardner Love Token in the SEP OCT issue of BOTTLES and EXTRAS.