Dr. Owen's European Life Bitters – Detroit
Which Dr. Owen's are we talking about?
05 June 2015

Let's take a moment and look at the Dr. Owen's European Life Bitters from Detroit, Michigan. This is a pretty old bitters bottle with a rough pontil. We may be talking about John Owen here who was also one of the supporting characters in a recent post for the Diamond B Stomach Bitters from Detroit. We could also be talking about John G. Owen. Both options are explored below without conclusion.
With the word "Life" in the brand title, it also reminds me of the recent "Long-Life" word usage in the Dr. L. G. Bertram's Long-Life Aromatic Stomach Bitters post.
As I said above, we "might" be talking about John Owen as many indications point to him as the proprietor in Detroit as you will see further below. What does bother me, is that John Owens was not a "Dr." though that did not stop many bitters makers and sellers from claiming that they were one. Let's look at his information first and a key clue that we might be talking about someone else, that being John G. Owen.
Carlyn Ring and Bill Ham note that approximately 35 of these bottles were dug on the Owen farm north of Detroit. That would be John G. Owen. To date, this has been the primary source for this bottle. They also note that the label says Ox Blood Bitters (see listing below). What's up with that? Additionally there is a note, "See: Ochsen Blut Bitters" (Ox Blood Bitters). I have no clue when I look that up as I see no link to this bottle. Obviously a labeled example needs to be observed.
Read: Metropolitan Detroit Antique Bottle Club which mentions the Dr. Owen's European Life Bitters.
The Carlyn Ring and W. C. Ham listing in Bitters Bottles is as follows: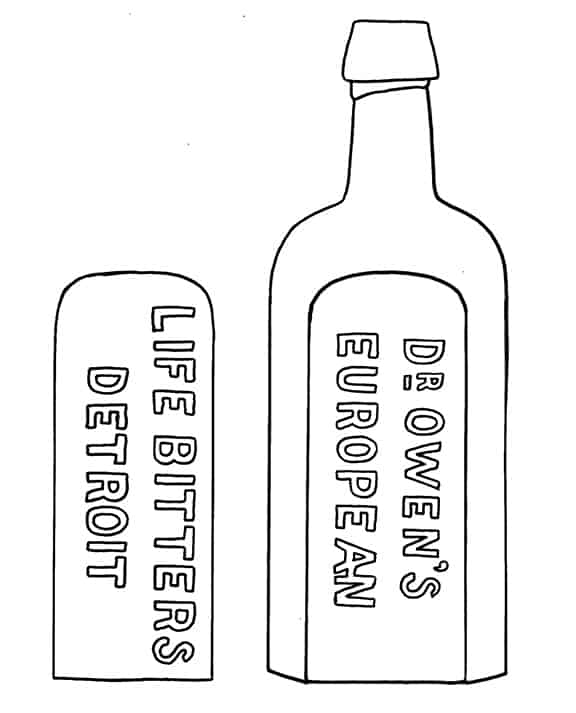 O 98

  DR. OWEN'S EUROPEAN LIFE BITTERS
DR OWEN'S / EUROPEAN // f // LIFE BITTERS / DETROIT // f //
7 x 2 5/8 x 1 7/8 (5) 5/8
Rectangular, Aqua, LTC, Applied mouth, Rough pontil mark,
Very Scarce
L…Ox Blood Bitters (See: Ochsen Blut Bitters)
Note: Approximately 35 of these bottles were dug on the Owen's farm north of Detroit. To date, this has been the primary source for this bottle.
O 6 L … Ochsen Blut Bitters
Ox Blood Bitters Co., Cincinnati, Ohio
10 1/8 x 3 (7)
Square, clear, LTC
Label: The builder of the system
John Pastor had a nice example of a Dr. Owen's bottle that closed on 27 May 2015 in his American Glass Gallery Auction 14 last week. Here are the pictures. and his caption noting that the bottle was made by another Owen (Owen #2).
I am also fortunate to have an example on my shelves from the great Bryan Grapentine collection that was auctioned off by Jeff Wichmann some years back. Here are some of my pictures.
John Owen [#1]
John Owen was a big man. I mean you have to be big to be a bitters man, but Mr. Owen parlayed his experiences and rose from a simple errand boy to bank president. Only in America. I love these stories.
John Owen was born on March 20, 1809 near Toronto, Ontario, Canada. His father died in 1818 which left the family in poor financial shape so John Owens education was in consequence, acquired under difficulties. He next moved with his mother to Detroit, Michigan. For three years he attended a private academy, paying for his tuition by doing chores about the premises, but in 1821 his preceptor died and he was compelled to seek the means of a livelihood. He became an errand boy at 12 years old and eventually a clerk in the drug store of the late Dr. Chapin in Detroit. This business was started in that city in 1819 by Dr. Marshall Chapin, presumably as a branch of the firm of Chapin & Pratt, of Buffalo. John Owen performed his duties with such faithfulness that in the course of a few years he was admitted to partnership in the business under the firm name of Chapin & Owen. From 1831 to 1837, Detroit directory listings list Chapin & Owen as Wholesale and Retail Druggists and Grocers on 82 Jefferson Avenue. Subsequently Dr. Chapin withdrew and until 1853 Mr. Owen carried on the business under the name of J. Owen & Co.
John Owen eventually retired from this line of work, selling his stock and good will to T. H. Hinchman & Son. Bigger things were in the works.
Mr. Owen then gave his attention to regional politics, lake marine navigation and banking interests, judiciously investing large sums of money and soon became prominent as a vessel owner and the possessor of an extensive estate in Detroit. He was also one of the earliest and heaviest stockholders and eventually president of the Detroit & Cleveland Steam Navigation Co., and also one of the principal stockholders of the Detroit Dry Dock Company and became its first president too.
He held the presidency of the Michigan Insurance Bank during the financial panic of 1857, in which connection it was said: "The fact that the bank weathered the storms of that period was very largely due to the unbounded confidence which the business public had in his ability and integrity."  On the same subject another appreciative article contains the following equally pertinent words: "His integrity and good name constituted the wall that prevented the financial breakers from overwhelming not only the bank but scores of individuals as well."
That popular confidence and esteem were not restricted to local limitations as touching Mr. Owen is further evidenced in the fact that in 1860, at the climacteric period just prior to the outbreak of the Civil war and when financial disquietude was in evidence throughout the nation, he was elected to the office of state treasurer, of which he remained the incumbent from 1861 to 1865, covering the period of the war, and with utmost fidelity and discrimination did he administer the fiscal affairs of the state, protecting its interests and loyally upholding the hands of the general state administration in providing for the needs of the Michigan troops at home and in the field.
Next he was president of the National Insurance Bank of Detroit; from 1861 to 1867; in 1836, alderman-at-large from the First ward of Detroit, filling that office the second time from 1844 to 1845; a director of the Detroit public schools, 1839 to 1840; commissioner of grades, 1859 to 1870; water commissioner of Detroit, 1865 to 1879; from 1841 to 1848 a member of the Board of Regents of the University of Michigan; president of the Soldiers' Relief Association, 1864; and a trustee and treasurer of Elmwood Cemetery at Detroit from its organization to the time of his death in 1892. He was also one of the principal trustees of Albion College and always prominently identified with the work of the Central Methodist Episcopal church at Detroit.
Owen married Jane Cook and their children were: Edmund J. and Lafayette, John, Jr.; and Fannie. John Owen died in 1892. Jane Owen died on March 22, 1908.
Reference: Landmarks of Wayne county and Detroit & The City of Detroit, Michigan, 1701-1922, Volume 4
Dr. Owen's [2]
As you might have noticed in John Pastor's description of his bottle, he notes that "Dr. Owens biography indicates that he worked as an apprentice in a drug store in England from the age of fourteen until leaving for the US (New York) in 1842. He was in Detroit from August, 1844 through some time in June 1846, where he worked as a clerk at Goodell's drug store. It is believed that he relocated to Clarkston around June, 1846."
Obviously this is in direct opposition to the John Owen noted above. Further searching can support John's words as there is an aqua bottle embossed "Dr. Owens London Horse Liniment, Clarkson, Michigan". There is a John G. Owen that was born in 1824 who did reside in Clarkston for a while but he was a well-known business man dealing in lumber. He is most likely our man.
Maria Sabine, born 1824,
married John G. Owen in Detroit.

They afterward removed to Clarkston, and subsequently to East Saginaw. In the latter city Mr. Owen was a lumber dealer

and was mayor in the '70s. She died in 1867, leaving nine children. (1) Maria E. Dunk, widow of Alfred Dunk, Saginaw. (2) John S. Owen, of Eau Claire, Wis. (2) Joseph D. Owen, Owendale, Mich. (4) Sophia S. Owen, who lives with her father in Saginaw. (5) Ella W. Owen, wife of W. B. Moore, Saginaw. (6) Wm C. Owen, Pontiac. (7) Edward A. Owen, New York City. (8) James Owen, Minneapolis, Minn. (9) Samuel F. Owen, Saginaw.

OWEN, HON. JOHN G., of East Saginaw, Michigan, was born March 28, 1824, at Woodchurch, Kent County, England. His father, Dive Owen, followed the occupation of a farmer, and lived to be seventy-six years of age. His mother, Elizabeth (Woodland) Owen, was born near Ruckinge, Kent County; and had ten children, – five sons and five daughters. She survived her husband ten years, dying at the age of eighty-six. At fourteen years of age, Mr. Owen left school, and engaged as an apprentice in the drug store of Mr. Thomas Barry, at Rye, county of Sussex. He remained there until his eighteenth year when, owing to failing health, he was compelled to give up business. Believing that an ocean voyage and change of climate were the only hope of regaining his health, he, with a brother and sister, embarked in the packet ship "Quebec," April 8, 1842, for the United States. After forty-five days, he reached New York, much benefited by his voyage. He went to Pittsford, New York, where he remained for some time, his health constantly improving. He alternated, as to the selection of his future home, between Rochester, Pembroke, and Darien. In October, 1843, Mr. Owen, in company with his sister, went to Armada, Macomb County, Michigan. While here, he devoted a portion of his time to farming; and, having quite recovered his health, removed, in the following August, to Detroit, in order to accept a clerkship in a wholesale grocery house. In April, 1846, he married Miss Maria A. Sabine, daughter of John Sabine, then of the city of Detroit, but formerly of Canterbury, England. In June, 1846, Mr. Owen removed to Clarkston, Oakland County, Michigan, where he engaged in a general mercantile business. In 1854, in connection with his other business, he turned his attention to farming, in which he has since been engaged, although he has removed from Clarkston. In 1860 Mr. Owen purchased the Waterford flour-mills, which he rebuilt and operated. He also established a store in connection with the mills; and, in the spring of 1863, removed to Waterford, which is situated two and one-half miles from Clarkston. Mr. Owen had, for several years, traded in grain, wool, and all the productions of the northern counties; and this place was, for a long time, the natural outlet. In 1865, in connection with his business at Waterford, he opened a house in East Saginaw, dealing in wholesale groceries and lumbermen's supplies. This business increased beyond his expectations; and, in the following year, he was obliged to remove to Saginaw. Here he established a business which exceeded half a million dollars annually. In 1872 he retired, and has since been engaged, in Saginaw, in the manufacture of lumber.

In 1854 Mr. Owen made a visit to his parents, brothers, and sisters in England. In 1860 he was chosen to represent his district in the State Senate. He took his seat, January 1, 1861, and served through that session and two special sessions, made necessary by the breaking out of the civil war. He took an active part in the business and deliberations, and filled positions on two special committees, one of which was on the salt interests of the State. An act had been passed, at a former session, giving a bounty of ten cents a bushel on all salt made within the State, which led to rapid developments of the salt deposits, and threatened the people with heavy taxation in order to meet the probable production. The majority of the committee having reported on a modified and continuous tax, the law was practically repealed, except as to the company then in operation. A strong effort was |made for its continuance, however, and Mr. Owen received many flattering comments for the stand he took in the interests of the people. He was appointed chairman of the special committee, appointed by the Senate, to investigate the department of the Quartermaster General, to which base frauds had been charged by a part of the press of the State. Three months' faithful labor in investigating the business, resulted in a complete refutation of the charges. In September, 1866, Mr. Owen was deeply affected by the death of his wife, who left a family of nine children,—six sons and three daughters. He afterwards married Miss Lucia A. Greenleaf, who was born in Saratoga, New York, in 1832, and was the daughter of Flavel and Eunice (Smith) Greenleaf. They have one daughter. Mr. Owen has been identified, not only with the business interests of Saginaw, but with its growth and public improvement. In 1870 he was elected Mayor of the city; and has served in other prominent positions. He served as President of the Water Commissioners during the construction of what is known as the Holly system of water supply, covering an expenditure of upwards of three hundred thousand dollars. Upon the completion of the works, Mr. Owen resigned his position, and retired to private life. lie was never an office-seeker, and only accepted the positions he has filled from a sense of duty, and at the urgent solicitations of his friends. In politics, he was first a Whig, and afterwards a Republican. In his religious views, he is a Baptist. [American Biographical History, 1878]
John Owen* Select Listings:
Does not include John G. Owen listings.
1809:

 John Owen was a native of Canada, born near Toronto, Ont., in 1809 (March 20, 1809). – Landmarks of Wayne county and Detroit & The City of Detroit, Michigan, 1701-1922, Volume 4
1818:

After his father's death, John Owen moves with his mother to Detroit, Mich. – The City of Detroit, Michigan, 1701-1922, Volume 4
1821: 

When only twelve years of age John Owen began providing for his own support as an errand boy in the drug store of Dr. Chapin.
1829:

 John Owen, drug clerk, admitted to partnership and firm name changed to Chapin & Owen. – Odditorium Detroit
1831:

 September 7th, 1831. The office of the 

Detroit 

Journal was removed from Griswold street to the new building on Jefferson avenue, opposite to the Druggist Store of Messrs. Chapin & Owen, near the corner. – Historical Collections, 1900
1833:

Probably the oldest drug house in the West is that of T. H. Hinchman & Sons, of Detroit, Mich. The business was started in that city in 1819 by Dr. Marshall Chapin, presumably as a branch of the firm of Chapin & Pratt, of Buffalo. In 1833 Dr. Chapin took as a. partner John Owen, of Detroit, the firm thus becoming Chapin & Owen. Theodore H. Hinchman went to Detroit to enter the employ of that firm in 1836, was admitted as a partner in 1846, and in 1848 succeeded to the business. His brother, James A. Hinchman, was admitted as a partner in 1852, and continued in business with him until 1860. In 1868, 1869, and 1871 the three sons of Theodore H. Hinchman were admitted to partnership, since which latter date the style has been T. H. Hinchman & Sons. Mr. Theodore H. Hinchman died May 12, 1895 – 1795-1895. One Hundred Years of American Commerce
1837:

CHAPIN and OWEN – Wholesale and Retail Druggists and Grocers, 82 Jefferson Ave, CHAPIN, Dr. (C & OWENS – r, Fort abt Cass Street, OWEN, John – (Chapin & O) r Michigan Exchange – Directory of the City of Detroit, by Julius P. Bolivar Mac Cabe, Printed by William Marshall, 1837
1838:

 Dr. Chapin died on December 28. Hinchman admitted as partner, and firm became John Owen & Co. – Odditorium Detroit
1845:

John Owen & Co., wholesale and retail grocers and druggists, 82 and 84 Jefferson av – Detroit City Directory
1852-1853:

 John Owen & Co., wholesale drugs, paints and groceries, 120 Jefferson ave – Detroit City Directory
1853:

Subsequently Dr. Chapin withdrew and until 1853 Mr. Owen carried on the business under the style of J. Owen & Co. In the latter year he too retired from active work, selling his stock and good will to T. H. Hinchman & Son. – Landmarks of Wayne county and Detroit
1875:

John Owen, president, Detroit Dry Dock Company – Detroit City Directory
1892:

John Owen death