Dr. L. G. Bertram's Long-Life Aromatic Stomach Bitters
28 May 2015 (R•052915) (R•060215)

Here is another extremely rare bitters that John Pastor presented in his American Glass Gallery Auction 14 that closed last night. The extremely rare Dr. L. G. Bertram's Long-Life Aromatic Stomach Bitters is a tough one to research because there is barely any information on the bottle, no trade cards and obviously, no label. I put in a call to the doctor, that is Marianne Dow (MD), to provide some assistance as the situation here in Houston is a bit dicey with all the rain and storms. Let's see where we go.
Johns auction description for the bottle:
"DR L. G. BERTRAM'S / LONG – LIFE / AROMATIC / STOMACH BITTERS", America, 1880 – 1885. Bright golden honey coloration, square with beveled corners, applied sloping collar – smooth base, ht. 9 3/8″; (a ¼" x ½" chip on the base, at the edge of one of the side panels, otherwise attic mint). R/H #B91. Extremely rare, one of only two, or possibly three known examples. Provenance: Ex. Carlyn Ring collection.
The Carlyn Ring and W.C. Ham listing in Bitters Bottles is as follows: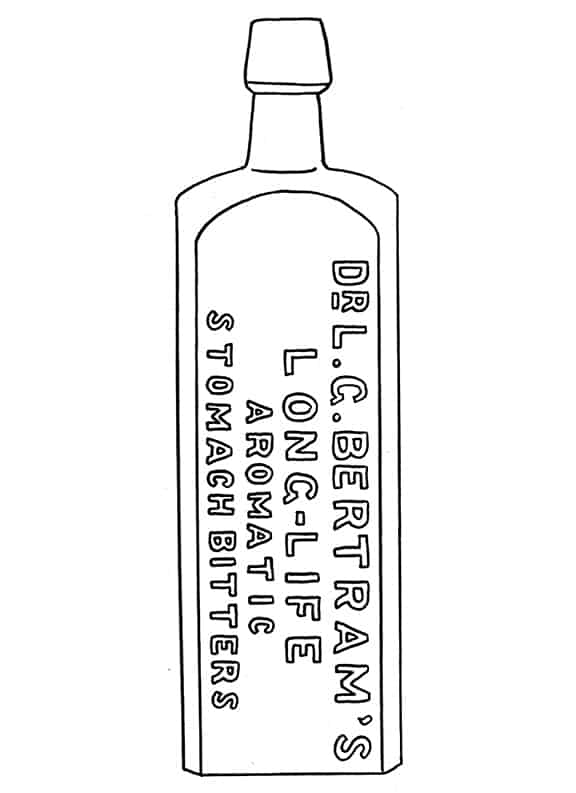 B 91

 BERTRAM'S LONG-LIFE AROMATIC STOMACH BITTERS
DR. L. G. BERTRAM'S / LONG-LIFE / AROMATIC / STOMACH / BITTERS // f // f // f //
9 1/4 x 2 5/8 (7 1/8) 1/4
Square, Amber, LTC, Applied, Extrememely rare
Drug Catalog: 1883 M&R
Louis G. de Bertram
As I mentioned above, not much information to go by. The 1883 date helps from Ring & Ham. I can find a listing for a L. G. Bertram who is a physician addressing at 257 9th street in Brooklyn, New York in 1881. I try "Lawrence" as his first name with no hits but send the info on to Marianne Dow. She found a listing which confirms that Louis G. Bertram is our guy. From there we can nail it down.
The Dr. L. G. Bertram's Long-Life Aromatic Stomach Bitters was made from about 1873 to 1877 in New York City by Louis G. de Bertram who is French. He would prosper and move on to greater positions. The four advertisements and court notice below support the dates mentioned.
Look at this amusing 1877 court listing below about Bertram using a still to make quack medicine. It even mentions his bitters.
Marianne follows up with this listing below and adds,"de Bertram – born in Paris became a doctor, came to New York and was involved in starting the Moncton Batouche railroad in Canada hence this post in Prominent Men of Canada (1892). No mention of his bitters; just says he practiced medicine in NY circa 1872. Can't find any medicines, bottles, labels,  or advertising".
Select Listings:
1840: Louis G. de Bertram, born in France abt 1840, 1892 New York State Census
1860: Louis G. Bertram arrives in New York
1872: Lewis G. Bertram, Physician, h 33 w. 44th – New York City Directory
1875: Bertram Louis G., 64 Broadway – Goulding's Business Directory
1876: Louis G. Bertram, patent medicines, 24 Broadway, h 257 9th, Brooklyn – New York City Directory
1877: Louis G. Bertram, bitters, 24 Broadway, h Brooklyn – New York City Directory
1877: Court News: Bertram using a still to make quack medicine (see above) – The Brooklyn Daily Eagle, Saturday, August 11, 1877
1878-1894: L. G. Bertram, Physician, h. 257 9th – Brooklyn New York City Directory
1882: L. G. Bertram Naturalization, October 17, 1882, Physician, 257 9th Street, Brooklyn, French – New York, Index to Petitions for Naturalization filed in New York City, 1792-1989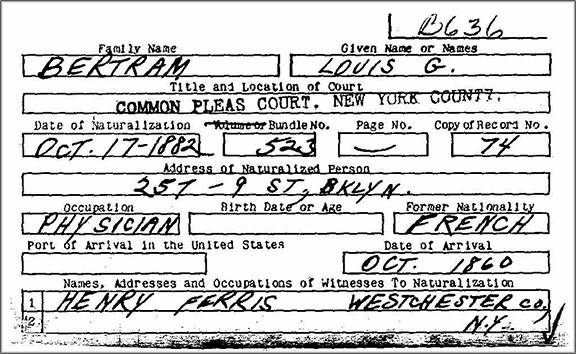 1888: Louis G. de Bertram, Director The Grand Lake Coal Company (see below) – Canadian Mining Manual, 1891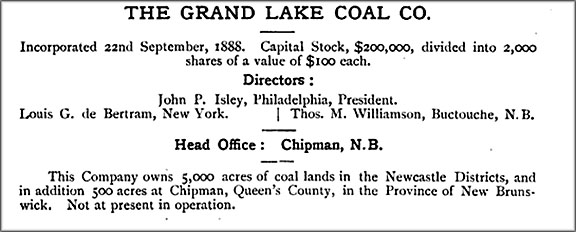 1888: Louis G. de Bertram, Director and President, Buctouche and Moncton Railway Company (see below) – Manual of the Railroads of the United States, 1891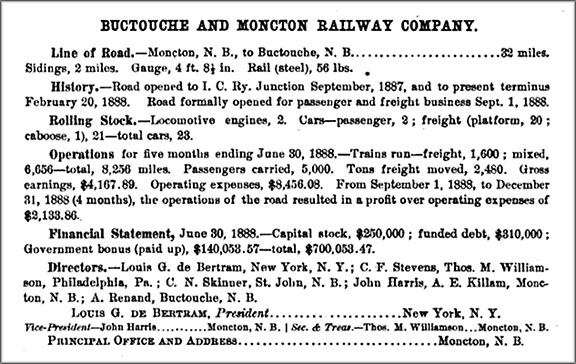 1898-1900: L. G. Bertram, Physician, h. 465 9th – Brooklyn New York City Directory
1898: Death of Anna Bertram in Brooklyn (see below)