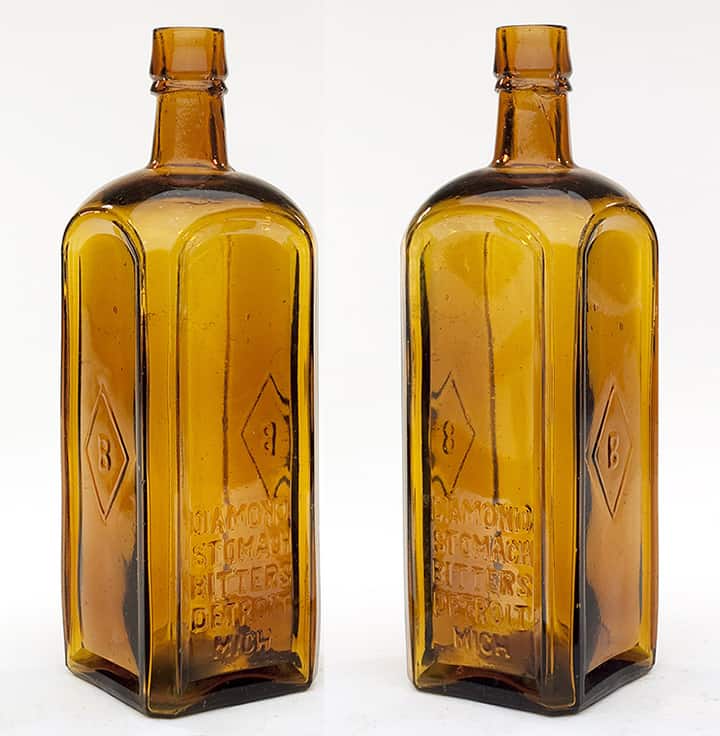 Diamond B Stomach Bitters – Detroit Michigan
23 May 2015

John Pastor has this pretty decent Diamond B Stomach Bitters (pictured above) from Detroit, Michigan in his present American Glass Gallery Auction 14. The bottle is embossed "DIAMOND STOMACH BITTERS DETROIT MICH" with a "B" inside of a diamond. John states that it is an extremely rare bitters and that the auction example was discovered in a box of junk at a small auction in Toledo. He also states that "it appears that only one, perhaps two, other examples have been offered at auction in more than 20 years!"
I have not thought about the Diamond B Stomach Bitters since April of 2013 when I did a post on the unlisted Diamond "M" Bitters from St. Louis which dated to around 1868. At that time, I wondered if there was a relationship between the two? The Diamond M Bitters was put out by Milligan & Company. I wonder who made the Diamond S Stomach Bitters?
Read: Unlisted Diamond "M" Bitters? – Saint Louis
Here is my example below of the Diamond B Stomach Bitters in a nice orange amber coloration. Presumably the "B" stands for "Bitters".
The Carlyn Ring and W.C. Ham listing in Bitters Bottles is as follows. Note that a second smaller size was dug in downtown Detroit.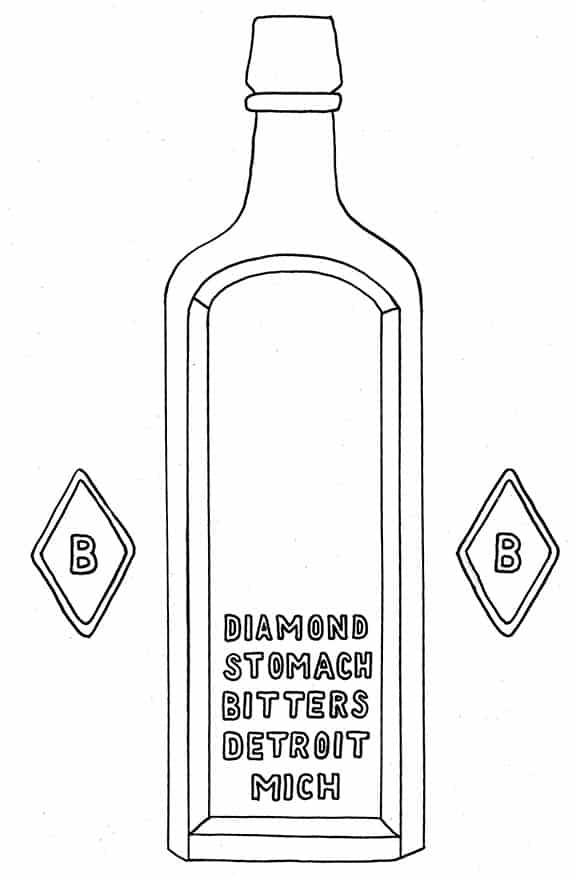 D 69

 DIAMOND B STOMACH BITTERS
DIAMOND / STOMACH / BITTERS / DETROIT / MICH // motif with B
enclosed in a diamond // sp // motif with B in a diamond //
9 7/8 x 3 1/4 (7 1/4) 3/8
Square, Amber, LTCR, Applied mouth, 4 sp, Extremely rare
D 69.5

  DIAMOND B STOMACH BITTERS
DIAMOND / STOMACH / BITTERS / DETROIT / MICH // motif with B
enclosed in a diamond // sp // motif with B in a diamond //
Smaller size than D 69. Dug in downtown, Detroit, Michigan
So who made the Diamond B Stomach Bitters?
The break in the case was finding a reference to the Diamond Bitters Company in Detroit, Michigan in 1891 (see above). Further research found that they were addressed at 47 State Street with another business called the Diamond Tea Company (see below). Wanting to take it to the next level, I started looking for a person or persons related to the businesses.
This is when I found a listing for a James A. Hinchman who was the proprietor of Diamond Tea Company and Manager of the Diamond Bitters Company at 47 State Street.
When you have an interesting name like Hinchman and find a number of listings in a directory, you make an obvious deduction that they are related. In this case above, James A. Hinchman is listed with a number of other Hinchman in Detroit including Charles C. Hinchman, Ford D. C. (DeCamp) Hinchman, Guy F. Hinchman, John M. Hinchman and Theodore H. Hinchman. Theodore must have been the father as a couple of them work for him at T H Hinchman & Sons who were wholesale grocers and druggists. He was also the president of Merchants and Manufacturers National Bank.
I now am wondering if the Hinchman of Smith, Hinchman & Grylls, who are word-class architects out of Detroit are related? We have done business together in the past.
Theodore H. Hinchman
Historical and Biographical, Comprising a Synopsis of General History of The State, and Biographical Sketches of Men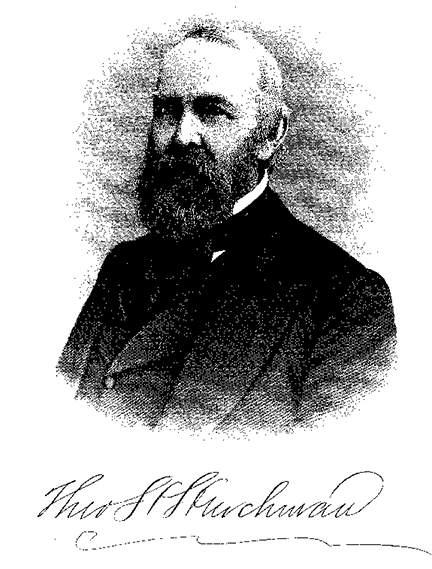 HON. THEODORE H. HlNCHMAN, a noted financier, and widely-known merchant of Detroit, was born in Morris County, New Jersey, March 6, 1818, and died May 12, 1895. He was a son of John R. and Mary (DeCamp) Hinchman, who were of families who had been settled in New Jersey for more than a century.
John R. Hinchman was a son of Joseph Hinchman. The occupations of both had been iron-mining and manufacturing. The business not continuing profitable after the close of the War of 1812-15, John R. Hinchman moved to New York City in 1825, and engaged in the grocery business. His son, Theodore H. Hinchman, attended public school in the primary and the higher grades until 1830-31. After a short period in a bookstore, he spent one year in a retail drugstore. In 1832 he was an office clerk in the wholesale groceryhouse of John Johnson & Sons, where he remained in a confidential capacity until May, 1836; attention to collections and banking were his duties. At that date, John Owen invited him to Detroit; the offer was so favorable that it was accepted. The population of Detroit then numbered between six thousand and seven thousand, and the State between sixty thousand and seventy thousand.
A retail drug and grocery business was entered into, conducted by Chapin & Owen, which included such wholesaling as could be done in Michigan and Canada, the latter branch increasing slowly but steadily with the growth of the city and State. Dr. Chapin died in December, 1838. In 1842, Mr. Hinchman was admitted as a partner, and the firm was thereafter, until 1853, known as J. Owen & Co. The interest of Mr. Owen was purchased in 1853, and the business continued until 1864 in the name of T. & J. Hinchman; after that date by T. H. Hinchman alone until 1868, when John M. Hinchman, the oldest son, was admitted a member of the firm, under the style of T. H. Hinchman & Son. F. D. C. Hinchman was admitted in 1870, and C. C. Hinchman in 1873; and the firm became T. H. Hinchman & Sons.
After the death of the father, the firm became T. H. Hinchman Sons & Co., and later was amalgamated with the firm of Williams, Davis & Brooks, under the firm name of Williams, Davis, Brooks & Hinchman Sons, one of the greatest concerns of its kind in the entire country; known, also, for brevity, as "The Michigan Drug Company," and of which Charles C. Hinchman is second vice-president, and John M. Hinchman treasurer and auditor.
Mr. T. H. Hinchman married Louisa, the eldest daughter of the late Dr. Chapin, in 1842. His tastes and inclinations were developed as a persistent reader when living in New York, and continued as time and the arduous duties of business and other employments would permit. He has also written much as occasion demanded. His military tastes were deficient, he having served as a soldier one month only during the patriot war. In 1839 he became connected with Fire Company No. 1, and served seven years. He was again a member, this time, of Continental Fire Company No. 8, from 1854 to 1862, and served the larger part of that time as foreman of the company. In 1867 he was appointed a member of the Detroit Fire Commission, and served with credit until nominated for public office in September, 1877; and was again appointed and served until 1881. He was also a sewer commissioner from 1853 to 1857. He was elected to the State Senate, and served during the term of 1877. He was made chairman of the Committee on Cities and Villages; member of the Committee on Incorporations; and of the celebrated University Committee that investigated the institution. He displayed ability in the Senate, and at once earned recognition as one of the few conspicuous figures there. Governor Jerome appointed him a member of the Board of Control of the Industrial Home at Adrian, and later Governor Alger designated him a member of the Semi-centennial Commission, in all of which he was indefatigable in his efforts, giving more attention to the duties of these positions than to his commercial business.
Upon the organization of the Merchants and Manufacturers Bank he was made its president, and successfully guided its affairs until 1877 when it was reorganized as the Merchants and Manufacturers National Bank, and he was again chosen president. When the Merchants and Manufacturers Exchange was organized in Detroit, Mr. Hinchman was prevailed upon to accept the presidency, and he serve seven years, through the experimental period of the existence of that important and useful society. He was treasurer of the Detroit and St. Clair Plank-road Company for ten years; and president and treasurer of the same for seven years.
During the later years of his life Mr. Hinchman did not shrink from the discharge of public and business duties, though retirement in the company of books and in the use of the pen was more congenial to him. He was the author and publisher of a volume of one hundred and seventy pages, entitled "Banks and Banking in Michigan," which comprised a complete history of banking operations in the State, together with historical sketches and personal notices of prominent bankers, etc.; and it fills an important place in the historical literature of Michigan, and will prove invaluable in future years. He was also engaged in the compilation of a more extended work on commerce, finance, and kindred subjects; his more than fifty years of active business life, his wide acquaintance with men and measures of several generations, his familiarity with the legislative machinery of the State, his habits of study and close observation, all were advantages that probably gave to him a better equipment for work of such character pertaining to Michigan than was possessed by many other citizens of the State.
Mr. Hinchman joined the Democratic party in 1867, and had ever since been one of its wisest counselors. In religion he inherited a preference for the Presbyterian Church, and had always sought its highly intellectual and social advantages, contributing freely to its support. Mr. Hinchman was also the author of many able papers bearing upon the subject of fire protection, railroads, bankruptcy laws, banking, and other business matters, usually by appointment or request of the National Wholesale Druggists' Association, or of the Merchants and Manufacturers' Exchange.
It will be noticed that the sons of Mr. Hinchman are the grandsons of Dr. Marshall Chapin, who commenced the drug business in Detroit in 1819, and that the Hinchman firm was a successor, or continuation, of that founded by Dr. Chapin. The sons conducted the business in all its details from the time Mr. Hinchman visited Europe in 1878; since when he traveled extensively, visiting every State in the Union, and familiarizing himself with the history and resources of every section of the country. The State of Michigan has reached that point in her development where the work and example of such men as T. H. Hinchman will have a far greater intrinsic value than is accorded by the thoughtless now. The period that has been so productive of men who have achieved grand successes as financiers, merchants, and manufacturers, has been far less fruitful of men who combine the elements of business success with the habits of a close student; and fewer still are the men who, like him, have won personal success and at the same time found opportunity to trace the tendency of their times during the formative period of the Commonwealth, and leave in permanent form something of substantial value to the student of later generations.
Mr. Hinchman, as a merchant, manufacturer, and banker, was closely identified with the commercial and progressive history of Michigan for a period of nearly sixty years, and upon it he left the impress of his strong individuality and indomitable energy. In addition to the three sons, who were his business associates, Mr. Hinchman is survived by his widow, Louisa, and two daughters, Miss Mary Hinchman, and Mrs. Herbert L. O'Brien. Thus, in the passing away of Theodore H. Hinchman, this State and its first city has lost another valued pioneer, a commercial landmark of whose memory they may well be proud. [1900]
Detroit in History and Commerce: A Careful Compilation of the History …
By James J. Mitchell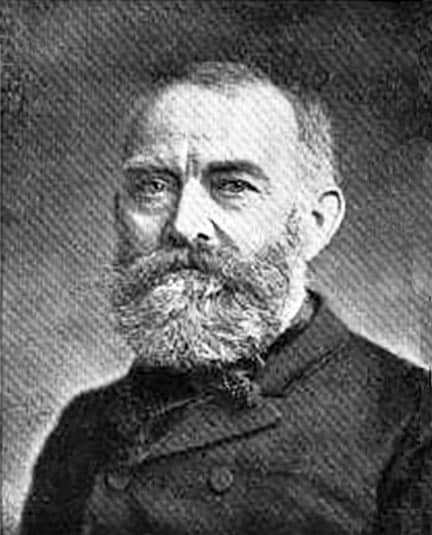 T. 

H. 

HINCHMAN & SONS, 

Wholesale Druggists. Prominent among the old land-marks of Detroit is the well-known house of T. H. Hinchman & Sons, whose line of trade comprises all the general requirements of druggists. The original establishment dates as far back in the early history of Detroit as the year 1819, the firm then being N. Chapin & Company, which afterwards changed to that of Chapin & Owen, who were succeeded by T. H. Hinchman. 

Mr. Hinchman is a veteran in the field of business men and has so often been before the public in close relations with the welfare and interests of the city in which he has so long resided, that multiplied words would be superfluous as encomiums. The present prosperous condition of this old established house is due to his untiring supervision.

Associated with him are John M., Ford D. C. and Charles C. Hinchman, under the firm name of T. H. Hinchman & Sons, their place of business being at 76 and 78 Jefferson avenue. The size of their building is 40 x 175 feet, where they employ about twenty-five assistants, and have numerous travelers on the road through the States of Michigan, Ohio and Indiana, over which their territory extends. Added to their complete facilities for supplying and shipping to their customers is that greatest of all considerations, long life of practical experience in their line of trade.
Reminiscences of T. H. 
Hinchman. 
Detroit in History and Commerce: A Careful Compilation of the History …
By James J. Mitchell
"It was a long and tedious journey in those days," said Mr. T. H. Hinchman, the veteran drug merchant of Detroit, speaking of his initial visit to the city of his adoption. "I came to Detroit by way of Lake Erie," said Mr. Hinchman. "I was eighteen years old at the time I started for the West. We made the journey west on. board the steamer Thomas Jefferson. Our dock was at the foot of Woodward avenue. The dock was owned by Dr. J. L. Whiting. Near by was the warehouse of Oliver Newberry. On the day of our arrival all the people in the town, or a large proportion thereof, came down to the dock, according to custom, to see the steamer come in. At this time Detroit had 7,000 inhabitants, approximatly; and certainly it must have been a strange spectacle to see this great gathering down at the wharf on steamer days. Yet, as I afterward learned, this was a common procedure with early Detroiters, who looked upon a visit to the wharf as one of the special privileges of the day. We were very uncosmopolitan in those days. Often have I seen the leading men of the city going up and down the main street with their trousers tucked in their boots, and, perhaps, nibbling at a long wheat straw. The fashionable portion of Detroit lived on Jefferson avenue and on Wood bridge street. This aristocratic precinct was only broken over by the gradual expansion of business, and the widening of business centres.
"I was in Detroit during the dreadful panic of 1836. To say that all business was completely prostrated would be the mere expression of the truth. Everybody failed; all ventures went to the wall, and more especially in the real estate line. The panic was wide-spread and far-reaching. The craze for real estate speculation had led many persons to financial ruin. Values had been, just before the panic inflated again and again, until they had assumed proportions indeed startling. One of the good effects of the panic was to re-adjust on a relatively proper basis, the status of the realty market. The pendulum now took the opposite sweep, the result thereof being that land values went begging for purchasers. Every one was afraid to touch land. Those were the days that the foundations were laid for the immense fortunes that were afterwards realized by the heavy real estate production of Detroit. 
"Early Detroit was very hospitable and social in its ways. Its entertainments were always characterized by a broad spirit of welcome. Whist and card parties were the favorite social diversion. Occasionally a dance would be given in the town hall. To these dances all the city went. There were no closely drawn lines, as between classes, but all stood on terms of equality, alike invited and alike welcome. The language of the city was French. When I think back on the simply, unaffected diversions of the early days and contrast them with the methods and wage' of to-day, you cannot blame me if I say frankly that the memory of the olden time still has the warmest spot in my heart."
Guy F. Hinchman & James Abbott Hinchman
You will notice that James A. Hinchman is not mentioned as a son of Theodore H. Hinchman above which is interesting. Further research shows that James was born in 1862 and was the son of Guy F. Hinchman who later was in the real estate and insurance business sharing the 45-47 State Street address with his son who was making bitters and tea. Earlier he was the owner of a ship chandler and grocery business in Detroit. You can see an 1862 advertisement below. Guys father was Felix Hinchman who came to Detroit in 1827 on the Steamer Henry Clay, their point of origin being Canandaigua, New York.
The 1863 listing below links Theodore H. Hinchman and Guy F. Hinchman at Guy F. Hinchman & Company who were Ship Chandlers at 16 and 18 Atwater. Theodore was probably supporting this business as he was a wholesale grocer and druggist at the same time.
So, I would conclude here that the Diamond B Stomach Bitters was made by Guy F. Hinchman and his son James A. Hinchman whose uncle was probably Theodore H. Hinchman. James advertised the bitters for a very short period of time around 1890. As noted above, I suspect his father had it on his shelves as the bottle has an applied top. I have found no support information to tie the Diamond B Stomach Bitters from Detroit to the Diamond "M" Bitters from St. Louis. That doesn't mean that Guy F. Hinchman may have seen the product in 1868 and parked that name in his mind until a later time when he suggested it to his son. Oh, Theodore H. Hinchman Jr., from the architectural firm Smith, Hinchman & Grylls, was Theodore H. Hinchman's son. Small world.
Smith, Hinchman & Grylls
Smith, Hinchman & Grylls is one of the oldest operating architectural offices in America. The firm began with architect, Sheldon Smith. Though never formally trained, Smith gained experience working for his brother, an east coast architect. Smith opened an office in western Ohio before moving to Detroit in 1855. His Detroit practice grew steadily as the city boomed. Smith's son Mortimer, also an accomplished architect, became a partner in the firm in 1861. The Smith firm was well known for designing large commercial and civic projects, as well as institutional facilities like the Detroit House of Correction in 1859 and the Detroit Opera House in 1869. They adapted stylistically to the preference of the client, taking inspiration from and copying from architecture books to design various Classical Revival style structures.
After Sheldon Smith's death in 1869, Mortimer Smith expanded the office and it became a place for many up-and-coming Detroit architects to apprentice and gain experience. One such architect was George D. Mason who went on to establish a successful practice in Detroit and to mentor architects like Albert Kahn.
Mortimer's son Fred joined the firm in in 1881. The Smith firm won the commission to design the Michigan building for the World's Columbian Exhibition in Chicago in 1893. After Mortimer's death in 1896 Fred Smith hired two graduates of the University of Michigan College of Engineering, Henry G. Field and Theodore H. Hinchman Jr., to incorporate modern engineering and technological advances into the firm's work. In 1903 the firm was renamed Field, Hinchman & Smith. The diversity within the office of both architects and engineers, was one of the first of its kind and produced extremely successful results such as the Olds Gasoline Engine Company factory in Lansing, Michigan (1903), and the Hiram Walker & Sons distillery in Ontario, Canada (1904). [Michigan Modern]
The firm is now SmithGroup.
Select Listings:
1827:

 Passage: I came to Detroit in May, 1827, with my mother and two sisters, on the steamer Henry Clay. We were under the friendly guidance of Mr. Felix Hinchman (father of Mr. Guy F. Hinchman), who took charge of us at Canandaigua, N. Y.
1861:

 Guy F. Hinchman, grocer and ship chandler – 1861 Detroit City Directory
1862:

 Guy F. Hinchman & Company, Grocers, 16 & 18 Abbott block, Atwater foot of Griswold – 1862 Detroit City Directory
1862:

James Abbott Hinchman born 1 December 1862 in Wayne County, Michigan.
1868:

Guy F. Hinchman & Company, Ship Chandlers (see above) – 1868 Detroit City Directory
1880:

James A. Hinchman, single, age 18, bookkeeper, born about 1862 in Michigan, father Guy F. Hinchman, mother Kate, living in Detroit – United States Federal Census
1891:

Diamond Bitters of Detroit (see above) noted in Bulletin of Pharmacy, 1891 – Internal Revenue Record and Customs Journal: Official Register of U.S. Courts and Treasury Department in Revenue and Customs Cases, Volume 25
1891:

James A. Hinchman, Proprietor Diamond Tea Co. and Mngr Diamond Bitters Co. 47 State (see above) – Detroit City Directory
1892:

Diamond Bitters Co., Proprietary Medicines, 47 State (see above) – Detroit City Directory
1900:

 James A. Hinchman, age 34, clerk, born in December 1862 in Michigan, father Guy Hinchman, mother Catherine, living in Detroit – United States Federal Census