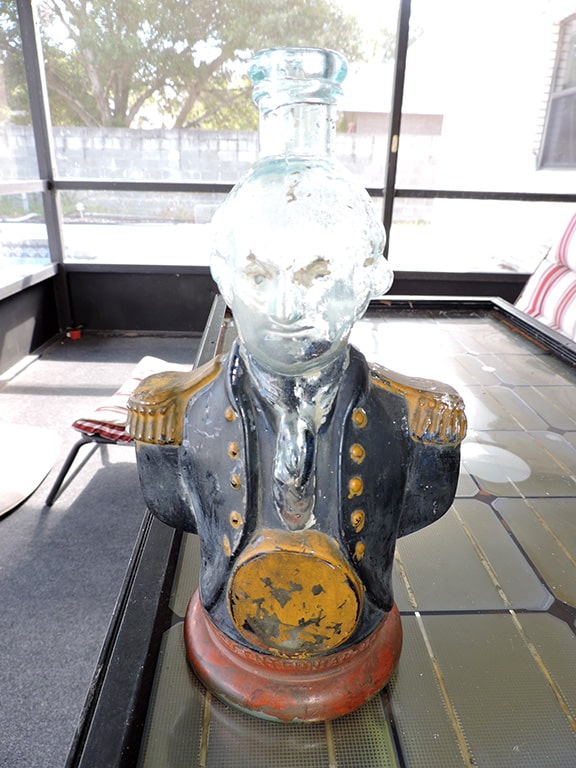 By George, I Think I've Got It
02 June 2015

Incoming e-mail and pictures from bitters collector Lou Holis. This bottle is one of the classic figural bitters and a must-have for any bitters or figural collector. I must say, I have never seen one with paint before. My thinking usually follows the course of adding the paint at a later date. I just have a hard time picturing a paint booth in one of the old, dirt floor, bottle blowing plants. Who knows, maybe young lasses followed up with paint on specific showroom samples. Pretty cool, no less.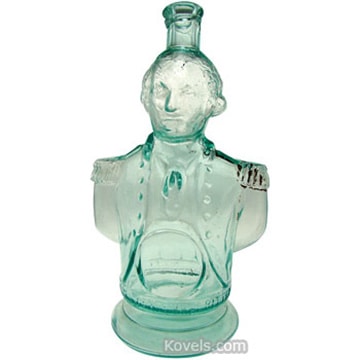 Hi Ferd
A while back, you where talking about painted bottles of a different kind. I found this example through my usual sources. Just wondering if this could be the original paint on this Simon's Centennial Bitters with a smooth base trademark. Patina on the blue paint is there and it looks almost black until held to the light, then it appears royal blue.
Went on your site to find some info but to no avail, not much to that page. Could it have been originally painted like one of the indian maiden bitters out there aka Brown's Celebrated Indian Herb Bitters. Also talked to a few collectors. Most say they have never seen a painted one, others say it is maybe folk art. Either way, it is  still a great piece. Kovels has a picture online (see above) with remnants of paint on the epaulettes. Just wondering what your take is on this most unusual piece on Americana.
Thanks
Lou Holis (Florida)
PS: bottle will be at Chattanooga for viewing.