Dr. Lamot's Botanic Bitters
Where are you from?
18 May 2015

John Pastor has a rare Dr. Lamot's Botanic Bitters square in his current American Glass Gallery Auction #14. I thought I would take a moment to capture the pictures as the example is pretty fine with a sticker from the Dan Murphy collection. I am also fortunate to have an example myself and it is also pictured. What is interesting here is there is a lonely listing in Bitters Bottles Supplement for a labeled Dr. Lamot's Botanic Bitters in the form of an amber, 1/2 pint strap sided flask with an applied mouth. And no, I do not have a picture…darn!
The Carlyn Ring and W.C. Ham listing in Bitters Bottles is as follows: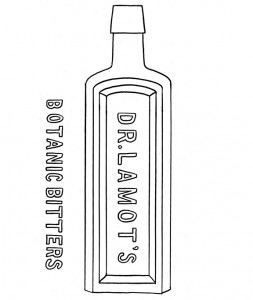 L9

 DR. LAMOT'S BOTANIC BITTERS
DR. LAMOT'S // f // BOTANIC BITTERS // sp //
8 1/2 x 2 1/2 (6 1/4) 1/2
Square, Amber, LTC, Tooled lip and Applied mouth, 3 sp, Rare
In Bitters Bottles Supplement there is the following listing for a labeled Dr. Lamot's Botanic Bitters,
L 8 L …

Dr. Lamot's Botanic Bitters, A Tonic, motif of Indian, Invigorates the Digestive System, Improves…
6 3/8 x 2 1/2 x 1 1/4 (4 3/4)
Amber, 1/2 pint strap sided flask, DC, Applied mouth
This is a tough bitters to track down. I sure wish I could find that labeled half pint flask. I do see a series of the same small advertisement in the Spirit of Jefferson (Charlestown, Virginia, now West Virginia) newspaper in 1876 and 1877. The Lamot's Botanic Bitters is being sold at Gilbert's Drug Store in Harper's Ferry. So the thinking would be that this is a Virginia (West Virginia) bitters. Apparently he had another drug store in Martinsburg which is a bit northwest of Harper's Ferry, West Virginia.
Martinsburg, Virginia (now West Virginia), is the county seat of Berkeley County, was in 1860 the Shenandoah Valley's second largest town, with a population of 3,364. Located in the northern portion of the valley, Martinsburg enjoyed a booming economy because of its location along the paved Valley Pike and because it was a major depot along the Baltimore and Ohio Railroad. The same strategic location that made Martinsburg economically prosperous prior to the American Civil War however, also spelled its wartime demise. The town changed hands between Confederate and Union forces thirty-seven times.
Finding no Dr. Lamot in the vicinity I did find out some information on Gilbert's Drug Store from The History of West Virginia, Old and New, Published 1923, The American Historical Society, Inc., Chicago and New York, Volume III, pg. 323-324. I think Arthur Merryman Gilbert may have been the proprietor of Dr. Lamot's Botanic Bitters. Again, we really need to find that labeled example. Apparently it reads, "A Tonic, motif of Indian, Invigorates the Digestive System, Improves…"
ARTHUR MERRYMAN GILBERT is one of the veteran business men of Martinsburg, where he has been a druggist over forty years and where his judgment has been enlisted in the service of several other substantial institutions. He has been a public-spirited citizen as well, and a brief account of his career and of his family merits a place in this publication.
He was born on a farm bordering on Opequan Creek, one mile from Middleway, in Jefferson County, Virginia, now West Virginia. His father, Jacob Gilbert, was born at Middleway in 1801. His grandfather, Henry Gilbert, was born in Scotland, learned the trade of weaver, and on coming to the American colonies settled in Jefferson County, at Middleway. Here he put up his hand loom and did a thriving business greatly needed in a community whose people still depended upon the home art of manufacturing cloth from the wool grown on sheep and the cotton raised in the fields of that locality. He reared three sons, Bernard, Henry and Jacob.
Jacob Gilbert spent his early life as a farmer. His first wife was Mrs. Walter Burrell, of Jefferson County, owner of two plantations, upon which they continued to live and at her death he succeeded to the ownership of the property, together with many slaves. At the breaking out of the Civil war he freed the slaves and moved to Middleway, where he owned a large stone house set amidst pleasant surroundings, and remained there until his death at the age of seventy-eight. For his second wife Jacob Gilbert married Sarah Harvey Merryman, who was born at Tomonium, Baltimore County, Maryland, daughter of Nicholas and Rebecca (Harvey) Merryman. The Merrymans and Harveys were well known old families of Maryland, and Doctor Ridgley, of Baltimore, has compiled a history of the family. Nicholas Merryman was a farmer and breeder of thoroughbred race horses, and was well known on the turf. Mrs. Sarah Gilbert died in 1879, at the age of thirty-seven. She was the mother of five children: William H., who died at Middleway in 1906; Arthur Merryman; Mary Elizabeth, of Middleway; Roberta, who married T. A. Milton, a lawyer of Kansas City, Missouri; and Sarah M., who married Dr. D. P. Fry, of Hedgesville.
Arthur Merryman Gilbert attended private schools at Middleway, and soon after completing his education, in 1876, he came to Martinsburg and began an apprenticeship in the drug store of William Dorsey. It was in 1883 that he established himself in the drug business, and for many years had conducted one of the best drug stores in the Eastern Panhandle.
In 1893 Mr. Gilbert married Mabel Rodrick, a native of Frederick County, Maryland, daughter of Daniel W. and Mary Priscilla Rodrick. Mr. and Mrs. Gilbert have two sons, Arthur M., Jr., and Webster Rodrick. The son Arthur is a graduate of the Martinsburg High School, spent two years in Washington and Lee University, and in 1918 joined the service at Camp Lee at Lexington, Virginia, and remained there until the signing of the armistice. He is now a teller in the Old National Bank at Martinsburg. Webster, the younger son, is a sophomore in the Martinsburg High School.
Arthur M. Gilbert was a member of the city council at Martinsburg from 1892 to 1894 and was city treasurer in 1913-16. He cast his first presidential vote for Grover Cleveland, and has been active in the interest of the democratic party. He has been a director of the Martinsburg National Bank and its successor, the Old National Bank, for a quarter of a century, is affiliated with Equality Lodge No. 44, A. F. and A. M., and for upwards of thirty years has been a member of Trinity Episcopal Church.
Select Listings
1876-1877:

Use Lamot's Botanic Bitters advertisement (see above) – Spirit of Jefferson (Charlestown Virginia, (West Va.), April 10, 1877