Diamond's Improved Swedish Blood Bitters – Buffalo, New York
Diamond's Blood Bitters
24 May 2015 (R•012918)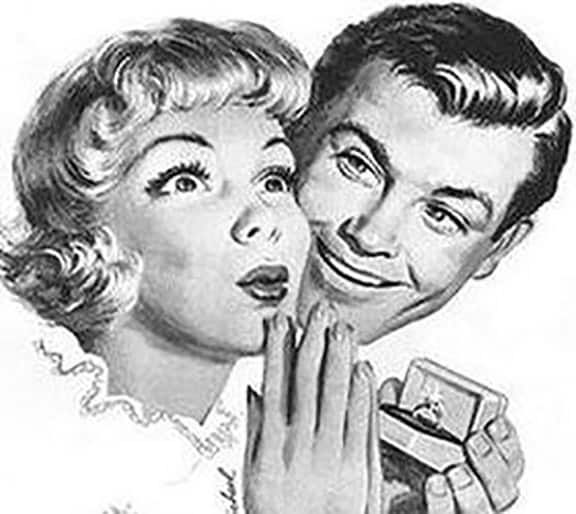 Well, I suppose I had to go here now that I posted on the Diamond B Stomach Bitters that referenced the Diamond "M" Bitters. What's another diamond when you're having fun? This time we are going to look at the Diamond's Blood Bitters from Buffalo, New York which was put out by Charles A. Diamond. I guess he felt like he had to improve on the product so he also was the proprietor of Diamond's Improved Swedish Blood Bitters. Maybe he married a Swedish lass?
The Carlyn Ring and W.C. Ham listings in Bitters Bottles is as follows: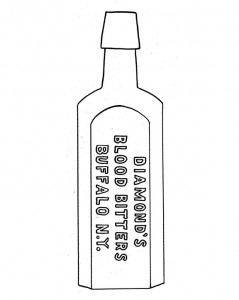 D 70

 DIAMOND'S BLOOD BITTERS
DIAMOND'S / BLOOD BITTERS / BUFFALO N.Y. //f // f // f //
7 3/4 x 2 3/8 (5 1/4) 1/2
Square, Amber, LTC, Applied mouth, Rare
Label: Bottled by Diamond's Drug Store on Connecticut Street, Buffalo. Sold over the counter only, no other outlet.

D 71

  DIAMOND'S IMPROVED SWEDISH BLOOD BITTERS
DIAMOND'S IMPROVED / SWEDISH / BLOOD BITTERS // f // BUFFALO, N.Y. //f //
10 x 3 (7 1/2) 3/8
Square, Amber, LTC, Extremely rare
Buffalo City Directory: 1881-1921 Charles A. Diamond is listed as a druggist, manufacturing pharmacist, and a partner in Diamond Medicine Co.
Charles A. Diamond – Druggist
As far as I can tell, Charles A. Diamond was not a business tycoon, a Civil War hero, a politician, civic leader or from a family of American pioneers. He was simply a druggist, and probably a good druggist for many years who had two bitters associated with his name. Now that makes him pretty darn important, at least to us bitters collectors.
Born on 19 April 1849 in New York, he first clerks in a drug store in New York City in 1870 and from about 1872 to 1875 he clerks at a store in Buffalo. The next year he is a partner at Metcalf and Diamond and the following year, he is the proprietor of Diamond's Drug Store in Buffalo. He is also listed as a manufacturing druggists so he is making and selling his medicines. In 1876, he is also listed as a showcard agent so he must have had time for another business. This might explain why he lists himself as a carpenter in the 1880 Federal Census.
Diamond moves around quite a bit judging by the different addresses in Buffalo directories. He business concern was called The Diamond Medicine Company. I first see listings for his company in 1892 and see it running through 1922. His wife was Margaret Anna Metzger and they were married in 1878. His father John Diamond who was born in New York or England depending on how Charles will fill out his census forms. His mother was from Vermont. Charles A. Diamond died on 4 March 1922 in Buffalo which would explain the demise of Diamond Medicine Company.
Only in 1892, can I find advertising for Diamond's Blood Bitters in local Buffalo area newspapers. He is selling his Blood Bitters over the counter for 50 cents for a trial bottle. His advertising says his remedy is not a patent medicine and alludes that he is a doctor as it says, "Simply the result of a smart doctor's investigations of blood troubles and their cures". The bottle is 7 1/2 inches tall, square and amber. A labeled example exists.
Later or maybe earlier, hard to tell, he puts out Diamond's Improved Swedish Blood Bitters. This bottle is rated extremely rare, square and is 10 inches tall and amber. Odd that I have not seen examples of either bottle.
Select Listings
1850:

 Carlos A. Diamond, age 1, birth 1849 in New York, living 

in Hamburg, Erie, New York

, father John, 30, mother Sylvia, 20

 – United States Federal Census
1870:

 Charles A. Diamond, age 21, clerk in store, birth abt 1849 in New York, living 

in 

New York City Ward 15 District 1, Daniel Diamond, age 41, also listed as clerk in store

 – United States Federal Census
1872: 

Charles A. Diamond, clerk, b. 145 E. Seneca – Buffalo New York City Directory
1873-1875:

 Charles A. Diamond, clerk, b. 26 Carroll, h. 45 1/2 Exch. – Buffalo New York City Directory
1876:

Metcalf and Diamond (Charles A. Diamond), also showcard agent, 183 Seneca – Buffalo New York City Directory
1878:

Charles A. Diamond, druggist, 17 William, home same – Buffalo New York City Directory
1879:

 Charles A. Diamond, druggist, 1575 Niagara – Buffalo New York City Directory
1880:

 Charles A. Diamond, age 31, carpenter, birth abt 1849, living 

Buffalo

, 

Erie

, 

New York

, wife Margaret, 26, father from New York, mother from Vermont – United States Federal Census
1884-1886:

 Charles A. Diamond, druggist, 622 Clinton – Buffalo New York City Directory
1890:

 Charles A. Diamond, age 57, druggist, birth abt 1849, living 

Buffalo

, Ward 10, 

Erie

, 

New York

, wife Margaret, 26, father birthplace England, mother from Vermont, children Herbert, 13, Homer, 9 – United States Federal Census
1892:

Diamond's Blood Bitters advertisement (see above), Diamond Medicine Co., 501-503 Washington Street – The Olean Democrat, Thursday May 5, 1892
1896-1899:

 The Diamond Medicine Co., (C. A. Diamond, prop.), mfg. druggist, 225 Broadway, Charles A. Diamond, drug store, 904 Clinton – Buffalo New York City Directory
1902:

 Charles A. Diamond, druggist, 904 Clinton – Buffalo New York City Directory
1905:

Charles A. Diamond, age 56, birth abt 1849, living 

Buffalo

 Ward 18, 

Erie

, 

New York

, wife Margaret, 51, sons Herbert, 18, Homer, 19 – New York State Census
1906:

 Charles A. Diamond, druggist, 1401 Genesee – Buffalo New York City Directory
1910:

 Charles A. Diamond, age 61, druggist, birth abt 1849, living 

Buffalo

 Ward 12, 

Erie

, 

New York

, wife Margaret, 51, sons Herbert and Homer – United States Federal Census
1912:

 Diamond Medicine Co., Buffalo, New York – 

The Era Druggist's Directory of the United States
1914:

 Charles A. Diamond, druggist, 695 Elm – Buffalo New York City Directory
1918:

Diamond Medicine Co., (Charles A. Diamond), mgr, 664 Genesee – Buffalo New York City Directory
1920:

 Carlos (Charles) A. Diamond, age 70, druggist, birth abt 1850, living 

Buffalo

 Ward 13, 

Erie

, 

New York

, 664 Genesee Street, wife Margaret – United States Federal Census
1922:

 Diamond Medicine Co., Buffalo, New York, High and Elm Streets – 

Druggists' Circular