Curtis' Little Giant Bitters "The King of Tonics"
The Cheapest Drug Store in the World!
05 May 2015 (R•052419)

The other day, I did a post on The Little Clark's Giant Bitters that inspired bitters ephemera collector Joe Gourd, to send me three images for Curtis' Little Giant Bitters, which is a different brand. Don't you love that name!
All three advertising trade card images used in this post are from Joe's collection. This brand is unlisted in Bitters Bottles and Bitters Bottles Supplement and will be represented in the next edition, Bitters Bottles Supplement 2, that is being put together by Bill Ham.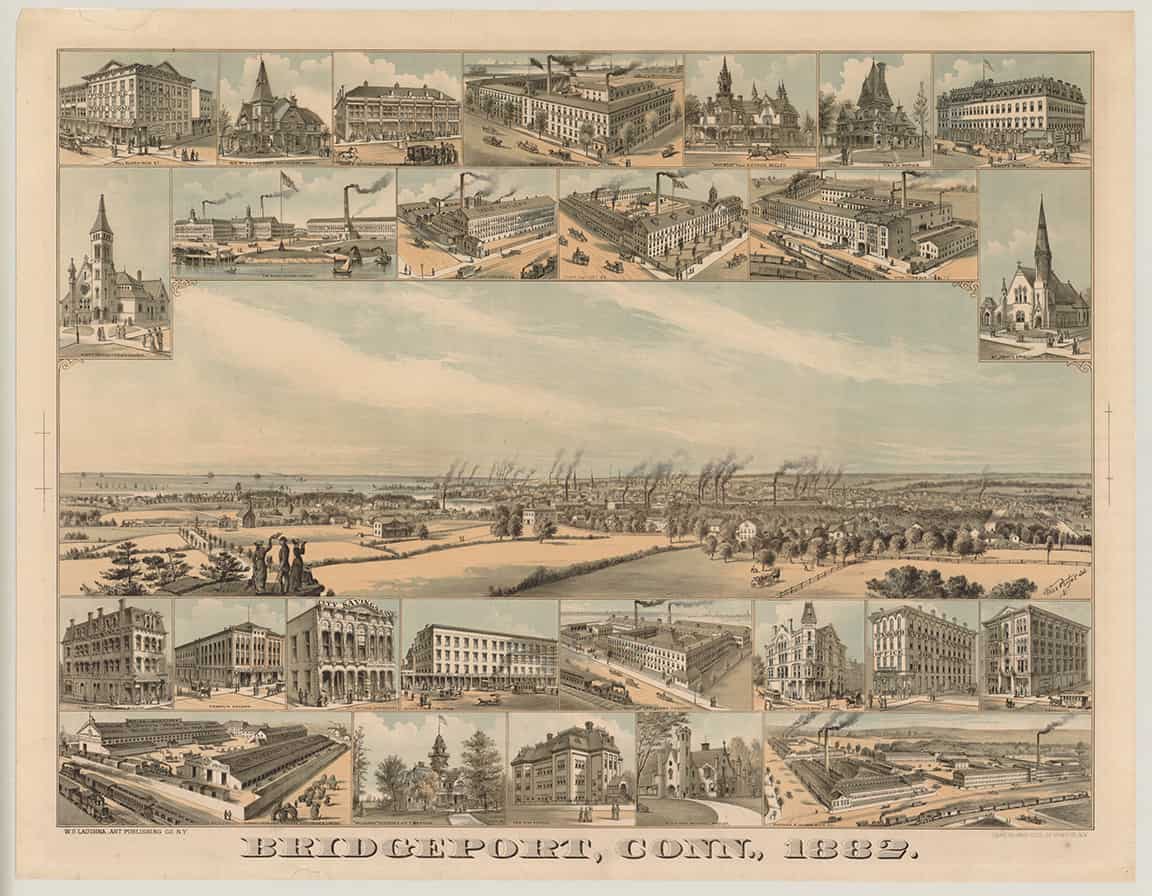 The Curtis' Little Giant Bitters, or "The King of Tonics" was made by Curtis & Hair who were chemists and druggists out of Bridgeport, Connecticut. They addressed on Main Street at the corner of Elm. How charming. There is nothing left but boarded up property at that location now. Not so charming. They sold their bitters for 25 cents and a $1.00 a bottle, obviously meaning two sizes. The stock trade cards use a kitten, children and flowers with Curtis and Hair marketing sur-printed on the cards. They are obviously targeting a female purchasing audience.
I am not aware of any bottles in collections. I also suspect the bottle was labeled only, meaning without bitters being embossed on the bottle.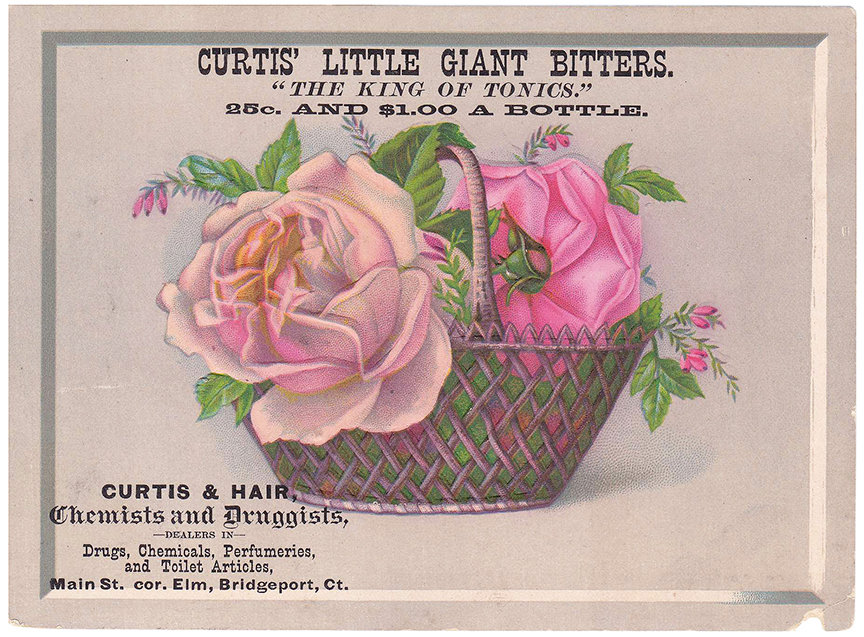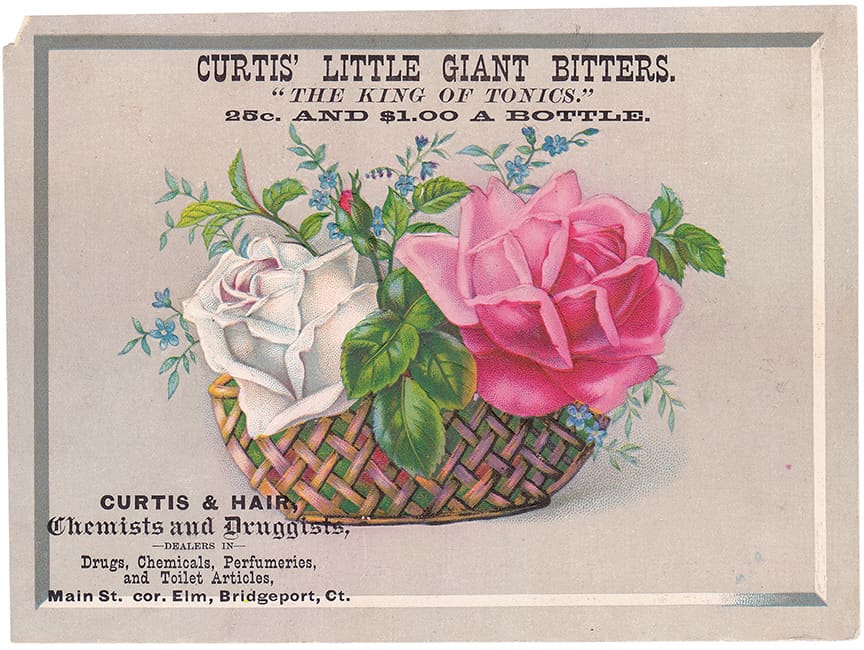 Lewis Frederick Curtis
Lewis F. Curtis was born in Connecticut on June 10, 1836 and came from a prominent family, both parents also from Connecticut. He was, for many years, a successful business man of Bridgeport, Conn., where he acquired a large fortune in the drug business. He his early 20's he started out in business and is listed as a merchant in the 1860 United States Federal Census. His wife was Mary Cornelia Baldwin and they had a son, Frederick B. Curtis who would later carry on the business.
By 1867, Lewis F. Curtis has regular yearly listings in the Bridgeport City Directory as a druggist though a later advertisement from 1906 says he started his drug business in 1864. The ad says "Our Prescription Books Date Back to 1864!" They sold drugs, medicines, chemicals, patent medicines and other drug store items.
His drug store was located at the corner of Main and Elm Streets. He also had a business named Curtis & Peck and they sold shoes. Later he would have additional addresses in close proximity where I assume he manufactured his drugs. From 1874 to 1883 he was partnered with George M. Teeple and they called their business Curtis & Teeple. In 1884, D. S. Lacey was his partner.


By 1886, Lacey is gone and he partners with James E. Hair in business and their concern is called Curtis & Hair. That name appears on the trade cards above and the 1886 New England Almanac where a page is dedicated to Curtis and Hair, products. They were still addressed at the corner of Main and Elm Streets in Bridgeport.
In 1889, James Hair is gone and Lewis Curtis practices as the sole proprietor pretty much until his death in 1912. He died at New Milford, Conn., from a chronic trouble which confined him to his home. His business was then managed by his son, Frederick Baldwin Curtis.
One of my underlying goals of this post was to try to link Mr. Curtis to the rather well-known and liked Curtis Cordial Calasaya Stomach Bitters. I have been unsuccessful so far. Lewis F. Curtis was also from the same stock that made the Curtis & Perkins Wild Cherry Bitters.
Stay tuned.
The new listing in Bitters Bottles Supplement 2:
Trade Cards
C 258.8 CURTIS' LITTLE GIANT BITTERS, Curtis and Hair, Chemists and Druggists, Main St. cor. Elm, Bridgeport, Ct., Curtis' Little Giant Bitters, "The King of Tonics." 25c. and $1.00 a bottle. Stock trade cards with proprietor and product information printed on front. Reverse blank. Lewis F. Curtis and James E. Hair.
Almanac Advertisement
C 258.8 CURTIS' LITTLE GIANT BITTERS, Full page advertisement for Curtis and Hair products within 1886 Middlebrook's New-England Almanac, Bridgeport, Price 6 Cents single copy. Don't Forget Curtis and Hair, the Cheap Cash Druggists, Corner Main and Elm Streets, Bridgeport. Curtis' Little Giant Bitters, the King of Tonics. Price 25c. per bottle. Lewis F. Curtis and James E. Hair.
Select Listings:
1836:

Lewis Frederick Curtis born June 10, 1836 – Find a Grave
1860:

 Lewis F. Curtis, 23, merchant, born abt 1878 in Connecticut, living 

Bridgeport

, 

Fairfield

, Connecticut, wife Mary Curtis, 19 – United States Federal Census
1867:

L. F. CURTIS & CO., druggists, Lewis Curtis, E. Washington av. E. Main, E. D., also CURTIS & PECK, shoe dealers, same address – Bridgeport, Connecticut City Directory
1870:

 Lewis F. Curtis, 32, druggist, born abt 1838 in Connecticut, living 

Bridgeport

, 

Fairfield

, Connecticut – United States Federal Census
1873:

CURTIS & PECK, wholesale and retail druggists, 291 Main, CURTIS & CO., druggists, Washington Ave., Lewis F. Curtis, druggist, 291 Main c Elm, also selling boots and shoes at Washington address – Bridgeport, Connecticut City Directory
1874:

 CURTIS' PHARMACY, L. F. Curtis, Proprietor, 291 Main, corner of Elm – Bridgeport, Connecticut City Directory
1874-1883:

 CURTIS & TEEPLE (L. F. Curtis and George M. Teeple), druggist, 836 Main, Curtis also sold drugs at 481 Main – Bridgeport, Connecticut City Directory
1880:

Lewis F. Curtis, 43, druggist, born abt 1837 in Connecticut, living 

Bridgeport

, 

Fairfield

, Connecticut, wife Mary C. Curtis, 35, father and mother from Connecticut, Frederick B. Curtis, son, 5 – United States Federal Census
1884:

L. F. CURTIS & CO. (Lewis F. Curtis and D. S. Lacey), druggists, 481 Main – Bridgeport, Connecticut City Directory
1886: 

New England Almanac (above) with page dedicated to Curtis and Hair, the Cheap Cash Druggists, Curtis' Little Giant Bitters, Corner Main and Elm Streets, Bridgeport
1888:

CURTIS & HAIR (L. F. Curtis, Jas. E. Hair), druggists 481 Main – Bridgeport, Connecticut City Directory
1889-1890:

 L. F. Curtis and Lewis F. Curtis, druggist, 163, 481 and 837 Main, East Washington av, res New Milford – Bridgeport, Connecticut City Directory
1891-1892:

L. F. Curtis or Lewis F. Curtis, druggist, 481 and 837 Main, res New Milford – Bridgeport, Connecticut City Directory
1896-1899:

 L. F. Curtis, druggist, 481 Main, res New Milford – Bridgeport, Connecticut City Directory
1900-1911:

 L. F. Curtis, Lewis F. Curtis, druggist, 1149 Main, res New Milford – Bridgeport, Connecticut City Directory
1906-1911:

Curtis Pharmacy advertisement (see above) – Bridgeport, Connecticut City Directory
1912:

 Lewis F. Curtis, estate of, 1149 Main – Bridgeport, Connecticut City Directory
1912:

 Lewis Frederick Curtis died April 25, 1912, also on grave, Mary Cornelia Baldwin, Frederick Baldwin Curtis and his wife Emma Keeler – Find a Grave
1912:

 

Lewis 

F. Curtis. For many years a successful business man of 

Bridgeport, 

Conn., where he acquired a large fortune in the drug business, 

Lewis 

F. 

Curtis, 

76, died at New Milford, Conn., recently from a chronic trouble which confined him to his home. His 

Bridgeport 

business is now managed by his son, 

Frederick 

B. 

Curtis. 

He was a native of Stratford and came from a prominent family. – 

The Pharmaceutical Era, 1912