C.G. Pendleton's Tonic, The World-Renowned Stomach Bitters
… and Baseball
06 May 2015 (R•050715)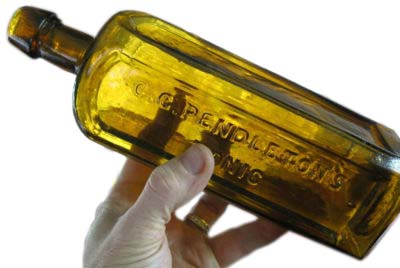 While working on the Curtis' Little Giant Bitters post from Bridgeport, Connecticut, I came across this advertisement below for C. G. Pendleton's Tonic, The World-Renowned Stomach Bitters in an 1867 Bridgeport City Directory. Who was this C. G. Pendleton, and why haven't I seen or have an example of his bitters in my collection? It's all part of the journey and the hunt.
The Carlyn Ring and W.C. Ham listing in Bitters Bottles is as follows. This may want to be updated for Bitters Bottles Supplement 2.
P 37  L

… Pendleton's Calisaya Tonic Bitters
C. G. PENDLETON'S CALISAYA TONIC // f // f // f //
Square, amber, LTC
There is some speculation that this is a southern bottle, possibly from Tennessee. This is probably because of examples being found in the south and the P 38 Pendleton's Pineapple Bitters from Nashville in the same shape. The druggist Pendleton in Nashville was John T. Pendleton. He was a partner With John H. Ewin at Ewin, Pendleton & Company in the 1860s. Different fella. I will follow-up with more research. Possibly C. G. Pendleton sold out to a a Tennessee concern in 1867. My bags are packed for Tennessee. Was just in Music City last Friday.
Charles Gay Pendleton (1838 – 1905)
Charles Gay Pendleton was born in New Haven, Connecticut 0n 30 September 1838. As a young man, he took a course in surgery and then carried on in business as a chemist and druggist for nearly ten years in Bridgeport, Connecticut, addressing at 58 Noble Street.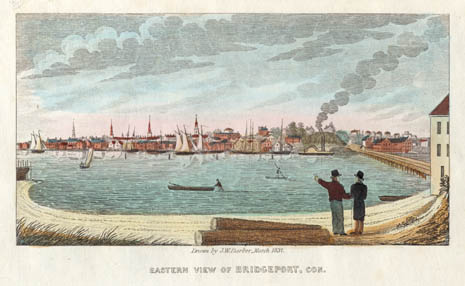 Mr. Pendleton was a well-to-do citizen, and at the age of 21 joined the Bridgeport Masons. He was also a member of the Jerusalem Royal Arch Chapter of Bridgeport, and Hamilton Commandery Knights Templar. He adored baseball and was a major supporter of this growing American sport. In recognizing baseball as a positive element in urban quality of life, Bridgeport businesses were consistent supporters of the sport. Initially, this included providing equipment and a place for employees to play. There were also women company teams at least as early as 1875. Later, during the professional era "Be-for-Bridgeport" companies helped support the team financially, and even closed early for important weekday games.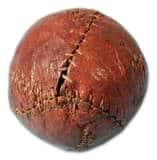 As a public service, basic weather information was maintained at C. G. Pendleton's Drugstore and reprinted in the Bridgeport Evening Standard under the heading of "Thermometrical and Barometrical Record Kept at C. G. Pendelton's Store, E.D". Of course if you were playing or going to watch a baseball game, weather is important. Charles G. Pendleton also produced a "Pendleton Bat Trophy" that would proudly be displayed by Bridgeport merchants. The rosewood bat was secured atop a black walnut framed case. A silver engraving proclaimed. "Presented to Bridgeport Base Ball Club, Champions of Bridgeport, 1866, By C. G, Pendleton". The ornate box was constructed on three sides with glass; a mirror in back enhanced viewing of the baseballs taken in victory by the Bridgeport Club. Each ball was inscribed with the name of the defeated club, the date, and the final score. There was even a "Pendleton Championship Series".
Pendleton served as the city's assistant engineer and ran for Justice of the Peace on the Democratic ticket. He was often found with the rest of Connecticut's elite aboard the steamship Ella heading out for a romp at the summer resort on nearby Charles Island. He founded his drugstore in Bridgeport in 1859 or so and sold it in 1867, so we have a pretty short period of time that he was in business in Bridgeport. In 1867 he advertised his C. G. Pendleton's Tonic "The World-Renowned Stomach Bitters". He said it was an infallible preventative for afflictions of the liver, dyspepsia, disordered digestion, fever and ague, etc. etc. The word "Bitters" would not be embossed on the bottle.
C. G. Pendleton was married on 30 September 1860 to Sarah R. Hyler who was born on 03 December 1838 in New York City. She was the daughter of Adonijah and Catherine (Paris) Hyler. The Pendleton's Bridgeport years were filled with sadness as two of their children died before reaching the age of three. Three other children prospered and later married, Charles Gay Pendleton, Jr., Carrie Louise Pendleton and Clarence Arthur Pendleton. During 1866, the druggist himself fell prone to recurring fevers of some unknown nature. Later he moved on to Chelsea, Massachusetts, where he continued to ply his trade as a druggist. He died as a highly regarded citizen of Holbrook on 30 June 1905. It's likely few, if any, remembered his contributions to baseball or his bitters, until now.
Much thanks to Marianne Dow for assistance with this post.
Select Listings
1859:

 Pendleton's Drug Store founded by Mr. C. G. Pendleton – Leading Business Men of Fairfield County; and a Historical Reyiew Of The Principal Cities, 1887
1862-1865:

 C. G. Pendleton, Retail Liquor Dealer – U.S. IRS Tax Assessment
1866:

 As a public service, basic weather information was maintained at C. G. Pendleton's Drugstore and reprinted in the Bridgeport Evening Standard under the heading of "Thermometrical and Barometrical Record Kept at C. G. Pendelton's Store, E.D.* At noon on Friday, November 1866, the temperature was 52 degree F and Wednesday, December 5, 1866, the temperature hit a noontime high of 53 degrees F. – 

Base Ball Pioneers, 1850-1870

: 

The Clubs and Players Who Spread the Sport, 2012
1866:

 C. G. Pendleton, Manufacturer – U.S. IRS Tax Assessment
1866:

 C. G. Pendleton, Apothecaries, 58 Noble, E. Bridgeport – Bridgeport, Connecticut City Directory
1867

: C. G. Pendleton's Tonic. The World-Renowned Stomach Bitters advertisement (see above), C. G. PENDLETON, druggist, Noble n Washington ave., E. D. – Bridgeport, Connecticut City Directory
1870:

 C. G. Pendleton, Patent Medicines, 18 Dey – The New York State Business Directory
1887:

 H. W. Bunnell, Apothecary, 197 Noble Avenue. – An old-established and thoroughly reliable East Bridgeport drug store is that conducted by Mr. H. W. Bunnell, at No. 197 Noble avenue. This establishment was founded twenty-eight years ago by Mr. C. G. Pendleton, who nineteen years ago was succeeded by the present proprietor. The store occupied is 20 x 45 feet in dimensions, and is supplied with all the usual facilities and appointments for carrying on a first class apothecary business. – Leading Business Men of Fairfield County; and a Historical Review Of The Principal Cities, 1887