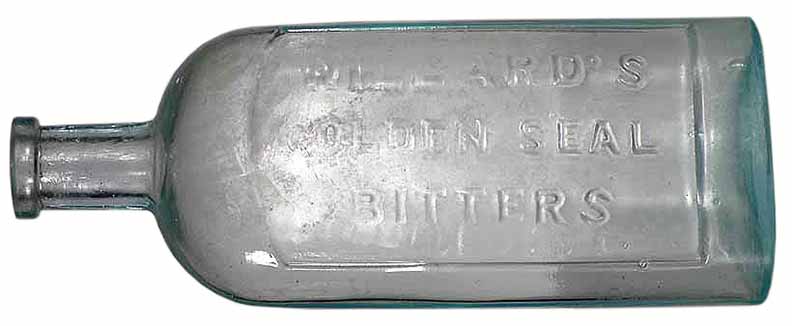 Willard's Golden Seal Bitters –

Taunton, Massachusetts
01 February 2015 (R•110715)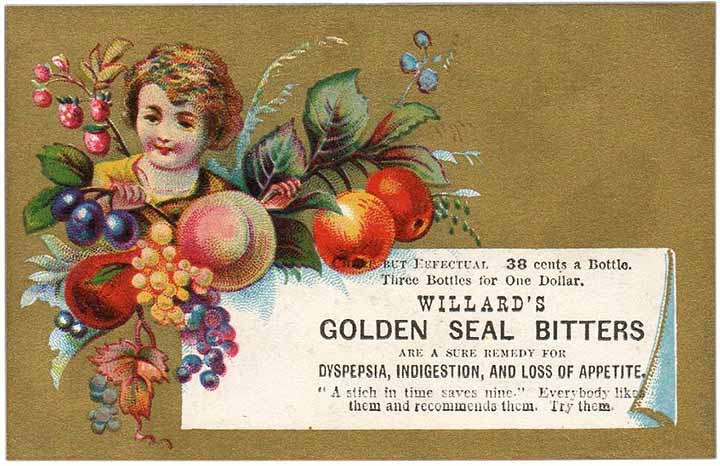 I  thought it might be a good idea to circle back and find out who A. L. Willard was from Taunton, Massachusetts. He was known best for his Willard's Golden Seal Bitters. He used advertising cards to market his concoction and many of the them said that his bitters were a sure remedy for Dyspepsia, Indigestion, and Loss of Appetite. Many of his trade cards said, "A stitch in time saves nine" Everybody likes them and recommends them. Try them."
"A stitch in time saves nine" Everybody likes them and recommends them. Try them."
The Carlyn Ring and W.C. Ham listing in Bitters Bottles is as follows:
W 119

 WILLARD'S GOLDEN SEAL BITTERS
WILLARD'S / GOLDEN SEAL / BITTERS // c //
A. L. Willard Druggist and Apothecary Weir Village, Taunton, Mass.
7 3/4 x 3 x 1 3/4 (5 1/2)
Oval, Aqua, NSC, Applied mouth and Tooled lip, Rare
Trade Cards available
Abel Lyman Willard
Abel Lyman Willard was born in Cambridge, Middlesex, Massachusetts on December 10, 1829 and was the Son of Samuel Willard and Charlotte Lincoln. He was married to Eliza Ann Lane and was the brother of Charles Willard.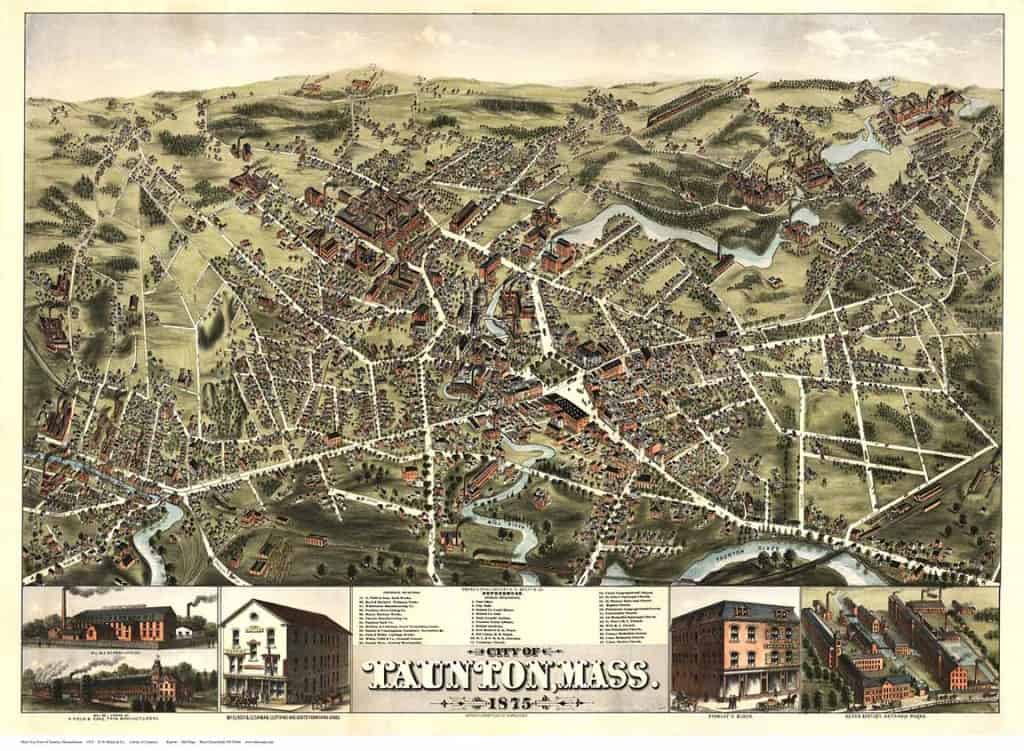 Willard started his apothecary shop and drug store in Weir Village on West Water Street around 1855 in Taunton, Massachusetts. Taunton was settled in the 1600s along the Taunton River. Weir Village (also known as "The Weir") is a village of the city of Taunton located about one mile south of the city center on the banks of the Taunton River, near the point where it becomes tidal. The village takes its name from fishing weirs which were placed across the Taunton River from pre-colonial times until the early 20th century, to catch herring (also known as "alewifes"). Taunton was an early manufacturing center for products made of iron. In the 1800's, Taunton was an important railroad junction town with a number of industrial interests. The Mason Machine Works was established at Taunton by William Mason in the 1840's. The company was a large employer of the community in the manufacture of textile mill machinery and railroad locomotives.
Willard operated his drug store on West Water Street until he sold out to E. T. Borden & Co. in 1882. His primary seller was Willard's Golden Seal Bitters. He sold the bitters for 38 cents a bottle or three bottles for a dollar. Later Willard would serve as a City Alderman in Taunton from 1877 to 1879 and again in 1882. He died in Taunton on April 26, 1892.
E. T. Borden & Co., Wholesale Druggists and Apothecaries, No. 47 West Water Street. A leading and representative Taunton house in its particular branch of commercial activity is that of Messrs. E. T. Borden & Co., druggists and apothecaries, at No. 47 West Water Street. The house was founded by A. L. Willard in the year 1859, and the present proprietors succeeded in 1882, and in the period elapsed, through the energy and executive ability devoted to its management, an extensive and prosperous business has been developed. The commodious salesroom is furnished in a style of appropriate elegance, and the stock of pure drugs, chemicals, surgical appliances, proprietary medicines, toilet and fancy articles stationery, etc, is large, comprehensive, and complete. Due care and attention are given to the compounding of physicians' prescriptions and family remedies. The house has a large and lucrative city and suburban trade, and several clerks are kept busy in the transaction of the extensive general business. Messrs. E. T. Borden and A. H. Standish, composing the firm, are natives of Taunton and practical and skillful druggists, and in the able and popular conduct of their enterprise they have won the highest regard of both professional and business circles.
Leading Manufacturers and Merchants of Eastern Massachusetts, 1887
ADVERTISING TRADE CARDS
The "Spring", "Summer", "Fall", and "Winter 4 card set is a subset of a 32 card group. The same 4 cards are repeated 8 times with different colored foregrounds and backgrounds. It has taken me 30 years to gather the entire group. It is a reminder to me of how these cards were collected by little children for their scrapbooks back in the 1880's. Something like collecting your entire favorite baseball team cards for a particular year. – Joe Gourd
Read about more Golden Bitters:
Golden Eagle Bitters – Augusta & New York
Dr. White's Compound Golden Seal Bitters
The triangular Balsdons Golden Bitters – Early New York
Geo C Hubbel & Co – Unlisted Variant – Golden Bitters
Select Timeline
1829:

 A. L. Willard born in Cambridge, Middlesex, Massachusetts on December 10, 1829.
185o:

A. L. Willard, Militia, Ashburnham, Massachusetts, 28 May 1850.
1855:

A. L. Willard, age 26, druggist, wife Elisa A. Willard, Taunton, Mass. – Massachusetts, State Census, 1855
1855:

A. L. Willard, apothecary, W. Water st., h First st. – Taunton, Massachusetts City Directory
1855:

A. L. Willard marriage to Eliza Ann Lane on April 15, 1855
1857-1861:

A. Lyman Willard, apothecary, 25 West Water also Samuel Willard, grocer, 37 West Willard – Taunton, Massachusetts City Directory
1859:

A. L. Willard, Apothecary, 25 West Water – Taunton, Massachusetts City Directory
1866:

A. L. Willard, apothecaries, Staples block, West Water – Taunton, Massachusetts City Directory
1877-1879, 1882:

A. Lyman Willard, Alderman – History of Bristol County, Massachusetts
1878:

Willard & Lane, Apothecary (A. Lyman Willard and A. F. Lane) 47 West Water – Taunton City Directory
1882:

 E. T. Borden & Co., Wholesale Druggists and Apothecaries, No. 47 West Water Street take over from A. L. Willard
1892:

Death A. Lyman, Taunton, Massachusetts on April 26, 1892