Dr. White's Compound Golden Seal Bitters
13 December 2014 (R•121614) (R•121215) (R•011715)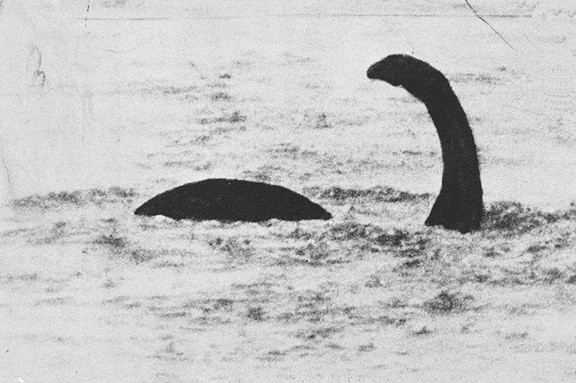 The bottle pictures at the top of the post are darn right poor like pictures of the Loch Ness Monster, the Abominable Snowman and merfolk but none-the-less, we've got some pictures of the extremely rare Dr. White's Compound Golden Seal Bitters from Bill Ham.

Ferdinand: Here's an interesting bottle I found pictures of in my files from quite a while ago, Bill
The new listing from Bill Ham for the forthcoming Bitters Bottles Supplement 2: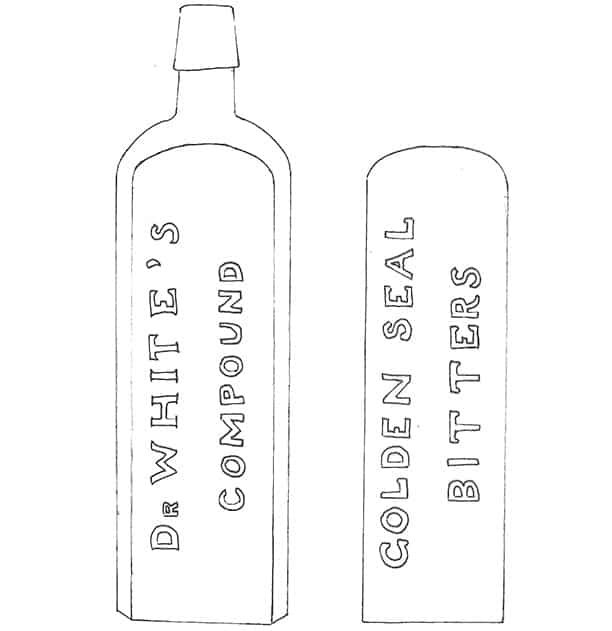 G 64.3

 DR. WHITE'S COMPOUND GOLDEN SEAL BITTERS
G 64.3 // GOLDEN SEAL BITTERS // f // DR. WHITE'S / COMPOUND // f //
9 x 2 1/2
Square, Amber, LTC, Applied mouth Smooth base, Extremely rare
Not much to go on here but there was a Dr. A. R. White who had a patent #743 for a Dr. White's Compound Dandelion Alterative (see picture above) on June 6, 1876, this from the Annual Report of the Commissioner of Patents in 1877. Maybe, just maybe, this is our guy. The name and content make-up is very similar. This is the same guy who put out the W 101 | White's Stomach Bitters. He was a druggist in Indianapolis, Indiana. The missing "Dr." embossing concerns me though.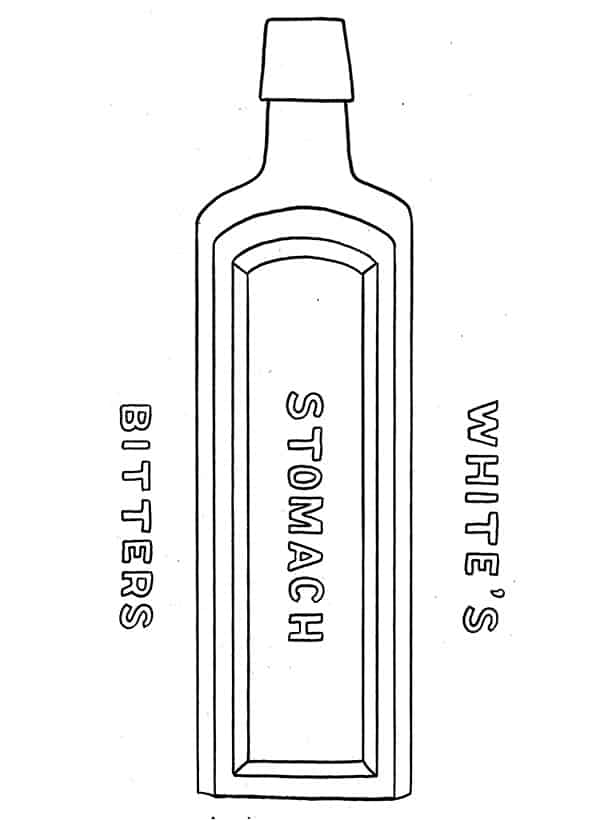 W 101

 WHITE'S STOMACH BITTERS
WHITE'S / STOMACH / BITTERS // f //
9 1/2 x 2 1/2 (7) 5/16
Square, Amber, LTC, Applied mouth, 3 sp, Rare
Drug Catalogs: 1882 VS&R, 1888 RS Dr. A. R. White, Druggist,
Indianapolis, Indiana, Almanac 1881: Advertised this and two other products
Updated: 17 January 2015 with material below from Martin Van Zant
AHIRA RAYMOND WHITE
We have again been reminded of the uncertainty of life and of the inevitable that awaits us all – Death. Another of our illustrious and beloved brethren has answered the final summons and entered into his Eternal rest; his death was untimely and his brethren mourn.
Ahira Raymond White was born near Youngstown, New York, on January 20, 1842; died at Indianapolis, December 23, 1907.
He received the Entered Apprentice degree June 13, 1863, passed to the degree of Fellowcraft June 25, 1863, and was raised to the sublime degree of Master Mason July 18, 1863, in Tonawanda Lodge, No. 247, F. & A. M., Tonawanda, New York; was elected and served as Worshipful Master in the years 1868 and 1869, maintaining his membership in said Lodge until his death.
He became a member of Keystone Chapter, No. 6, R. A. M., of Indianapolis, Indiana, MarCh 20. 1888; was elected and served as High Priest during the years 1891, 1892, 1893 and 1894. He became a member of Indianapolis Council, R. & S. M., March 7, 1887; was elected and served as Illustrious Master in 1895-1896. Was knighted in Raper Commandery, No. 1, K. T., of Indianapolis, February 12, 1884, and after having served faithfully in the various positions he was elected and served as Eminent Commander in the years 1895-1896. He received up to and including the fourteenth degree, A. & A. S. R., in Adonirani Grand Lodge of Perfection, April 16, 1884; the Council degrees in Sariah Council, Princes of Jerusalem, April 25, 1884; the Chapter degrees in Indianapolis Chapter of Rose Croix April 30, 1884, and the Consistorial grades to the thirtysecond degree, inclusive, in Indiana Consistory May 28, 1884, all of Indianapolis, Indiana. He was crowned an Honorary member of the Supreme Council, 33°, September 10, 1893. His interest in the Scottish Rite was no less manifest than in York Rite Masonry. He was elected as Master of Ceremonies in Sariah Council, Princes of Jerusalem, February 1, 1888, serving two years in that capacity; Junior Warden from February 5, 1890, to February 6, 1895; Senior Warden from February 6, 1895, to 1900, when he was compelled on account of business calling him away from home the greater portion o1′ his time, although reluctantly, to give up his active Masonic work, which to him was a labor of love. He was buried December 26, 1907. at Indianapolis, under the auspices of Adonlram Grand Lodge of Perfection, A. & A. S. R., and the funeral was largely attended by his Masonic brethren and admiring friends to pay the last tribute of respect to his memory.
Our deceased brother in early life took up the study of medicine and graduated from the Buffalo Medical Institute, after which be practiced his profession near the place of his birth at Tonawanda, New York. He came to Indianapolis in the year 1873, which city has been his home ever since. During the last ten years of his life he was largely identified with the oil business, and up to the time his health began to fail was quite successful. He was of a cheerful disposition, warm friend, a kind and loving husband and father, and one whom we all delighted to honor.
He leaves besides his widow three daughters, Mrs. C. C. Pierce, Jr., of Seattle, Washington; Mrs. Ernest M. Elliott and Mrs. Joseph I. Averill, of Indianapolis; one brother and two sisters survive him, who, on account of age and distance, were unable to be present.
Abstract of Proceedings of the Supreme Council of Sovereign Grand Inspectors General of the Thirty-third and Last Degree of the Ancient Accepted Scottish Rite of Freemasonry for the Northern Masonic Jurisdiction of the United States of America, 1909
The problem is, there are lots of other White's bitters references. Just look at Bitters Bottles and Bitters Bottles Supplement. You have references to White's Able Bitters, White's Angostura Bitters, Dr. John White's Deperiant Bitters, Dr. White's Female Bitters, Dr. John White's General Restorative Syrup Bitters and Dr. John White's Stomach Bitters. Most of these references are coming out of Memphis and Cincinnati newspapers. Worth checking out this Dr. John White.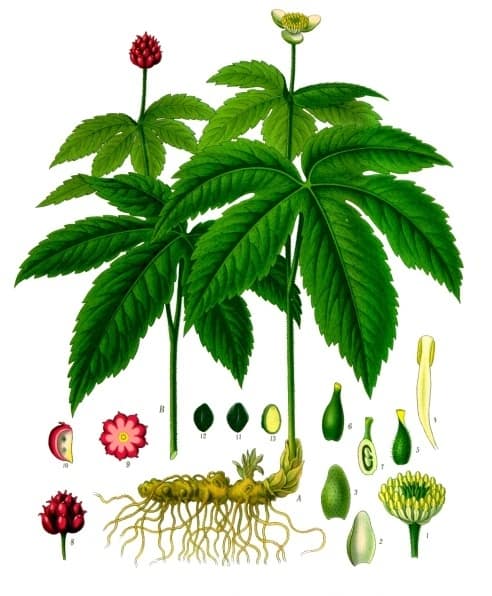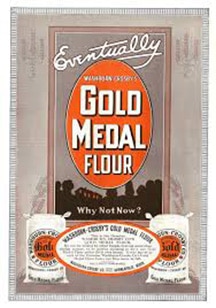 One might think that reference to Golden Seal is like Gold Metal Flour but it references Goldenseal also called orange root or yellow puccoon. Golden Seal is a perennial herb in the buttercup family Ranunculaceae, native to southeastern Canada and the eastern United States. Goldenseal has been ascribed the following herbal properties (whole herb): bitter, hepatic, alterative, anticatarrhal, anti-inflammatory, antimicrobial, laxative, emmenagogue, and oxytocic. Goldenseal is often used as a multi-purpose remedy, and is thought to possess many different medicinal properties. In addition to being used as a topical antimicrobial, it is also taken internally as a digestion aid. Goldenseal may be purchased in salve, tablet, tincture form, or as a bulk powder. Goldenseal is often used to boost the medicinal effects of other herbs with which it is blended or formulated. [Wikipedia]
Jury still out on this one.
Update 16 December 2014 with small advertisement found by Brian Wolff in Auburn, NY in 1877.