Dr. Sperry's Rheumatic Bitters – Hartford, Connecticut
One of the first Eclectic Botanic Physicians
18 February 2015

Selling for a song last week at Jeff Wichmann's American Bottle Auctions Sale Page was this rare, actually I think extremely rare, Dr. Sperry's Rheumatic Bitters from Hartford, Connecticut. At this point, just about any bitters I don't have now is either because it is extremely rare, an oddball variant or would require global financial backing to purchase. Well, not really, but I think you get my point. Notice that Ring and Ham say that an example was dug in Glastonbury, Connecticut.
The Carlyn Ring and W.C. Ham listing in Bitters Bottles is as follows:
S 162

 DR. SPERRY'S RHEUMATIC BITTERS
f // DR. SPERRY'S // RHEUMATIC / BITTERS // HARTFORD, CT. //
10 1/8 x 3 1/2 x 2 1/4 (6 1/2) 7/16
Rectangular, Aqua, NSC, Applied mouth, Rare
Hartford Directory: Isaac J. Sperry is listed from 1850
1839

 to 1870 as Botanic Physicist

Physician

with T.S. Sperry
Dug in Glastonbury, Conn.
Dr. Isaac Jackson Sperry
Dr. Isaac Jackson Sperry was born on December 12, 1801 in Connecticut and was one of the most noted Thomsonian "Eclectic" Botanic Physicians of his era. He was a man of great determination and will and was the brother of Dr. Bennett W. Sperry of New Haven, also a Thomsonian practitioner. The Thomsonian movement, founded by Samuel Thomson, was the first major challenge to the therapies and the social and economic standing of the orthodox medical profession in the United States. I believe his son was Dr. Theodore S. Sperry who is also noted in Ring & Ham with the Dr. Sperry's Rheumatic Bitters listing. Eclectic medicine was a branch of American medicine which used botanical remedies along with other substances and physical therapy practices. It was popular from the 1840s to the first half of the 20th century.
The term Eclectic Medicine was coined by Constantine Samuel Rafinesque (1784–1841), a physician who lived among the Native Americans and observed their use of medicinal plants. Rafinesque used the word eclectic to refer to those physicians who employed whatever was found to be beneficial to their patients (eclectic being derived from the Greek word eklego, meaning "to choose from"). Eclectic medicine appeared as an extension of early American herbal medicine traditions, such as "Thomsonian medicine" in the early 19th century, and Native American medicine. Regular medicine at the time made extensive use of purges with calomel and other mercury-based remedies, as well as extensive bloodletting. Eclectic medicine was a direct reaction to those barbaric practices as well as the desire to exclusivize Thomsonian medicine innovations to "professionals." [Wikipedia]
The first directory listing I could find for Mr. Sperry was in April 12, 1822 where he was employed to teach for one year for ten dollars per month. Later Dr. Isaac J. Sperry would become the secretary and then president of the Connecticut Botanic Medical Society, the first medical society formed, and was the editor of the first medical journal published under the patronage of the society. At this time, T.S. Sperry was Cor. Secretary.
Dr. Sperry practiced Botanic Medicine in Hartford, Conn. up until his death on April 29, 1871. His products would continue to be sold by other Sperry family members and the Sperry Medicine Company, in Waterbury, Connecticut was later formed.
In Bitters Bottles there are also two listings for a Dr. Sperry's Female Strengthening Bitters (S 160 and S 161). The S 160 is embossed Hartford, Conn. while the S 161 is embossed Waterbury, CT. See drawings below from Bitters Bottles.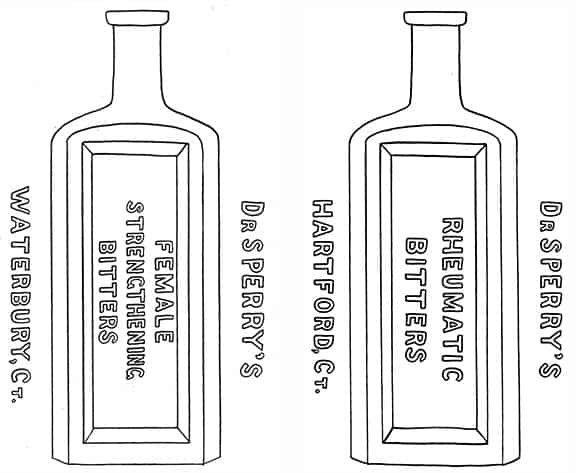 Read: John Thomson and his "Thomsonian System of Practice"
Dr. Theodore S. Sperry
Dr. T.S. Sperry was born in Bozrahville, Conn., 1822. His father was a physician; and he followed his profession, graduating in Boston. He was at one time professor of surgery and botany in the New-York Metropolitan College. Ever an ardent lover of art, in 1844 he made his first attempt in the use of colors, and with such success, that at first his leisure time, and later in life nearly all of his time, was devoted to painting. Landscape was the branch to which he devoted the most of his energy; and his scenes from about the Connecticut Valley, and picturesque landscapes in the neighborhood of Hartford, where he resided, invariably possessed a pleasing freshness, indicative of a sympathy with nature very commendable. Dr. Sperry met with his death in a very unfortunate manner while completing some scenery-work in Allyn Hall left undone by the death of E. Paul Barnes. He stepped backward to examine his work, and fell through a trap nearly sixty feet to the stage below. [Art and Artists in Connecticut by Harry Willard French]
Dr. Bennett Wells Sperry
Dr. Bennett W. Sperry was a Botanic Physician practicing out of New Haven, Connecticut. He was the brother of Dr. Isaac J. Sperry. He was born around 1806 and died at a young age of 35.
Select Sperry Listings
1801: Birth Isaac J. Sperry, December 12, 1801
1822: On the 12th of April, 1822, it was "Voted that Mr. Isaac Sperry be employed to teach this school for one year if he can be obtained for ten dollars per month," and "that the district hire the school-house of the proprietors at the rate of seven dollars a quarter." – History of Seymour, Connecticut: With Biographies and Genealogies, By William Carvosso Sharpe
1835: Connecticut Botanic Medical Society, Instituted Dec, 1835. Annual meeting, 2d Wednesday in May. Isaac J. Sperry, President. R. H. Robbins, Vice Preset. Calvin Jaques, Rec. Secretary. T. S. Sperry, Cor. Secretary. J. C. Caton, Treasurer.
William Allen, Jr., Stephen Curtiss, Horace Jacobs, A. S. D. Pelsonn, H. R. Burr, Censors.
1839-1841: Independent Botanic Advocate, 1839 – 1841, Hartford, CT, Monthly. Published by the Connecticut Botanic Medical Society and edited by Doctors Wilson and Isaac J. Sperry. Later became Botanic Advocate and Thomsonian Family Physician.
1840: Dr. B.W. Sperry, Botanic Physician advertisement (see above) – 1840 New Haven Connecticut City Directory
1841: Isaac J. Sperry Botanic Physician advertisement (see above) – Price & Leeʹs New Haven (New Haven County, Conn.) City Directory
1845: Isaac J. Sperry, Botanic Physician, 125 Main st. – Hartford, Connecticut City Directory
1852-1854: Isaac J. Sperry, Botanic Physician, 3 Pearl, h 10 Hudson st. – Hartford, Connecticut City Directory
1857-1858: Isaac J. Sperry, Botanic Physician, 12 Grove, h 96 Hudson st. – Hartford, Connecticut City Directory
1859-1862: Isaac J. Sperry, Botanic Physician, 12 Grove, h 13 Wadsworth – Hartford, Connecticut City Directory
1871: Death Isaac J. Sperry, April 29, 1871
1879: Connecticut Botanico Medical Society: Rec. Secy. T. S. Sperry. Cor. Secy. Ellsworth Burr., Isaac J. Sperry, Theory and Practice., L. L. Sperry, New Britain – Green's Connecticut Annual Register and United States Calendar
1902: Sperry Medicine Company, Waterbury, Conn. – The Pharmaceutical Era, Volume 27