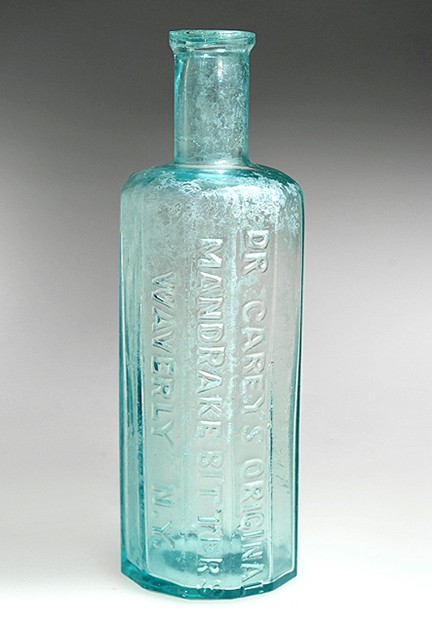 Dr. Carey's Original Mandrake Bitters
10 January 2015 (R•011115) (R•011515)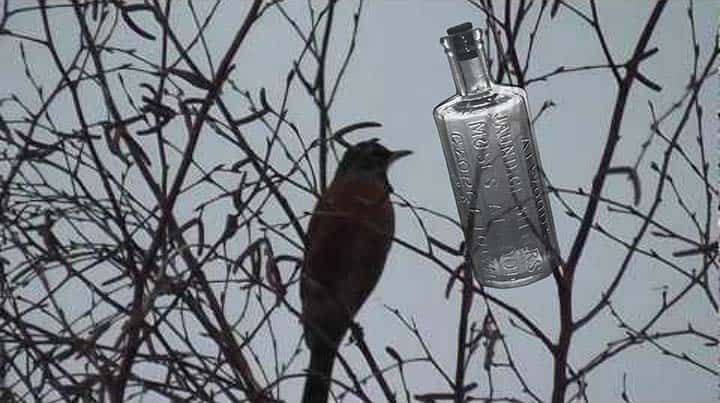 Though I am not a birdwatcher, I guess I kind of feel like one sometimes because I am always on the search for rare bitters that I don't have. Maybe I catch one, or maybe it is just a sighting. That is exciting too. OK, this specimen is certainly not a Bald Eagle, it is probably a scarce Sparrow, that may cost just about as much. None-the-less, I do not have an example in my collection.
The Carey's Mandrake Bitters is an obvious attempt to pick up on the form and success of the bitters bottles that Moses Atwood and successors used. An example is pictured below. Read: Manhattan Medicine Company v. Wood or Read: Barber's Indian Vegetable Jaundice Bitters – Rhode Island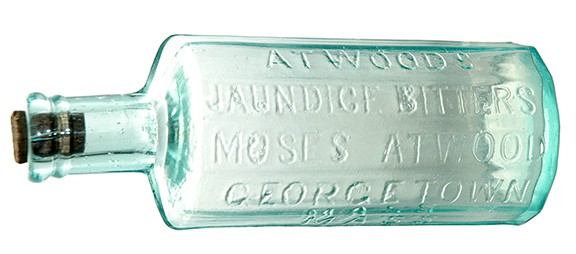 What prompted this post is a specimen for Dr. Carey's Original Mandrake Bitters in the current Glass Works Auctions, Potpourri "Cabin Fever" Auction. It is pictured at the top of the post. Their write-up is as follows:
"DR CAREY'S ORIGINAL / MANDRAKE BITTERS / WAVERLY N.Y.", (Ring/Ham, C-49), New York, ca. 1885 – 1900, aqua, 12-sided, 6 1/2"h, smooth base, sheared and tooled lip. A tiny sliver type chip is off the top edge of the lip, also some minor milky inside stain. Rated as scarce but should be considered rare!
The Carlyn Ring and W.C. Ham listing in Bitters Bottles is as follows:
C 47

  L … Dr. Carey's Mandrake Bitters
Carey & Son, Proprietor, Waverly, New York
Label: For all derangements of the stomach and bowels these bitters act direct on the liver and kidneys, curing ague, jaundice, dyspepsia, headache, dizziness, loss of appetite, pains in the side, fevers, sickness of the stomach, worms in children and it cleanses the blood from all humors. Dropsy it will also cure by its use if taken in larger doses. The preparation is warranted to contain mandrake, dandelion, boneset, prickly ash, and many other herbs, & leaves, & barks & will stand the recommendation. All we ask is to give it a fair trial. It does not contain calomel nor mercury or any poison in any form.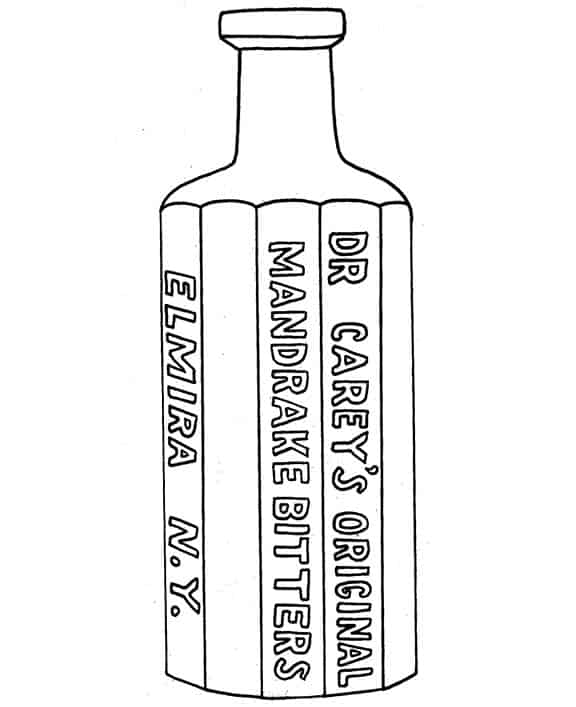 C 48

 DR CAREY'S ORIGINAL // MANDRAKE BITTERS // f // ELMIRA N.Y. // f // f // f // f // f // f // f // f //
6 1/2 x 2 1/8 (4 3/4) 1/2
12-sided, Aqua, NSC, Tooled lip, Scarce
Third panel had lettering, was altered, and shows plate mark.
Drug Catalog: 1891 Schieffelin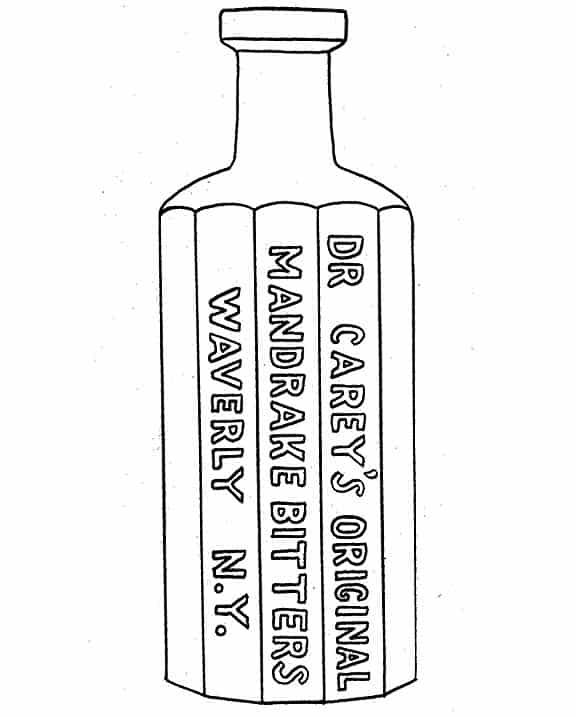 C 49

  DR CAREY'S ORIGINAL // MANDRAKE BITTERS // f // WAVERLY N.Y. // f // f // f // f // f // f // f // f // f //
6 1/2 x 2 1/4 (4 3/4) 1/2
12-sided, Aqua, FM, Scarce
To understand the Dr. Carey brand, you must understand the acronym G.E.S.S. You can see it prominently displayed on the bottle above. Carey advertising uses this as an anchor graphics component. G.E.S.S. stands for GREAT ENGLISH SWEENY SPECIFIC which was his popular horse liniment advertised first around 1868. Look within the GESS letters below on the Carey & Son receipt.
Absolom Carey
The Carey story starts with Absalom Carey who was born in Wallkill, Orange County, New York on April 9, 1765. He was the son of Elihu Carey and Catherine North Carey. In the 1810 census, he was still living in the town of Minisink, Orange Co., N.Y. He came to the town of Chemung very early and settled on a farm one half mile below the Dry Brook Cemetery. He married Temperance Cooley (daughter of Nathaniel Cooley and Sarah Carpenter Cooley). Many bitters collectors know the Samuel Cooley name. The children of Absalom and Temperance Carey were Abner Carey, Nathaniel Carey, Stephen Carey, Benjamin Franklin Carey, Heather Carey, Samuel Carey, Absalom Carey, Jr., and David N. Carey. Absalom Carey was also a Revolutionary War veteran. Absalom died in Waverly, Chemung Co., N.Y. Dec. 30, 1841.
His grandfather was 

Absalom Carey

who at the age of fifteen years was taken by the Indians in 1778 during the period of the

Wyoming massacre

. 
Daniel Graham Carey
Daniel Graham Carey was born in Orange County, near Middletown, New York on a farm owned by his father on November 22, 1842. His grandfather was Absalom Carey who at the age of fifteen years, was purportedly taken by the Indians in 1778 during the period of the Wyoming massacre.
The Battle of Wyoming (also known as the Wyoming Massacre) was an encounter during the American Revolutionary War between American Patriots and Loyalists accompanied by Iroquois raiders that took place in the Wyoming Valley of Pennsylvania on July 3, 1778. More than three hundred Patriots were killed in the battle. After the battle, settlers claimed that the Iroquois raiders had hunted and killed fleeing Patriots before using ritual torture against thirty to forty who had surrendered, until they died.
Daniel Carey traced his knowledge of "Indian remedies" back to the captivity of Absalom who apparently, as an adolescent among the Indians, helped them gather the different herbs, and from their Medicine Man, learned their action upon the human system. This comes from an early Dr. Carey's Almanac, so take it with a grain of salt.
In 1861, Carey married Louisa J. Conkling of Montrose, Pennsylvania. They had two daughters and a son, Samuel C. Carey who was involved in his fathers business which would later be called Carey & Son. He was a traveling salesman in the drug business probably selling the Carey products on the road. Dr. Carey by now was well-known for his medical formulas and began to market his "Indian remedies" in 1866. Carey practiced in Waverly, New York for a long time and published the Waverly Farmer.
Dr. Daniel G. Carey graduated from the Eclectic Medical College of New York city. According to his obituary in J.A.M.A. (1919), Carey was also an 1870 graduate of the Eclectic Medical College of Pennsylvania. He also lays claim in his Almanac to degrees from the Eclectic Medical College of New York (1890) and the Eclectic Medical Institute of Cincinnati (1892).
Sometime around 1892, Dr. Carey moved to Elmira, N.Y., just west of Waverly (on the Pennsylvania border) where his family and business had been earlier established. The Dr. Carey's Original Mandrake Bitters come with both the Waverly and Elmira N.Y. embossing. A massive advertisement is represented below showing the vast array of Carey's G.E.S.S. Remedies. His company is now called The Carey G.E.S.S. Medicine Co. on 204, 206 and 208 East Water Street in Elmira, New York. The Mandrake Bitters is just a small listing.
In 1893, the business was no longer known as Carey & Son. It remained in the hands of Daniel Graham Carey who by 1897 was listed as a physician and surgeon at the same East Water address in Elmira, New York.
In 1901, The Elk Drug Company in Binghamton, New York were listed as manufacturers and proprietors of Dr. Carey's G.E.S.S. Remedies products. Edgar C. McKallor was the president. Later in 1921, The Carey Medical Corporation were listed as manufacturers of proprietary medicines in Elmira New York. Daniel G. Carey died in 1919.
By now, some of you advanced bitters collectors may be wondering if the Dr. Carey's G.E.S.S. brand was related to Carey's Grecian Bend Bitters. The Grecian Bend was put out by Michael Carey in New York City in 1865 or so. I doubt any direct relationship or we would see it in Dr. Carey's advertising. Boy would I like to find and capture that bird!
Here is a Problem
ARREST OF DOCTOR CAREY OCCASIONS MUCH COMMENT
Trial of His Case Scheduled for March Term—Is Out on Three Thousand Dollars Bail—Accused of Causing Death of Pennsylvania Girl.
The indictment of Dr. Daniel G. Carey by the grand jury yesterday and his immediate arrest by Deputy Sheriff Lee Knapp, occasioned endless discussion in this city. He is charged with manslaughter in the first degree. It is alleged in the indictment that on or about January 1, 1918, Miss Mae Cunningham, 22 years old, the daughter of Mr. and Mrs. Elmer Cunningham of Columbia Cross Roads, Pa., came to Elmira Heights and visited her cousin, Mrs. Maude Bennett.
It is alleged that the young woman went to Dr. Carey and underwent a criminal operation by him. It is alleged that the operation was not necessary to save the life of the girl and that she became critically ill and died in the Arnot-Ogden Memorial Hospital on January 5 as the result of Dr. Daniel G. Carey's work.
In support of this indictment the coroner and police and district attorney have an affidavit made by Mrs. Maude Bennett, the cousin of the dead girl.
It is alleged that after the case developed unfavorable symptoms it was taken to Dr. Charles H. Erway of Elmira Heights. He recognized the conditions and had the girl taken directly to the Arnot-Ogden Memorial Hospital. Dr. Carl Zimmerman assisted in the treatment of the patient at the Arnot-Ogden Memorial Hospital, and he was given a voluntary statement by the girl of the circumstances attending her case. The authorities base their expectation of success in prosecuting this case on the fact that they have a complete chain of evidence as to what transpired from the time the girl came here until she died.
It is understood that the grand jury heard more evidence than that which pertained to this specific case. The authorities have two other deaths on record for January which were the result of the same kind of practice. They have a sickening accumulation of other evidence that has left a slimy trail over a score of years in this city.
By a process of elimination after the grand jury made its report yesterday it was easy to see that the sealed indictment must be that brought against Dr. Carey. The suspense was not long. Deputy Sheriff Knapp hurried to Dr. Carey's office on Baldwin Street and found the doctor there.
"Come on! I have a warrant for your arrest," said Knapp.
"On which case?" queried Dr. Carey.
"On the Cunningham case," was the reply.
"Let me telephone my lawyer," requested the man under arrest. He was so visibly affected by the receipt of the information that he was under arrest, that he dropped the telephone receiver. Finally he secured Charles Lattin on the phone and said: "The Sheriff is here with a warrant for my arrest. Meet me at the court house."
Then the doctor telephoned relatives to get them to arrange for his bail bond. The deputy sheriff and the doctor walked to the court house where the Hammond case was being tried. The case was stopped long enough for Dr. Carey to be arraigned.
District Attorney Bogart tore open the seal on the indictment and started to read it. Attorney Lattin said that it would not be necessary to read it. The reading was discontinued. Dr. Carey pleaded not guilty and bail was argued. District Attorney Bogart insisted that $5,000 is usual bail required in manslaughter cases and that sum ought to be required in this case.
Attorney Lattin argued that it was excessive. Judge Sewell finally fixed bail at $3,000 remarking "If he skips out, the county will get the bail."
W. H. Relyea and Isabel Relyea were his sureties. Both were in court, having hurried there in a motor car when his arrest was announced by the doctor.The case will come to trial at the March term of county court.
Select Listings
1840: Daniel Graham Carey, born Dolsontown, N.Y. November 22, 1842.
1870: Daniel G. Carey, 28, Manufacturer of Medicines, Middletown Ward 3, Orange, New York – United States Federal Census
1880: Daniel G. Carey, 39, Manufacturer of Medicines, Middletown, Orange, New York – United States Federal Census
1884: Publishes Dr. Carey's Guide to Health and 1884 Almanac.
1887-1888: Carey, Daniel G., patent medicine manuf., Broad, h 421 Chemung – Directory of Tioga County, New York
1888: Carey & Son 1888 G.E.S.S. receipt (see further above) Manufactory and Principle Office, Waverly, N.Y.- Bitters Bottles Supplement
1892: Carey's G.E.S.S. Remedies top full-page advertisement (see further above), The Carey G.E.S.S. Medicine Co., Elmira, New York
1893: The G.E.S.S. Hand Book of Useful Information (see further above) The Carey G.E.S.S. Medicine Co.
1897: Daniel G. Carey, physician and surgeon, 200 E. Water – Elmira New York City Directory
1901: The Elk Drug Co., Manufacturers and Proprietors of Dr. Carey's G.E.S.S. Remedies – City of Binghamton Directory
1905: The Elk Drug Company, Manufacturers and Proprietors of Dr. Carey's G.E.S.S. Remedies receipt (see further above)
1910: Daniel G. Carey, 68, Physician, General Prectice, Elmira Ward 9, Chemung, New York – United States Federal Census
1913: Publishes Dr. Carey's Medical Journal, Daniel G. Carey, ca. 1913
1921: The Carey Medical Corporation (Garrett Bacorn and James McLaughlin), manufacturers proprietary medicines, 150 Fox, office 1153 Hoffman – Elmira New York City Directory