T. J. Lummus' A.V. Bitters – Lynn Mass
26 November 2014 (R•112714) (R•121115)

An important bitters sold this past Monday night in the Glass Works Auctions, The 'Christmas Comes Early' Catalog Auction #105 . The T. J. LUMMUS' A.V. BITTERS from Lynn, Massachusetts (Ring/Ham, L-133) is bluish aqua, 7 1/2" tall with an open pontil and has an applied tapered collar mouth. This particular bottle was from the Paul Hadley Collection and is extremely rare, this being the first to come to auction in almost 20 years according to Glass Works. Both pictures in this post are from the auctioneer. The lot closed with call backs at 30 bids and a price breaking $3,500 with the auction house premium. I did find reference to another example residing in the Old Sturbridge Village Museum.
I was curious about this bitters so I developed this post. I wanted to find out who T. J. Lummus was and what A.V. Bitters was? The best I can come up with so far is "A Valuable" Bitters or "A Vegetable" Bitters or "Anti-Virus" Bitters or "Anti-Vomit" Bitters? I have ruled out "Audio Visual", a term used in my profession. At this point I can find no advertising for the bitters or a label.
The Carlyn Ring and W.C. Ham listing in Bitters Bottles is as follows:
L 133

 T. J. LUMMUS' A. V. BITTERS
T. J. LUMMUS' / A. V. BITTERS //LYNN // f // MASS. //
7 1/2 x 3 1/4 x 2 (5 1/4) 3/4
Rectangular, Aqua, LTC, Rough pontil mark, Extremely rare
Lettering reads base to shoulder
Thomas Jefferson Lummus
Thomas Jefferson Lummus, not too much doubt here as to who he was named after, was born on September 22, 1803 in Lynn, Essex County Massachusetts. He came from a line of doctors and medicine men and ended up as a shoe man.
His grandfather was Dr. Aaron Lummus who was born in Ipswich, Essex County, Massachusetts, on 17 August 1757. His wife was Eunice Coffin (1760-1843). He died on 5 January 1831 in Lynn, Massachusetts. His father was John Lummus (1722-1785) and mother Hannah Porter (1724-1787). In 1792, Dr. Lummus settled in Lynn, Massachusetts. and had a number of sons and daughters including Aaron Lummus (b 1792), Edward A. Lummus (b 1794), George Lummus (1796-1860), Charles F. Lummus (1801-1838) and Thomas J. Lummus (b 1803). This is our "T. J.". Daughters were Clarissa Lummus (1787-1807), Hannah Lummus (b 1789) and Elizabeth C. Lummus (b 1798).
Aaron Lummus was a Justice of the Peace and grocer, George Lummus was also a druggist and Edward Lummus was a grocer who sold medicines. Thomas J. Lummus, the subject of this sketch, was a druggist in the late 1830s and went into the ink and shoe blacking business the second half of his career. These guys were all intertwined in business in Lynn. The Lummus' A.V. Bitters was made and sold in the early 1840s, probable for only a year or two. Still do not know what "A. V." stands for. The "A.V." stand for "Aromatic Vegetable" per this 1841 Salem, Massachusetts advertisement below submitted by Brian Wolff.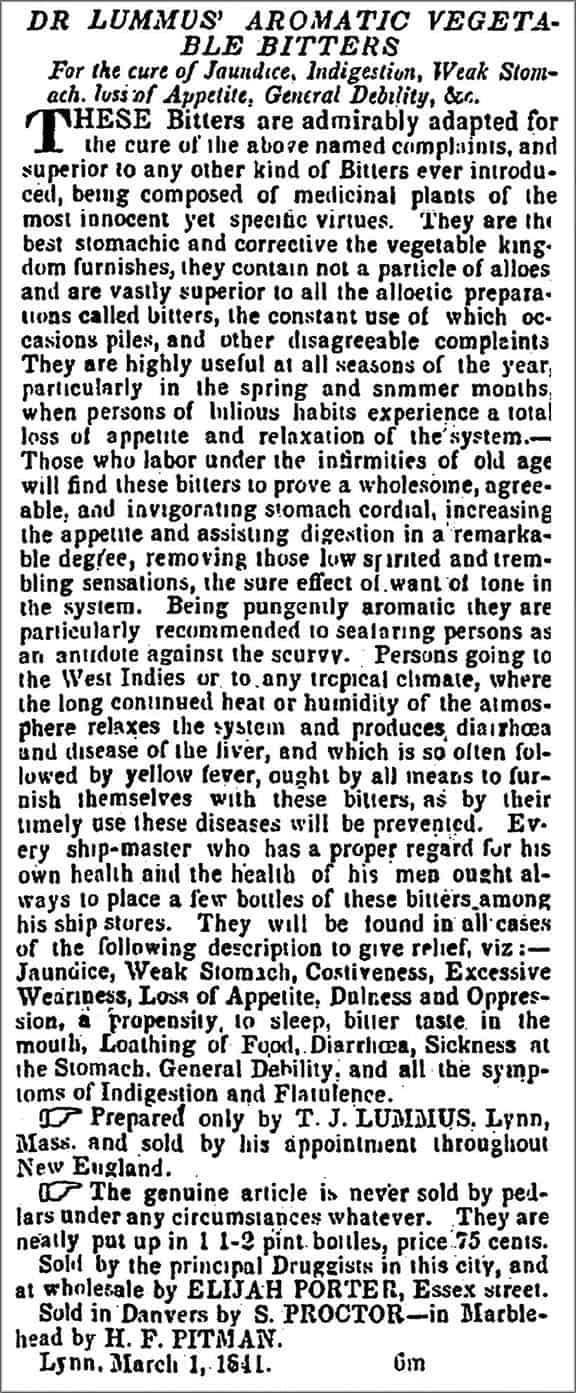 According to Ring and Ham, T. J. Lummus was a witness to the battle between the HMS Shannon and the American frigate Chesapeake, was a schoolmate of William Lloyd Garrison and played the clarinet in a Lynn band during a ceremony to lay the cornerstone of the Bunker Hill Monument.
Read about another New England ink manufacturer that made a bitters: S.O. Dunbar & his Tomato (ya ya ya) Bitters
---
Hi Ferdinand,
I got a chance last night to catch up on your excellent website when I saw the photo essay you did on the TJ Lummus AV Bitters, I thought I'd send you a note about a situation that is very unusual – to me at least. I'm just wondering if this is a more common experience than I think.
I am attaching three photos of the TJ Lummus AV Bitters. The first is the property of the Lynn Historical Society; the second you featured on your website and the third is in my collection. They are all the same body design and color, and OP, as well as height to shoulder, but the neck lengths and lips are all different:
LHS bottle: flare lip
Peachridge bottle: tapered lip
My bottle: square applied lip
This bitters was lightly advertised through the decade of its existence and my guess is that less than a thousand were made and sold over that time. I would love your thoughts on why it would be manufactured in three lip styles? I have a few thoughts, but I'd sure love the benefit of your expertise and insight!
Thanks so much for your time and interest.
Andy Rapoza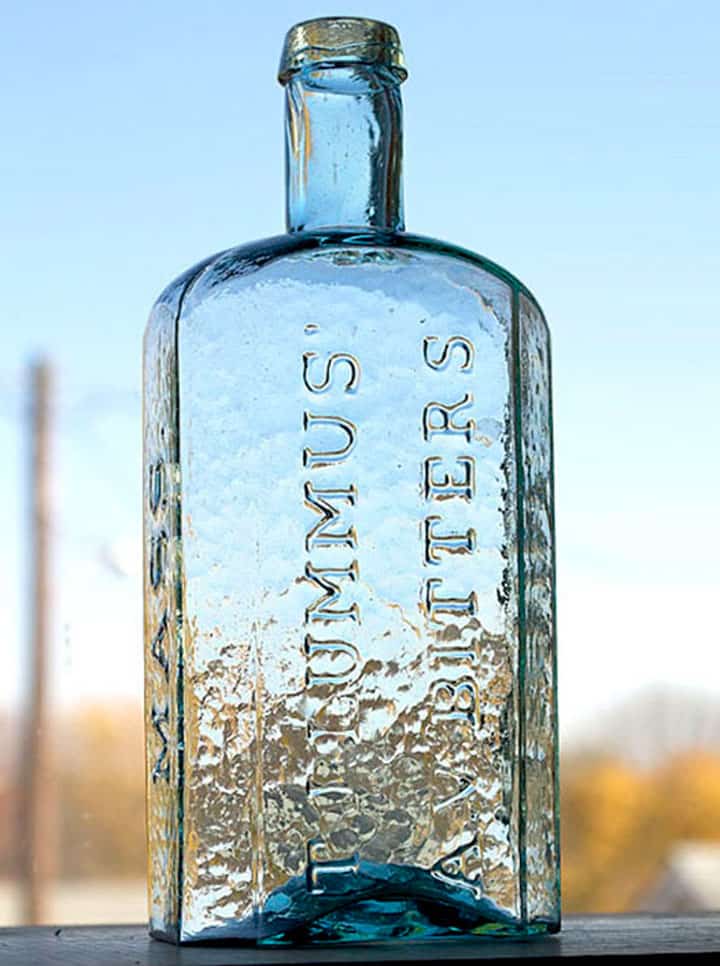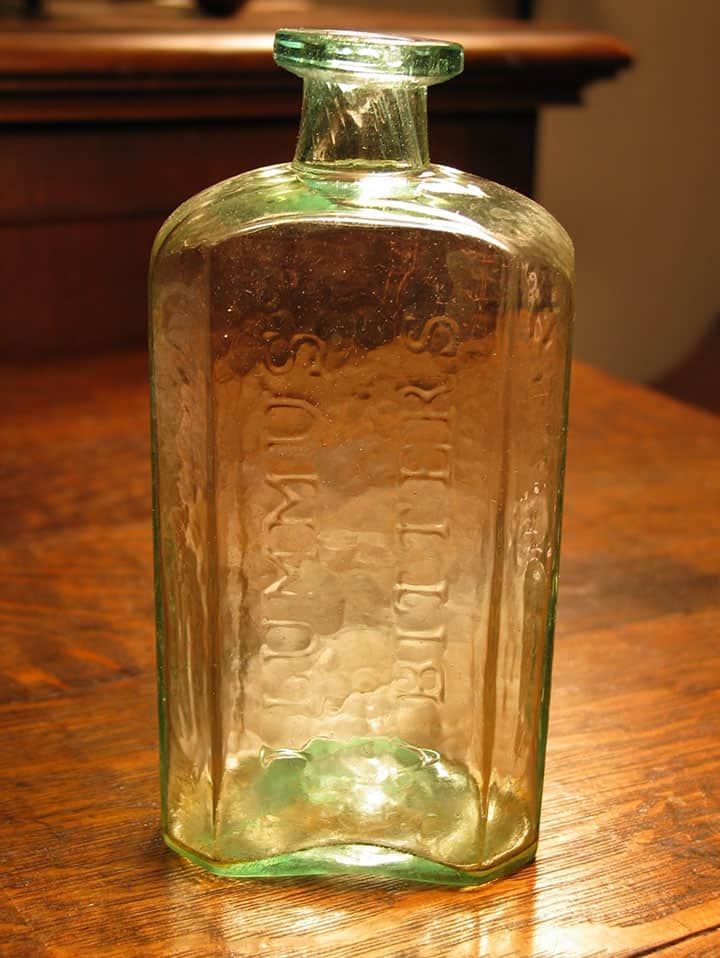 ---
Select Listings
1757:

 Dr. Aaron Lummus born in Ipswich, Essex County, Massachusetts,. Dies 05 January 1831.
1786:

Dr. Aaron Lummus marries Eunice Coffin in Glouchester, Mass.
1792:

 Dr. Aaron Lummus settles in Lynn, Massachusetts.
1803

: Thomas J. Lummus born 

September 22, 1803

 

in Lynn, Essex, Massachusetts.
1833:

Thomas J. Lummus marriage to Abigail M. Newhall on November 3, 1833 in Lynn, Massachusetts
1837:

Thomas J. Lummus, Lynn, member of the convention, N.E., Christian Convention – The Liberator (Boston, Massachusetts)
1841:

Thomas J. Lummus (also Edward A. Lummus, apothecary at another address), Apothecaries, 14 N. Common st. cor Franklin Avenue – Lynn, Massachusetts City Directory

1841:

 Advertisements for T. J. Lummus's Aromatic Vegetable Bitters
1850:

Thomas J. Lummus, apothecary, Lynn, Massachusetts – United States Federal Census
1851-1854:

Thomas J. Lummus (a number of other Lummus family members), drugs and medicines, 62 Market, corner Tremont, house 19 Franklin – Lynn, Massachusetts City Directory

1854-1860:

Thomas J. Lummus, Apothecaries, drugs and medicines, 62 Market, c Tremont, house 19 Franklin – Lynn, Massachusetts City Directory *Also Edward A. Lummus, Apothecaries, 187 (Old No. 67) Summer **William Lummus, architect boards at 19 Franklin (1860)
1860:

 Thomas J. Lummus, druggist, Lynn, Massachusetts – United States Federal Census
1863-1867:

T. J. Lummus, apothecary and ink manufacturer, No. 18 South Common st, Lynn – Lynn, Massachusetts City Directory
1865:

Patent US46684, Improved Red Ink, Thomas Jefferson Lummus, 7 March 1865
1878:

 T. J. Lummus, inks and varnishes, Union Block, rear 158 Union, house 17 Franklin – Lynn, Massachusetts City Directory
1880:

 Thomas J. Lummas, merchant, Lynn, Massachusetts – United States Federal Census
1880:

 T. J. Lummus Shoe and Ink, Union Block, Union Street advertisement (see above) – Lynn, Massachusetts City Directory
1883:

 T. J. Lummus, ink and blacking, Union Block, Union Street, Lynn advertisement (see above) – Haverhill, Massachusetts City Directory
1885-1886:

 T. J. Lummus, Shoe, Boot and Ink stains and varnishes, Union Block, Union Street – Lynn, Massachusetts City Directory
1895:
Thomas J. Lummus Death
10 February 1895
in Lynn, Essex, Massachusetts