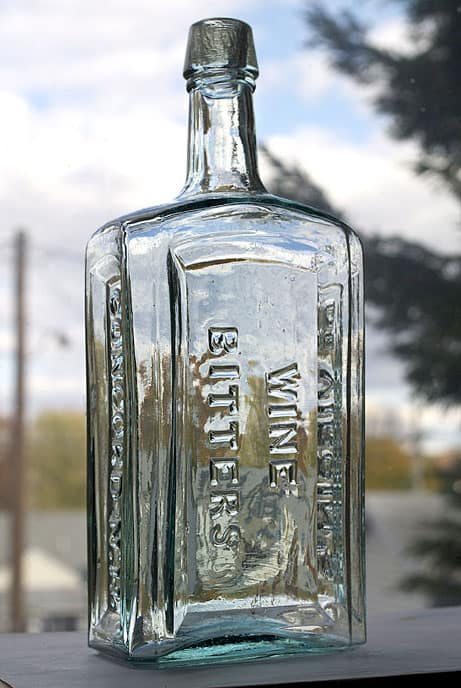 Dr. Virgin's Wine Bitters – Concord, New Hampshire
27 November 2014 (R•030516)

First of all…Happy Thankgiving. Here is another important bitters that sold this past Monday night in the Glass Works Auctions, The 'Christmas Comes Early' Catalog Auction #105 . The Dr. Virgin's Wine Bitters from Concord, New Hampshire (Ring/Ham, V-24) is bluish aqua, 10 1/8" tall with a smooth base and has an applied double collar mouth. This particular bottle is also from the Paul Hadley Collection and is extremely rare, possibly even unique. It is also Ex. Carlyn Ring Collection. All the bells and whistles. Both pictures in this post are from the auctioneer.
Read about the other aqua bitters that sold: T. J. Lummus' A.V. Bitters – Lynn Mass
The Carlyn Ring and W.C. Ham listing in Bitters Bottles is as follows: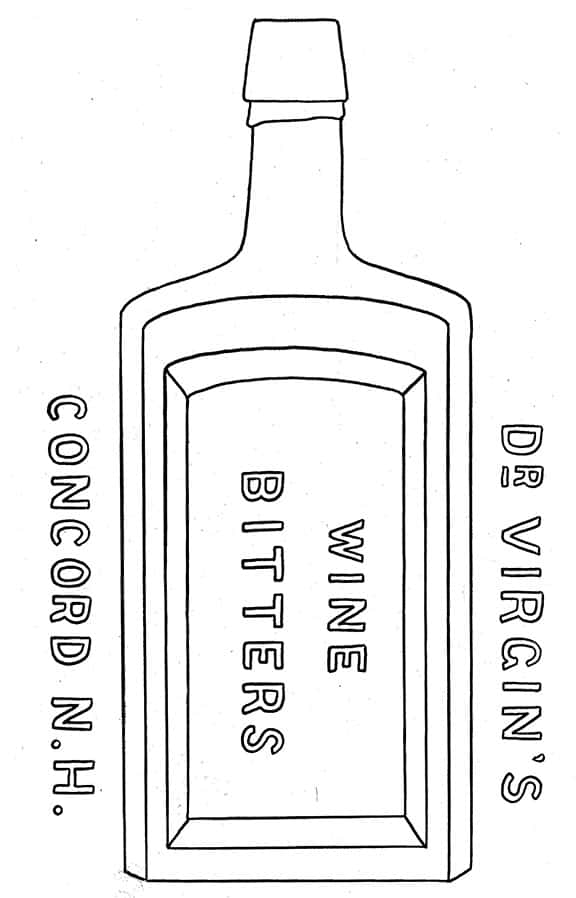 V 24

 DR. VIRGIN'S WINE BITTERS
f // DR. VIRGIN'S // WINE BITTERS // CONCORD N.H. //
10 1/4 x 4 x 2 3/8 ( 6 1/2) 1/2
Rectangular, Aqua, LTC, 3 sp, Extremely rare
The Virgin Family
This bitters story starts with Ebenezer Virgin (1702-1766) who was the founding father of the Virgin name in America. It is thought that he came from Salisbury, England to Salisbury, Massachusetts in 1722. From Salisbury, Virgin went to Dunstable, Massachusetts, which was then called Tyngsboro, and in 1726, with seven men sent by the Massachusetts Bay Colony, he went to lay out a township on the Merrimack River, then called Penny Cook, later Rumford, and now called Concord. Concord, N.H. is embossed on the bottle. Of course this was too early to be making bitters here in the states.
Ebenezer Virgin married Mary Chandler of Andover, Massachusetts and they had five children, Phineas, Ebenezer II, William, Jonathan, Miriam, Elijah and John. Ebenezer Virgin II was born on May 25 1735. He had a son Jonathan (1758-1813) who had a son named Issac (1789-1870) who had a son named Rufus (1818-1899) who was the father of Fred Peaslee Virgin who I believe, put out the Dr. Virgin's Wine Bitters.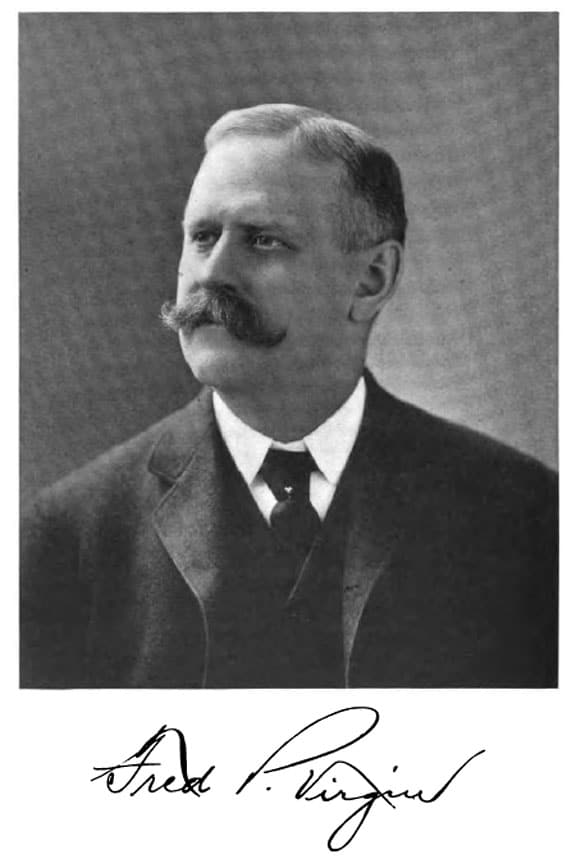 Fred Peaslee Virgin was born on January 25, 1853 and was the second son of and fifth child of Rufus and Mary Ann (Stevens) Virgin. He was a self-made man and one of the early outstanding citizens of New Hampshire. He obtained his education in public schools at Penacook and Pinkerton acadamies. He worked in farming like most of the many Virgins in New Hampshire but left when he was sixteen years old to go to Boston where he was employed by Martin L. Hall & Company, wholesale grocers. They were reported to be the largest wholesale grocery house in New England. He first started out as a clerk and was later promoted to salesman and by 1883 was made a partner of the firm that was established in 1831. Fred died in 1908 in Boston.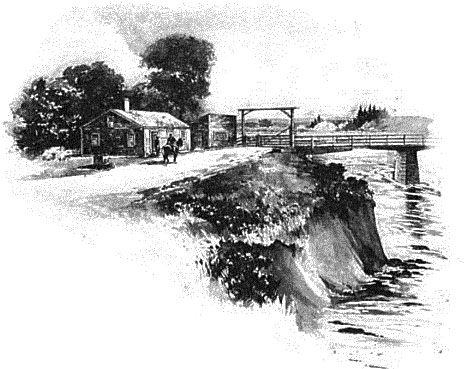 I said "believe" earlier because there is no information, advertising or a label to support that Fred P. Virgin was a doctor or put out this bottle. He is the only Virgin, that I can see, that was a salesman and merchant. I can picture Fred on that horse on the illustration above of the first bridge in Concord (1795) heading off to the big city in 1869 with nothing but ambition, his family name and the family recipe for wine bitters. He would then pitch this product as a salesman at Martin L. Hall & Company and they made a run of bottles and a batch of Dr. Virgin's Wine Bitters from grapes from one of the Virgin's Concord, New Hampshire farms or vineyards. Concord N.H. was not that far from Boston. Remember, this could possibly be the only known example of this bottle. There would not have been many made.
UPDATE:
Ferdinand,
I was pondering that Dr. Virgin's bitters from Concord, New Hampshire that you wrote about some time ago. I really think that the fellow that put these out may have been Frank Pierce Virgin.
Franklin Pierce Virgin was born on October 13, 1850 in Rumford, Maine to Benjamin F. Virgin and Eunice L. Virgin. In 1870, He lived in Lewiston, Maine.
In 1876 we find him listed in the Concord, New Hampshire directory as a student at Gage & Conn, who were physicians in Concord, New Hampshire. In 1872 we find him listed as a Sophomore at Bowdoin College; he graduated in 1875 from undergraduate school and appears to have continued on as a medical student in Concord. His preceptor was listed as Gage & Conn in the Bowdoin directory in 1876 and 1877. He apparently actually received his medical degree from the Detroit Medical College in 1877 while still at Gage & Conn.
By 1878, it appears that he was a doctor in Dover, New Hampshire. By 1880 he was a physician in Rochester, New Hampshire, and the 1900, 1910, and 1920 census lists him as a physician in Weymouth, Massachusetts, where he apparently moved in 1888.
I would guess that during his time with Gage & Conn in the 1876-1877 timeframe, he put this medicine out as this looks like the right timeframe for the bottle, and it appears that he had some family money so may have tried to get into the patent medicine business.
Note that there was another Frank Pierce Virgin who was the son of Rufus of Concord, but he was born in 1847, was a farmer and passed away in 1871.
Best Regards,
Brandon DeWolfe, P.E.