S.O. Dunbar & his Tomato (ya ya ya) Bitters
DUNBAR'S LIFE BITTERS
23 November 2014 (R•112514) (R•060219)

Bitters ephemera authority Joe Gourd, sent me the above handbill from the druggist, S. O. Dunbar from Taunton, Massachusetts. The Tomato, Sarsaparilla, Blackberry, Dandelion and Wild Cherry, Vegetable Compound  Life Renovating Bitters has to be the longest name for a bitters product ever. Samuel Oliver Dunbar pretty much spent his whole life in Taunton. We have heard from Mr. Dunbar before.
I didn't have to look far for good information as Ed and Lucy Faulkner, from up Virginia way, had done a nice article in the FOHBC Bottles and Extras back in 2010. Makes sense, as Ed and Lucy are ink bottle authorities and Samuel O. Dunbar sold some neat inks. Read article.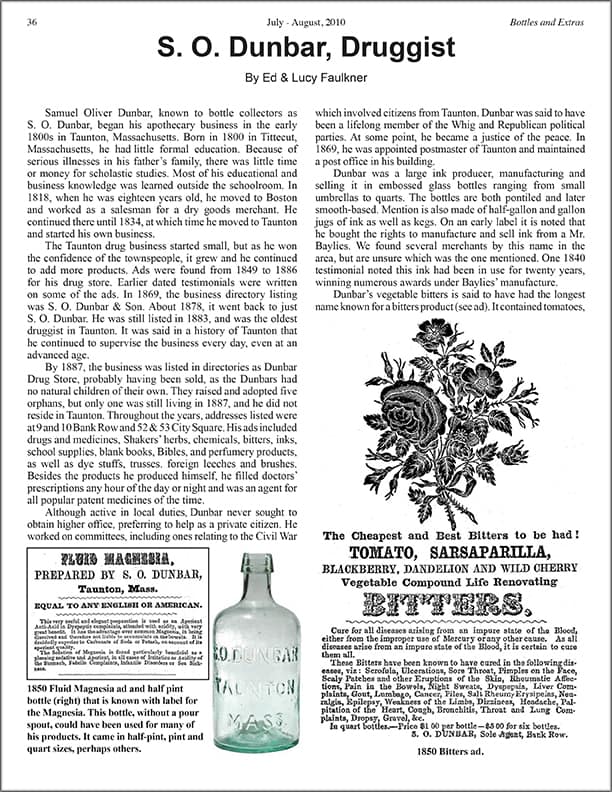 These two trade cards from Joe Gourd for S. O. Dunbar started a chain reaction making us change the T 35 designation in Bitters Bottles to D 115.7 in Bitters Bottles Supplement 2. The bottle image is from GreatAntiqueBottles.com
Trade card
D 115.5 S.O. DUNBAR LIFE BITTERS, S. O. Dunbar, Basement Post Office, Reverse: Manufacturer of Fluid Magnesia, Writing, Stencil & Dotting Ink, Swan's Cherry Syrup, Shepard's Condition Powder, Life Bitters. Taunton, Mass.
D 115.7 (Dunbar's Life Bitters or Life Renovating Bitters) L … Tomato, Sarsaparilla, Blackberry, Dandelion and Wild Cherry, Vegetable Compound Life Renovating Bitters
S. O. DUNBAR / TAUNTON / MASS. // c //
7 1/4 x 3 1/4 (4 1/2)
Round, Aqua, LTC, Rough pontil mark
S. O. Dunbar, Sole Agent, Bank Row, Taunton, Mass.
S.O. Dunbar (Samuel Oliver Dunbar), apothecary and books, 9 and 10 Bank Row, Taunton. Taunton, Massachusetts, City Directory, 1859
BAR p40, UMB 519, WAT L45
Previously T 35 in Bitters Bottles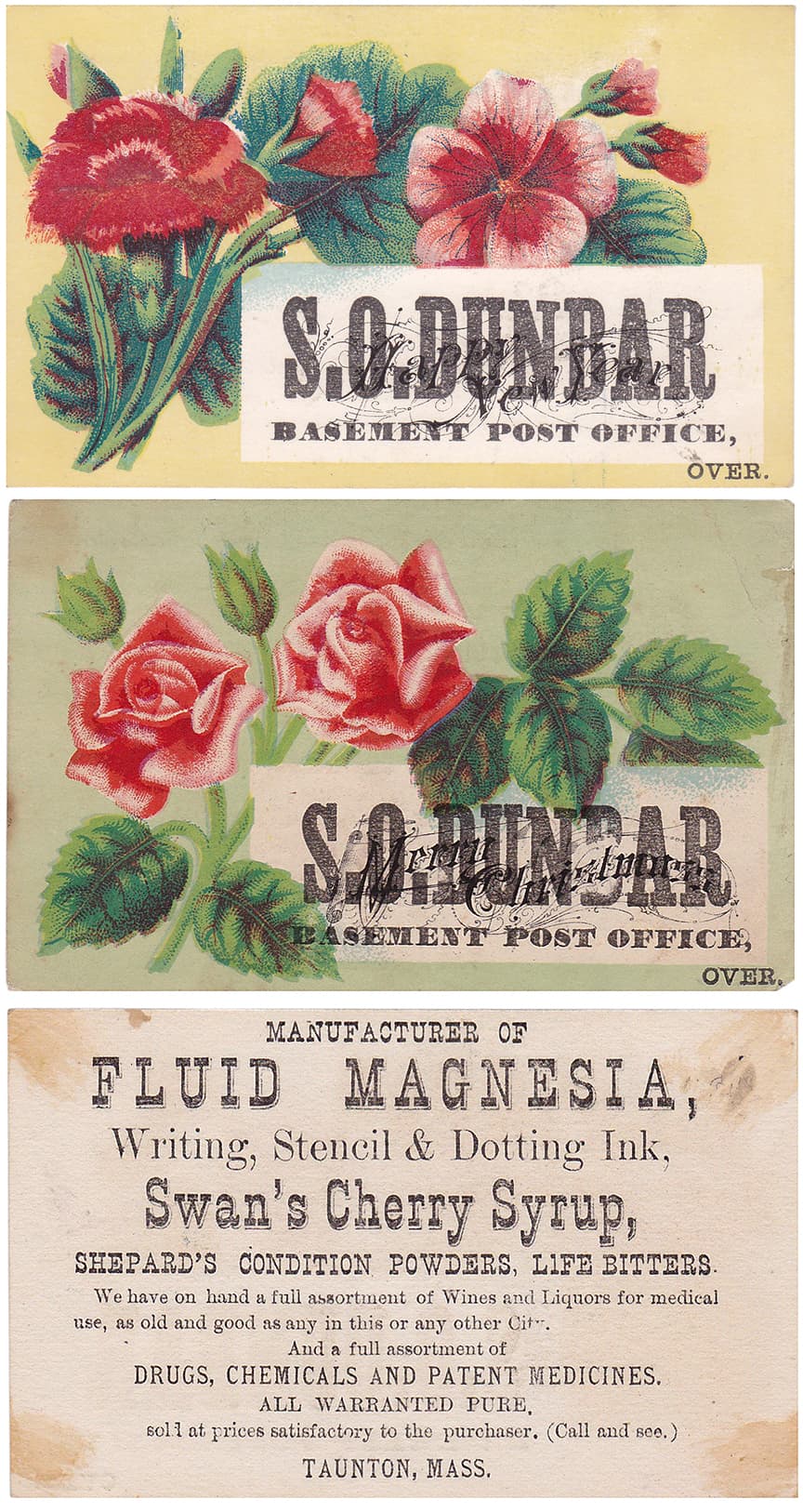 ---
---
---
Select listings
1836:

Samuel Oliver Dunbar publishes a

 

Map of the town of Taunton, with a view of the public buildings (see below) – Norman B. Leventhal Map Center at the Boston Public Library See Map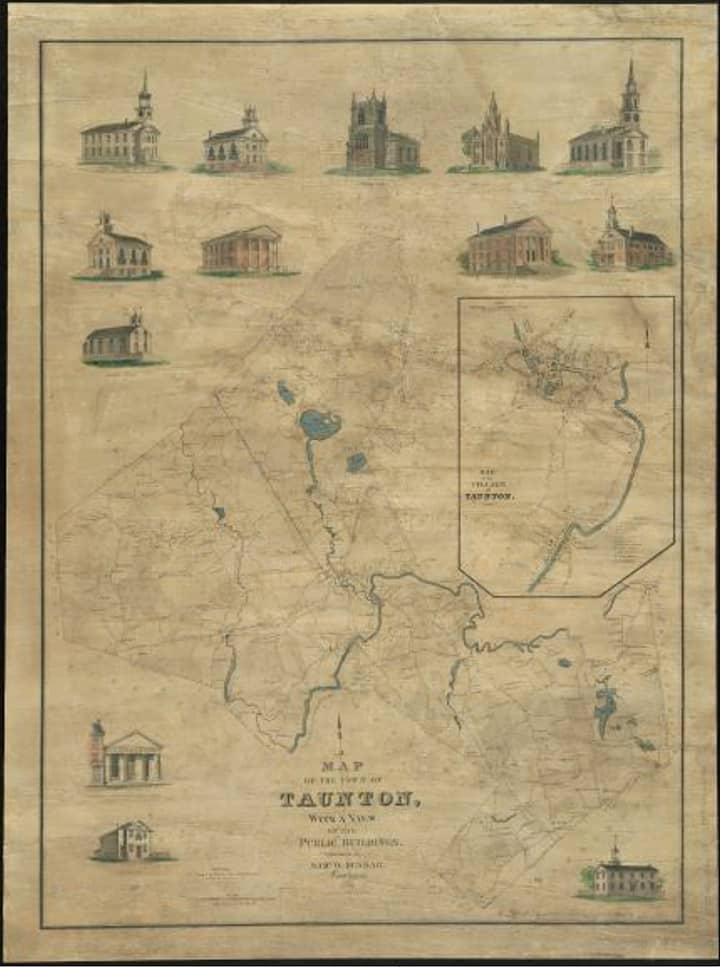 1855:

S.O. Dunbar, Director, Farmers' Insurance Company – Taunton, Massachusetts City Directory
1859:

Samuel O. Dunbar, Apothecary, 9 and 10 Bank, Taunton, Massachusetts – Taunton, Massachusetts, City Directory, 1859
1867:

S. O. Dunbar advertisement (above) – The Bristol County Directory and Gazetteer, 1867-68
1875:

 S.O. Dunbar & Son, 10 and 11 Bank Row, City square, druggists – The Bristol County Directory and History
1880:

S.O. Dunbar, Drugs and Chemicals, Taunton, Bristol, Massachusetts –  United States Federal Census
1893:

Dunbar's Drug Store, drugs, stationery, etc. 51 City sq. cor Lincoln (see advertisement below) – Taunton, Massachusetts City Directory