Dr. Swayne's Bitter Catholicon – A Very Valuable Bitters
26 September 2014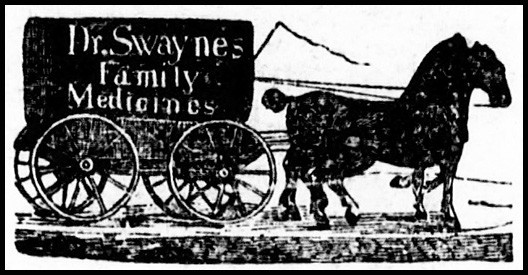 Jeff Noordsy, up in Cornwall, Vermont, posted three pictures of an early, pontiled, aqua bitters saying "Yup, it's cracked but how many of you have seen a "Swayne's – Valuable Bitters – Bitter, / Catholicon – Philada"? Not me I say. How cool. By the way, this brand is not to be confused with Swain's Bourbon Bitters.
Carlyn Ring and W. C. Ham list in Bitters Bottles Supplement:
S 230  SWAYNE'S // VALUABLE BITTERS // BITTER / CATHOLICON // PHILADA
6?x 2 ½? X 1 ¼?
Rectangular, Aqua, DC, Applied mouth, Rough pontil mark, Extremely rare
Dr. Swayne & Son, Philadelphia, Norristown Directory (Pennsylvania), 1860-61
Dr. Huson Swayne
Huson Swayne was born in Chester, Pennsylvania on 07 December 1793. He would marry Susanna Phillips on 16 April 1818 in Hockessin, Chester, Pennsylvania and have three children, one being William P. Swayne (1825-1906) who would later work with his father.
Dr. Swayne started is business around 1838. Listings in the mid to late 1840s show a Dr. Swayne's Family Medicines on the northwest corner of Eighth and Race streets in Philadelphia, Pennsylvania. Over the years they represented and sold many patent medicines including their best seller, Dr. Swayne's Compound Syrup of Wild Cherry (see below), London Hair Color Restorer, Dr. Swayne's Ointment, Dr. Swayne's Panacea, Dr. Swayne's Celebrated Vermifuge, Dr. Swains Pills, Swayne's Bowel Cordial and The Dr. Swayne's Bitter Catholicon.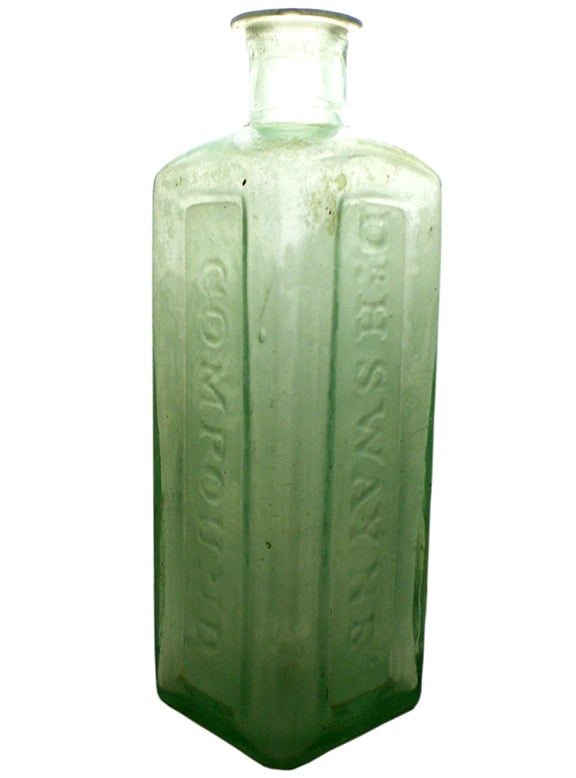 By 1861, the business was being listed as Dr. H. Swayne & Son (Huson & William P. Swayne) at 8 North 7th street. They continued in business together until around 1863, when Huson died. William P. Swayne then started to list himself as a "Physician" in 1867 and kept the name Swayne & Son. This made for a smooth transition around 1887, when he brought his own son, William A. Swayne into the business. They continued together for a few years, then, sometime around 1904, the business was taken over by Walter Micram and Howard Sowden. It is not known whether they bought it out, or just started managing it. William P. Huson would die in 1906.
The earliest advertisement I could find was from a Reading, Pennsylvania, German newspaper below from 1847.
Select Timeline:
1793: Birth, Huson Swayne, December 7, 1793 in Chester, Pennsylvania. Father was Caleb Swayne (1749-1825) and Mary B. Wood (1753-1825)
1818: Marriage to Susanna Phillips on 16 April 1818 in Hockessin, Chester, Pennsylvania. Children Philena P., Albanus Rest and William P. Swayne (1825-1906).
1838: Marriage to Sarah Ann Tryon in Philidelphia on 11 October 1838. Children George, Franklin  and Dorothy C. Swayne
1850: Dr. Swayne's Family Medicines, Dr. Swayne, N.W. Corner Eighth & Race streets, Philadelphia – Pennsylvania State Business Directory 1850-51
1861: Dr. H. Swayne & Son (Huson Swayne & William P. Swayne), family medicines, 8N 7th – Philadelphia City Directory
1863: Death, Dr. Huson Swayne, April 18, 1863 in Pennsylvania
1890: Swayne, William A. (Dr. Swayne & Son), h 330 N 6th – Philidelphia City Directory
1904: Dr. Swayne & Son – Philidelphia City Directory