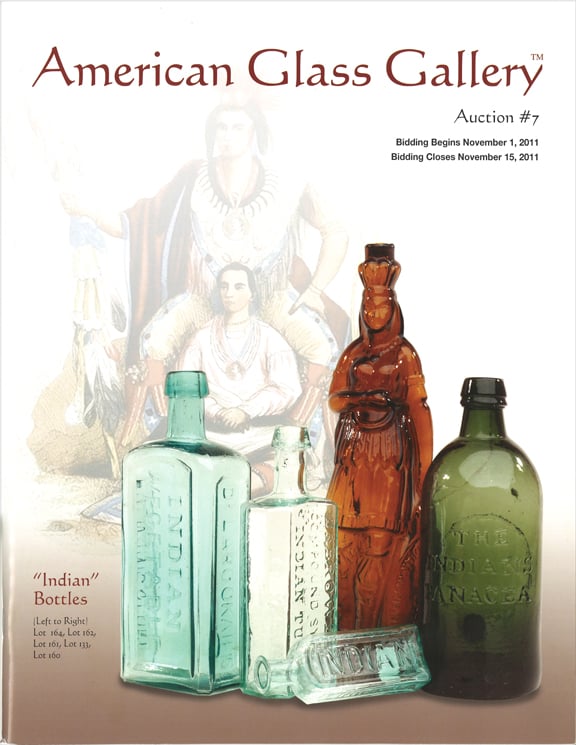 C. H. Swain's Bourbon Bitters
3 November 2011

John Pastor has a nice example of a C.H. Swain's Bourbon Bitters in his current American Glass Gallery Auction #7. The bottle is written up as follows:
"C.H. Swain's – Bourbon – Bitters", America, 1865 – 1870. Beautiful olive yellow, square with slightly tapering sides and beveled corners, applied sloping collared mouth – smooth base, ht. 9 ¼" width 2 ¾" (at shoulder) x 2 ½" (at base), virtually attic mint; (a little disturbance on the cover glass of a 1/8" narrow bubble on the shoulder, otherwise pristine). R/H #S 227. Gorgeous color and a very rare bitters from Chicago. Provenance: ex: Chris Batdorff collection. (See 1st picture below)
Beneath the picture I have provided two (2) pictures from my collection, one being the R/H 228 variant.
Read More: Interesting Swain's Bourbon Bitters
S 227 SWAINS BOURBON BITTERS, Circa 1860's – 1870's
C. H. SWAINS // BOURBON // BITTERS // f //
9 x 2 3/4 (6 7/8) 3/8
Square slightly tapered, Amber and yellow olive, LTC, Applied mouth, Rare
The LaPorte Union, March 14, 1866 – Keokuk newspaper advertisement:
A healthy tonic, gentle stimulant and unequalled morning appetizer. Prepared in ripe old bourbon whiskey. Free from grain oil, with flowers, buds and barks of the highest medicinal value. By increasing the appetite, assisting digestion, regulating bowels, and giving tone to the system, they impart strength to the body and cheerfulness to the mind.
S 228 SWAINS BOURBON BITTERS, Circa 1865 – 1875,
C. H. SWAINS // f // BOURBON / BITTERS // f //
C. H. Swain, proprietor 34 South Water Street Chicago, Illinois
9 x 2 5/8 (6 7/8) 3/8
Square, Amber, LTC, Applied mouth, Scarce
Panel tapers 1/8 inch wider at shoulder than at base