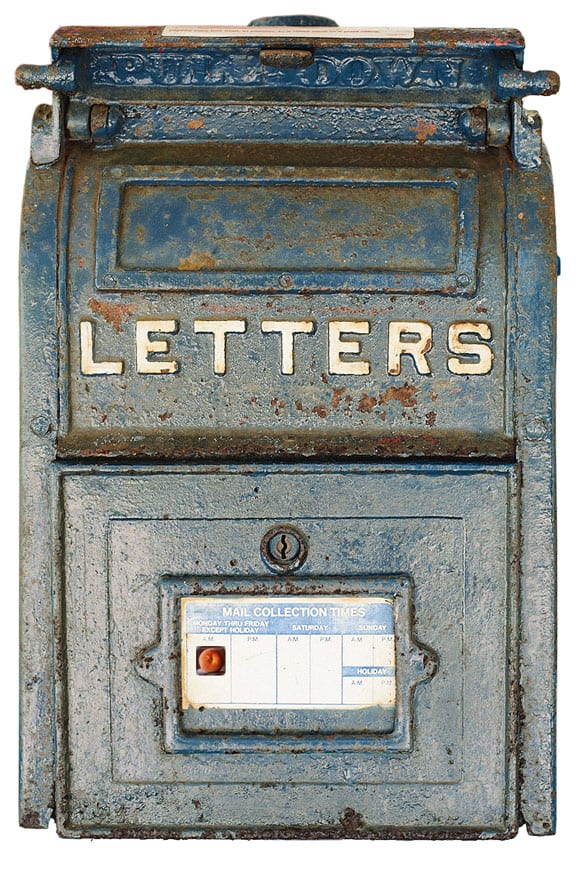 Please feel free to send any antique bottle or glass questions to ferdinand@peachridgeglass.com. The information will be posted if relevant or of interest to the readers. I will try to answer or wait for another reader to respond. Quality images are very important. Thanks! If you want to see previous questions,go to "Mailbox Letters" in "Categories" on the right column of each page.
Mailbox Letters
July – September 2014
---
I found a Wm. Henry Harrison bottle
Hi,  I found a Wm. Henry Harrison bottle and would like to know more about it.  It's greenish in color and stands 2-1/2 inches tall and 2-3/8 inches wide.  The mouth has been broken and there is a hole through the back bottom corner.  There is no writing on it but the cider barrel is unmistakeable.  There is an indentation on the back.  I do not know why it's there.  I've attached some photos.  Except for what you have on the internet I can't find anything about this style of bottle.  Is it a rare style? Is it an ink bottle or give away cider? Given it's condition is it worth anything? Thank you,  Jim
PRG: Probably an ink bottle. The condition is not good and this will negate any value.
Read: Rare Circa 1840 William Henry Harrison and Tippecanoe Log Cabin Bottle! – on eBay!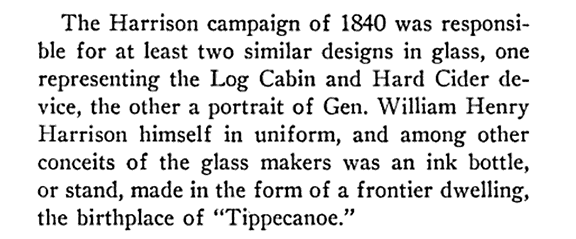 ---
H&K Bottle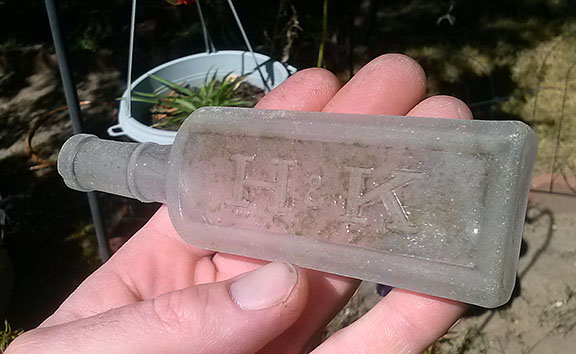 Hello, I am a native American artifact hunter from Wichita, KS. Recently I found an H & K bottle in the Arkansas river south of town. I've been unable to locate another like it and was hoping for some input or resources to identify it. I'm not researching it for profit, more out of curiosity. I found an article you posted in April of this year and thought you might help. Attached are some pictures of the bottle. Thanks for your time, – Levi
Read: H & K Stomach Tonic Bitters – Ashtabula
---
DeWitt's Dots
Here is a pic of a Dewitts stomach bitters that I bought from e-bay this month. It has really weird embossing as you can see, I have never seen this before on a bottle. Do you know anything about it, it is not listed in Ring-Ham……Thanks …..Andy Volkerts
PRG: Yes weird. I have an example and have written about it before. A mystery Read: Braille Dots on a DeWitts Stomach Bitters
Bracelet Pontil Demijon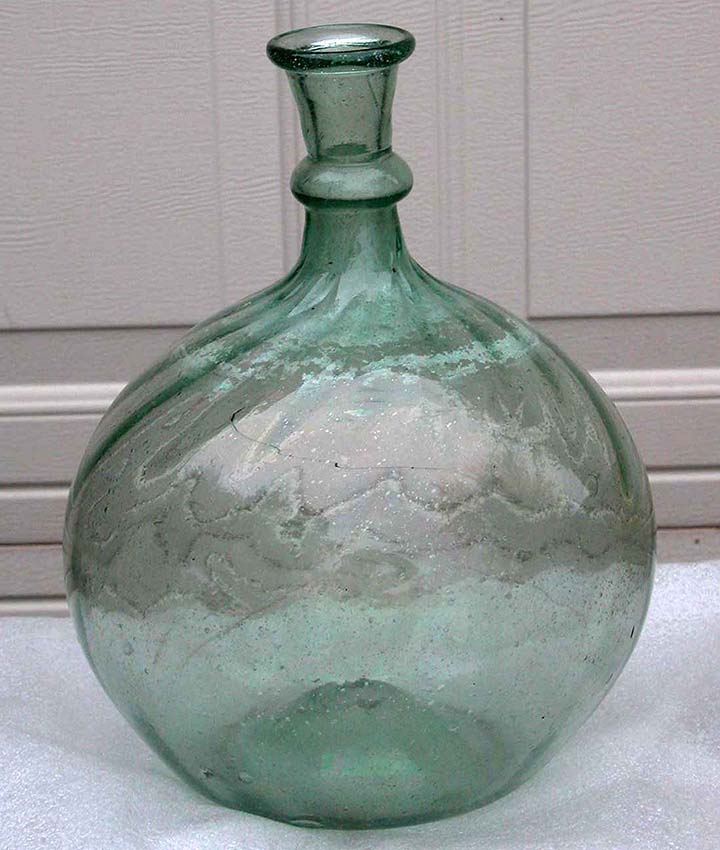 10 1/4″ tall by 8 1/4″ diameter by 4 1/4″ pontil base with great high point wear. Seen many like this oldie? Really crude with seed bubbles and inclusions. – Ron Krupa
PRG: Getting reports that this could be from South of the Border.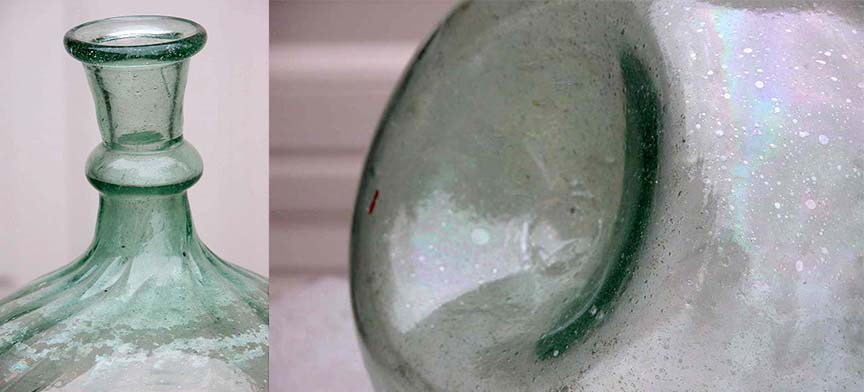 ---
One Gallon Harrisons Columbian Ink Bottle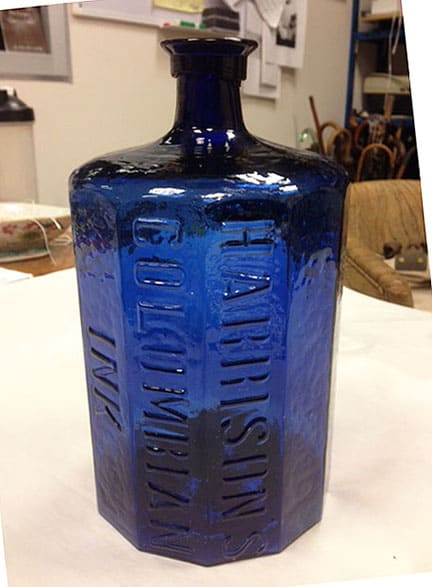 Hi Ferdinand ,
I have a One Gallon Harrisons Columbian Ink Bottle, I found your info online and you know a lot about bottles. I was wondering if you would be so kind as to direct me in the right path, to send this bottle to auction. My name is Joe xxx. I live in Atlanta Ga. I am including pics of the bottle, it is in great shape from what I can tell. Let me know what you think if it. Thanks again , feel free to email or call me, xxx
Joe 
PRG: Joe, great piece. I have included links and contact info in a return e-mail for a few top auction houses.
---
Dr. Henley's Typestyle Font Question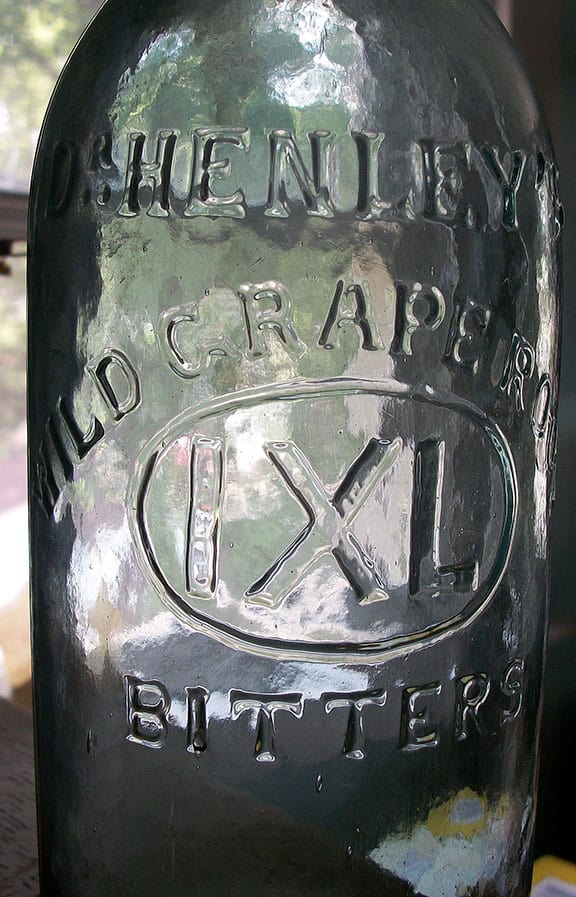 I recently acquired this Dr. Henley's. It's aqua and looks to be the same as all the rest EXCEPT the word BITTERS is much smaller and narrow than every other variation I have seen. I'm hoping you could shed some light on it. Is it a scarce variation? What would you appraise it at?
Thanks,
Brandon Smith
From Dale Mlasko: The IXL is a later variant circa mid to late 1870s. This "small bitters" variant is not necessarily scarce and is often seen. It comes with an applied top and in some wild colors including yellow and yellow green. The value of an aqua example might be in the $175-$225 range if it is crude and mint.
---
Washington/Taylor Flask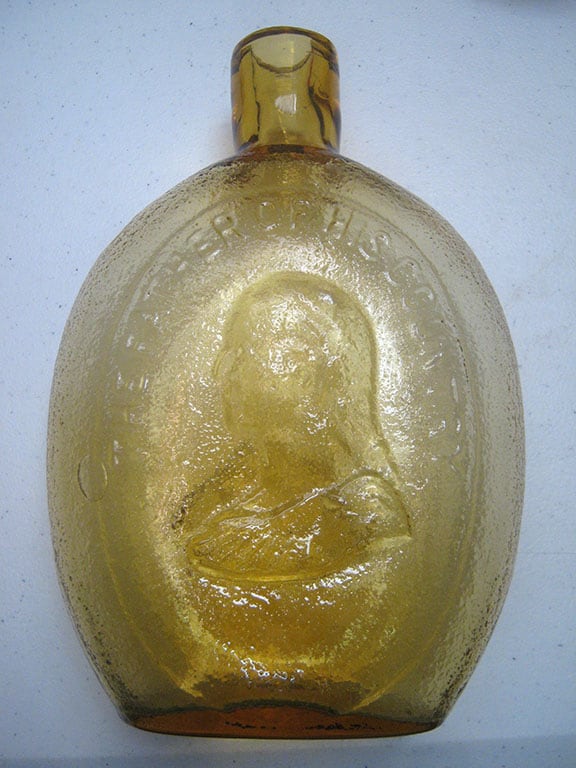 Hi Ferdinand Meyer,
I was surfing the internet for a Historical Bottle collector who could maybe identify a bottle that I've got and stumbled upon your peachridgeGlass.com website! I have this Washington/Taylor Flask that I'm dying to know more about and thought you might be willing to answer a few questions about this Flask. I attached a few pics to help you identify it..it has a sheared mouth and has a large bubble(pictured) with thousands of little bubbles..The one side reads THE FATHER OF HIS COUNTRY and the other GEN TAYLOR SURRENDERS. It looks to be a GI-37 or GI-40a but I cannot find a value or info on this particular one that has this amber color and also has a sheared mouth? I'm still kind of new to identifying flasks so if you would be able to help me identify what it is and/or what the value is, it would be very greatly appreciated!! Thank You in advance!! 😉 – Wayne H.
PRG: Wayne, This is not my area of expertise so I will let another respond. It sure looks like a reproduction though.
---
Grover & Wheeler Raspberry Syrup Bottle Needs Info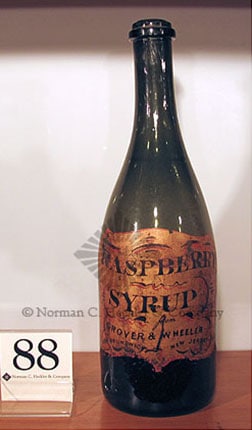 Hi Ferd, How have you been? I recently picked this up for my New Brunswick, NJ collection. This was part of the last Heckler auction. I am having the hardest time finding anything on Grover & Wheeler in New Brunswick or figuring out how to date this piece. Any insight and/or tips on research? In your years of collecting, have you seen anything similar?
Best regards, Kenny Blaine
PRG: Kenneth: This is a tough one as you say. All I can find is Goodwin A. Wheeler who was a grocer in New Brunswick. Cool bottle.
---