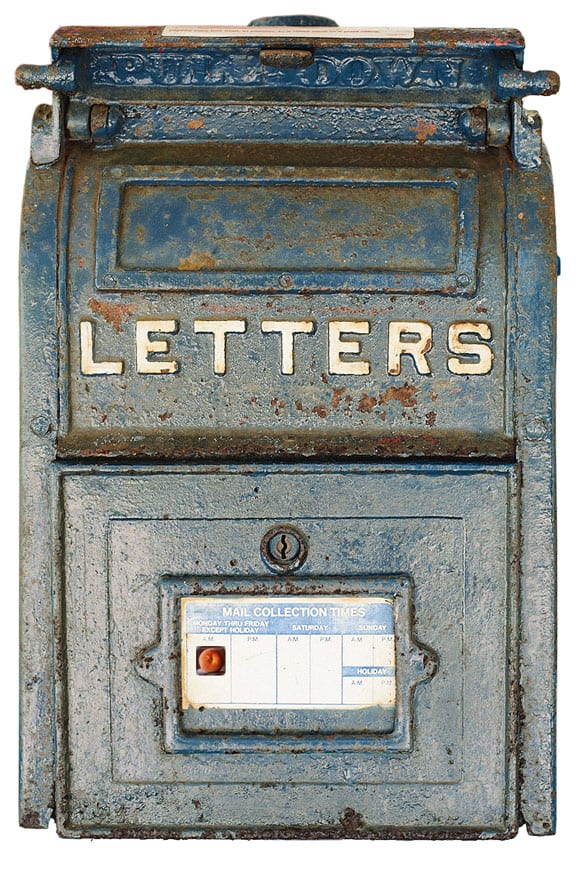 Please feel free to send any antique bottle or glass questions to ferdinand@peachridgeglass.com. The information will be posted if relevant or of interest to the readers. I will try to answer or wait for another reader to respond. Quality images are very important. Thanks! If you want to see previous questions,go to "Mailbox Letters" in "Categories" on the right column of each page.
Mailbox Letters
January – March 2014
---
Mystery bottle found buried in sand dune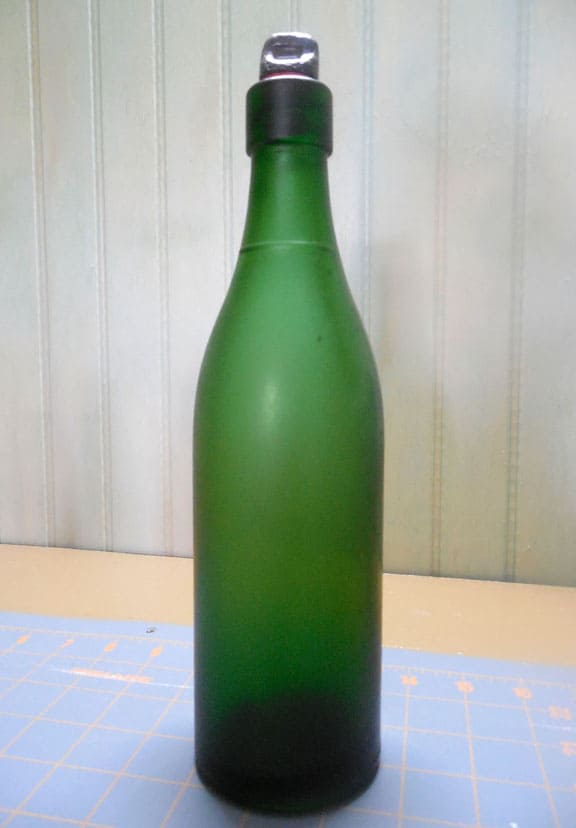 May I ask for your assistance in identifying this bottle found on the northeast coast of Newfoundland, Canada? It has a plastic stopper with the word TREUCO on it. There's an encircled capital B with a couple of waves beneath the B. Capital A at the top then Din then the B logo and 0,5 l ( written l) It has an internal treading too, I have more pics of it if you require. Thanks for your time and effort.
PRG: Not sure Tracey. Could be a later bottle from Dr. J. F. True & Co. from Auburn, Maine.
---
Masonic/Eagle flask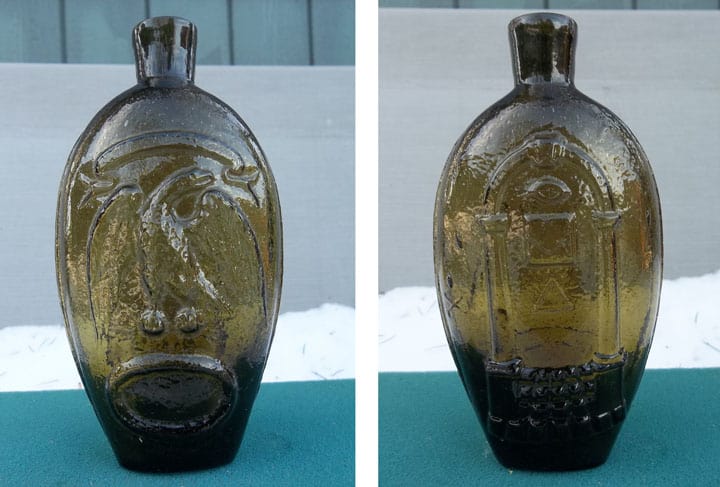 Dear Ferdinand, I found your website on line, and I have a really nice old bottle that I was hoping to get some more information about its worth and if you know of any collector who may be interested in it. I have been a bottle digger/collector for years, and I would like to sell this one before it accidentally gets broken . It is a Masonic/Eagle flask. Olive green, pontiled bottom, half pint. On the front it has an eagle with a banner above it's head and an oval shape under it's feet. There are no other markings on this side. (No initials in the oval, and no writing on the banner, nothing in eagles talons. On the reverse side are the Masonic arches, symbol of an eye, then under that, the Masonic symbol, then under that, a triangle with starburst around it. To the left of the left arch is a sunburst, then under that is what looks like a bubble, then under that is an "x" with a "bubble over the top. The main interest to me is that the Eagles head is turned to the left, and I could only find on internet, M&A flasks with eagle head turned to the right . Attached are the best photos that I took of the bottle. I look forward to hearing back from you.
Gary
---
Killer London Jockey Clubhouse Gin Bottle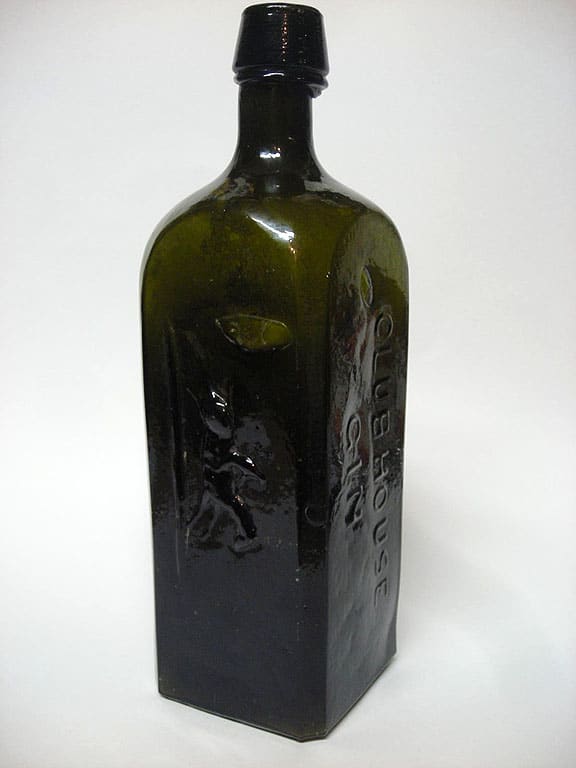 Hello Mr. Meyer,
I've visited your website and read with interest the collection value of antique Clubhouse Gin bottles. I found one in southern Idaho years ago digging a well on our property. Recently I decided to see if it had any value and was surprised at what I found on the Internet. Here are a few photos of my dark green LONDON JOCKEY CLUBHOUSE GIN bottle.
PS:  You'll probably notice this in the photos, but I forgot to mention the 'N's' in the word – LONDON – are backward!  I assume this unique mistake would add to the value of the bottle.
Dale
Read: London Jockey Clubhouse Gin Bottle
---
Glass Whimsy Canes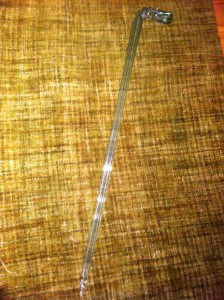 Hello Ferdinand,
I found your post regarding glass whimsy canes (Glass Batons and Canes at Glass Works Auction #96 and Glass Cane Whimsies) and thought you might like to see the attached photos. The cane in the photos was purchased by my great-grandfather at the 1904 St. Louis World's Fair. I have no idea how it survived all this time. I remember being allowed to play with the cane when I was a child, and I'm sure plenty of other ancestors and siblings did the same.
The cane currently resides on my piano, but my wife and I plan to display it more securely in the near future. Sorry for the quality of the photos (iPhone). If you are at all interested, I'd be glad to take some better ones with a decent camera. I just thought I'd let you take a look at these first.
Any idea what the cane is worth? I never know when to insure family heirlooms or not.
Tim DeMoss
PRG: Tim, the value here resides with memories. I doubt mush $ value.
---
Extensive collection of Barber Bottles
Mr. Meyer,
While searching the internet for information on Barber Bottle Collections I found your website. Recently our grandparents passed and our grandfather had an extensive collection of Barber Bottles. The collection started with his grandfather and has continued to be built upon. Our grandparents were also antique dealers for over 50 years so adding to the collection was not a hardship.
Do you know of any individuals who might be interested in purchasing such a collection or can you give me any ideas on who to contact to sell such a collection? The collection was insured for $50 K In addition to the bottles there is also an extensive barber mug collection. The collection is in Florida.
Any help you could give me would be much appreciated.
Sincerely,
Denise Mears
---
Labeled Royal Italian Bitters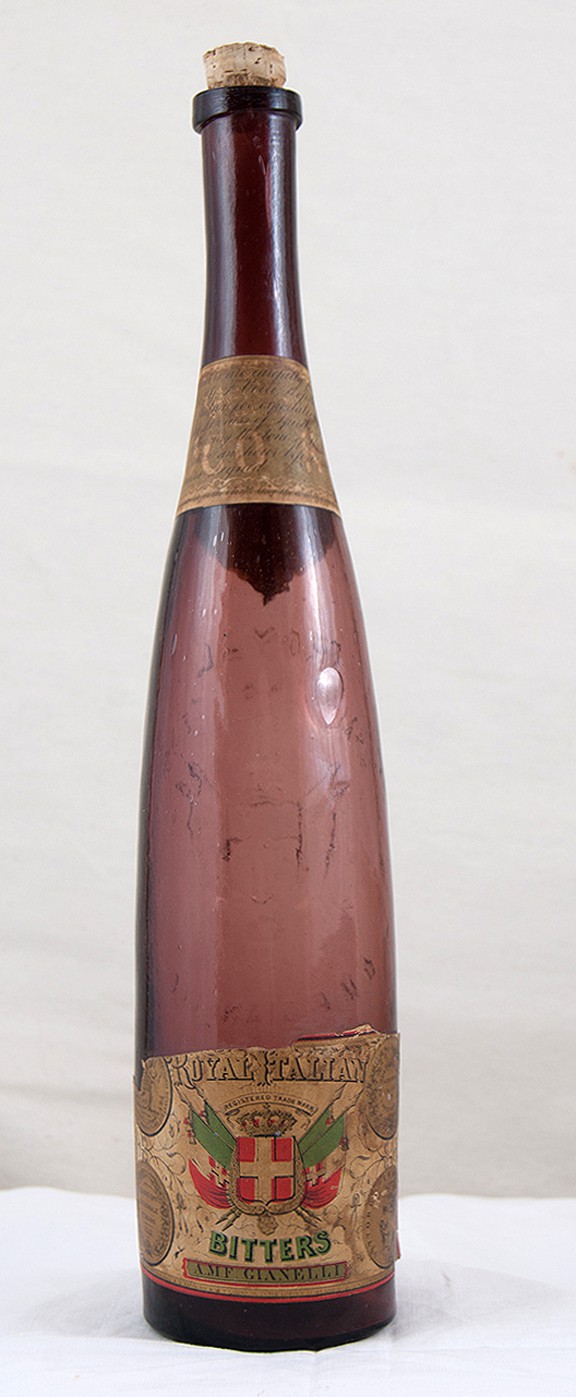 Hello, I recently found your site where you had posted some images of a bitters bottle which I also have. It is labelled Royal Italian Bitters, A.M.F. Gainelli Geneva. I have owned this bottle for 12 years, having found it in an attic of a very old Northern Vermont Farmhouse. There is quite a bit of label still legible as well as part of the cork. I have done nothing to clean it.It is as it was found, in excellent condition, no cracks, chips or stains.
I am wondering how one should price something like this, and if e-bay is the standard path to take for such sales or are there other places? Here is a photo of it, I have taken several and have very close up ones also that show it's great condition.
Thank you so much for your help. – Annie
PRG: Wow, what I great bottle!. Have not seen a labeled example. Suggest one of the bottle auction houses.
Read: Royal Italian Bitters by A.M.F. Gianelli – Montreal
---
"Known Example" Question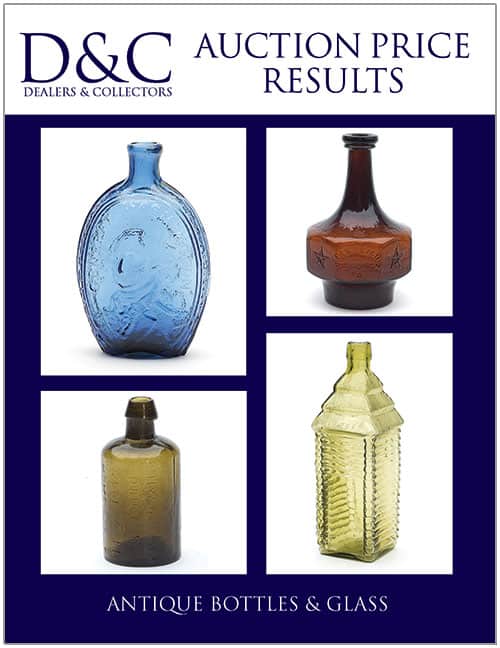 Hi, I found your website poking around on the internet and I was wondering if you could answer a question for me? Can you tell me how they know how many 'known examples' there are of any particular historical flask?  I noticed this reading on your website where there were references to "known examples" when talking about rare flasks. Is there a list somewhere that you can find out the number of examples of different historical flasks that are known? Thank you for your help. ~ Victoria
PRG: With extreme rarity it is possible to track known examples. There is not a list that I am aware of. There are a few Auction Price Guides that show what flasks have sold for over the years. Please check out this link on the FOHBC web site.
---
Dr. Von Hopfs, Curacoa Bitters found in 18th Century House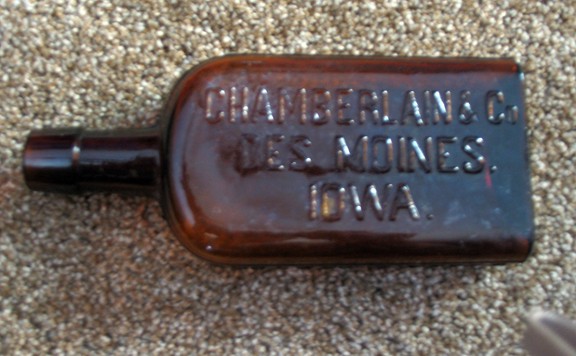 I have a glass bottle that is from Chamberlain and Co. Des Moines IA. Dr. Von Hopfs, Curacoa Bitters. On the bottom it says S B & C Co. The dimensions are 3 1/4 wide by 7 5/8 tall. It looks very similar to the V 28 DR VON HOPF'S CURACOA BITTERS, Circa 1890 that you have listed on your website. As far as we can see there are no cracks or chips, and it is in excellent condition. It does have a film that soapy water is not taking off. Do you have any suggestion as to what will take that film off? We found it in a 18-Century house that we tore down. We were wondering if you know any other history, like the dates it was made, and the value of the bottle? We look forward to hearing your response back.
Josh and Melinda
PRG: The bottle may need to be professionally cleaned. It may not be worth the cost as this is a fairly common bottle with a low price value.
Read: Dr. Von Hopf's Curacoa or Curaco (or Curacao) Bitters
---