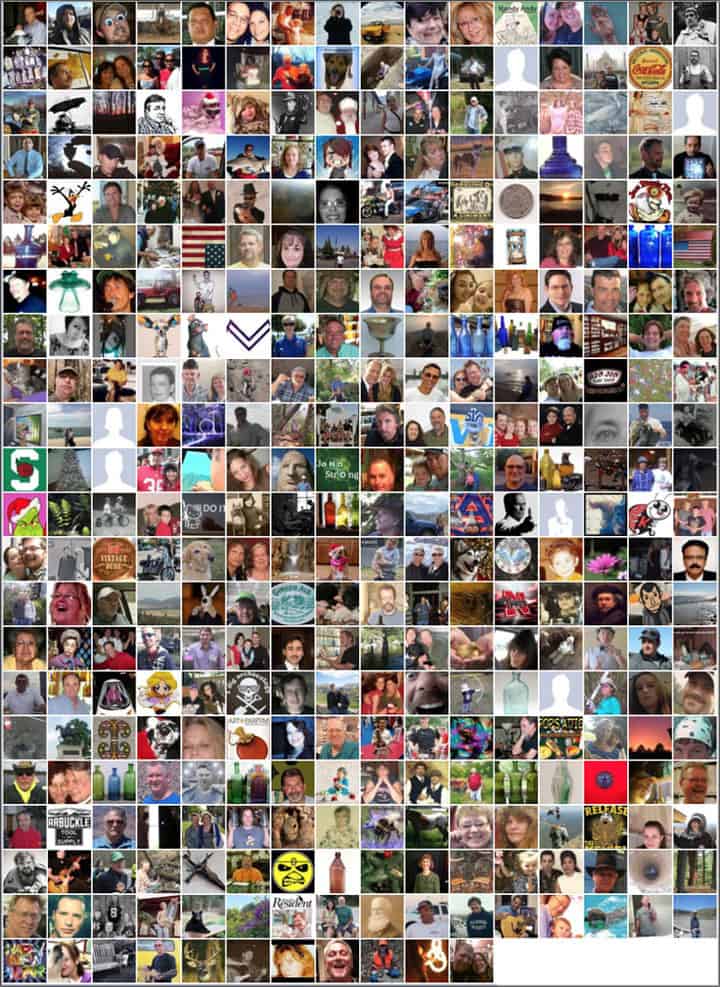 The Antique Bottle and Glass Facebook Sites
06 January 2014

I remember giving a talk at one of the FOHBC membership meetings at a national show a few years back on the new generation of bottle collectors and how they communicate. When I mentioned 'Facebook', a few of the well respected, and well known collectors kind of bristled at the comment, basically saying, "don't expect to see them on Facebook anytime soon".

Yes, I know, nothing may ever beat being at a bottle show and seeing glass in person wherever it may be, but we have to realize, you can basically immerse yourself with antique bottles and glass anytime and anywhere….online. It is, what it is. Times have changed.
I though I would spend a moment showing you some* of the Facebook sites related to our hobby. I realize many of you are aware of these sites but I also know, many of you are not. The numbers next to each destination represent the amount of 'Facebook likes or members' a page has, as of this date. If you are not a member of Facebook, it only takes a moment to become one. Join the other zillions of members on Earth.
* Yes, I know I have missed many Facebook sites and areas of our hobby. I just had to draw the line somewhere. It you feel like your page wants to be added, simply let me know.
---
Ricks BottleRoom –

881 Members
Rick DeMarsh has to be one of the very first to really explore the potential of Facebook and bottles. He is the 'Go-To' guy, in my opinion, with bottle questions. He is as helpful as can be and a possesses a wealth of information. This page also feeds Rick's excellent web site of the same name. Visit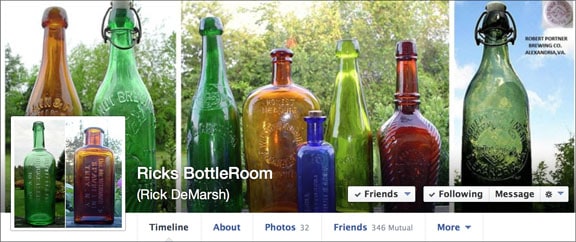 ---
The Federation of Historical Bottle Collectors (FOHBC) –

1,924 Members
The official Facebook site is for the Federation of Historical Bottle Collectors. The site is typically used to capture the interest of new collectors and persons looking for bottle information and club information. A tremendous amount of information is posted on the site. Look for weekly antique bottle and glass news. The hope is that these new collectors will visit the FOHBC.org website and become members. Visit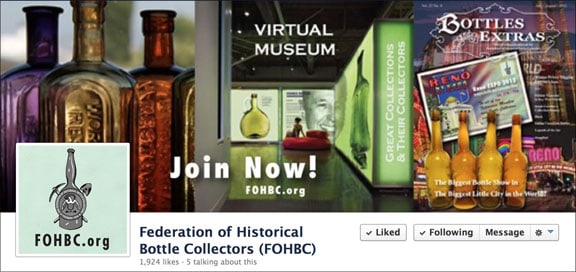 ---
Peachridge Glass –

1,131 Members
This Facebook site is the 'feeder' page to the Peachridge Glass web site. The page is administered by Ferdinand Meyer V. Look for daily antique bottle and glass news. Visit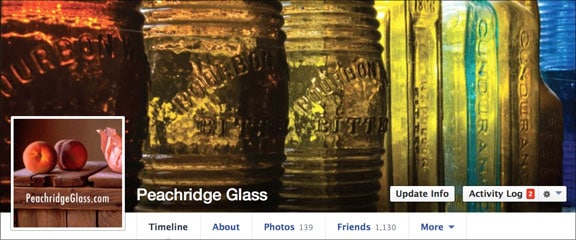 ---
Antique Bottle Collectors –

1,531 Members
Without a doubt, the fastest growing bottle and glass Facebook page. Started by Taylor McBurney and administered primarily by Rick DeMarsh. This group is open to anyone who collects antique (100+ year old) bottles or is interested in collecting antique bottles. There is a ton of material posted on here daily by veterans and newcomers alike. Visit

---
Vintage Bottle Collectors –

566 Members
A Facebook site for the later, machine made bottles that are such an important part of our hobby. This group is for selling your vintage bottles and showing your vintage collection. Bottles newer than 1913 are considered vintage. Please ask Rick DeMarsh or Damonich your questions and they will be answered. Visit

---
Early American Glass Collectors –

352 Members
A wonderful Facebook site for early american glass especially, but not limited to rare glass items from historical American glass manufactorys. Headed up and attended by many eastern and New Englanders, like many of the sites, you can find a global audience. Visit

---
Patent Medicines of the 19th Century –

247 Members
This group is for discussing the history of early patent and proprietary medicines. Post photos of bottles, advertising, boxes, and other ralated items. The page is administered by Matthew Knapp. Visit

---
Botelleros –

329 Members
I thought I would include one of my favorite foreign bottle collecting pages. There are quite a few pages and the list seems to be growing all the time. If I am not mistaken, this site is administered by Martin Rodriquez. Visit

---
Early American Pattern Glass Society –

329 Members
A non-profit group of collectors and dealers who share an appreciation and love of pattern glass, to foster and encourage the collection, appreciation, study, preservation, and documentation of early American pattern glassware, and its place in American life, past and present. Website: www.eapgs.org Visit

---
Antique & Vintage Bottles buy sell trade –

420 Members
Group for bottle collectors of all types..buy, sell or trade. Site administered by Michelle Chevallier. Visit

---
The Quack Doctor –

677 Members
The Quack Doctor is a blog about the strange history of patent remedies and the people who promoted them. The site feeds TheQuackDoctor.com Visit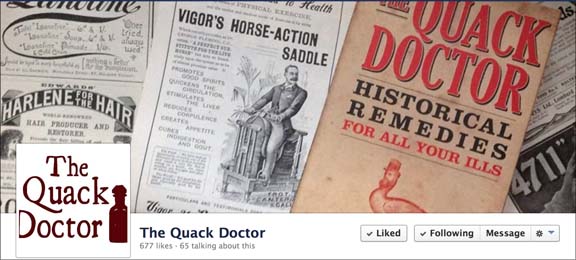 ---
Insulator Collectors –

440 Members
Enthusiasts/collectors of antique glass or porcelain insulators. Visit

---
The Stoneware and Pottery Group –

612 Members
This is a discussion group for antique stoneware and pottery. A group that involves all types including early american, folk, ancient, etc. It is also for all types of jugs, crocks, bottles and other wares. Site administered by Rick Meech Burchfield. Visit

---
Fruit Jar Collectors –

67 Members
This is a group for people who collect antique fruit jars. Mason 1858, Ball Mason , etc etc. Visit

---
Pontiled Sodas and Mineral Waters –

114 Members
Pontiled Sodas and Mineral Waters Visit

---