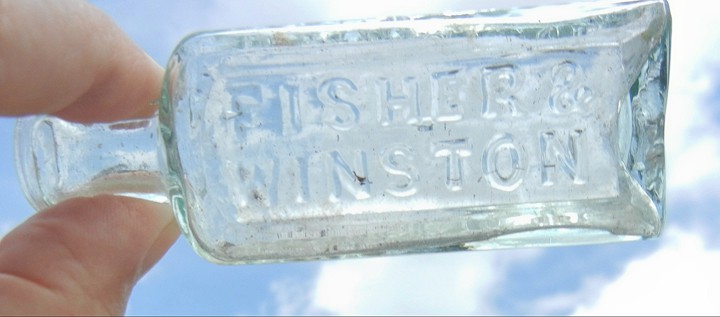 Fisher & Winston – Richmond, Virginia
19 January 2014

I have had some conversations and correspondence with Frank Bishop (South Carolina) the past year or so and was intrigued when he sent me this picture of a pontiled, Fisher & Winston medicine (top of post) from Richmond, Virginia. Fisher & Winston were listed in 1860 as Wholesale Druggists at 125 Main Street in Richmond.
Small Bottle above opening paragraph: 7″ pontilled druggist bottle embossed FISHER & WINSTON / DRUGGISTS / RICHMOND, VA. sold on eBay for $372 by rfmfg. Southeast Bottle Club – July/August 2003 Newsletter
James R. Fisher and Edmund T. Winston partnered together in Richmond, Virginia in October 1857 and advertised heavily in Virginia and North Carolina within the Richmond Dispatch and other Virginia newspapers of the period. They were Druggists, sole agents and sold many products such as Tyler's Compound Syrup of Gum from Baltimore, Planett's Bitters from New York, Baker's Premium Bitters from Richmond, Spalding's Rosemary and Castor Oil from Boston, Burnett's Superior Extracts, Hartshorn's Buchu Compound, Rockbridge Aluminum Water, Mrs. Daw's Cough Elixir and London Club Sauce, among many others.
Fisher & Winston advertisements stopped in late 1860. James Fisher was listed as a druggist in the 1870s and later shows up as Fisher & Conrad in 1874 in Richmond.
A few advertisements and pictures of interest have been culled to support the post.
HISTORY