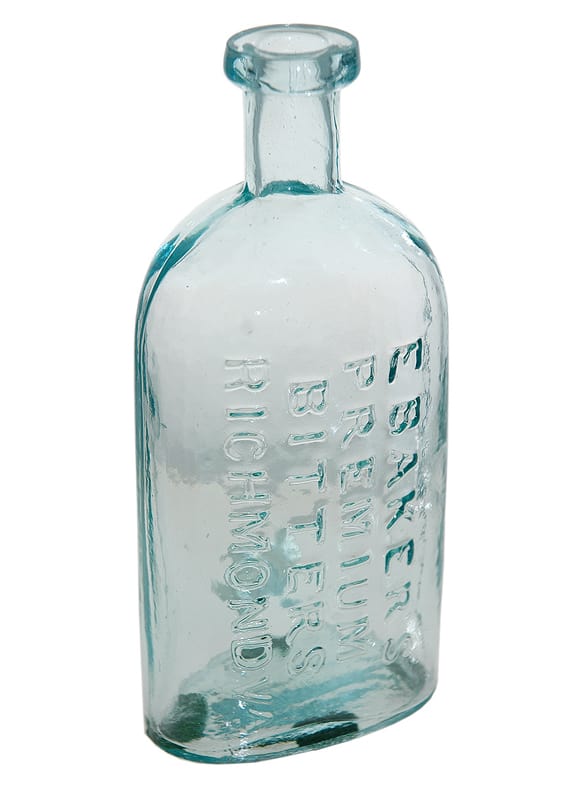 E. Baker's Premium Bitters – Richmond

(Virginia Bitters Series)
R I C H M O N D
10 April 2012 | Post Updated 30 July 2013 (R•120513)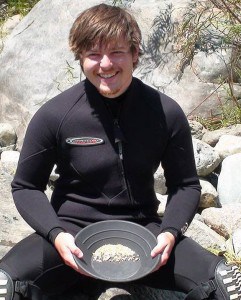 At the Baltimore Bottle Show this past March, Virginia digger and collector Tom Leveille, who now lives in Newport News, Virginia asked me to take a picture of my Virginia Bitters bottles in a group shot. I knew this might be a difficult assignment because I would have to look at my records, embossings and other info to determine exactly which bottles qualified. Some bottles may be from Virginia and may not even be embossed with a Virginia city, town or state name. I also asked about the Ta Tsing Bitters from West Virgina (Read previous post: Ta Tsing Bitters – The Great Chinese Remedy) and Tom said sure "Both Virginia's".
Of course some Bitters bottles jumped right to the front of the list and that is where I will start. The E. Bakers Premium Bitters | Richmond, VA.
Tom has also set up the Richmond Area Bottle Collectors Association on facebook and belongs to the Richmond Bottle Club.
Early Richmond Map
Baker Listing
The Carlyn Ring and W.C. Ham listing in Bitters Bottles is as follows:
B 10.4  E. BAKER'S PREMIUM BITTERS
E. BAKER'S / PREMIUM / BITTERS / RICHMOND VA // c //
6 3/4 x 3 1/8 x 2 1/8 (4 3/4)
Oval, Aqua, NSC, Applied mouth, Rough and Metallic pontil mark, Rare
Nothing after Richmond, period under A of Va.
Elijah Baker
Elijah Baker lived and worked out of the house pictured above. The house was built in 1850 and had an arrangement of porch and entrance somewhat unique in architectural style for Richmond. The two-story portico, instead of being in the rear, is on the west end of the house, and just below, is the rather elaborately carved entrance door. This unusual arrangement is probably due to the fact that Baker carried on his business at his home. As late as 1885 he was making "Baker's Premium Bitters", one of the many patent medicines extensively advertised in old Richmond newspapers. – reference Old Richmond Neighborhoods, Mary Wingfield Scott
Baker's Premium Bitters Advertising
Incoming email 29 July 2013: "I have done a bit of research on Elijah Baker, as he was my 4th-great-grandfather. If you're interested, just today I had posted a blog about him" Read about Elijah Baker. You mentioned advertising on your page – there is one ad included on my blog, but I have others, which I've attached to this e-mail. Most of them are from 1894, when his grandson Elijah Jr. was running the business. Hope these are some help!" Five new Advertisements posted below.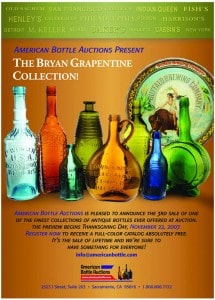 My smooth base example was purchased at the famous 3 session American Bottle Auctions | Grapentine III | Auction 43 and was Lot #868 in November 2007.
I would like to ask the Tom and/or the Richmond Bottle Club to get me more information on this bottle such as the label, advertising, where it was made and information on E. Baker, that is, if it exists.