F. Pasquier's French Hygienic Bitters –

Louisville
18 December 2013

A few of you may have noticed the 1871 advertisement (see below) within the post for the Rivaud's Imperial Bitters from Louisville, Kentucky the other day. That advertisement listed bitters manufacturers and brands in Louisville including Brady's Family Bitters, Victor Rivaud's Imperial Bitters and J. H. Schroeder for Schroeder's Cocktail Bitters.
There was also a listing for the extremely rare Pasquiers French Hygienic Bitters. Man-o-man, is this a rare bird. I believe only one example exists and it is held in a Kentucky collection. That bottle is pictured within this post. This might be the bottle that was found in the Chicagio river front area according to Carlyn Ring and W.C. Ham in Bitters Bottles. That listing is as follows: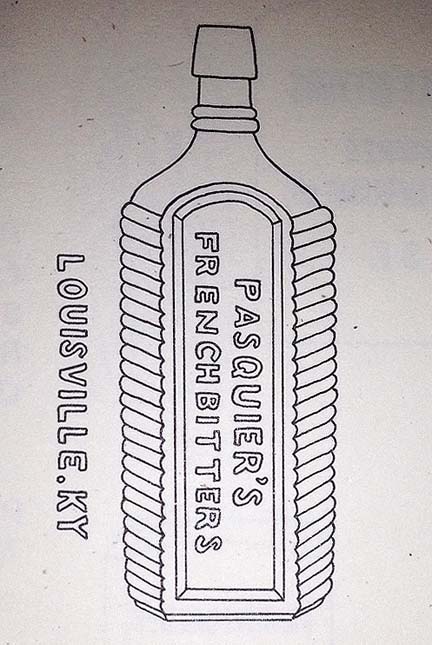 P 29  Pasquier's French Bitters
PASQUIER'S / FRENCH BITTERS // LOUISVILLE, KY // sp //
Francis Pasquier, Market Street, Louisville, Kentucky
10 x 3 (6 3/4)
Triangular, Amber, LTC. Applied mouth, 3 sp, Extremely rare
25 rings decorate body of bottle., 2 rings at base of neck
Louisville City Directory, 1855-83 Francis Pasquier inspector and dealer in foreign and domestic liquors. 1870-78 listed as manufacturers of French Bitters. All business at different numbers on Market Street.
One found in the Chicago river front area.
See: German Wine (G 32) Exact same mold for German Wine Bitters, Charles Schlitz, Milwaukee, Wisconsin. One dug in Green Bay, Wisconsin.
Not much is know about Francis Pasquier. I do see a Philadelphia Passenger and Immigration List showing a brig arriving in Philly from Havana in 1810 with a Francis Pasquier. Possibly the father. Stay tuned.
Select Date Milestones
1817: Francis Pasquier born, France
1850: In June, 1850, a hysterical and chlorotic young girl, affected also with anaesthesia, amyosthenia, amenorrhcea, and dyspepsia, was two months in one of Dr. Eostan's wards, vomiting every day almost all the solids and fluids which she was prevailed upon to swallow. Iron, it is remarkable, had been prescribed in vain, as well as many other substaoces, and only pills of oxide of zinc had appeared to do a little good.
Chance having led me to examine this patient, the eminent physician of the Hotel Dieu kindly allowed me to try my treatment. I begun by ascertaining the suitable metal, and it proved to be brass, in plates. Afterward the Committee of the Academy, many distinguished physicians, Drs. Jobert (de Lamballe), Hourteloup, Pasquier, Beau, Tardieu, and Gosselin, whom I had assembled to witness the power of the metals on sensibility and motility, and Dr. Eostan himself, and his numerous clinical pupils, had satisfied themselves that this metal, applied experimentally, removed the anaesthesia and analgesia at the spot of its application and nowhere else. – The Richmond and Louisville Medical Journal, 1881
1859: F. Pasquier advertisement noting a Dr. Raspail's celebrated Higiene Bitters. Possibly a predecessor to the French Hygienic Bitters – Louisville Daily Courier, June 1, 1859
1860: F. Pasquier (43 years old), liquor merchant, wife Mary from Germany (24 years old), daughter Mary (2 years old), Louisville, Ward 6, Kentucky, born in France, 1860 United States Federal Census
1861: Wines and Liquors, Retail & Wholesale, Francis Pasquier, 515 E. Market, Louisville City Directory
1865: F. Pasquire, Wines & Liquors wholesale, ss Market, bet. 5th & 6th, Louisville City Directory
1870: F. Pasquier (49 Years Old, Female), manufacturer of stomach bitters, Louisville, Kentucky, born in France, 1870 United States Federal Census
1870: Bitters, F. Pasquier, 293 W. Market, Louisville City Directory
1870: F. Pasquier, mnfr. French Bitters, 293 W. Market, bds. ss. Market, bet. 5th and 6th,  Louisville City Directory
1871: Pasquier's French Hygenic Bitters, F. Pasquier, Louisville City Directory advertisement, 1871
1873: Bitters Manufacturer, F. Pasquier, 390 Main, nr 10th, Louisville City Directory
1875: Bitters Manufacturer, F. Pasquier, 652 Market, nr 16th, Louisville City Directory
1880: Francis Pasquier, r. 465 Portland Ave., nr. 21st, Louisville City Directory
1881: F. Pasquier, r. 38 1/2 Main, nr 2nd, Louisville City Directory
1883-1885: F. Pasquier, porter A. Rassinier & Co.,, nw cor 1st., Louisville City Directory
1893: Francis Pasquier, lab, r 310 3rd, Louisville City Directory