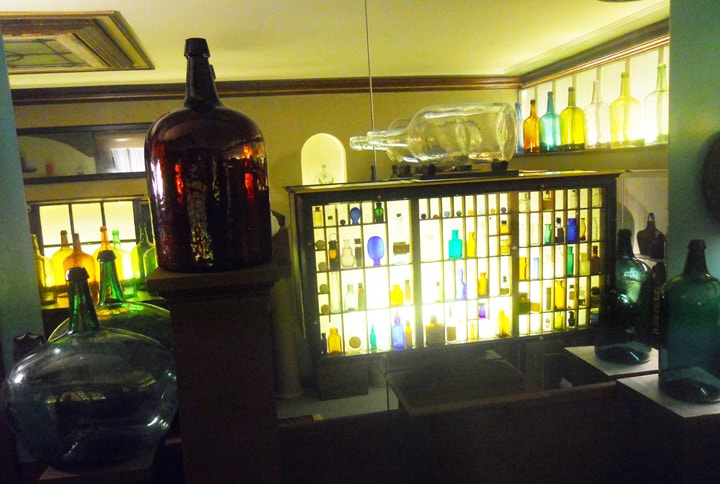 Having fun in the bottle room with mirrors, lights and camera. Not the
best quality photo, should have used a phone! – Gene Ainsworth

Here we go with the November 2013 group of pictures culled from a few of the Facebook sites. It looks like color is really dominating the collection this month.
November 2013 – Antique Bottle & Glass 
P H O T O    G A L L E R Y
30 November 2013
See: August 2013 – Antique Bottle & Glass Photo Gallery
See: September 2013 – Antique Bottle & Glass Photo Gallery
See: October 2013 – Antique Bottle & Glass Photo Gallery
---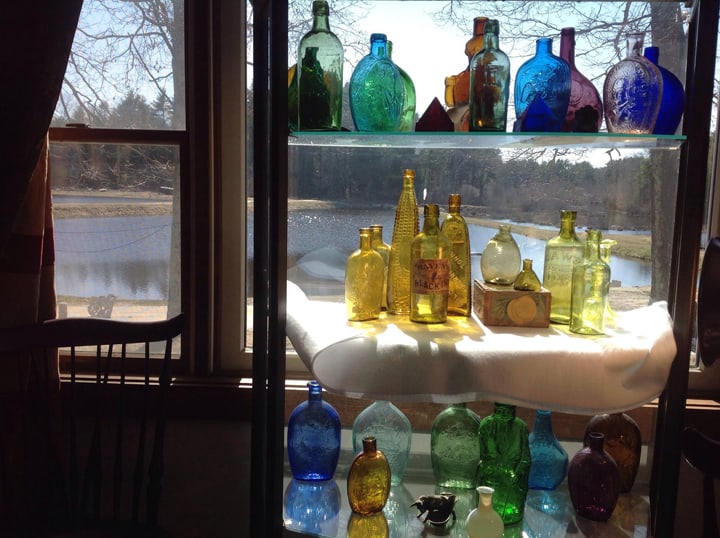 Brighten Up Your Day – Dave Olson
---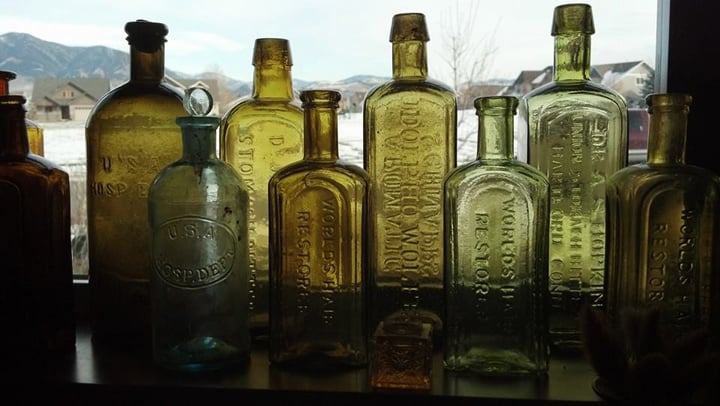 Thanksgiving bottles and thankful to all my bottle friends and wonderful hobby. Just took these pics. Sun is out but snow on ground time to finish an outhouse now. – James Campiglia
---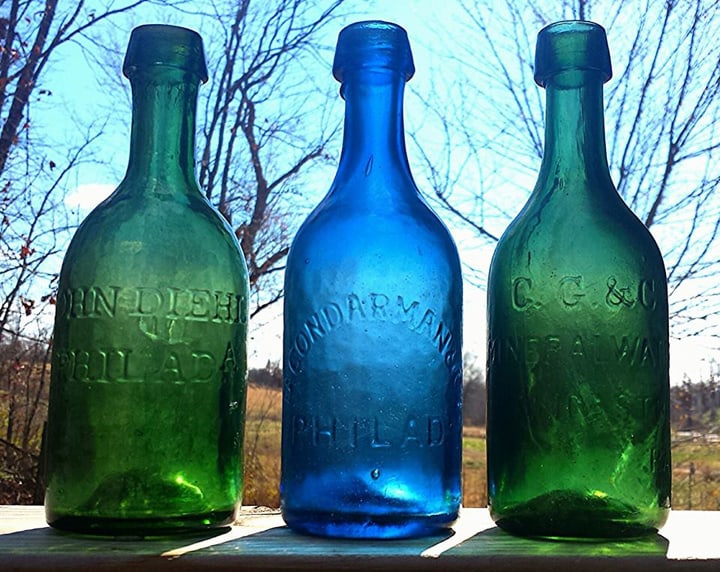 A few nice Pa sodas on a cold day – Tim Henson
---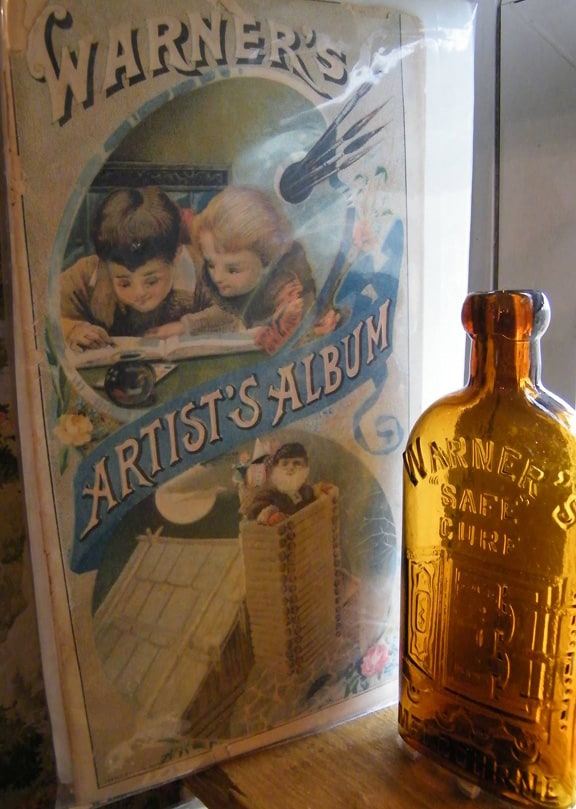 Warner's Artist's Album – Aaron Hanshew
---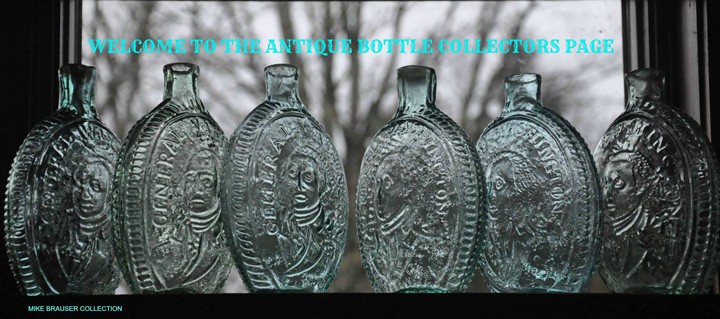 Bottle Collectors Facebook Group Photo, Mike Brauser collection – Rick DeMarsh
---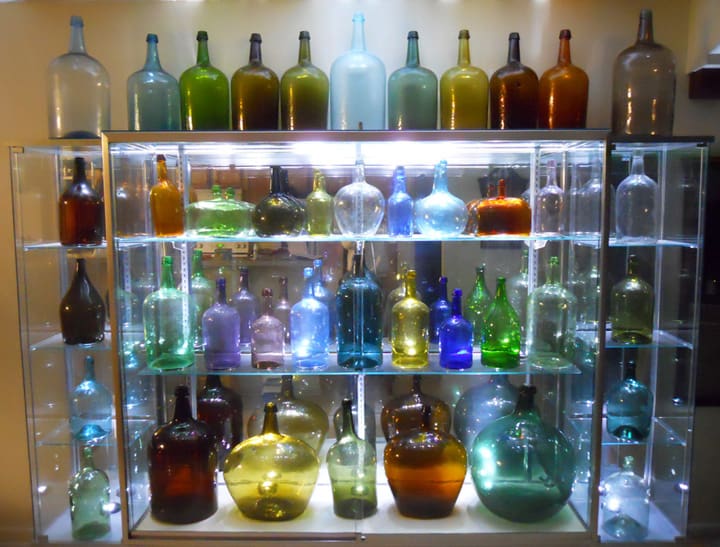 Wanted to share a somewhat fuzzy picture of a few demijohns, some are rather ordinary and some are not so ordinary. Hey Dale, you gotta have a lot of room to collect demijohns! – Gene Ainsworth
---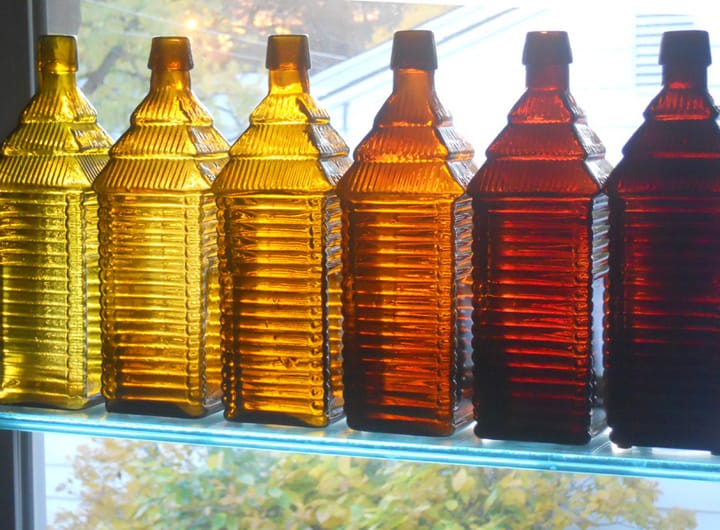 Trying to arrange an autumn colored line-up of Drake's to go along with the season, so I left the 7-up green and cobalt examples out of the picture.Also thinking of asking the neighbors if I can knock their house down so my bottle pictures come out better (: – Gene Ainsworth
---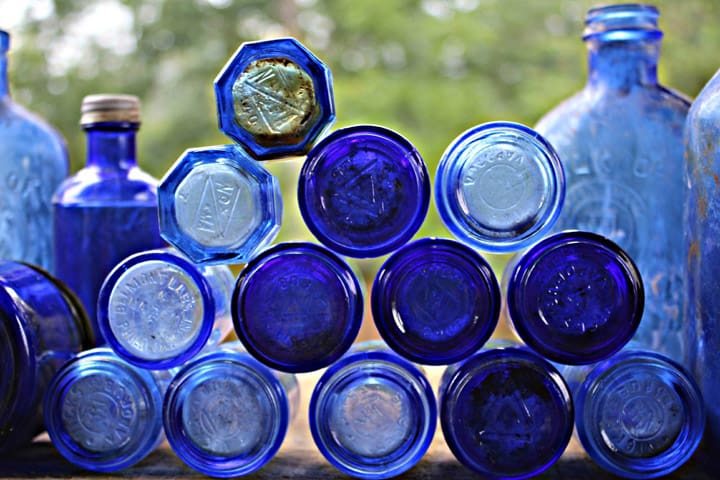 Blue Bottles – Keefert Peggy
---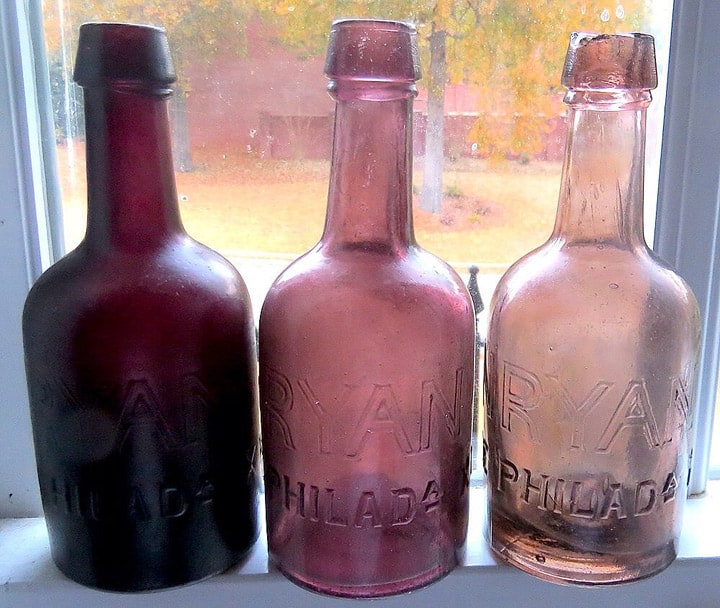 John Ryan Bottles – Mike Newman
---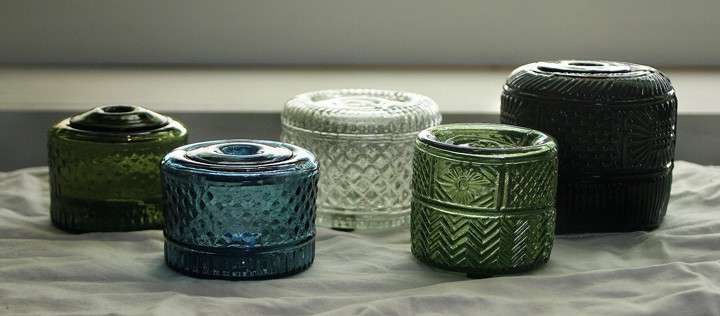 Pleased to add this little blue blown three mold GII-15 inkwell to my collection! Love these little BTM inks… lots of beauty in a tight little package!
– Michael George
---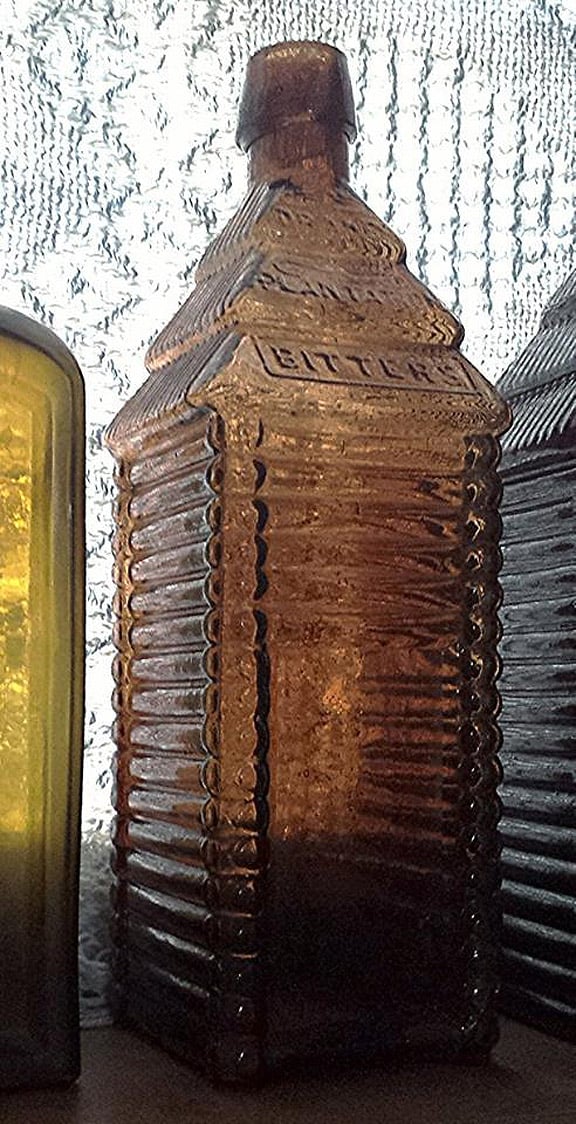 Abrabesque Drake's Plantation Bitters – Tim Henson
---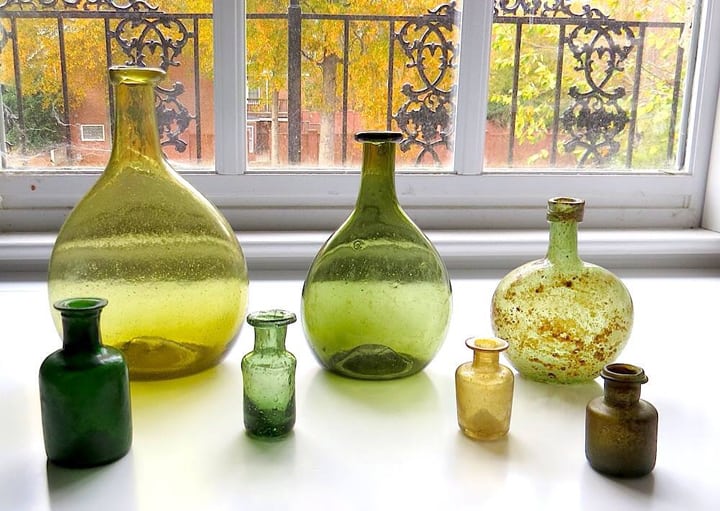 Decided to post some diminutive and crude pontils. For size reference, the Chestnuts measure approximately 7 and 5 1/2 inches in height. – Mike Newman
---
German influence, and probably all from there. But… I still keep coming back to the fact that many American glass factories in the US during the mid-late 18th century were comprised of German glassblowers, and of such traditions. It doesn't matter really where they were made… it's just funny that the one on the right is a new acquisition (yesterday!) and came from Manchester CT, one in the center was from a Maine estate, and the one on the left was found in NH by Boo Morcom. They all have differences, but a very similar style… miniature glob with slightly flattened sides. Dark 6:00am pic… – Michael George
---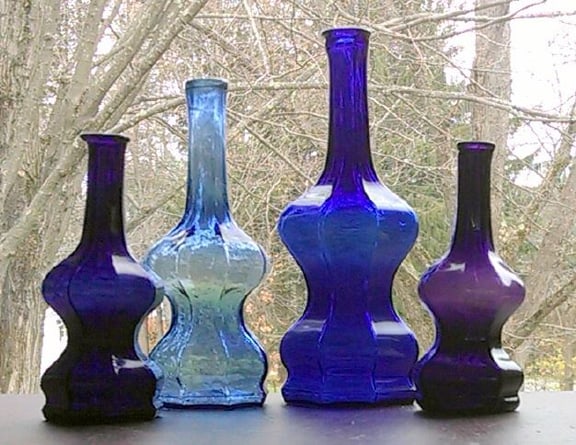 Fancy Colognes – Charles Flint
---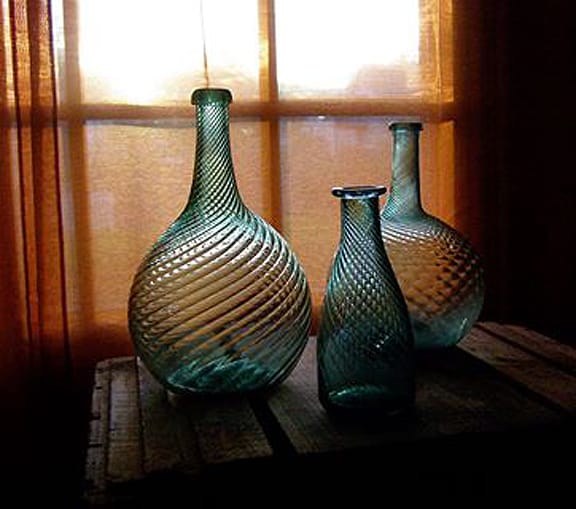 Someone mentioned recently that aqua pieces should not be dismissed.
I agree. – Woody Douglas
---
One mold maker obviously thought that there should be a sun (or bullseye) in the center of a sunburst! Here are a few of them. – Michael George
---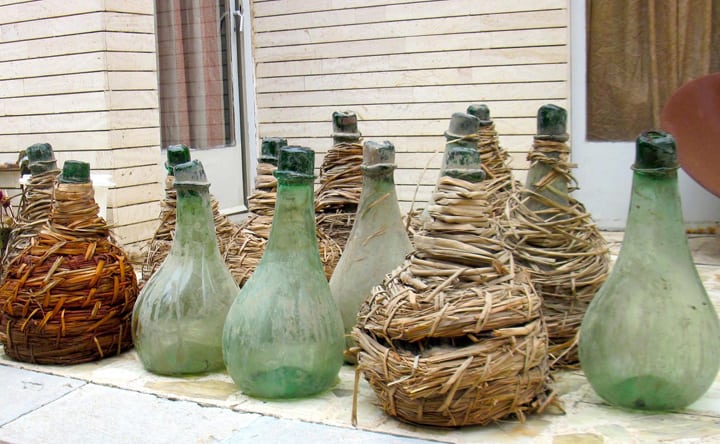 These amaze me – look at the darker lips, look at the crudity of the body. And what amazes me, you ask? The gentleman who owns these (150 of them) – doesn't want to sell them because he still uses them for transporting grape and lemon juice to market!!! They are very likely 20th century – the quality of the glass and the method of lip finish show that. But fascinating that they still weave protective fabric and move product around in these bottles. – Phil Culhane
---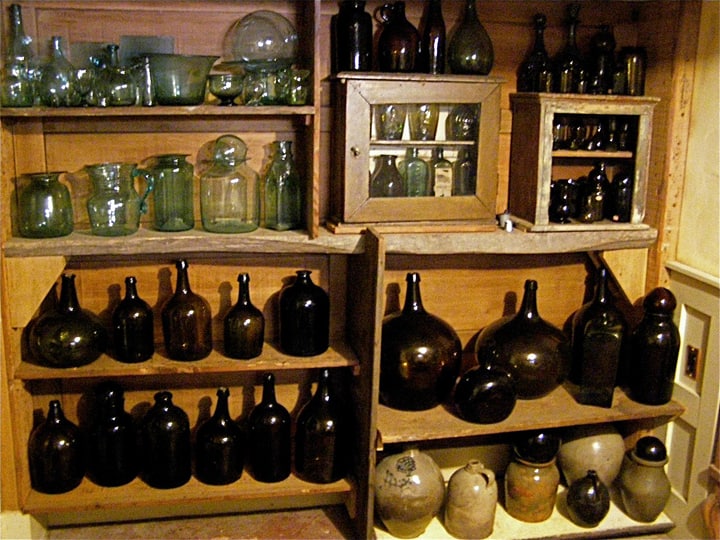 After giving it a lot of careful thought and consideration I've come to the conclusion that I have developed a fondness for early American glass. – Woody Douglas
---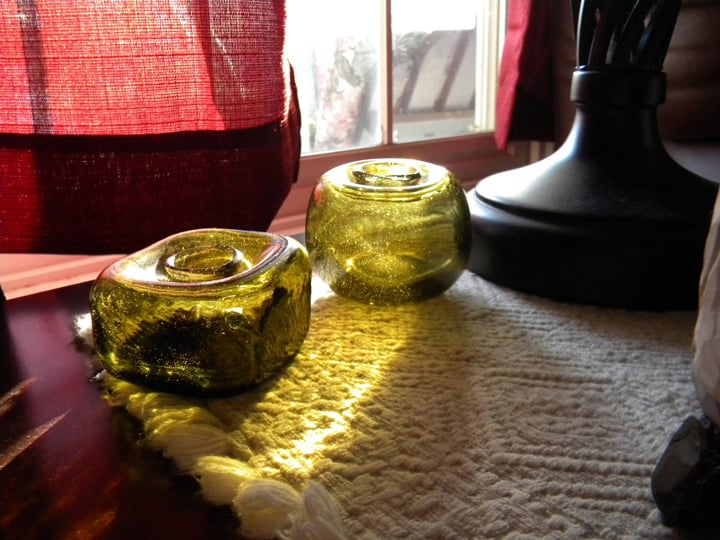 More Inks – Tom Marshall
---
The many colors of Hostetter's. Just some of a few I have gathered. It was my first bottle my grandma gave me. 35 years ago. – James Campiglia
---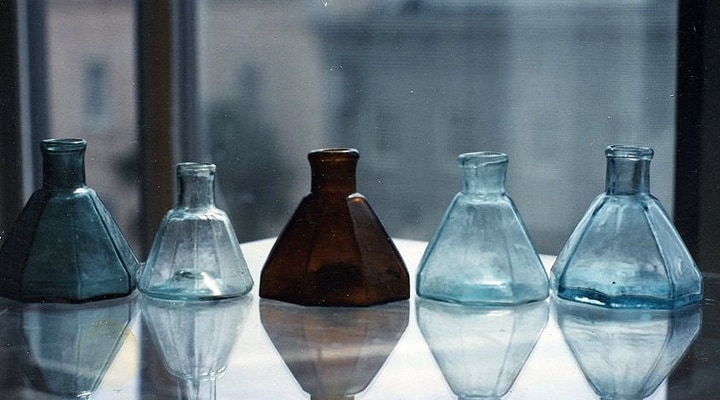 A few umbrella inks I dug in Union Army camps near Charleston, S.C. – Robert E. Bohrn
---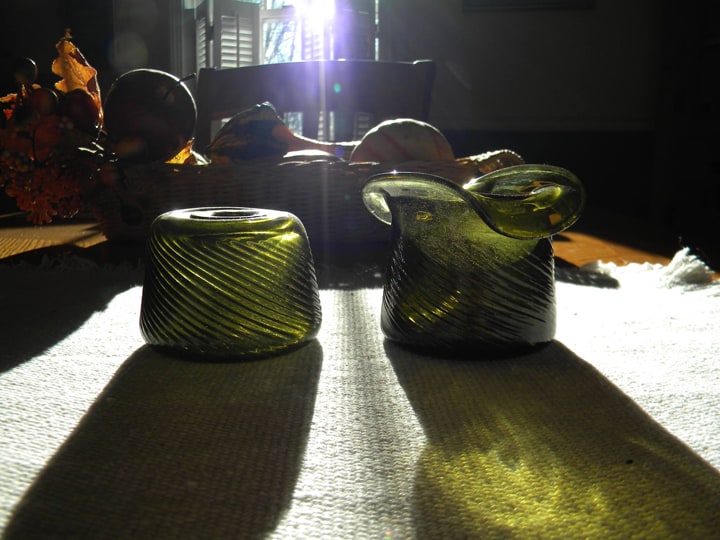 Morning Sun – Tom Marshall
---