Levi Tower Jr. and his Calmon's Tonic Billious Bitters
17 November 2013 (R•112314)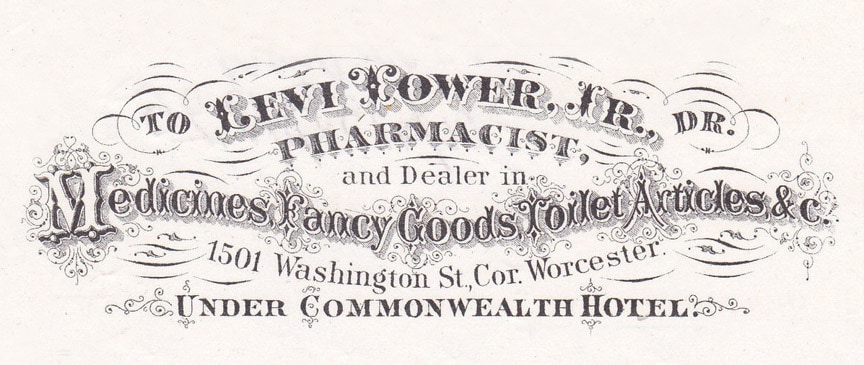 For a severe attack of Billiousness, one Triplex Pill taken every other night for two or three nights followed by a glass of Bitters before breakfast the next morning is a sure cure.

Marianne Dow sent me some information and a link to the March 12, 1866 Halifax Morning Sun for Dr. Gardiners Compound. On this page I saw two other advertisements. One for a Dr. Warren's Bilious Bitters and one for a Calmon's Tonic Billious Bitters. The Calmon's appears to be unlisted in Bitters Bottles and Bitters Bottles Supplement and is the subject of this post.
No person should go to sea without a good supply of this valuable remedy.
Levi Tower, Jr. advertised this brand and was born and educated at Cohasset, Massachusetts, but served his apprenticeship with J. T. Brown & Co., Washington and Bedford streets, Boston. This firm at the time conducted one of the leading pharmacies of Boston. Later Mr. Tower established himself under the Commonwealth Hotel (pictured below) at the corner of Washington and Worcester streets.
In 1879 he opened a pharmacy in the Back Bay district, at the corner of Boylston and Clarendon streets, and five years later established, with John G. Godding, the firm of J. G. Godding & Co. He retired from business in 1899.
For thirty years, Mr Tower was a member of the American Pharmaceutical Association, from which he resigned in 1890. He was also a life member of the Massachusetts College of Pharmacy. He was a far-sighted business man, kindly in disposition, modest and retiring, and of sterling character [Druggists Circular, 1913]
The new listing by Bill Ham for the forthcoming Bitters Bottles Supplement 2:
Advertisements


C 30.8

  CALMON'S TONIC BILLIOUS BITTERS
Levi Tower, June., Druggist and Apothecary, 1131 Corner of Springfield and Washington Sts.,  Boston, Halifax Morning Sun, March 12, 1886; and
1501 Washington Street, Cor. Worchester, Boston, April 13, 1874
1836: Levi Tower Jr. born 8 June 1836 in Cohassett, Massachusetts.
1862: Marriage to Mary Rebecca Whipple, 18 August 1862.
1865: Tower Levi jr. apothecary, 1131 Wash. h. a Roxbry, Boston City Directory
1866: Advertisement (pictured above) Calmon's Tonic Billious Bitters, Levi Tower, Jnr. Druggist and Apothecary, Boston, 1131 corner Springfield and Washington-Sts. – Halifax Morning Sun, March 12, 1866
1874: Receipt (pictured above), Levi Tower, Jr., Pharmacist, 1501 Washington Street, corner Worcester, under Commonwealth Hotel (see below), April 13, 1874
1879: Passage: John G. Godding PH. G., In the fall of 1879 he returned to Boston to enter the employ of Levi Tower, Jr., as head clerk, where he remained four years, Western Druggist, 1893
1879: In 1879, Levi Tower opened a pharmacy in the Back Bay district, at the corner of Boylston and Clarendon streets, and five years later established, with John G. Godding, the firm of J. G. Godding & Co., Druggists Circular, 1913
1880: Levi Tower, jr. apothecary, Hotel Bristol, and (Tower & Co.), 1681 Washington, house Hotel Bristol
1913: Levi Tower died at Cohasset, Mass, January 31, in his seventy-seventh year., Druggists Circular, 1913