What is
TOKAY CORDIAL BITTERS?
02 October 2013 (R•03Oct13)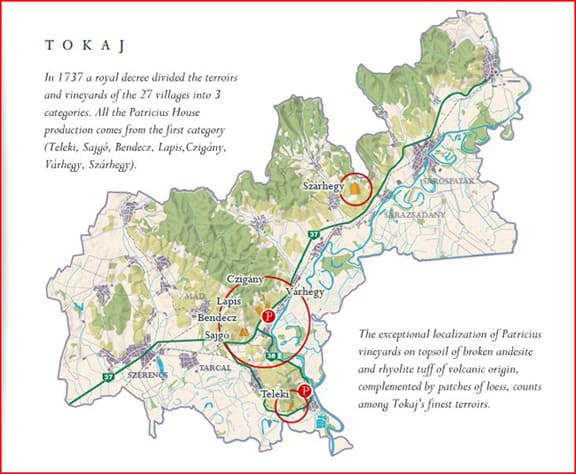 Bitters trade card and ephemera authority Joe Gourd sent in this gorgeous label image (top of post) for Tokay Cordial Bitters made by Sarony, Major & Knapp, the superb New York lithographers. Folks, this is an unlisted bitters! Unfortunately, I could not find any direct information on this brand. The only clues are the word 'Tokay' and the illustration of the Hungarian or Slovakian man with a wine cordial in his hand. I would suspect that there was an importer, probably in New York, marketing and selling this brand.
According to Wikipedia, Tokay could mean the following:
Tokaji wine (formerly spelled Tokay in English), wines produced in the Tokaj wine region (also Tokaj-Hegyalja wine region or Tokaj-Hegyalja) of Hungary
Tokaj (Slovakia), wine region in South-Eastern Slovakia and wines produced in that region.
Grape varieties:
Muscadelle, called Tokay in Australia
Tocai Friulano or Tocai, another name for Sauvignon vert in the Friuli-Venezia Giulia wine region in Italy
Tokay d'Alsace, obsolete name for Pinot gris grapes in Alsace. As a temporary measure, Alsace wine produced from Pinot gris was labelled Tokay-Pinot gris
Tokay (grape), an alternative name for the Hungarian wine grape Furmint
Viura, Spanish wine grape with Tokay as a synonym
Catawba (grape), an American grape with Tokay as a synonym
In popular culture
In "His Last Bow" by Arthur Conan Doyle, Sherlock Holmes is mentioned by the Prussian spymaster Von Bork, employing his persona Altamont, as taking a shine to the drink: "Altamont has a nice taste in wines, and he took a fancy to my Tokay. He is a touchy fellow and needs humouring in small things. I have to study him, I assure you." Holmes later drinks with Watson and discusses the wine, taken — like the Dalloways' — from royalty: 'from Franz Josef's special cellar at the Schoenbrunn Palace.'
In Chapter 2 of Bram Stoker's horror novel Dracula, Jonathan Harker describes the first meal served to him by Count Dracula: "The count himself came forward and took off the cover of a dish, and I fell to at once on an excellent roast chicken. This, with some cheese and a salad and a bottle of old tokay, of which I had two glasses, was my supper."
In Virginia Woolf's novel Mrs Dalloway, the male guests at the Dalloways' party drink an "Imperial Tokay" from "the Emperor's cellars."
A bottle of "genuine imperial Tokay" plays a prominent part in the Lord Peter Wimsey short story "The Bibulous Business of a Matter of Taste", which centers on identifying wines by taste.
In H. Warner Allen's short story "Tokay of the Comet Year", a rare Tokay features prominently in a complex plot involving spies and a missing treaty.
Tokaji is referred to in Patrick O'Brian's The Letter of Marque as shared between Stephen Maturin and Sir Joseph Blaine.
In Philip Pullman's The Golden Compass, there is an attempted poisoning by the Master of Jordan College (the novel) or an official of the Magisterium (the film) of one of the major characters, Lord Asriel, via a decanter of Tokaji (spelt 'Tokay') in the first chapter. Tokaji is said to be Lord Asriel's favorite wine.
In Terry Gilliam's film The Adventures of Baron Munchausen, the Baron and the Sultan make a wager over whether the Baron can obtain, from "the imperial cellars at Vienna," a bottle of Tokaji superior to that proffered by the Sultan.
Sniffing the aromatic essence of Tokaji, as well as its sympathetic effect upon being imbibed, serves as an important and amusing plot device in the 2008 film Dean Spanley, which was based on a novel by Edward Plunkett, 18th Baron of Dunsany.
A 'Tokay Blanket' was a term Hobos used (up to the 1940s) in reference to drinking alcohol to stay warm.
Nero Wolfe serves Tokaji Essencia to his assembled guests in Rex Stout's 1947 mystery story, "Man Alive," as the story moves toward the identification of the murderer. The story first appeared in the December 1947 issue of The American Magazine, then in Three Doors to Death, a 1950 collection of Nero Wolfe novellas, and finally in 1961's Nero Wolfe omnibus volume, Five of a Kind.
Jack Kerouac's The Dharma Bums contains the passage: "Pretty soon we headed into another siding at a small railroad town and I figured I needed a poor-boy of Tokay wine to complete the cold dusk run to Santa Barbara."
In Alexandre Dumas's The Queen's Necklace, the Duke of Richelieu and his butler discuss the arrangements to get one special bottle of Tokaji, which they expect to please the king Gustav III of Sweden at a dinner the Duke is going to host.
In Gaston Leroux's The Phantom of the Opera, Tokay is the wine of choice that Erik serves to Christine when they have lunch the day after the night he first abducts her. He proudly tells her that he got the wine himself from the Konigsberg cellars. The Tokay mention is in the chapter "Apollo's Lyre."
In Nikolai Gogol's Dead Souls, after having had dinner with champagne, Sobakevich and the main Chichikov opted to open a bottle of "the Hungarian," which "gave them more spirit" and "improved the communication."
In Traveller (role-playing game), Tokaji Essencia has been reserved for private use of the Imperial family, with black-market prices reaching 1 million credits per bottle.
In Hud, Alma the housekeeper tells Hud, "I don't drink anything but Tokay wine."
With a little imagination
One would have to suppose that the wine bottle for this label would have to be tall and graceful to compliment the beauty and verticality of the art. Just when I was imagining the label on a bottle, I get an email from New York collector and digger Andy Goldfrank. The communication read:
Ferd — Interesting post. At home, I do have an 1880s or so hock-ike wine shape in a light yellow with a seal stating "TOKAYER". When I get home this evening, I can post an image or send it to you as an image via a message. My bottle was found at a mountain house hotel dump, dating 1860s to early 1890s, in the Hudson River Valley near Newburgh, NY. Take care, Andy
Three images that Andy sent:
Now the same images with the label placed on in Photoshop. You have to admit, if this was the bottle or maybe another of similar shape, when filled with a plum colored wine, with the gorgeous label, the seal, applied top, bottle color … that you would have one heck of a finished product!