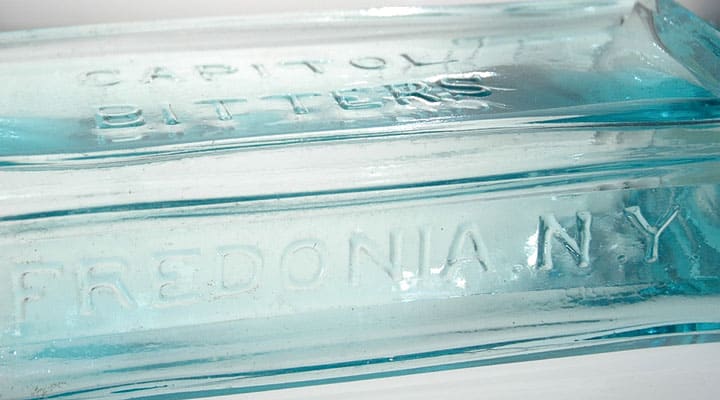 Fenner's Capitol Bitters
Fredonia N.Y.
02 October 2013

Always nice to open your e-mails each morning to see what 'bottle' surprises' might be waiting for you. In today's case it was an e-mail from my Houston bottle friend and Civil War authority James Schmidt with an exciting new piece he obtained relating to Fenner's Capitol Bitters from Fredonia, New York.
Incidently, this was one of my first bitters bottles purchased at my fathers DELMARVA Bottle Show in September 2002. It was that fateful day that I started collecting bitters bottles! The story is captured in the link below.
Read: Glass Passion and Color Part I : Life Transformation
Ferdinand –
Hope this note finds you well…was great to see you at the show in Augist…wish we could meet more often…
Thought you'd enjoy the attached billhead I just added to my collection…1880 receipt for Fenner's "People's Remedies" including his "Capitol Bitters" … thought you might like to pair it with a photo of a Capitol Bitters in your collection on the PRG website.
There is a ton of biographical info on Fenner on the web…and a nice Civil War connection – he was a hospital steward with a Michigan regiment.
Enjoy.
All my Best,
Jim Schmidt
Visit Jim's: Civil War Medicine (and Writing) blog
The Carlyn Ring and W. C. Ham listing in Bitters Bottles is as follows:
F 10  FENNER'S CAPITOL BITTERS
f // DR. M. M. FENNER'S // CAPITOL / BITTERS // FREDONIA, N. Y. //
10 1/2 x 3 3/4 x 2 1/8 (7 1/2) 1/4
(other various sizes)
Rectangular, Aqua and Clear, LTC, Tooled lip, 3 sp, Scarce
Label: Increases the appetite, warms the stomach, promotes digestion, supports all of the vital functions, cleanses the blood, protests the system against the approach of an epidemic and other forms of diseases at all seasons of the year. It acts as a permanent tonic and invigorant. It is especially valuable in protecting the system against the approach of diseases during periods of exposure infeeble old age, weakly and delicate females, and in convalescence from exhausting diseases. In any of these cases, it is worth its weight in gold.
Morton M. Fenner was born in 1837, the seventh of nine children. He graduated from Medical College in 1860 and served in both the Army and Navy during the war. After the war he established a medical practice in Jamestown, Virginia. In 1869 he moved to Fredonia, New York. Here he prepared both his almanac called People's Remedies and his medicines. At the time of his death in 1905 he was a very wealthy man with 32 preparations bearing his name.
By Douglas H. Shepard for the Darwin R. Barker Historical Museum, Fredonia, New York, 2009
Read More on Frank Wicker: Wicker Visit – Austin Healey's and Elephants